We made this chicken pesto pasta several times over the summer and it was always a hit. Seriously, bookmark this pesto pasta recipe! I'm not kidding when I say that everyone in my family loved this. And that includes a professional chef, a super picky preteen, a 7 year old and a 4 year old. It was lovingly called "the dinner with the yummy green sauce." This is a pesto recipe that I picked up a million years ago and modified over time 'til it was perfect.
Note: If you love quick and delicious chicken dishes, be sure to try our One Pan Chicken Rice and Peas recipe.
What's in Season
In terms of seasonality, I'd say this chicken pesto pasta recipe is a late summer type of dish. We were able to use our own basil from the backyard and had we followed through with all our springtime gardening plans, we could have used homegrown tomatoes as well.
By the way, this is a great resource I found to help with knowing what foods are in season in your state: Seasonal Food Guide by Grace Communications Foundation. My boyfriend chef is always reminding me the importance of eating local and eating seasonally. And I agree...there are loads of reasons why local produce is best. First, supporting local farmers means supporting your local economy.
Second, going local means not spending your dollars on large farming companies that have potentially unsafe/unethical labor practices. Finally, transporting food shorter distances and from smaller facilities means working towards a smaller carbon footprint. Obviously, this is an incredible oversimplification, but I just want to stress that I am really trying to be more ethical in my purchasing choices.
Making the Pesto for this Chicken Pesto Pasta Dish
The sauce is the pinnacle of this chicken pesto pasta recipe, and it's easy to make in a blender or Vitamix. What I like is that you can just throw everything in and blend, while slowly adding the olive oil. The amount of olive oil is up to you. I just keep pouring it in until there's enough liquid for the pesto to blend evenly. While a pesto hand-ground with mortar and pestle is, I'm sure, the best...I don't have time for that. And I'm guessing you don't either. So, purists beware...we're blending this green sauce.
Flexible Ingredients 
The traditional ingredients for pesto seem to be basil, pine nuts, garlic, parmesan and olive oil. But what I like to do is swap half of the basil for spinach. That way I can tell myself that we are all getting extra nutrients. Haha. So, really the only ingredients I'm adding to those traditional five are parsley and salt.
There are several other ingredient swaps one can make for their own pesto recipe. For instance, almonds and walnuts are often used instead of pine nuts. Toasted or raw is a preference, as well. I've heard that you can sub some water for the oil, if you're looking to cut down on the fat content, but I've never tried it. Some people like to add other greens, i.e. mint. And to make the pesto vegan, some use nutritional yeast instead of parmesan. So many ways to do this!
Other Pesto Recipe Ideas
This pasta can really be whatever you want it to be. Even in our Plate in 28 Recipe Box, we have several pesto-based dishes because we love the 'yummy green sauce' so much. Every other ingredient-decision can be sculpted by you. Here are some other pesto recipes and ideas for other pesto uses:
---
Steps for Success
This pesto recipe will use all of your allotted 28 minutes, but it's not hard at all. While you can do this however you like, here is the order of steps that I would recommend:
>Step 1: Heat Oven & Water
>Step 2: Prep Tomatoes & Chicken
>Step 3: Roast Tomatoes
>Step 4: Cook & Strain Pasta
>Step 5: Make Pesto
>Step 6: Mix Together Chicken Pesto Pasta
Modify this Chicken Pesto Pasta Recipe
Make it Vegetarian: This pasta is equally delicious, if not more, without the chicken. In fact, I prefer it without the chicken but our family has been on a bit of a meat kick lately. So, I threw some extra protein into the mix.
Make it Vegan: Ditch the chicken and replace the parmesan cheese in the pesto with 2 T nutritional yeast
Make it Gluten Free: The only ingredient in this dish that contains gluten is the pasta. And you can remedy this very easily. Some of the gluten-free pasta products I like are Ancient Harvest quinoa pasta (just be careful not to overcook cause it can get mushy) and Trader Joe's Organic Brown Rice & Quinoa Fusilli Pasta. These days, though, even the most mainstream pasta brands are making gluten-free versions, i.e. Barilla and Ronzoni
Have a Family Cooking Session
Worth considering is how this might be the perfect time to invite kids to help out in the kitchen (above all, assuming everyone is healthy and properly washing their hands!). We are all spending so much time together at home these days. So, why not make cooking a family activity?! Not only will cooking together help pass the time, but cooking with your kids has some real educational benefits. For example, cooking with kids can boost self-esteem and foster healthy eating habits.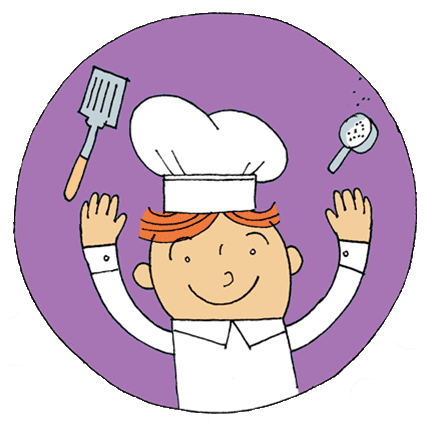 How Kids Can Help Make this Chicken Pesto Pasta:
This pesto recipe involves many kid-friendly tasks. Here are some ways for your lil' sous chefs to help out:
Cutting veggies! Kids can use one of these safe, awesome kids kitchen knives to cut the tomatoes while you are doing other things. My son also sneaks a bunch of tomatoes while he's cutting, which I'm definitely not mad about.
Snipping the greens! Nothing can be more awesome and educational than growing your own food. BUT a lot of us don't have a garden. What you can do it give your kid these fun

duck snippers

so they can

de-stem the parsley. Or they can de-stem the spinach, if you bought it in a bunch. [This is good for motor skills for the little ones too]. I find myself using the kids'

Kuhn Rikon duck snippers

when the kids aren't around because they're really cute and fun to use! Check out the rest of their

kids' line

. I'm a fan.
Counting/Measuring! A tiny math lesson you can sneak into this is fractions via measuring cups. This pesto recipe uses ¼, ½, and 1 cups. It's super easy to explain how two ¼ cups make a ½ cup, etc. And because it's a very short lesson using tangible things, your kid might actually listen and be interested. Admittedly, mine was more interested in math when we were making cookies. 
Blending! Blending kind of seems like magic, right?! Now when I make this, my daughter only wants to help when it's time to blend. Once your child measures out each ingredient and pours into the blender/Vitamix, they can have the ultimate honor of pressing the 'Start' button. Haha
Final Tips to Ensure Smooth Sailing
Mimi's Tips:
🍅 Cut your tomatoes length-wise. When you cut the tomatoes length-wise, they hold their juices in better while being roasted.
🍅 Get a good olive oil. If you can splurge a bit on any one ingredient, choose a great olive oil. The olive features pretty strongly in the pesto. Moreover, I would go with extra virgin olive oil, either Italian or Spanish, stored in a dark glass bottle.
Our "Kidify" Tips:
🍅 Separate the parts! As far as I'm concerned, this is always a consideration. First of all, while you're making the meal, set aside some plain chicken. If your kid doesn't like the pesto, at least they can eat some unadulterated chicken. Lol. Second, I would wait a minute before mixing the roasted tomatoes into the pot of pasta. Two of my three kids really don't like tomatoes. So, I dished up their bowls first and then mixed the tomatoes in with the rest afterwards. If they wanted seconds, they'd have to pick the tomatoes out themselves! Lol.
🍅 Have a surefire side! This is sort of an 'all or nothing' kinda dish. If your kids don't like pesto, they won't like the pasta. So, it may be a good idea to have a surefire side on hand: something your kids will always eat. For example, the first time I made this I had a side of baby carrots, salami, and sliced cucumbers, which my kids always love.
🍅 Garlic Bread! My kids will eat almost any bread. Who knows why, but I remember being like that as a kid too. Their favorite is Pepperidge Farm's frozen garlic bread. It's super easy. I always try to have two loaves in the freezer at a time.
Craft for this Chicken Pesto Pasta:
Play Food Olive Oil Bottle! If your kids like to play restaurant or chef, this is the perfect craft. Take an empty glue bottle and turn into an adorable olive oil bottle! You'll feel better recycling the bottle and your kid will have a new item for the play pretend kitchen time!
Other Pasta Dishes You Might Like
🍅 One Pot Fall Pasta with Veggies & Chicken Apple Sausage
🍅 One Pot Easy Pea-sy Cheese Tortellini
Follow Platein28 on Pinterest, Instagram and Facebook and Sign up for our newsletter for all the latest recipes and crafts!
The Best Pesto Recipe: Pesto Pasta with Chicken & Roasted Tomatoes
This is the Pesto Recipe you've been looking for! My kids totally dig our so-called 'yummy green sauce' and we think yours will too!
Ingredients
2

cups

cherry tomatoes, halved

½

Tablespoon

olive oil

1

Teaspoon

salt

½

Teaspoon

black pepper

1

Pound

pasta

(we used rotini)

1-2

cups

pre-cooked chicken, cut or hand separated
Pesto
½

cup

spinach, packed firmly

½

cup

fresh basil leaves, packed firmly

½

cup

fresh parsley, de-stemmed

½

cup

parmesan cheese, finely grated

(plus extra for plating)

¼

cup

pine nuts

1

clove

garlic, quartered

¼

Teaspoon

salt

⅓ - ½

cup

olive oil
Instructions
Preheat oven to 400. [And take a second to start heating water for pasta]. Line a baking sheet with parchment paper. In a medium bowl, mix together tomatoes, olive oil, salt, and pepper. Spread tomatoes on parchment paper, cut side up. Roast for 10-15 mins. Set aside.

Meanwhile, cook pasta according to instructions on package. Drain pasta in a colander and return to pot or large bowl.

Combine all pesto ingredients (except olive oil) into a Vitamix or blender. Turn machine on and off several times, scraping sides with spatula in between. Turn machine on low and slowly add in olive oil, stopping to scrape the sides as needed. 

Stir chicken and pesto into pasta pot. Mix in roasted tomatoes. Serve with parmesan cheese sprinkled atop, as desired.
Notes
🍅 Top with extra parmesan cheese for maximum deliciousness.
🍅 Ingredient swap options: do full spinach or half spinach / half basil; almonds or walnuts instead of pine nuts; nuts can be toasted or raw; replace some of the oil with water; add other greens, i.e. mint
🍅 To make the pesto vegetarian, just ditch the chicken. To make it vegan, also replace the parmesan with 2T nutritional yeast. 
🍅 To make the dish gluten-free, use whichever gluten-free pasta you like. I recommend: Ancient Harvest quinoa pasta (just be careful not to overcook cause it can get mushy), Trader Joe's Organic Brown Rice & Quinoa Fusilli Pasta, Barilla's gluten-free pastas, and Ronzoni's gluten-free pastas.
🍅 Cut your tomatoes length-wise so they hold their juices in better while being roasted.
🍅 If you can splurge on any one ingredient, choose a great olive oil...extra virgin olive oil, either Italian or Spanish, stored in a dark glass bottle.
🍅 I recommend you buy a whole, roasted chicken. The flavor is better than those packets of pre-cooked chicken, and it ends up being more cost-effective. You can use the rest of the chicken throughout the week for multiple other dishes.
🍅 Garlic Bread is the best side! My kids' favorite is Pepperidge Farm's frozen garlic bread. I always try to have two loaves in the freezer at a time.
Nutrition
Serving:
1
serving
Calories:
681.2
kcal
(34%)
Carbohydrates:
60.25
g
(20%)
Protein:
21.88
g
(44%)
Fat:
39.5
g
(61%)
Saturated Fat:
6.48
g
(41%)
Polyunsaturated Fat:
5.95
g
Monounsaturated Fat:
24.94
g
Cholesterol:
27.17
mg
(9%)
Sodium:
644.87
mg
(28%)
Potassium:
432.77
mg
(12%)
Fiber:
3.28
g
(14%)
Sugar:
3.6
g
(4%)
Vitamin A:
1083.57
IU
(22%)
Vitamin C:
19.24
mg
(23%)
Calcium:
133.32
mg
(13%)
Iron:
2.6
mg
(14%)
*Percent Daily Values are based on a 2000 calorie diet. While we are not certified nutritionists, we work with a WordPress-integrated nutrition API to calculate our recipes' ingredient values.
Want more 28-minute recipes? Sign up and get recipes straight to your inbox!