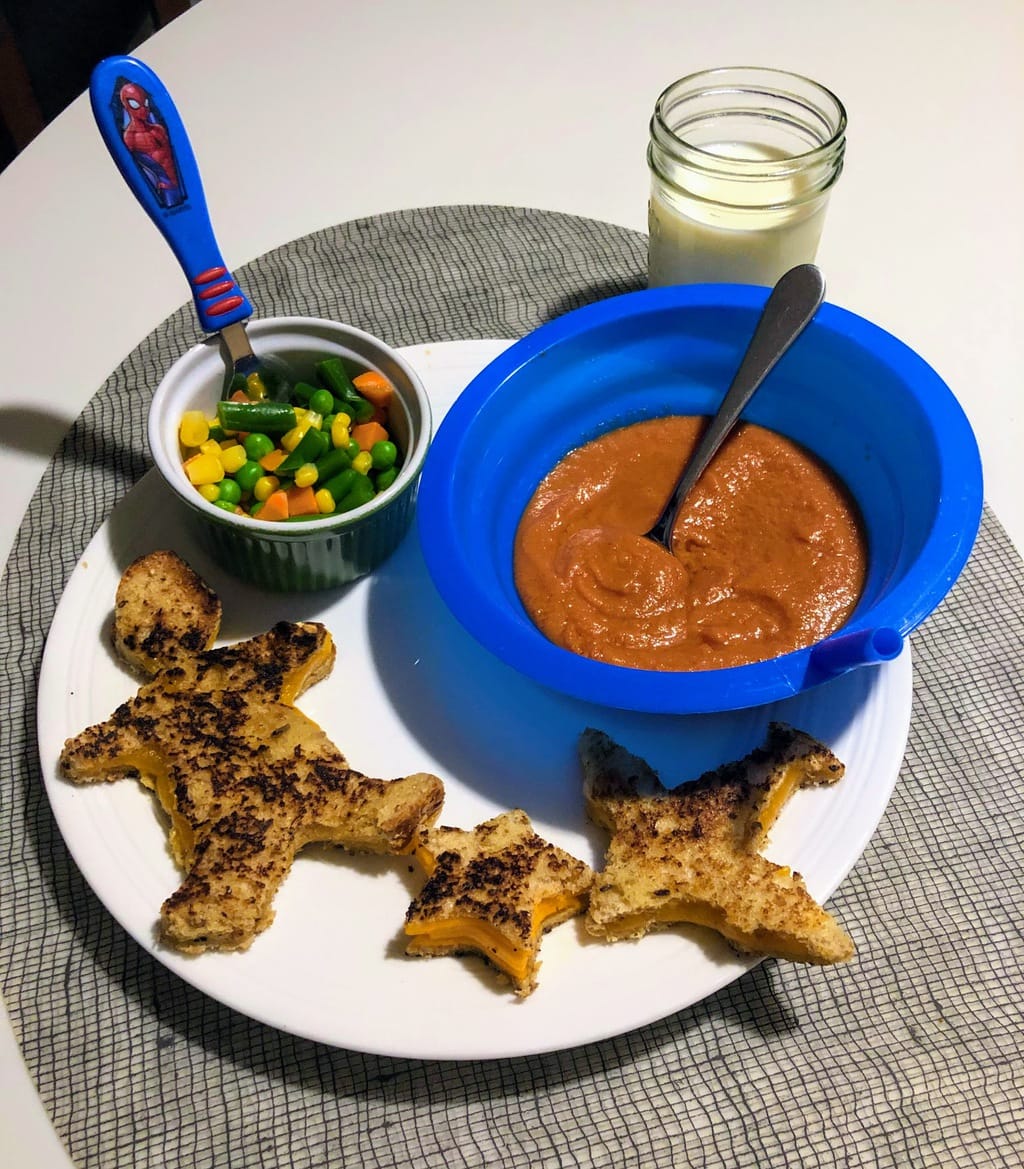 We took our delicious Grilled Cheese for Kids with Creamy Tomato Soup, and made it a vegan dinner, with only four modifications needed.
---
How we made our Easy Vegan Dinner
In order to turn this dish into a vegan dinner, we (1) replaced the whole milk with unsweetened coconut milk. Actually, I did a taste test with my family. I made the soup three ways: with whole milk, with coconut milk, and with almond milk. The whole milk and coconut milk soups were pretty much tied for our favorite! However, the flavor of the almond milk didn't really mesh well with the soup. (2) We replaced the butter with a non-dairy butter, like Earth Balance. I actually used this butter for years, as a non-vegan, because the flavor is good and I like the brand. (3) We swapped the cheese for a non-dairy cheese substitute. We tried a few (loved the taste testing that was involved with this recipe)! But our fave was Follow Your Heart American Style Slices. Hopefully your market has it! (4) And we just made sure that our vegetable stock/broth was vegan. Surprisingly, some aren't.
This soup is incredibly easy to make in the Vitamix or blender. This makes it a great recipe for kids to help out with, because all they are doing is adding ingredients to a blender and watching the magic happen as everything mixes together.
We love our Vitamix, which is powerful enough to not only blend ingredients (especially the carrots), but also heat them to an optimal soup temperature. However, this soup can easily be warmed on the stove once ingredients have been blended.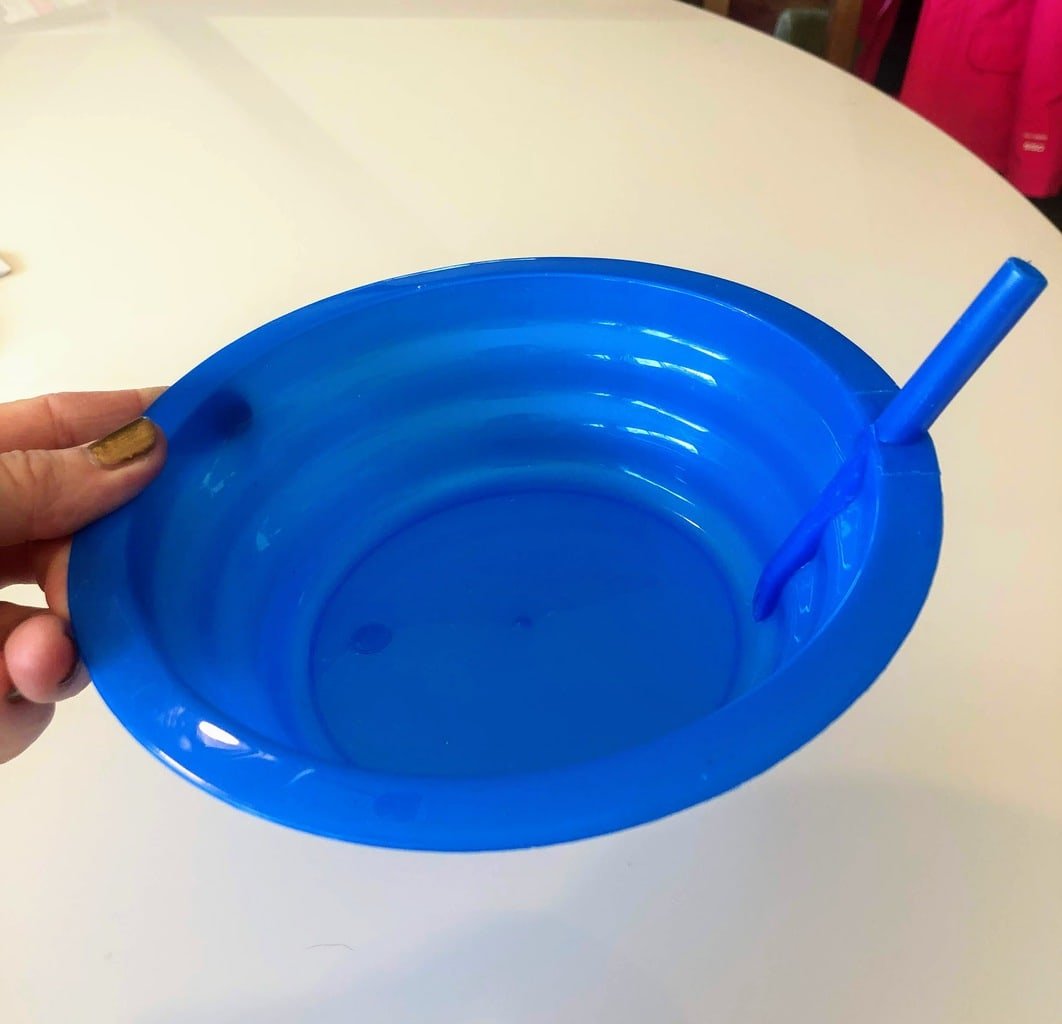 Our kids love the bowls that have built-in straws. I would highly recommend them! These straw bowls are cheap and provide for endless dinnertime entertainment.
---
The Ultimate Vegan Dinner for Kids
While my kids already LOVE grilled cheese sandwiches, they are all the more excited when we turn their sandwiches into little shapes or creatures. This is surprisingly simple to do if you have cookie cutters available. We used a gingerbread man, star, airplane, seahorse and ice cream cone cookie cutters.
Simply make the grilled cheese, let it cool for a minute and then cut out your desired shape. You end up with the perfect sandwich for kids and plentiful grilled cheese scraps for the adults. Lol! [Seriously, though, the scraps are a meal unto themselves].
We hope you enjoy this vegan dinner as much as our kids did. It was a real winner for us!
How kids can help make this vegan dinner
This dish involves many kid-friendly tasks, like measuring, cutting and combining ingredients. Here's are some ways for your lil' sous chefs to help out:
Tomato Soup
Help chop veggies. If your kid complains about their eyes, have them wear goggles while chopping the onion! For chopping, our fave kids knives right now are: Opinel Knife, Made for Me Beginner's Knife, & Curious Chef Knife Set .
Measure and Combine ingredients in blender. For really little ones, measure the ingredients yourself and let them pour them into blender. e used this 2-cup Pyrex Measuring Cup (my favorite old standby) to measure/pour the broth.
Operate blender. Kids will love seeing the ingredients blend into soup! We used our beloved Vitamix to blend the soup!
Vegan Grilled Cheese

Butter bread. Measure out about 1 T of butter per sandwich.
Add cheese and grill sandwich until both sides are lightly browned.
Press a cookie cutter into your sandwich to form a shape. Pull scraps away from cookie cutter. Note: Make sure the cookie cutter has gone all the way through the sandwich.
Final tips to ensure smooth sailing
| | |
| --- | --- |
| | |
Note: This post contains affiliate links.
Easy VEGAN Dinner: Grilled Cheese with Creamy Tomato Soup
In the mood for a classic meal, vegan-style? Try our grilled cheese & tomato soup tonight. It's the easiest vegan dinner, and your kids will love it!
Instructions
Add the rest of the soup ingredients (except for coconut milk) in Vitamix/blender. Process on high speed for 4-5 minutes. Add milk and process an additional minute. Note: If using a Vitamix, soup should heat up as it is processed. Alternatively, ingredients can be blended, transferred to the stove, brought to a boil and reduced to a simmer for 4-5 minutes.

Pre-heat a skillet over medium heat (non-stick is preferable). Spray the pan if necessary. Generously butter the outside of two slices of bread. We used about 1 T of butter per sandwich. Place one slice of bread with its buttered-side down onto the skillet. Add 2 slices of cheese and place the second slice of bread on top, buttered-side-up.

Grill the sandwich for 1-2 minutes or until lightly browned, and then flip over. Once cheese is melted and both sides are browned, remove from skillet. Wait a minute for it to cool. Then, use a cookie cutter of choice to cut shapes into your grilled cheese.
Notes
Serve grilled cheese cutouts with tomato soup. We also microwaved some frozen veggies on the side for extra nutrients.
*Percent Daily Values are based on a 2000 calorie diet. While we are not certified nutritionists, we work with a Wordpress-integrated nutrition API to calculate our recipes' ingredient values.
What Can Kids do While Grown-ups Cook?
Craft for this Recipe:
Sponge Art Tomatoes! Looking for a new paper plate craft? Try some sponge art to turn a paper plate into a cute tomato. This Sponge Art Tomato Craft is so easy, and even really little kiddos can do it!
---
Other Vegan Dinners You Might Like: