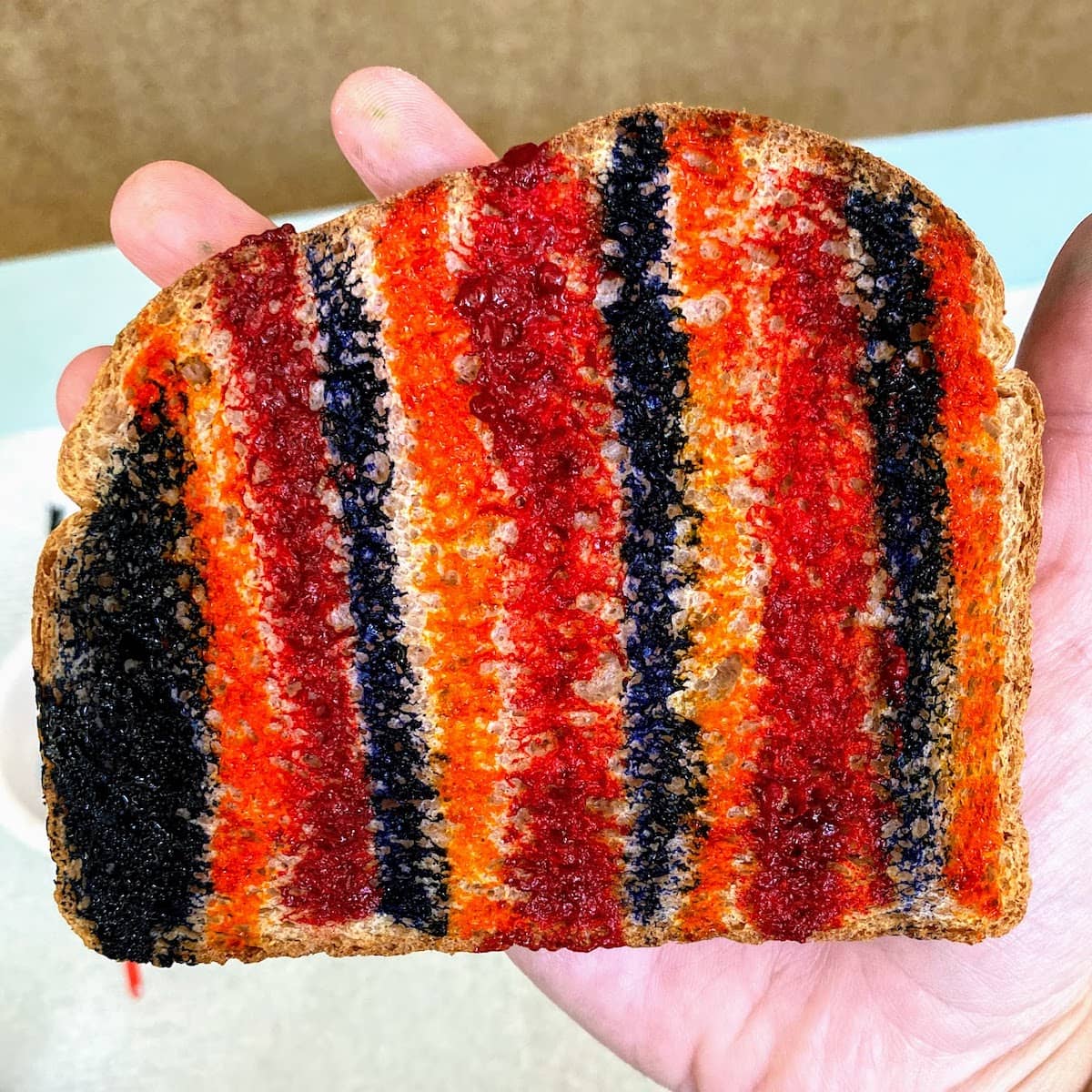 Have we mentioned we LOVE using real food in our crafts? Not only is it fun for kids to "play" with their food, but it also gives us them a chance to learn a little but more about the foods they eat. Today we used some leftover bread to make some bright and colorful painted toast!  
edible art for the win!

The best part about crafting with real food is eating the craft! Of course, not all food crafts are edible, but for our painted toast we used safe, edible paint. To make our edible paint, we combined a couple drops of water with our Wilton Icing Colors. Once we painted the bread, we popped it in the toaster oven, buttered our toast, and enjoyed a colorful snack!

Painted Toast and a review of Primary Colors
Anytime we use paint, my kids are obsessed with mixing the colors. We always use this opportunity to review the differences between primary and secondary colors.  Of course, this almost always ends with my kids mixing ALL the colors together and forming a nice, brown mixture 🙂
And I couldn't help but encourage my five year old to practice her letters while painting her bread. With Kindergarten approaching, every little bit of practice helps!
Enjoy your painted toast!
We simply buttered our colorful toast, but there are a ton of other ways to sweeten this colorful treat. Here are a few suggested toppings:
Butter, sugar and cinnamon 
Peanut butter and sliced bananas 
Cream cheese and sliced berries and/or jam
Almond butter, honey and granola
Nutella and sliced fruit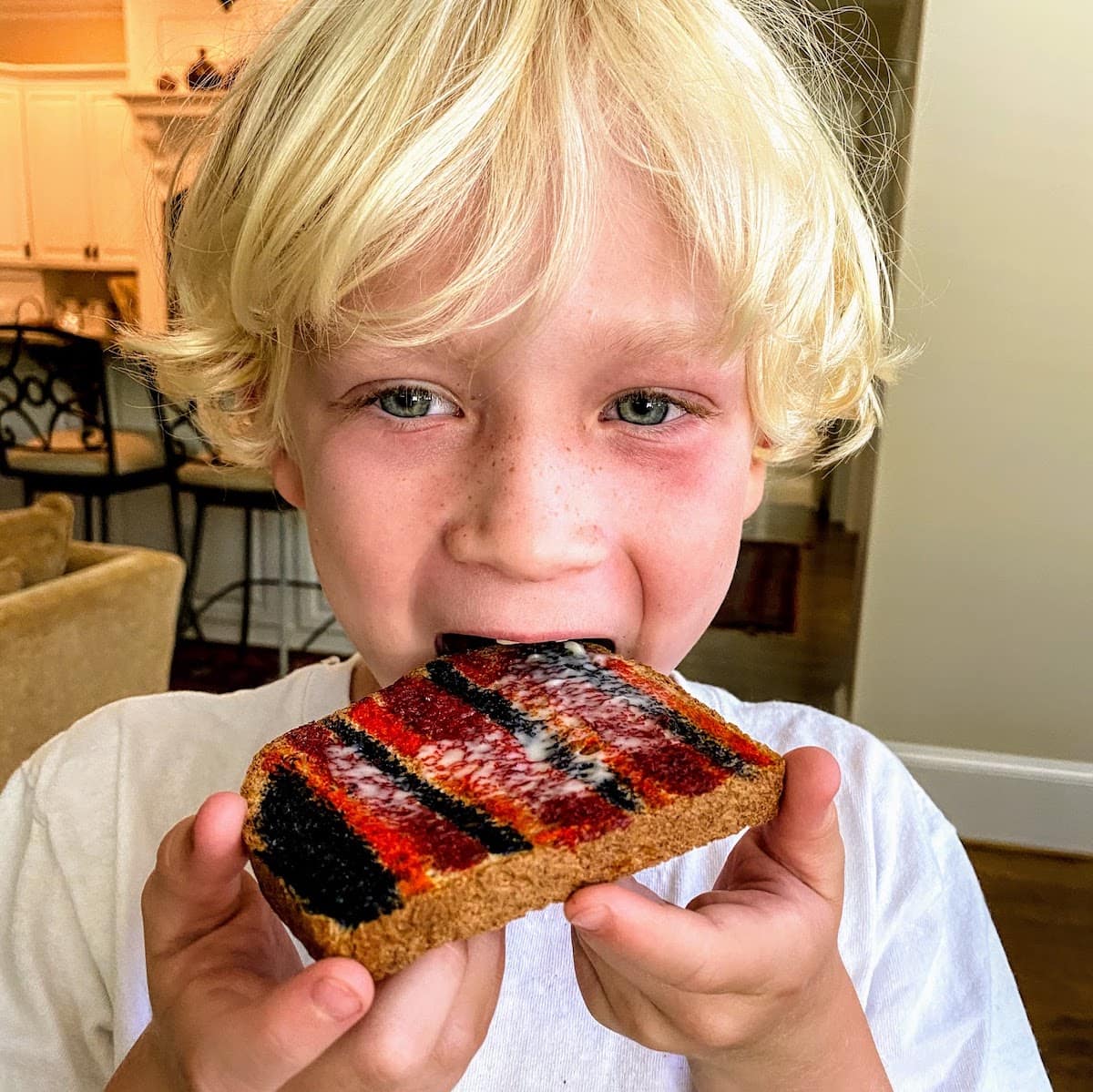 While making this Painted Toast Craft, you and your kids might want to take a moment to learn some fun facts about the corresponding meal's featured ingredient:
🍴

BREAD

🍴

Bread is typically made from dough and baked in the oven.
Bread is one of the most widely consumed foods in the world. 
As you know, bread can be made in various shapes, sizes and with different ingredients. Some varieties include whole-grain bread, sourdough bread, cornbread or flatbread.
The primary nutrient in bread is carbohydrates, which gives our bodies energy. 
Bread made from whole grain has many health benefits, including reducing the risk of diabetes, heart disease, and high blood pressure.
💡

Overview

💡
Featured Ingredient: Bread
Corresponding Recipe: Panzanella Salad with Chicken & Mozzarella
Skills supported: Fine motor, (painting), writing, following instructions
✂ supplies ✂
Sliced bread
Wilton Icing Colors or food coloring
Water
Small containers for paint
Paint brushes
Note: This post contains affiliate links.
SEE HOW TO MAKE OUR Painted Toast!
📝 instructions 📝
Consider setting up the craft before cooking so that your kids can get to work right away.
1. Mix together 1-2 drops of water and desired amount of icing/food coloring.
2. Paint bread!
3. Toast bread, add a desired topping, and enjoy!
*For toddlers especially, these tasks may require adult supervision and/or assistance.