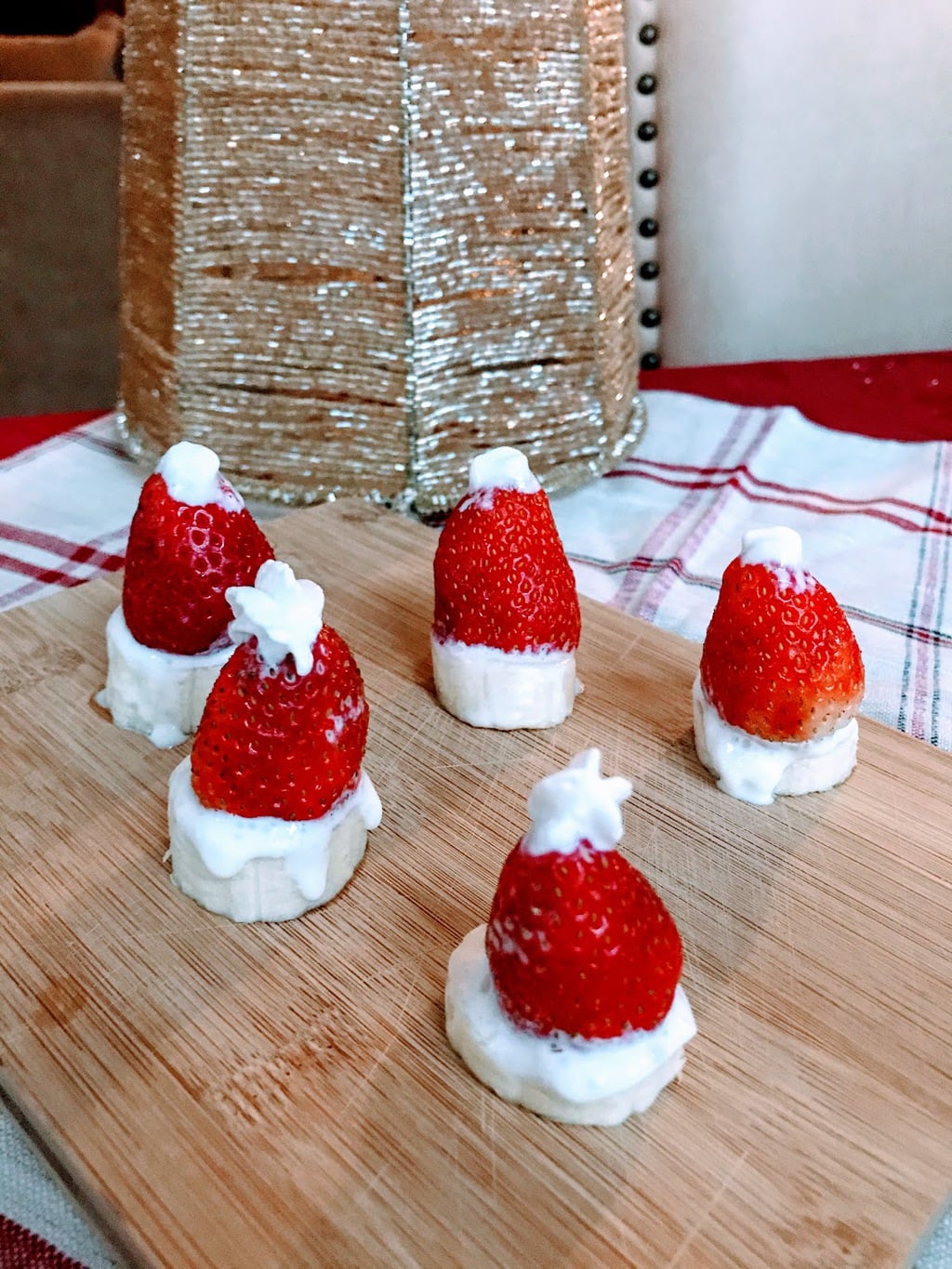 Christmas really crept up on us this year! We've found ourselves scrambling to get everything done on time, and I feel like we haven't had as much time to devote to Christmas crafts and activities as I would have liked. So, tonight we decided to make a healthy, holiday treat to get us in the Christmas crafting spirit! 🍓Strawberry Santa Hats! 🍓
Santa Hats that you Can Eat!
This edible craft involves three ingredients: strawberries, bananas, and whipped cream. That's it! It's really that simple! These make such a beautiful treat for holiday gatherings. The best part is you won't feel bad about your kids indulging in these strawberry Santa hats, since they are made of fruit!
We made this 100% edible craft for dessert after having our festive Reindeer Turkey Sliders. This craft is so easy that I really didn't need to step in much. I simply showed the kids an example and they did the rest on other own. 
Note: Since whipped cream can melt quickly, I recommend putting these together right before serving. If they stand too long, they tend to fall apart.
There are also tons of other strawberry Santa hat recipes out there worth checking out, like Mama Cheap's Brownie Bite Santa Hat Strawberries and A Cowboy's Life Blog's Santa Cheesecake Hats. The options are endless!
Watch How to Make Strawberry Santa Hats
💡Overview💡
Ingredients: Strawberries, banana & whipped cream
Paired With: Reindeer Turkey Sliders
Skills supported: Fine motor (cutting, stacking) following instructions
✂supplies✂
Several strawberries
Banana
Cutting knife (a dull knife is fine)
Whipped Cream
Note: This post contains affiliate links.
📝instructions📝
Consider setting up the craft before cooking so that your kids can get to work right away.
Peel and slice a banana into thin, round slices. Slice off strawberry stems.*
Squirt a dollop of whipped cream on top of each banana slice. Place flat side of sliced strawberry on top of the whipped cream-coated banana.
Add a final, small dot of whipped cream to the top of your strawberry Santa hats. Now, serve and enjoy your festive treat!
*For toddlers especially, these tasks may require adult supervision and/or assistance.