[the_ad id="8295"]
Kids can get very involved in measuring ingredients and preparing the veggies for this pesto pasta dish. Once your kids make pesto pasta one time, they'll be excited to see what other sauces they can whip up! Just watch out for ambiguous "magic potion" sauces. I speak from experience here. Lol While your kids are helping out, you can also pause to discuss which
FOOD GROUP
each ingredient belongs to and share some fun facts about this meal's featured ingredient:
SUGAR SNAP PEAS
.
🌱food groups1🌱

Fruit: none
Veggies: spinach, basil, parsley, garlic, tomatoes2, sugar snap peas
Grains:

pasta

Protein: pine nuts
Dairy:

cheese
1For information about food and health, go to ChooseMyPlate.gov.
2Tomatoes are classified by botanists as fruit, but nutritionally and legally they are considered veggies.
🌱Sugar Snap Peas🌱

Sugar snap peas can be eaten whole. You can eat the pods with their peas!
Sugar snap peas can be eaten raw or cooked.
While sugar snap peas are very similar to snow peas, sugar snap peas tend to be sweeter and crispier.
Sugar snap peas are high in dietary fiber, and that makes them good for our digestive system.
Here are some creative ways for your kid to be your personal Sous Chef as you make our
Pesto Pasta with Roasted Tomatoes & Sugar Snap Peas
. Simply hover over each image for details. Make sure your little dudes wash their hands before starting!
🍴Pesto🍴
To help out, kids can:
For de-stemming parsley, these Kitchen Shears or any standard scissors are great, with adult supervision. And we're big fans of  Vitamix for making pesto.
Note: This post contains affiliate links.
🍴Tomatoes🍴
To help out, kids can:
We're big fans of these Curious Chef kid-safe knives.
🍴Peas & Pasta 🍴
To help out, kids can: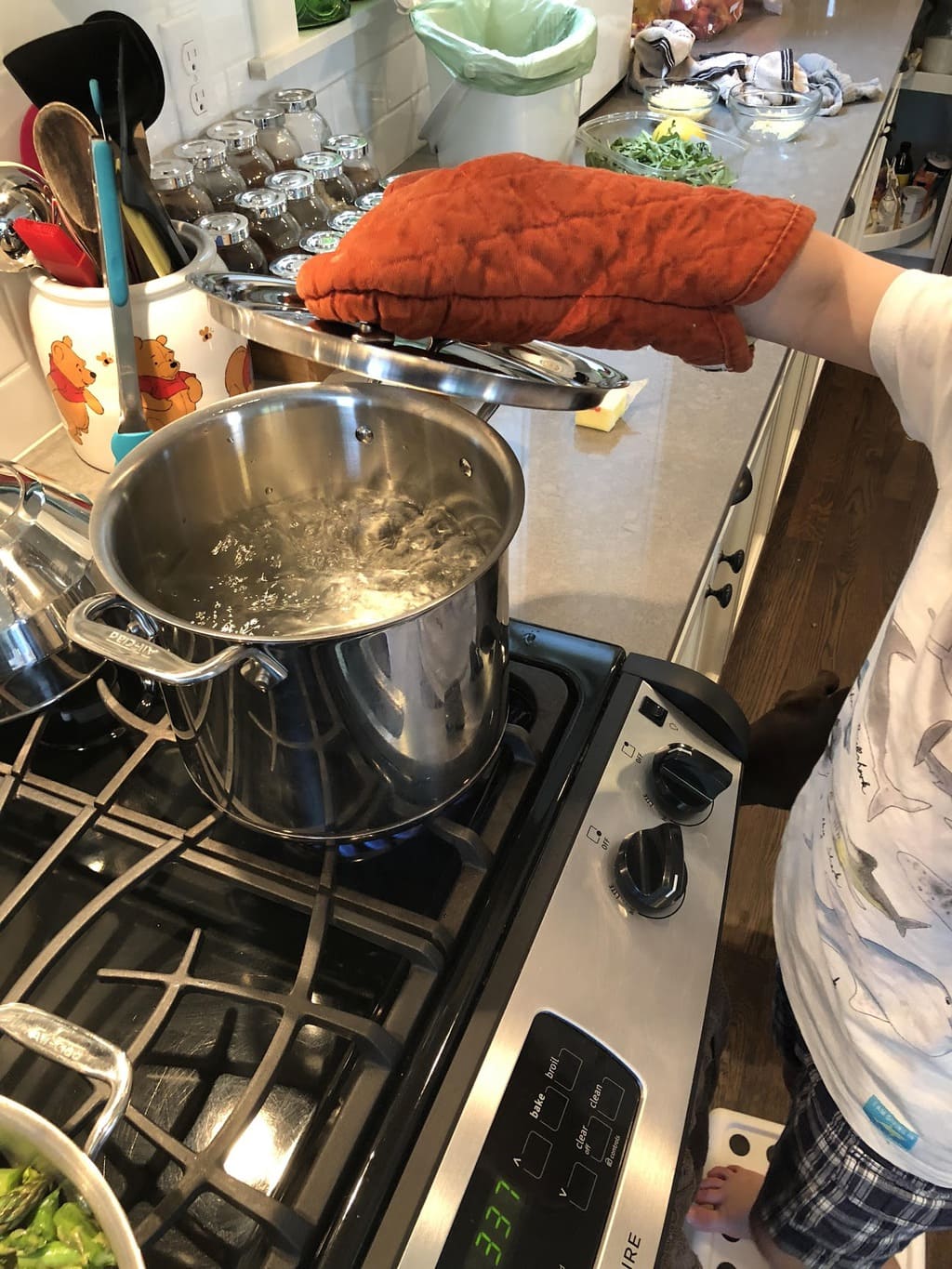 These Kitchen Shears were great for trimming the sugar snap peas.
*Note: For toddlers especially, these tasks require adult supervision and/or assistance, as items may be sharp, hot or otherwise dangerous.
Back to
Pesto Pasta with Roasted Tomatoes & Sugar Snap Peas