We recently traveled to Philadelphia to see family and were greeted by freezing temperatures and snow! We are still warming up a week later and have been having lots of coffee, hot chocolate and warm meals, including our delicious Lemon Butter Chicken with Roasted Parmesan Asparagus.
Lemon + Butter = A beautiful Combination!
This chicken dish is simple to make but loaded with flavor. Lemon usually goes over quite well with my kiddos, and when combined with butter, it's a guaranteed win.
Between the lemon, butter and broth, you are essentially creating a savory sauce for your chicken. While the chicken will absorb much of the sauce, you may have some leftover. Because our family was extra hungry, we made this dish with rice to absorb some of the extra sauce. You could also have egg noodles or any other pasta/grain/starch you like.
Note: If you truly want to complete this recipe in less than 30 minutes, it's important to purchase thinly sliced chicken breasts. A thicker cut of chicken may prolong cooking.
Assemble Asparagus First
Since you are dealing with two separate dishes (i.e. the chicken and the asparagus), I recommend preheating the oven and assembling the asparagus as a first step. Then, once you have started the chicken, the oven should be ready for your asparagus and you can cook both dishes at the same time.
A little Crunch Goes a Long Way!
While asparagus isn't technically in season, we can't help but enjoy this favorite veggie of ours year-round. And we love the added crunch that the bread crumbs and cheese give to this asparagus side dish. It's also incredibly simple to assemble. In fact, my daughter did most of the work on her own.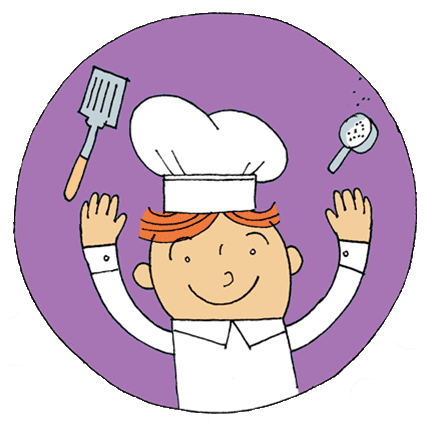 How Kids Can Help Make This Dish
This dish involves many kid-friendly tasks, like measuring, cutting and combining ingredients. Here's are some ways for your lil' sous chefs to help out:
Chicken
Flip chicken as it cooks. These are great tongs for this task!
Bring ingredients to a simmer. This is a good chance for kids to monitor stovetop temperatures and see what happens when the heat increases/decreases.
Asparagus
Rinse, dry and snip off ends of asparagus. Adults can use these OXO Kitchen Shears and kids can use these Kuhn Rikon snippers to clip the ends of the asparagus.
Evenly coat asparagus with olive oil.
Shake that cheese! Kids love sprinkling cheese atop the asparagus.
Mimi's Tips
Note: This post contains affiliate links.

Lemon Butter Chicken with Roasted Parmesan Asparagus

This 🍋 Lemon Butter Chicken 🍋 is simple to make, yet loaded with flavor. And talk about juicy! Most importantly, it's a winner with our kids!

Ingredients

Roasted Parmesan Asparagus

Lemon Butter Chicken

3

Tablespoon

butter

(divided)

3-6

boneless, skinless chicken breasts

(thinly sliced)

1

Teaspoon

basil

(dried)

1

Teaspoon

rosemary

(dried)

1

Teaspoon

thyme

(dried)

½-1

Teaspoon

Seasoned Salt

½

Teaspoon

paprika

¼

Teaspoon

crushed red pepper

¼

Teaspoon

ground black pepper

2

cloves

garlic

(minced)

½

cup

chicken broth or stock

¼

cup

lemon juice

½

Tablespoon

parsley

(fresh, finely chopped)

2

cups

Instant Rice

Instructions

Roasted Parmesan Asparagus

Spread out rinsed and dried asparagus on a large baking sheet. Drizzle with olive oil (roll asparagus to ensure oil is evenly distributed). Mix together Italian seasoning, salt, black pepper and Panko in small bowl, then sprinkle evenly over asparagus. Finally, sprinkle with shredded cheese. Bake for 7-10 minutes or until ends are starting to brown.

Lemon Butter Chicken

While asparagus is cooking, melt 2 T of the butter in a large skillet over medium heat.

Pat chicken dry. Mix basil, rosemary, thyme, Seasoned Salt, paprika, crushed red pepper, and black pepper in a small bowl. Season each side of the dry chicken breasts with ½ t of that seasoning mix, distributing it evenly on the chicken. Lay chicken down in skillet in melted butter and cook for 3-5 minutes on each side, depending on the thickness of the chicken, until cooked through. Set cooked chicken aside.

Meanwhile, cook rice according to package.

Reduce skillet to medium heat. Melt remaining 1 T of butter and sauté garlic for 30 seconds. Add chicken broth and lemon juice, and simmer sauce for 1 minute. Return chicken to pan and simmer for 2-3 minutes, turning chicken once to cover both sides with the sauce. Serve chicken topped with fresh parsley for garnish.

Notes

Serve chicken topped with finely chopped parsley for garnish, alongside asparagus and rice. Pour the extra chicken broth over the rice.

Nutrition

Calories:

559

kcal

(28%)

Carbohydrates:

46

g

(15%)

Protein:

28

g

(56%)

Fat:

30

g

(46%)

Saturated Fat:

10

g

(63%)

Polyunsaturated Fat:

3

g

Monounsaturated Fat:

15

g

Cholesterol:

82

mg

(27%)

Sodium:

897

mg

(39%)

Potassium:

635

mg

(18%)

Fiber:

4

g

(17%)

Sugar:

3

g

(3%)

Vitamin A:

1328

IU

(27%)

Vitamin C:

17

mg

(21%)

Calcium:

168

mg

(17%)

Iron:

6

mg

(33%)

*Percent Daily Values are based on a 2000 calorie diet. While we are not certified nutritionists, we work with a WordPress-integrated nutrition API to calculate our recipes' ingredient values.

What can my kids do while I cook?

Craft for this Recipe:

Play Food Asparagus! Your kids can make this Play Food Asparagus craft while you prepare this dish! It could not be easier to make this Asparagus Playfood. AND your kids can use it over and over again. Bonus: you prolly already have all the supplies! ✂️📗