I totally made this pasta with chickpeas on a night when I couldn't go to the store. I mean, that is most nights lately, but you know what I mean. I perused the pantry and freezer and realized I could make something with what I had on hand. What a concept?! Lol!
Use Those Pantry Staples!
If there were ever a time when you needed to be creative with what you already have in the house, it's now! Maybe your store is out of everything or maybe you don't want to risk your health going to the store. Whatever the case may be, we want to help you with some simple recipes using pantry staples. We consider pantry staples to be, for example, canned goods, shelf stable veggies (potatoes, onion, garlic, carrots, etc.), soups and stocks, oils, spices, spreads, crackers, etc. And I also consider pantry staples to be things that you always tend to have in the fridge/freezer too, i.e. butter, condiments, eggs, frozen veggies, frozen pre-cooked meats, etc. But we know that everyone's different and may keep different essentials on hand.
For this pasta with chickpeas recipe, we used the following key pantry items: can of chickpeas, pasta, tomato paste & seasonings.
This is Seriously Delicious
My goal was simply to make an easy, quick dish using pantry staples. But this far exceeded my expectations. The reviews from my life are in. Lol!
I will say that both the carnivores and vegans in my life loved this, even my chef boyfriend who is hard to please. My kids loved it, my 6 yo even having a third helping of it at dinner. It's so simple that you don't imagine it could be this tasty. While the dish needs no topping, we chose to add chives from our garden. [Pictured below: our beloved kids Kuhn Rikon kids snippers]
Grated or shredded parmesan is also so delicious as a topping. Of course, with the cheese, the dish instantly becomes non-vegan. So, it's up to you and your dietary preferences.
First, Cook the Onion and Garlic:
Second, Add Chickpeas, Tomato Paste & Seasonings. Cook for 1 Min:
Third, Add Broth, Pasta and Frozen Veggies. Boil and Simmer 10 Mins:
Lastly, Remove from Heat and Stir:
Have a Family Cooking Session
The longer we hunker down at home, the more it seems like a perfect time to invite kids to help out in the kitchen (most importantly, assuming everyone is healthy and properly washing their hands!). Not only will cooking together help pass the time, but cooking with your kids has some real educational benefits. For example, cooking with kids can boost self-esteem and foster healthy eating habits.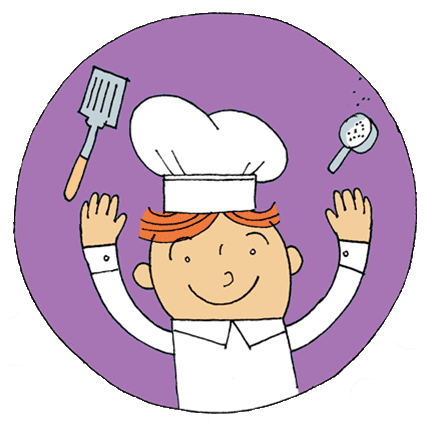 How Kids Can Help Make This Vegan Pasta
This dish involves many kid-friendly tasks. Here are some ways for your lil' sous chefs to help out:
Note: This post contains affiliate links.
Final Tips for This Pasta:
Mimi's Tips
One Pot Vegan Pasta with Chickpeas

Need to make dinner with what you got? This One Pot Vegan Pasta with Chickpeas Recipe uses pantry staples and takes less than 28 minutes.

Instructions

Heat pan on medium, add olive oil, onion, and garlic. Cook 3 minutes (or until onion is translucent), stirring frequently. Add chickpeas, tomato paste, salt, pepper and red pepper flakes, and cook for 1 minute more.

Add broth, pasta and frozen veggies. Bring to a boil. Then reduce heat and simmer for 10 minutes, stirring frequently. Remove from heat and stir. If you like, you can sprinkle fresh chives atop and serve.

Notes

Serve pasta on plate or in bowl, with fresh chives sprinkled atop. 

Nutrition

Calories:

298

kcal

(15%)

Carbohydrates:

49

g

(16%)

Protein:

8

g

(16%)

Fat:

8

g

(12%)

Saturated Fat:

1

g

(6%)

Polyunsaturated Fat:

1

g

Monounsaturated Fat:

5

g

Sodium:

1624

mg

(71%)

Potassium:

353

mg

(10%)

Fiber:

4

g

(17%)

Sugar:

7

g

(8%)

Vitamin A:

895

IU

(18%)

Vitamin C:

9

mg

(11%)

Calcium:

38

mg

(4%)

Iron:

2

mg

(11%)

*Percent Daily Values are based on a 2000 calorie diet. While we are not certified nutritionists, we work with a WordPress-integrated nutrition API to calculate our recipes' ingredient values.

What Can Kids do While Grown-ups Cook?

Help Cook

Crafts

Screen Time

Craft for this Recipe:

Gratitude Words Craft! Your kids can make this Gratitude Words Craft while you prepare our One Pot Vegan Pasta with Chickpeas. These days it's sooo easy to forget that we still have lots to be grateful for. Teach your kids about gratitude in a fun, messy way with pasta shells & glue!

---

Other Pantry Dishes You Might Like

🍅Yummy White Bean & Vegetable Soup