My inclination was to call this my Delicious West Coast Hippy Veggie Bowl. Lol. But, of course, a title like that won't resonate with most, and it's pretty vague. But, seriously, for me and maybe my fellow Pacific Northwesterners, the title fits the bill 😂The way to my heart these days is any bowl that has some combination of vegetables, grains/lentils, fermented/pickled things, and a fun sauce. Korean bowl, Lebanese bowl, seasonal harvest bowl, Mediterranean bowl...I love and crave them all. However, I am trying to ease my kids into this. And I don't think things like kimchi and za'atar would be the best jumping off points. If I break down the best aspect of a bowl like these, for me it's the fact that you have a variety of foods all in one place together. And, as long as the bowl hasn't been mixed together, you can make each bite different and combine different things on your fork each time. It's hard to get bored with the meal, and you can customize the hell out of it, for sure.
Romesco Sauce
For this bowl in particular bowl, my favorite part is the romesco sauce. It's very easy to make in a Vitamix or blender, and if you make some extra, you can use it as a dip for almost anything. The night after we made these bowls, we decided to have a sort of mediterranean snacky dinner, with i.e. olives, pita, feta, humus, etc. Dipping pita in the romesco sauce and labneh together was the best thing ever.
I decided to roast the red peppers myself, but to save time, you can totally just buy a jar of roasted peppers at the store. I just wanted to say that I made the sauce totally from scratch. Lol
Customize your Bowl
In terms of customizing your bowl, here are some options for different ingredients:
Grain: quinoa, lentils, brown rice, barley, millet
Veggie: steamed broccoli, shredded carrots, cucumber, black beans, garbanzo beans, green beans, bean sprouts, peas, sugar snap peas, edamame, mushrooms, avocado, steamed kale, arugula, spinach, corn, cherry tomatoes, shredded cabbage, brussels sprouts, roasted potatoes, etc.
Pop of flavor: kimchi, pickled beets/carrots/jalenpeños, sea vegetables, za'atar, olives, feta, sunflower seeds, chopped cashews, dried berries, sundried tomatoes
Sauce/Dip: romesco, peanut sauce, curry, green goddess dressing, tahini-based sauce, chimichurri, hummus, tahini, labneh, chutney, pesto
For even more ideas, check out our Superfood Quinoa Bowl. That's another favorite of mine!
🌈 
KIDIFY THE MEAL 🌈
Have picky eaters? Read More...
🍅Hot Dogs! If your family is not vegan/vegetarian, you can serve this bowl with plain hot dogs on the side. We had low-sodium, turkey hot dogs. This made the meal seem a bit more doable for my kids.
🍅Swap the Veggies! I made this bowl with the veggies I knew my kids would eat. But you can totally switch these veggies out for your kids' faves. I think these veggies would be great with the quinoa: sugar snap peas, cherry tomatoes, garbanzo beans, shredded cabbage, avocado, corn, green beans, brussels sprouts, bean sprouts, etc.
Note: This post contains affiliate links.
Quinoa Veggie Bowl with Romesco Sauce
Ingredients
4

cups

vegetable stock/broth

2

cups

quinoa

(I used Bob's Red Mill tricolor quinoa)

3

red bell peppers

1

T

olive oil

16

oz

steamable bag of frozen broccoli

1

cucumber

(peeled & chopped)

1

carrot

(shredded, or 3/4 cup shredded carrots)

1

15 oz

can black beans

(drained and rinsed)
Romesco Sauce
(roasted red peppers)

3/4

cup

olive oil

1

small lemon

(juiced)

1/2

cup

almonds

2

cloves

garlic

1/2

t

salt
Instructions
Heat broth on high, bring to boil, and add quinoa. Bring back to a boil, then cover, bring heat down to low, and let simmer for 15 mins. The quinoa is done when it can be fluffed with a fork with no excess liquid at bottom. (You may need to cook longer than 15 mins.)

Meanwhile, start broiler. Take your peppers. Cut the tops and bottoms off, de-seed, and cut in half. Lay peppers on a baking sheet, skin-side up. Drizzle 1 T olive oil over all the peppers. Broil (on top rack) for 10 mins.

Take baking sheet out of oven. Carefully (with tongs) take peppers off baking sheet and place in a bowl. Immediately cover with a plate, to create a seal so the peppers can steam. Leave them for 10 mins. Once time is up, remove skin from the peppers. Careful! They may still be pretty hot.

Steam broccoli in microwave according to instructions on package.

In a Vitamix or blender, combine roasted red peppers, olive oil, juice of the lemon, almonds, garlic & salt. Blend until smooth.

Assemble bowls with quinoa in middle, and each veggie and the sauce in its own spot around the quinoa.
Notes
Place every ingredient in the bowl separately, with the quinoa in the middle.
We recommend that all meals for children be served with milk.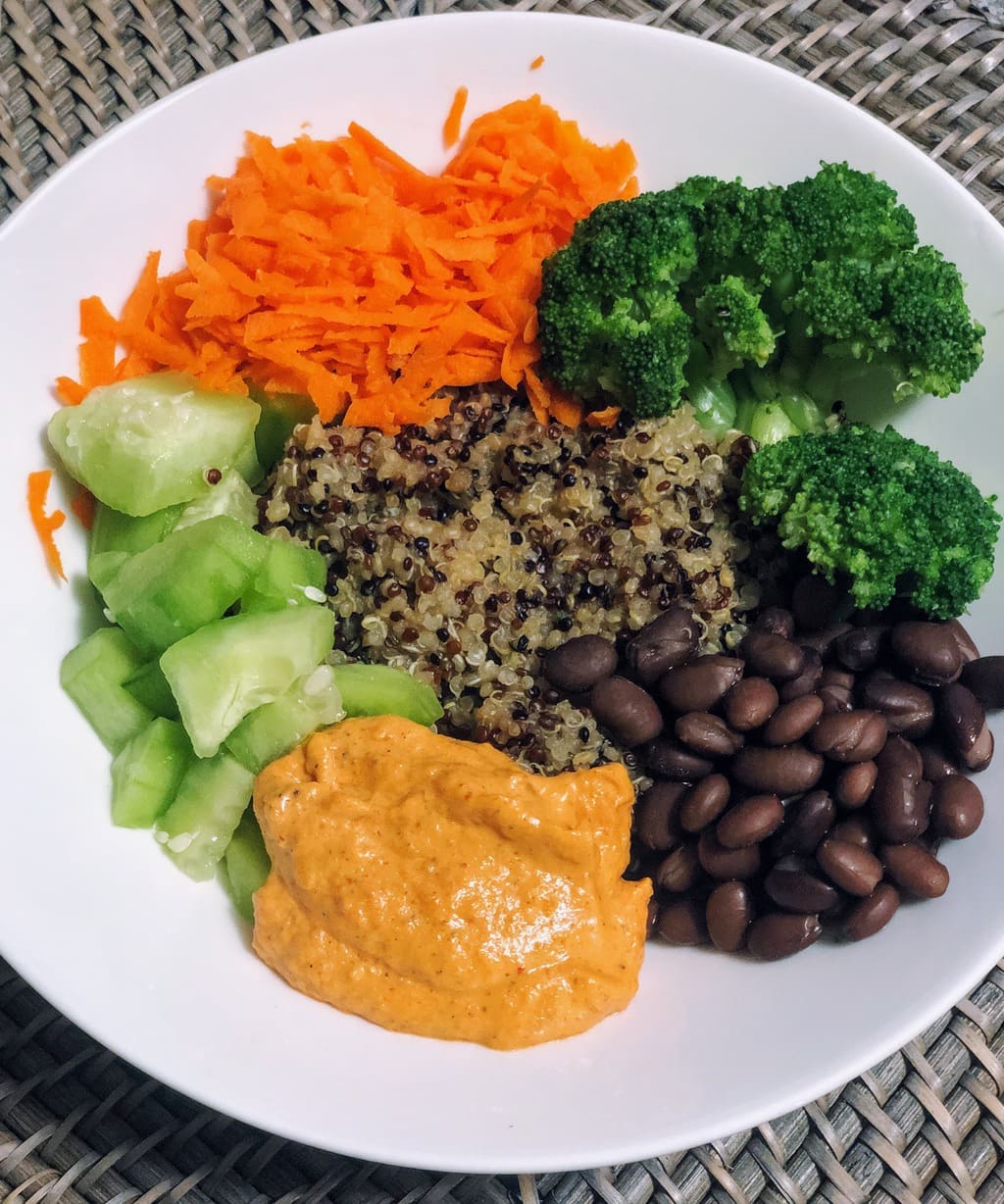 *Percent Daily Values are based on a 2000 calorie diet. While we are not certified nutritionists, we work with a Wordpress-integrated nutrition API to calculate our recipes' ingredient values.
Choose an Activity