Sometimes you can't beat a good chicken salad sandwich....er, wrap! Here we have an easy, low maintenance chicken salad that kids will like. All you have to do is combine ingredients, scoop them into a tortilla, and wrap it up! AND it requires no cooking at all. Great for a quick kids' lunch, no-heat-required dinner, or summertime picnic.
CHICKEN SALAD
The star of this chicken salad is definitely the grapes! When you're used to only having grapes as a snack or dessert-like thing, I think it feels extra fun and indulgent to experience grapes in a main course. My kids even argued over who had more grapes in their wrap, which honestly, I'd much rather have than a fight over candy!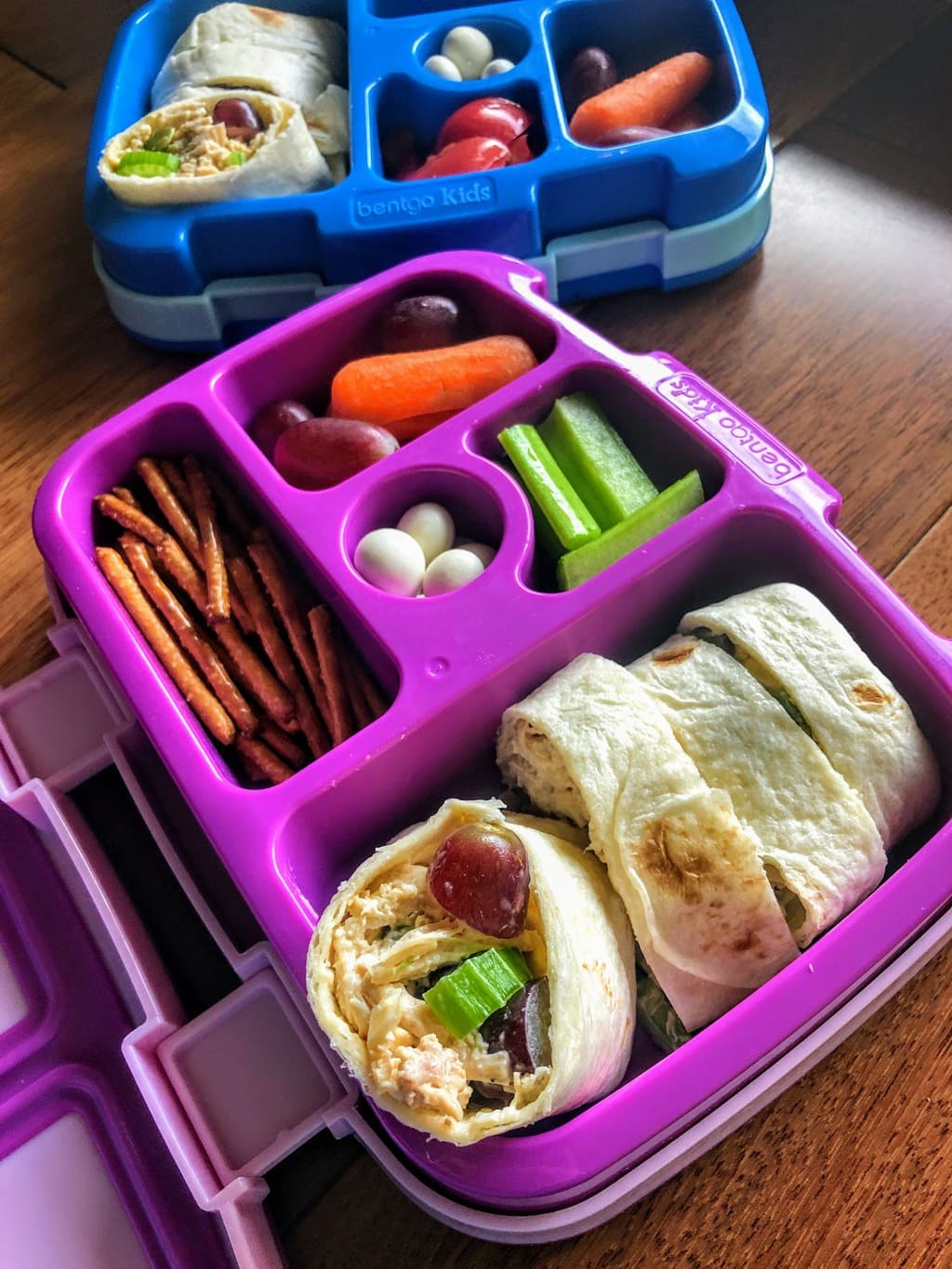 And, aside from the mayo, this really is a pretty healthy wrap. The pumpkin seeds, almond slivers and celery definitely add some great nutrients and a fun crunch. And the chicken salad wrap hits four of the five food groups, which I really can't complain about at all!
WRAP, SANDWICH, OR SALAD?
A chicken salad sandwich is an easy, surefire go-to. In fact, we already have a recipe for that, and we love it! But, I think kids get tired of regular ol' sandwiches. So, having a wrap instead of bread shakes things up in a great way. Honestly, the only reason I thought of wraps in the first place is cause we (meaning, a lazy me) placed an Instacart order for groceries and the shopper accidentally packed tortillas in my bag. Happy accident, but definitely had to find a use for 'em!
Moreover, you could also use lettuce leaves to wrap this chicken salad, or use nothing at all. If I were to eat this as a salad, I would likely cut back on the mayo and serve it over some greens.
INVOLVE YOUR KIDS
My 4 yo loved helping with these chicken salad wraps. It's really just a bunch of chopping and mixing. Pictured below is the Opinel Kids Knife, which is her favorite kids knife right now. It usually rotates between Opinel and the Curious Chef Kids' Knives.
WRAPPING THE WRAP
I'm sure other people have this down to a science, but I definitely do not. Here is a little play-by-play on how to wrap this chicken salad. Scoop about 1/2 cup of chicken salad in the middle of the wrap, fold in the sides, and fold up the bottom about 2/3 the way up the tortilla. Then, tuck that bottom part under the chicken salad and roll it up!
I am totally not sponsored for this or anything, but want to mention how much I love the Bentgo brand. For little kids, these lunch boxes are the perfect size. Because I come from a family that always expresses love through food, I always pack waaaay more food than my kids need. The Bentgo boxes are awesome cause they force me to pack more realistic portions. I thought of showing you these lunch boxes here because the wrap, when cut up, fits perfectly in the largest cavity. It definitely fits better in there than a sandwich. Other bonuses: the inside piece comes out and can go in the dishwasher. They are also leak proof!
Note: This post contains affiliate links.
Enjoy and please let us know what your kids think! ❤️