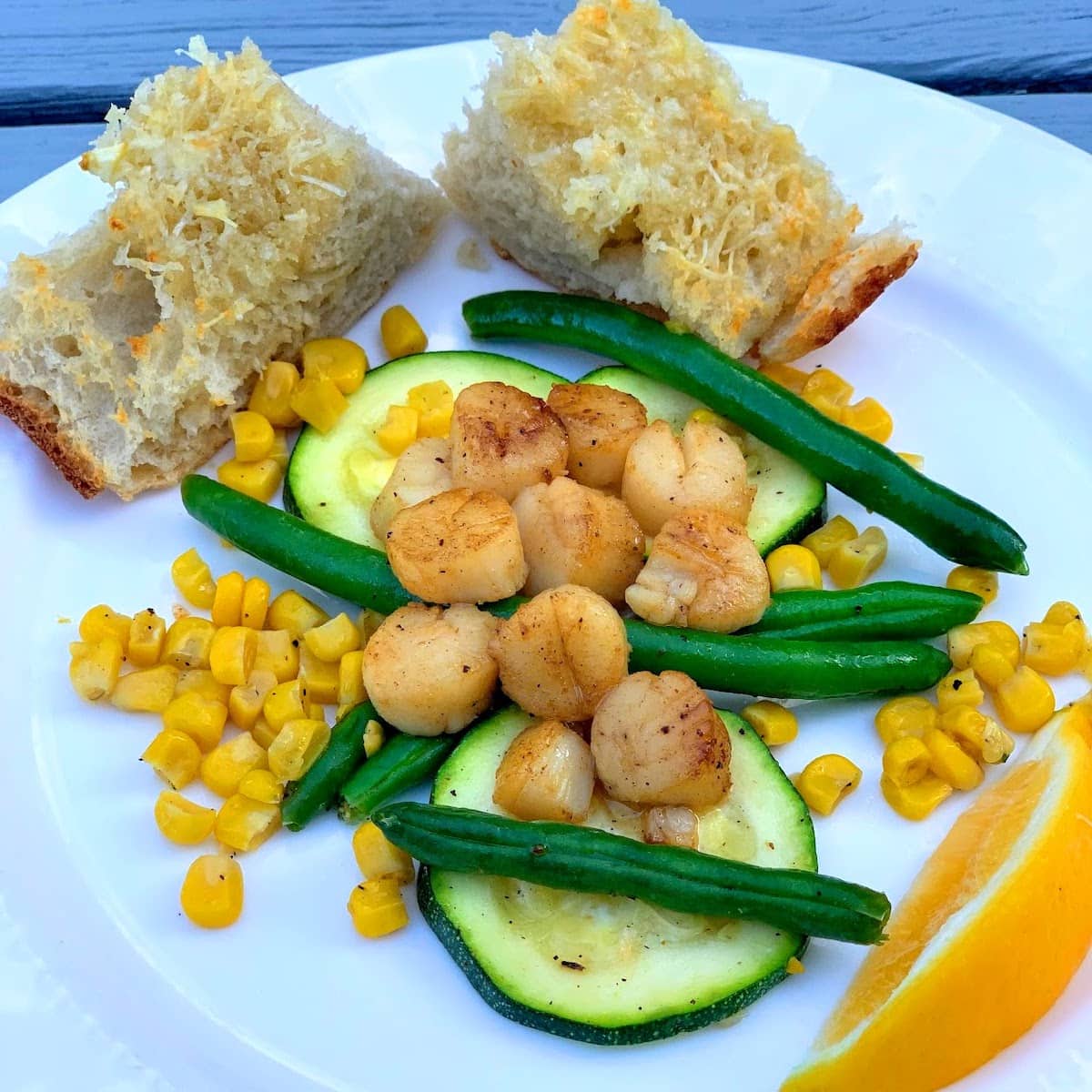 COOKING AS A FAMILY
This week my mom, sister and I have the rare opportunity of being together (in the same city!) and being able to cook together. Our mom lives in Philly, Marcie lives in North Carolina, and I live in Portland. So, coming together is not a regular thing. While three of our kids just wanted to play together, my 3yo daughter was totally amped to help us cook.
SCALLOPS FOR THE WIN
We decided to challenge ourselves and cook something we have never attempted before: scallops! To be honest, we were super apprehensive about the results. After a ton of research, we learned that there is a sweet spot of cooking time for scallops. If you cook them too little, you have undercooked seafood; if you cook them too long, the scallops are rubbery and hard to chew. However, I am very pleased to say that we mastered that sweet spot and our meal far surpassed our expectations. The scallops were freakin' delicious! Buttery, juicy, not-rubbery-at-all, little bursts of flavor. No special sauces, marinades, or complicated dressings. All we had to do was sprinkle the scallops with salt and pepper, and cook them for less than 5 mins in butter/oil. That's all they needed!
We wanted to incorporate seasonal veggies into our dish. Our choices had a lot to do with personal faves, and also making the dish look colorful and therefore, more fun to our kids. Hence, zucchini, corn and green beans. That being said, you could really use any veggies you want. I think summer squash, asparagus, eggplant, peas, or broccoli would be great.
IF YOU HAVE MORE TIME...
We had a bunch of ideas for the dish that we passed on due to it creating too many extra steps and due to the time crunch of 28 minutes. For instance, we wanted to use a different starch. How delicious would the veggies and scallops be on top of a mound of buttery mashed potatoes?! But potatoes take a while to boil. Once we figure out how to do this quickly in a way that doesn't compromise form or flavor, we'll totally put it in a recipe! We also considered serving the veggies and scallops over pasta, quinoa, or couscous. Time-wise, these are all viable options, as long as it doesn't complicate the recipe too much for you.
Another thing we would love to have done is use fresh corn. If you happen to have more than 28 minutes, it makes all the difference to oven-roast fresh corn 🌽🌽🌽 Shuck, butter and season each ear of corn with salt & pepper. Place the ears in separate sheets of tinfoil, and roll the tinfoil up so the corn is completely enclosed. Place corn on a baking sheet and pop in the oven (with the garlic bread) for 25+ minutes. Take the corn out of the tinfoil right away when done, so the corn can cool and will be ready to handle.
Make a sauce! We actually did make a sauce, but it was kind of a bust. Lol. We tried to make a butter-lemon-garlic sauce, but things got a little hectic in the kitchen and we burned the garlic. However, once we tried the scallops, we decided that they had plenty of flavor and that a sauce was totally unnecessary. If you do want to make a sauce, a butter-lemon-garlic sauce would be amazing. You could even add cream to make it a creamy sauce.
Note: This post contains affiliate links.
Choose an Activity