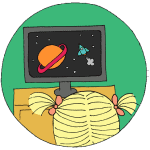 Some nights grown-ups need to focus on making dinner... uninterrupted. And those nights can be the perfect time for kids to have some screen time. We've done the research and here are our top picks for high-quality, educational programs!
---
Educational Programming
---
Is Screen Time Ok?
We think so! There are loads of benefits of educational screen time when use responsibly. Screen time can (a) support literacy skills, (b) expose kids to new places, topics, creatures, cultures, etc., (c) reinforce positive behaviors, and (d) help with knowledge-retention and knowledge-sharing. Read more about the benefits of screen time.
We also want to share some excellent resources for your screen time choices (that we ourselves use):
---
You can trust us!
Hi! I'm Marcie - one of Platein28's co-creators. Educational programming has always been so important to me...and now my family. I approach the issue of children's screen time as an educator, with almost 10 years working in educational technology. And as a mom, what I recommend for your children is the same I recommend for mine. I hope your find these suggestions helpful!
Credentials: Ed. M., Harvard Graduate School of Education; BS., University of Pennsylvania; mom, wife, sister and daughter
---