We love this recipe so much that we resurrected and perfected it. Exactly one year ago we concocted this Romesco recipe. I make the dish often, but throughout the year I found a couple small tweaks to perfect it! Hence, now the BEST Vegan Romesco Sauce with Quinoa & Veggies!
That Special Vegan Romesco Sauce
When my kids were really little, there was this restaurant, Jam, in Portland that had a play area with toys. Needless to say, I went there all the time. It was adult-heaven: to be able to eat in peace for at least 15 seconds was a blessing. And it was kid-heaven: there was a bevy of toys, other kids crawling around and really good blueberry lemon pancakes. But my second favorite thing about the place was their romseco sauce. I always ordered some egg dish that was smothered in romesco and feta (not sure if they still even have it?). Eventually, I wanted that sauce so much that I decided to try and make it on my own.
---
Vegan Romesco Sauce Recipe
Romesco is pretty easy to make, as it turns out. But it can be a bit time consuming. What takes the most time is (a) roasting and steaming the peppers, and (b) prepping the veggies.
It's pretty easy to pop your peppers in the broiler. Aside from roasting time, what takes a while is taking them out, letting them steam, waiting until they are cool enough to touch, and then peeling the skin off. Our 28 minute window allows for all of this, but, including everything else in the romesco recipe, it's down to the minute. Now, I decided to roast the red peppers myself, but to save time, you can totally just buy a jar of roasted peppers at the store. No judgment there. 
Prepping the other veggies takes time, but at least there is no cooking involved. They are all raw. The longest (and not even that long) prep entails a bit of peeling, shredding, & cutting. The rest is opening cans, rinsing, and microwaving.
---
No Meat, No Problem
Note: this post contains affiliate links
This romesco veggie bowl is vegan. Now, our family is not vegan or vegetarian, but more and more over time, I like to eat vegan. Because of this, my kids can totally get down with a veggie-heavy meal.
The key to this veggie bowl is including ingredients your kids will like. I'll be honest, my kids weren't thrilled about the vegan romesco sauce. But I know they love raw cucumber and cooked broccoli. So, I was sure to include those. Both Birds Eye and Green Giant make these great steam-able veggie bags. All you have to do it plop them in the microwave. It's my greatest, newest discovery!
My kids have learned to love quinoa over the years, and I'm so happy about that! What makes it extra tasty is when you use a broth or stock instead of just water for your liquid. I always use Better than Bouillon's vegetable base (or chicken base) when I'm cooking quinoa, and sometimes rice, as well. The flavor is so good. And Better than Bouillon uses less packaging, fits into your fridge compactly and lasts a lot longer than a carton of broth. [FYI, I'm totally not sponsored by the company, but will talk up the product's amazingness ad nauseum...lol].
Steps for Success:
While you can make this romesco recipe in whatever order makes sense to you, this is what I would recommend. However, keep in mind that certain steps are not flexible. For instance, you really have to turn on your broiler right away. Roasting the peppers takes a minimum of 10 mins and steaming the peppers takes 10 mins. So, (for our 28 minute window of time) that only leaves 8 mins collectively for you to prep the peppers at the beginning and make the romesco at the end. You need to start the broth for the quinoa right away, as well. Once boiling, the quinoa needs to cook for 15 mins. 
>Step 1: Turn on Broiler & Boil Broth
>Step 2: Prep & Roasted Peppers for Vegan Romesco Sauce
Note: the recipe calls for only three bell peppers, but I doubled it.
>Step 3: Cook Quinoa
>Step 4: Steam & Peel Peppers
>Step 5: Prep Other Veggies
>Step 6: Make Romesco Sauce
We love our Vitamix!
>Step 7: Assemble Bowls & Eat!
Very

Customizable
I see this bowl as having 3 main components: grain, veggies & sauce. You can play around within any of these categories and create a whole different bowl. Here are some ideas for alternate ingredients:
Grain: lentils, brown rice, barley, millet
Veggies: green beans, bean sprouts, peas, sugar snap peas, edamame, mushrooms, avocado, steamed kale, arugula, spinach, corn, cherry tomatoes, shredded cabbage, brussels sprouts, roasted potatoes, garlic, etc.
Sauce/Dip: peanut sauce, curry, pesto, green goddess dressing, chimichurri, hummus, tahini-based sauce, labneh, chutney
Have a Family Cooking Session:
Worth considering is how this might be the perfect time to invite kids to help out in the kitchen (above all, assuming everyone is healthy and properly washing their hands!). We are all spending so much time together at home these days. So, why not make cooking a family activity?! Not only will cooking together help pass the time, but cooking with your kids has some real educational benefits. For example, cooking with kids can boost self-esteem and foster healthy eating habits.
How Kids Can Help Make This Recipe:
This bowl involves many kid-friendly tasks. Here are some ways for your lil' sous chefs to help out:
Mimi's Cooking Tips:

🍅 To steam the peppers, it's easy to make a seal. We put a plate over the bowl of roasted peppers and then something heavy on top, i.e. a bottle of liquor.
🍅 To save time on prep, you can cheat a little bit with the ingredients. For instance, buy a jar of pre-roasted peppers instead of roasting them yourself. Buy a jar of minced garlic instead of peeling/quartering garlic cloves. Or get a little bottle of lemon juice so you don't have to juice a lemon. 
Our "kidify" Tips:

🍅 Separate the parts! Some kids find meals more palatable when the ingredients are separated out. Food isn't as scary when you can identify it. I don't want to encourage this, but if it gets your kids to eat, do whatcha gotta do.
🍅 Swap the Veggies! I made this bowl with the veggies I knew my kids would eat. But you can totally switch these veggies out for your kids' faves. I think these veggies would be great with the quinoa: sugar snap peas, cherry tomatoes, shredded cabbage, avocado, corn, green beans, Brussels sprouts, bean sprouts, etc.
🍅 Ditch the romesco! I know it's the centerpiece of this recipe, but honestly, my kids weren't crazy about the romesco. As we said earlier, a number of different sauces would work with this. My kids would totally get behind some guac or some peanut sauce. Of course, you can also eat the bowl dry. You just might want to season with salt and pepper, for extra flavor.
Follow Platein28 on Pinterest, Instagram and Facebook and Sign up for our newsletter for all the latest recipes and crafts!
The Best Vegan Romesco Sauce with Quinoa & Veggies
This Romesco Recipe will rock your socks off! Just combine quinoa, your fave veggies & romesco for the ultimate in healthy deliciousness.
Ingredients
Romesco Sauce
[the roasted peppers]

¾

cup

olive oil

1

small lemon, juiced

⅝

cup

slivered almonds

(or ½ cup raw, whole almonds)

2

cloves

garlic, quartered

¾

Teaspoon

salt
Instructions
Take baking sheet out of oven. Carefully (with tongs) take peppers off baking sheet and place in a bowl. Immediately cover with a plate, to create a seal so the peppers can steam. Place some kind of weight on top to assure the seal. Leave them for 10 mins. Once time is up, remove skin from the peppers. Careful! They may still be pretty hot.

Make the romesco! In a Vitamix or blender, combine the roasted peppers with the rest of the romesco ingredients.
Notes
Assemble each bowl however makes you happy! We used about ½ cup of quinoa per bowl.
Nutrition
Calories:
959
kcal
(48%)
Carbohydrates:
88
g
(29%)
Protein:
28
g
(56%)
Fat:
58
g
(89%)
Saturated Fat:
7
g
(44%)
Polyunsaturated Fat:
9
g
Monounsaturated Fat:
39
g
Sodium:
1246
mg
(54%)
Potassium:
1496
mg
(43%)
Fiber:
24
g
(100%)
Sugar:
9
g
(10%)
Vitamin A:
6122
IU
(122%)
Vitamin C:
195
mg
(236%)
Calcium:
196
mg
(20%)
Iron:
8
mg
(44%)
*Percent Daily Values are based on a 2000 calorie diet. While we are not certified nutritionists, we work with a WordPress-integrated nutrition API to calculate our recipes' ingredient values.
Want more 28-minute recipes? Sign up and get recipes straight to your inbox!
What Can Kids do While Grown-ups Cook
Craft for this Vegan Romesco Recipe: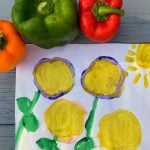 Bell Pepper Art! Cooking with Bell Peppers tonight? Hold on to the tops of your peppers and let kids get creative with this easy craft! When a paint brush becomes boring, why not paint with your food scraps?! You can paint anything you'd like, but we chose to make a landscape with flowers and a sun.
---
Other Quinoa Meals You Might Like