Okay, this was my first time making cauliflower rice. And, omg, it is waaaay easier than I imagined. I decided to create a recipe that would imbue the cauliflower with maximum flavor, just in case (as I've heard repeatedly) the cauliflower is super bland in this form. BUT the result, I have to say, exceeded my expectations by a lot!
CAULIFLOWER TREND
A little background here: one trend that I have inadvertently managed to bypass is the whole make-everything-out-of-cauliflower thang. I'm not against it...I just got overwhelmed by the popularity. You know how when a movie becomes so popular that it's all anyone talks about, and it becomes so irritating that it makes you never want to see it? That's the phenomenon I'm talking about. I've also experienced this with intermittent fasting, pumpkin spiced lattes, tik tok videos, and a ton of other things. However, I'm trying to be more open-minded (lol).
So, one day I came across this hilarious video from the Holderness Family, which is a family (and company unto itself) that posts funny, parody videos about normal, everyday things.
They have a blog, podcast, book, everything you could imagine. My favorite, however, is their goofy videos. This video about excessive use of flavorless, gas-inducing cauliflower, of course, intrigued me and posited a challenge. And I was like, 'ya know what?! I think I'm finally gonna make this damn cauliflower rice and see what all the fuss is about!' Good or bad, I'm in.
Note: this post contains affiliate links
---
WHAT IS CAULIFLOWER RICE, ANYWAY?
Seriously, if I knew how easy this would be, I would have tried making it years ago. It is simply finely chopped cauliflower and oil, cooked in a pan for like 5 minutes. That's it. Of course, that's the plainest version. In this recipe I decided to go the Americanized-Chinese-food route and do a cauliflower egg fried rice with orange sesame chicken. My kids always want fried rice and orange chicken when we order Chinese takeout. So, it was my aim to recreate this takeout staple with one small, sneaky difference. Soy sauce really does have the power to transform a food, so I thought, the chances are good that the cauliflower would taste close to the real deal.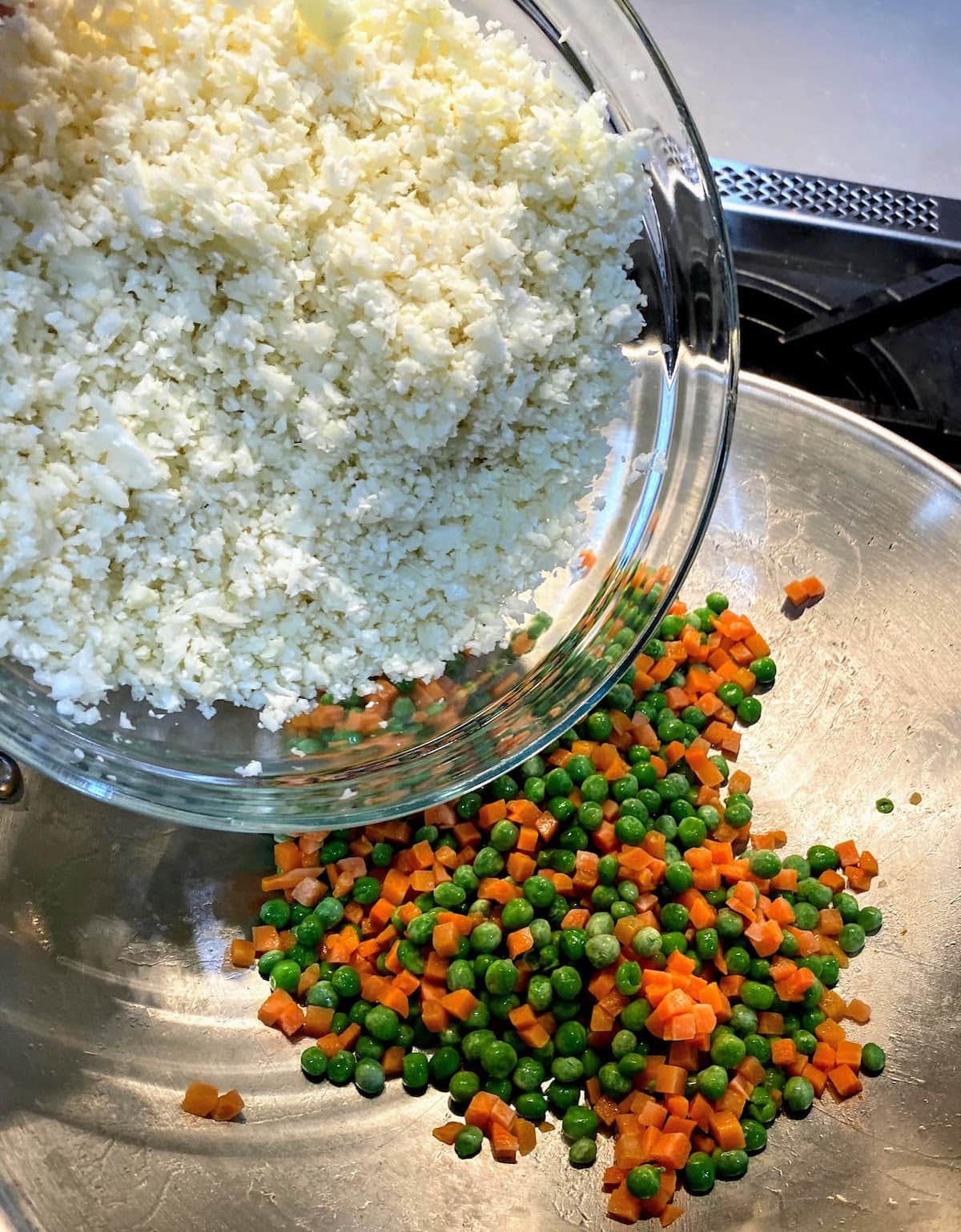 This cauliflower fried rice really comes down to 3 necessary components: (1) cooking oil, (2) cauliflower and (3) sauce. Because we were trying to make an Americanized-Chinese fried rice, we also added egg and frozen veggies. And because we were making food for 5-6 people, we used a wok (also cause woks are fun and I never get to use mine!). A large pan would also work...or a small pan for a smaller number of eaters.
---
KIDS' REACTION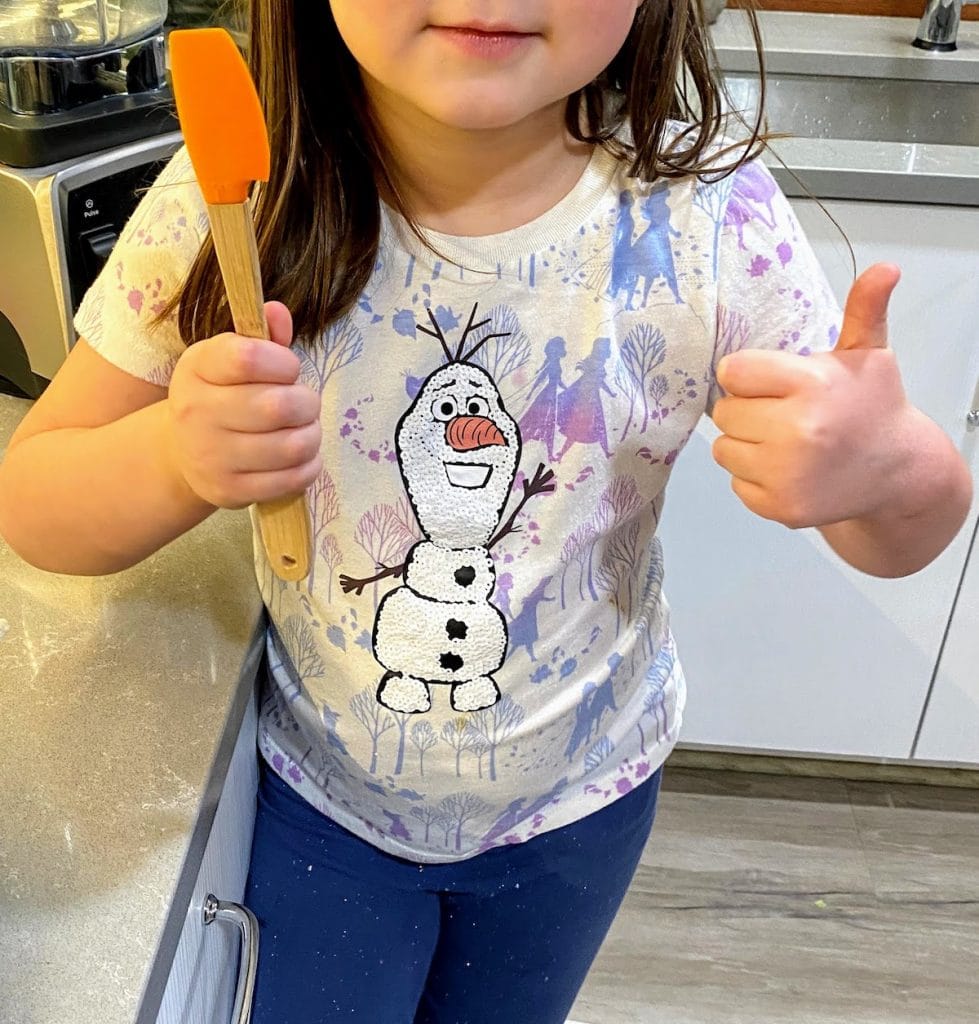 Here are our casual stats:
All three of us made this meal: my mom, sister, and myself. Between our three households, that totaled: 7 kids (under 13 yo) and 9 adults. Five kids under thirteen years old tried this cauliflower egg fried rice. Four out of seven kids liked this dish. But it should be stated that one of the kids who didn't like it had swimmer's ear and was pretty cranky at the time. ALL of the adults liked this dish...most actually loved it, for realz.
As for my household alone, I had a tough audience, and yet, I got three thumbs up 👍👍👍 All kids [5 yo, 7 yo, and 13yo] loved the chicken and thought it tasted pretty darn close to Chinese takeout. And, while they definitely noticed the 'rice' was not actually rice, they liked the flavor enough, and ate it all up. When she doesn't like something, my step-daughter likes to say "xyz is not my favorite." And I totally didn't hear that this time!! Success!
---
Ingredients Required
Note: this post contains affiliate links
Granted, I don't know what's in your fridge and pantry. But I'd say that most households have at least half of these ingredients on hand. Of course, it all depends on how often you cook, what types of cuisines you make, etc.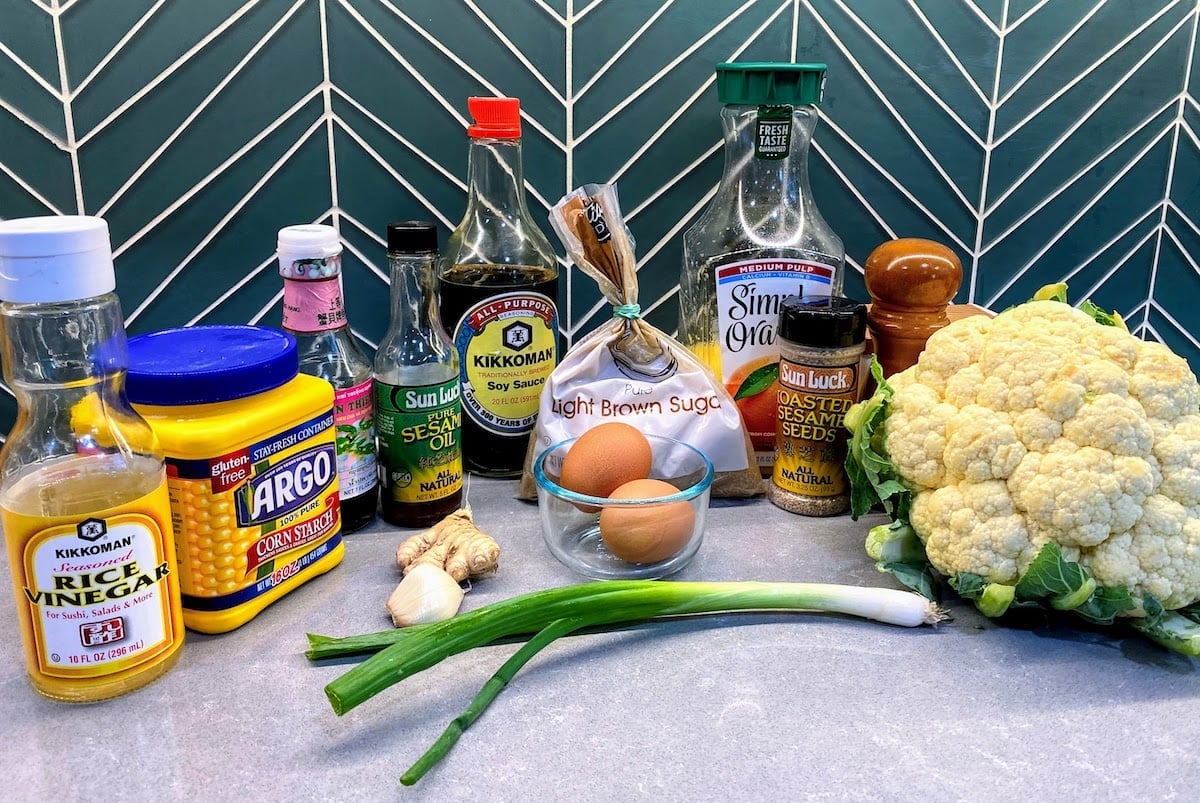 Because I'm a dork, I calculated the ingredients for myself, and I ended up having 63% of them on hand. What I had to purchase were the fresh produce and frozen items. I had eggs in the fridge and all the pantry-stable ingredients on hand. If you ever cook 'Asian'-esque meals, you likely have the soy sauce, fish sauce, rice vinegar, and sesame oil on hand (which are the priciest ingredients for this recipe).
[Not pictured below: frozen chicken, frozen veggies & OJ]
---
Steps for Success:
While you can make this Cauliflower Egg Fried Rice with Orange Sesame Chicken in whatever order makes sense to you, this is what I would recommend:
>STEP 1: HEAT OVEN & COOK CHICKEN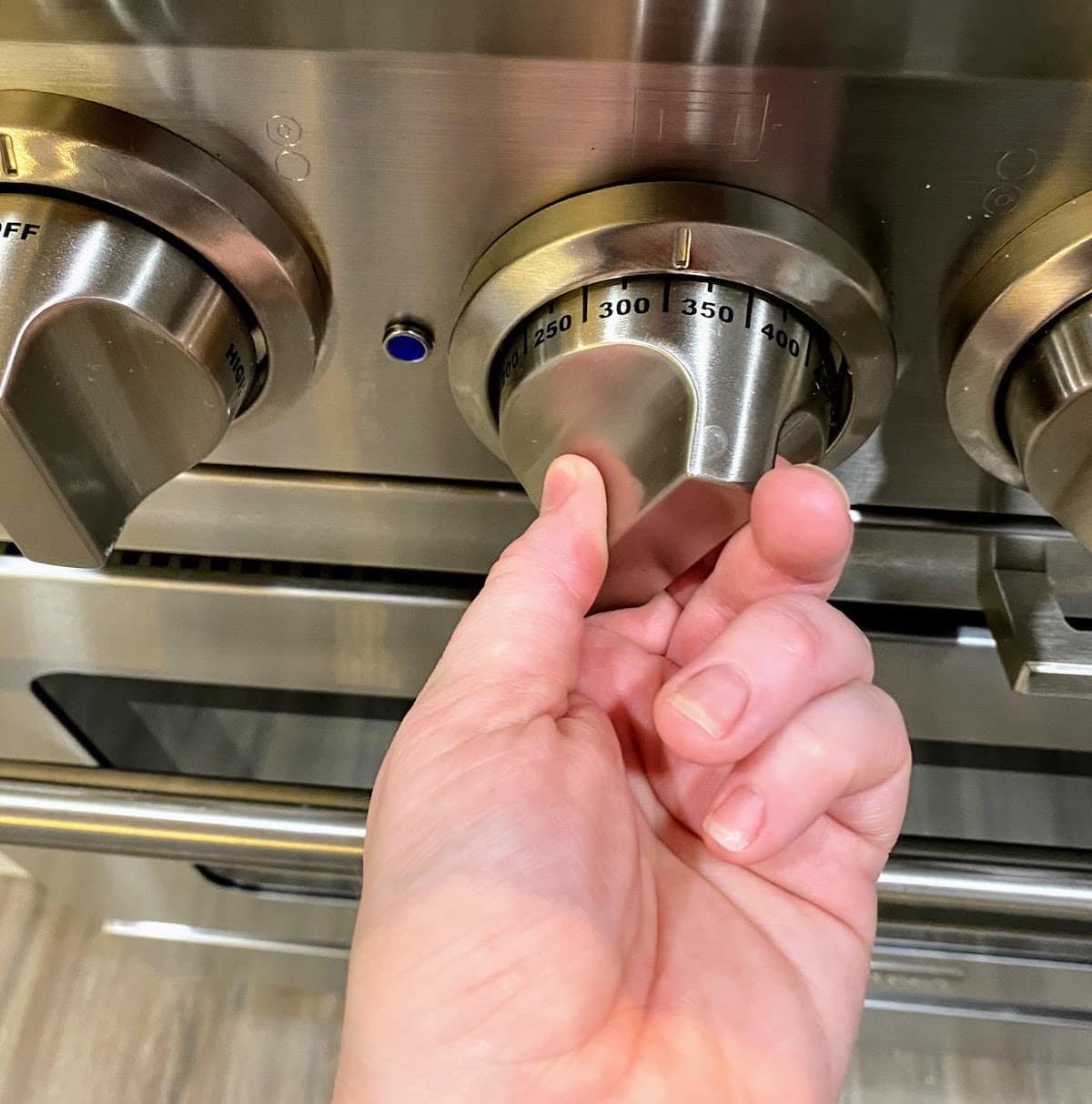 >STEP 2: PREP CAULIFLOWER
Be careful not to process the cauliflower for too long or the cauliflower will start to puree. I put one bunch of cauliflower in at at a time, briefly processed, then scraped out with a small spatula (I love this Core mini spatula). We love our Vitamix and that's what I used! But a food processor would be stellar for this.
>STEP 3: SCRAMBLE EGGS
>STEP 4: COOK CAULIFLOWER RICE
>STEP 5: MAKE RICE SAUCE & MIX IN
>STEP 6: MAKE ORANGE SESAME CHICKEN SAUCE & MIX IN
Note that putting the sauce on your chicken may take away the fried crunch of the breading. I mean, your chicken might get soft once it absorbs the orange sesame sauce. My chef boyfriend was telling me that most frozen chicken is breaded, not intending to be combined with any sauce. Fried chicken that's intended to be tossed in a sauce and still remain crunchy is battered. Ultimately, it's not a big deal because it all tastes the same. But if you want to maintain that fried chicken crunch, put some sauce on the side and dip your chicken into the sauce.
>STEP 7: SERVE & EAT!
---
VERY

CUSTOMIZABLE
Here are some simple ways to change the vibe of this Cauliflower Egg Fried Rice with Orange Sesame Chicken:
🍅Use different veggies
🍅Have orange sauce as a dip instead of mixing it in with the chicken
🍅Decrease the sauce if it makes your chicken too wet
🍅Fry the egg instead of scrambling it
🍅Mix in some cooked broccoli with the chicken and orange sesame sauce
🍅Swap some of the sesame oil for olive oil if the sesame flavor is too strong
---
HAVE A FAMILY COOKING SESSION:
Worth considering is how this might be the perfect time to invite kids to help out in the kitchen (above all, assuming everyone is healthy and properly washing their hands!). We are all spending so much time together at home these days. So, why not make cooking a family activity?! Not only will cooking together help pass the time, but cooking with your kids has some real educational benefits. For example, cooking with kids can boost self-esteem and foster healthy eating habits.
---
HOW KIDS CAN HELP MAKE THIS RECIPE:
This recipe involves many kid-friendly tasks. Here are some ways for your lil' sous chefs to help out:
Assisting with the processing! With your oversight, kids can put the bunches of cauliflower in your Vitamix or Food Processor and press the blend button. They will also love using this spatula (that's perfect for their little hands) to scrape the rice off the sides of the processor. Just make sure the processor is not connected to a power source while they do that!
Stirring! There is so much stirring in this recipe: the rice in the pan, both sauces, mixing in both sauces, the cornstarch + water, etc. Hand them these great tools for little hands and let them complete these finishing steps.
Making the sauces! Seriously, you can save time for yourself by putting your kids to work on the sauces while you tend to other steps. You only have to grate the ginger and mince the garlic in advance. It's honestly pretty hard to screw these up, so have faith!
Rice sauce: (1) Set up: small bowl, tablespoon, teaspoon, wet rag, ingredients (soy sauce, sesame oil, minced garlic, pre-grated ginger and fish sauce), whisk. (2) Tell them amounts: 2 T soy sauce, 2 t sesame oil, garlic, 2 t ginger, 1 t fish sauce. (3) Whisk together in bowl!
Orange sesame sauce: (1) Set up: small pot, cup, tablespoon, teaspoon, wet rag and ingredients (OJ, brown sugar, soy sauce, rice vinegar, pre-grated ginger, and minced garlic), whisk. (2) Tell them amounts: ¾ cup OJ, 3 T brown sugar, 1 T soy sauce, 1 t rice vinegar, 1 t ginger & garlic. (3)Whisk together in pot! Only heat sauce with grown-up, though!
---
---
MIMI'S COOKING TIPS:

🍅 To prep the ginger, use a spoon for peeling. If you lightly scrape the ginger with a spoon, the skin comes right off. And when you grate the ginger, make a circular motion on the grater to maximize the output.
🍅 Time savers: jarred minced garlic instead of fresh. And jarred grated ginger or ginger powder instead of fresh. 
---
OUR "KIDIFY" TIPS:

🍅 Use different veggies! I used what I deemed most common in generic fried rice recipes: peas and carrots. But you could also use broccoli, baby corn, snow peas, water chestnuts, onion, bean sprouts, bamboo shoots, bell pepper, etc. Whatever your kids are more likely to eat.
🍅 Make more sauce. If you have an extra big head of cauliflower, for more flavor, you might want to double the sauce. Just be careful to not drench the cauliflower rice.
---
Cauliflower Egg Fried Rice with Orange Sesame Chicken
Our Cauliflower Egg Fried Rice with Orange Chicken will surprise you with its bold flavor! Who knew cauliflower could taste so good?!
Equipment
Vitamix, blender or food processor
Ingredients
25.5

ounce

bag frozen chicken

(breaded, pre-cooked, small pieces)

3

Teaspoons

sesame oil

(1 t for rice and 2 t for rice sauce)

12

ounce

frozen peas & carrots

1

head

cauliflower, de-stemmed and cut into medium-sized florets

1

scallion, chopped

(+ extra for garnish)

1

Teaspoon

salt

2

eggs

(optional: add a pinch of salt & pepper)

2

Tablespoon

soy sauce

(1T for rice sauce & 1T for orange chicken sauce)

3

Tablespoon

ginger, grated

(2t for rice sauce & 1t for orange chicken sauce)

1

Teaspoon

fish sauce

2

cloves

garlic, minced

(1 for rice sauce & 1 for orange chicken sauce)

¾

cup

orange juice

3

Tablespoon

brown sugar

1

Teaspoon

rice vinegar

4

Tablespoon

water

2

Tablespoon

cornstarch

1-2

Tablespoon

sesame seeds

(+ extra for garnish)
Instructions
Pre-heat the oven according to your frozen chicken package. Once oven is heated, lay chicken out on a baking sheet and cook according to instructions. When done, put your chicken into a large bowl.

Heat a wok or large pan on low/medium. Add 1 t sesame oil and the frozen veggies. Cook for 2 mins. Meanwhile, use a food processor or Vitamix to chop the cauliflower into rice-sized pieces [put one bunch in at a time, pulse it, scrape out with a small spatula, and repeat]. Add riced cauliflower, chopped scallion and salt to pan. Cook for 5 more mins, stirring frequently.

Meanwhile, whisk eggs together in a small microwave-safe bowl, along with a pinch of salt & pepper. Microwave the eggs for 45 seconds, stir, and then microwave another 45 seconds. Cut egg into smaller pieces and stir into the cauliflower rice.

In a small bowl, mix together: 1 T soy sauce, 2 t ginger, 2 t sesame oil, fish sauce, and 1 clove minced garlic. Pour sauce over rice, stir and cook for 1-2 mins. Remove pan from heat.

Heat a small pot on low/medium and add: orange juice, brown sugar, 1 T of the soy sauce, rice vinegar, ginger & garlic. Cook for 2 mins, stirring frequently. Meanwhile, whisk together water and cornstarch in a small bowl. Pour mixture into orange sauce pot and whisk steadily until sauce has reached desired thickness (it may help to increase the temp). Remove from heat, pour on top of chicken along with sesame seeds, and mix together.
Notes
To plate, Serve rice and chicken together on plate or in bowl. Feel free to garnish the dish with sliced scallion and sesame seeds.
Save time by buying a package of pre-cut cauliflower florets instead of a whole head, pre-minced garlic or garlic powder instead of fresh, and pre-grated ginger or ginger powder instead of fresh. You could also buy a frozen orange chicken kit so you don't have to make an orange sauce.
If you have time, make the sauces in advance. 
Don't over-process the cauliflower or it will start to puree. Put one bunch of florets into the Vitamix/food processor at a time, pulse a couple times, scrape the rice out, and then repeat until all cauliflower has been riced.
We recommend a low-sodium soy sauce.
Use olive oil instead of sesame oil if the sesame flavor is too strong.
To make this vegan, ditch the egg, swap the chicken for fried tofu, and swap the fish sauce for vegan fish sauce (or just increase the soy sauce amount).
You may prefer to use the orange sauce as a dip instead of coating the chicken with it.
Nutrition
Serving:
1
serving
Calories:
427.1
kcal
(21%)
Carbohydrates:
54.71
g
(18%)
Protein:
21.47
g
(43%)
Fat:
15.38
g
(24%)
Saturated Fat:
2.3
g
(14%)
Polyunsaturated Fat:
1.57
g
Monounsaturated Fat:
1.63
g
Trans Fat:
0.02
g
Cholesterol:
94.56
mg
(32%)
Sodium:
1774.38
mg
(77%)
Potassium:
535.54
mg
(15%)
Fiber:
5.91
g
(25%)
Sugar:
11.88
g
(13%)
Vitamin A:
3040.59
IU
(61%)
Vitamin C:
68.16
mg
(83%)
Calcium:
95.94
mg
(10%)
Iron:
2.2
mg
(12%)
*Percent Daily Values are based on a 2000 calorie diet. While we are not certified nutritionists, we work with a Wordpress-integrated nutrition API to calculate our recipes' ingredient values.
---
WHAT CAN KIDS DO WHILE GROWN-UPS COOK?
---
CRAFT FOR THIS RECIPE:
Halloween Veggie Tray! Looking for a healthy snack this Halloween? Turn your veggies into a skeleton, monster or other spooky character that you can eat. This was seriously a super fun activity. Your kids will be excited to snack on their Halloween Veggie Tray! 
---
SOME 'REAL RICE' MEALS YOU MIGHT LIKE:
🍅One Pan, Easy Pea-sy Chicken and Rice Recipe
🍅Shrimp with Corn in Creamy Poblano Pepper Sauce
---