Are you looking to make an authentic and easy Philly Cheesesteak with Shaved Beef that can be made in under 30 minutes?! If so, you've come to the right place! Having been born and raised in the Philly area, I know a good cheesesteak. And this recipe fits the bill.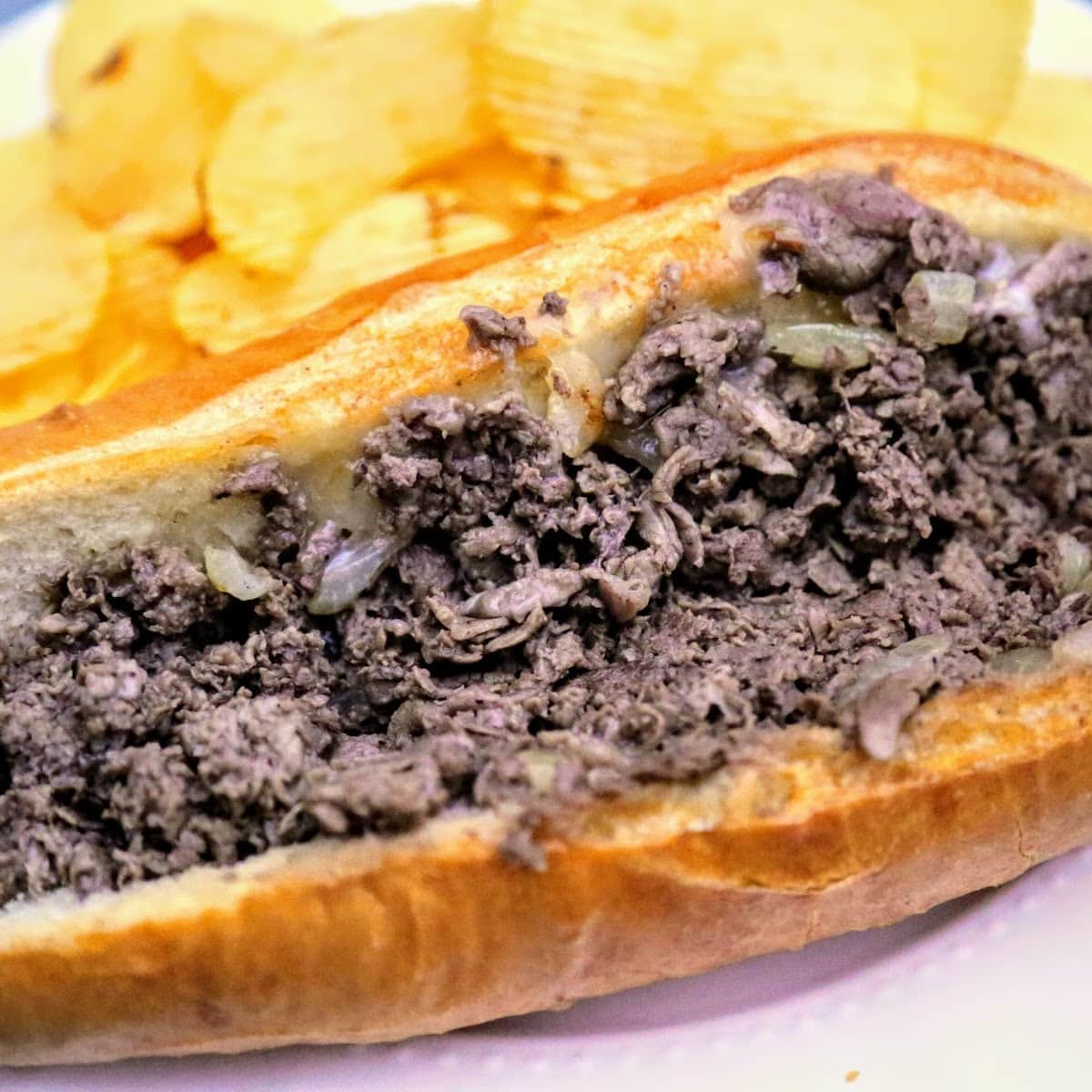 Jump to:
🤔 What is an Authentic Philly Cheesesteak?
A classic, Philly cheesesteak has: meat (ribeye), onions, and cheese (provolone, American cheese or Cheese Whiz). And it's pretty common to add sautéd mushrooms and/or peppers to a cheesesteak, as well. For an authentic Philly cheesesteak, the most well known places to go are Pats King of Steaks, Geno's Steaks, and Jim's Steaks, all in South Philly. I speak from experience here! If you are craving tender steak smothered in melty cheese and caramelized onions in a lightly toasted Hoagie roll, these are the best tourist spots!
Unfortunately, we can't all make the trip to Philly for one of these delicious cheesesteaks. But the good news is, you can make one at home just like the real deal!
👍 Why We Love Shaved Beef Cheesesteaks
True comfort food! Whether it's warm or cold outside, there is nothing like a juicy cheesesteak to satisfy your cravings!
Quick- Make this these shaved beef cheesesteaks in 28 minutes or less!
One pan! You'll only have to use ONE pan for these cheesesteaks. It doesn't get any better than that!
Simple- There is minimal chopping for this recipe so, the prep work is really just combining ingredients. We also used DiLuigi's Shaved Beef Steak which is pre-sliced and packaged which meant way less work for us.
Tender-Not only did your shaved beef cook quickly, but it came out quite tender, mixing beautifully with the cheese and onions. For more info and interesting tidbits on shaved beef, check out this NYTimes article on shaved steak.
Customizable-Want more veggies? Mix in bell peppers or mushrooms. And choose the cheese that you're family likes best!
Note: If you love beef-based sandwiches, be sure to try our Old Fashioned Sloppy Joes!
🛒
Ingredients
Notes on Ingredients:
Veggies - White or yellow onion is fine; you can also add sliced mushrooms and/or bell peppers to the pan.
Meat - Shaved beef is the way to go. Pre-sliced beef (like 1/16" to ⅛" thickness) is easier to separate in the pan, cuts down on cooking time, and is the cut you want for a cheesesteak. DiLuigi's Shaved Beef Steak and Old Neighborhood shaved beef are both great options.
Bread - Long, thin rolls work best.
Cheese - We prefer Provolone on my cheesesteaks, but American and good ol' Cheese Whiz are great too!
Chips - Totally optional- we love Utz Ripples Original Potato Chips.
👩‍🍳 Instructions
Step 1: Sauté onions
First, sauté onions until caramelized. Then, set aside in a small bowl for later. Note: Most cheesesteak enthusiasts prefer their onions sliced, but for my picky eaters we opted to chop them finely.
🥄 Kids Step: Use a basting brush to spread the olive oil on the pan. My daughter loves doing this cause "it's like painting"! Kids can also wear goggles to slice/chop onions! Goggles will protect little eyes from tearing up. Our fave kids knives are: Curious Chef Knife Set, Opinel Knife, & Made for Me Beginner's Knife.
Step 2: Cook shaved beef
Next, cook shaved beef and season with salt and pepper. Use a spatula or two wooden spoons to gently pull shaved beef apart as it cooks.
Step 3: Prepare rolls
Slice hoagie lengthwise without completely slicing apart. Spread butter on the inside of each half.
🥄 Kids Step: Butter the rolls. This is an easy task for little ones.
Step 4: Assemble cheesesteaks!
Finally, divide meat into two sections in your pan (or more depending on how many rolls you have). Incorporate onion back into the meat. Place cheese on top of each section of shaved beef and lay the open side of the roll face down on the meat. Once cheese has melted, use one or two spatulas to gently flip over the sandwich onto a plate.
🥄 Kids Step: Lay cheese on top of shaved beef. Kids will love watching the cheese melt into the beef in the pan.
❓FAQ
What cut of meat is best for Philly cheesesteaks?
Ribeye is typically the most popular choice of meat for Philly Cheesesteaks. This meat comes out quite tender and delicious, but slicing the meat thin enough can be tricky. Sirloin or Flank Steak are also popular options. Whatever you choose, I highly recommend asking your butcher to slice your meat as thin as possible to save you time in the kitchen! 
For our cheesesteaks, we opted to buy Shaved Beef Steak. 

Tips on slicing beef thin: We realize that packaged, pre-sliced steak meat isn't sold everywhere. So, if you are cutting the meat yourself (especially Ribeye or a thicker cut of meat), Saveur has some great tips on how to cut steak paper thin. Specifically, associate food editor Kellie Evansy recommends freezing steak tightly wrapped in plastic wrap for 20 minutes prior to cutting. Then, once firm, he recommends thinly slicing the meat against the grain.
What is the best cheese for a Philly cheesesteak?
We prefer provolone cheese, for its mild flavor and how well it melts and blends with the meat in our cheesesteaks. However, if you ask my sister, the best cheesesteak has 'extra whiz,' ladled on thick and creamy at the end. Overall, the most popular choices are provolone, American cheese and Cheese Whiz. 
How to choose your bread
If you are from Philly or South Jersey, you have probably heard a sandwich prepared on a long, thin roll referred to as a hoagie. Depending on where you're from, you may call these sandwiches subs, submarines, grinders, heroes...the list goes on and on.

For our Philly cheesesteaks, we sought out rolls that were long, chewy, soft and thick enough to hold our hot steamy beef and cheese mixture. And the sandwiches were perfect!
What goes into a classic cheesesteak?
We're kind of purists with our cheesesteaks, and stick to the basics: meat, onions, and cheese. And my sister always goes for a chicken cheesesteak (which some see as sacrilege - haha) with mushrooms and extra whiz. Obviously, you can totally make yours however you want! Go with what your family likes best!

It's pretty common to add sautéd mushrooms and/or peppers to a cheesesteak. Common variations of the cheesesteak are the Classic American Steak, Pepper Cheesesteak, Mushroom cheesesteak, and Pizza Steak. Respectively, that's a steak with American cheese, a cheesesteak with sautéed bell pepper slices, a cheesesteak with sautéed mushrooms, and a steak with provolone and marinara (sometimes peppers too). 
🍟

Side

Suggestion

s
We paired our cheesesteaks with the beloved, Pennsylvania's own Utz Ripples Original Potato Chips, but other popular choices are fries and onion rings. If you are looking for a potato side dish, we highly recommend these Shake & Bake Parmesan Sweet Potato Fries. Our Microwave "Baked Potato" for Kids would also go nicely with your cheesesteak.
To keep things healthier, a simple garden salad, peeled celery sticks, or sliced cucumbers and/or carrot sticks are safe bets.
👶Tips for Picky Eaters
🍅 Kids choose their toppings. Mushrooms, peppers, ketchup, mustard....kids can dress their cheesesteaks however they'd like!
🍅 Change up the cheese! While we like Provolone on our cheesesteaks. But other cheeses like American or Cheese Whiz work great for this recipe.
🍅 Let kids choose the side dish. Fries, chips, or a simple salad all go great with cheesesteaks!
✂️ Do this Craft!
While you cook, kids can make an Adorable DIY Piggy Bank! Your change will be safe in this sweet and simple cow-themed piggy bank!
🍔 More Sandwiches to Try
Follow Platein28 on Pinterest, Instagram and Facebook and Sign up for our newsletter for all the latest recipes and crafts!
🍽 Easy Philly Cheesesteaks with Shaved Beef
You don't need to go to Philly for a cheesesteak! Make the real deal at home with our mouthwatering, and ONE PAN Easy Philly Cheesesteaks recipe.
Ingredients
2

Tablespoon

olive oil (divided, or a few sprays of cooking spray)

1

medium onion, sliced or chopped

1

Pound

shaved beef

1

Teaspoon

salt

½

Teaspoon

pepper

4

Hoagie rolls

2

Tablespoon

butter

4-6

slices

provolone cheese
Instructions
Heat frying pan or griddle on medium, and coat with 1 T olive oil or spray with cooking spray. Add onions and cook for 2-3 minutes until browned or even caramelized. Remove onions and set aside in a small bowl.

Heat remaining 1 T of oil (or cooking spray) in pan. Add shaved beef and season with salt and pepper. Use a spatula or two wooden spoons to gently pull shaved beef apart and cook until no longer pink. Mix in onions.

Slice hoagie rolls lengthwise without completely slicing apart. Spread butter on the inside of each half.

Divide meat into sections in your pan, depending on how many rolls you have. Place 1-2 slices of cheese on top of each section of meat. Then, lay the open side of the roll face down on the cheese & meat for 1-2 minutes, or until butter and cheese have melted. Use one or two spatulas to gently flip over meat with roll onto a plate. Serve cheesesteaks with your side of choice. 
Notes
To plate...serve cheesesteaks with your side of choice. 
Shaved beef is the best meat for these cheesesteaks.
Assemble your cheesesteak upside down in the pan. Use a spatula or two to flip assembled cheesesteaks over and onto your plate. 
Nutrition
Serving:
1
sandwich
Calories:
599.5
kcal
(30%)
Carbohydrates:
35.66
g
(12%)
Protein:
33.46
g
(67%)
Fat:
36
g
(55%)
Saturated Fat:
14.96
g
(94%)
Polyunsaturated Fat:
1.88
g
Monounsaturated Fat:
15.67
g
Trans Fat:
0.23
g
Cholesterol:
97.33
mg
(32%)
Sodium:
1150.57
mg
(50%)
Potassium:
375.47
mg
(11%)
Fiber:
1.59
g
(7%)
Sugar:
5.61
g
(6%)
Vitamin A:
361.06
IU
(7%)
Vitamin C:
2.04
mg
(2%)
Calcium:
167.51
mg
(17%)
Iron:
12.83
mg
(71%)
*Percent Daily Values are based on a 2000 calorie diet. While we are not certified nutritionists, we work with a WordPress-integrated nutrition API to calculate our recipes' ingredient values.
Want more 28-minute recipes? Sign up and get recipes straight to your inbox!