Chicken and rice is a combination that we never grow tired of in our home. We have been experimenting a lot with rice bowls lately, typically with a Mexican flare. So, we decided to change things up this week and make a delicious one pan chicken and rice dish with peas and parmesan.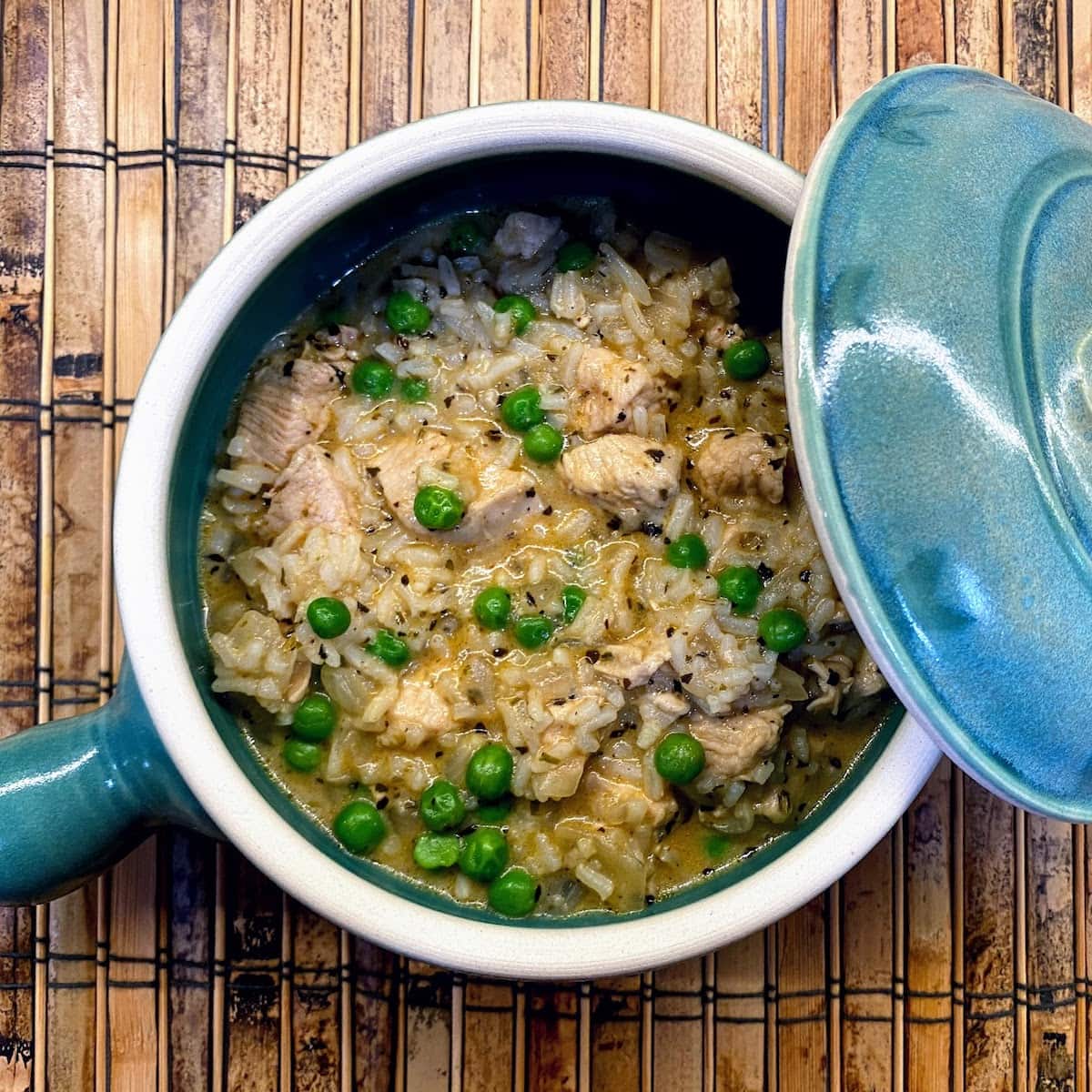 ---
One Pan Chicken and Rice to Warm your belly
Now that it's a bit cooler outside, we have been craving warm, comfort foods. I am also convinced that my kids have been hungrier than ever lately. By 5pm they are completely famished! Our one pan chicken and rice dish is a perfect meal that will satisfy hungry kiddos on a busy school night.
---
Oh how we love one pan meals!
Let's face it, one pan or one pot meals are simply the best! This dish can be made in four simple steps and minimal mess. Here is how it plays out. 
>Step 1: Cook Onion
We kicked off this meal by melting butter in our pan and cooking the onion for a few minutes. While the onion is cooking, we gathered all the ingredients together for Step 2.
>Step 2: Season & Cook Chicken 
Next, we added our chopped chicken, garlic and seasonings to the pan. We stirred the ingredients together and cooked the chicken until golden and no longer pink on the inside.
>Step 3: Cook the Rice
Then we added chicken broth and rice, and brought the mixture to a boil. Next, we simply covered our pot and let it simmer for 15-20 mins. Note: If using Instant Rice, it will take much less time.
>Step 4: Add the rest!
To give our dish a creamy finish, we stirred in some milk and cheese. And of course, we thought peas would give the meal an extra healthy boost and flavor pop! My kids love peas, so this was an easy choice. However, you can select a veggie that your family prefers, i.e. broccoli.
---
Instant vs. Regular Rice for this Recipe
Note: This post contains affiliate links
When it comes to choosing your rice, it really comes down to personal preference and timing. We ended up cooking this dish three different times with three different types of rice.
Initially we made this dish with brown rice, since we tend to prefer brown over white rice. While the outcome was awesome, it definitely added some time.  The second time we made the dish with white, long grain rice. This also turned out great and cut down on time.
Finally, we found instant white rice to be the quickest option. So this is what we recommend if you want dinner on the table as fast as possible. 
Note: Be sure to check out our adorable Ghost Rice Craft for the kids to do while you prepare this dish!
---
MODIFY One Pan Chicken and Rice Recipe
You can modify this recipe in a couple ways. One, you can swap the peas for a veggie of your choice, i.e. broccoli, carrots, corn, beans, etc. Second, as we said above, you can choose your rice. Minute Rice (brown or white), I think, is really the way to go. It's totally doable in 28 minutes and I think the consistency is pretty comparable to regular rice. Without a time constraint, though, the world is your oyster: wild, long grain, short grain, basmati, jasmine...
Third, to change the dish entirely, you can play around with different spices. We used pretty basic spices that most people have in their pantry. But you could also make this more of a curry dish, using curry powder instead of the Italian seasoning, and using coconut milk instead of regular milk. Other spices to change things up: coriander, cumin, and turmeric. Also think about fresh ginger or adding chopped tomatoes. The whole feel of the dish can change with just a few alterations.
Note: This post contains affiliate links.
---
HAVE A FAMILY COOKING SESSION
Worth considering is how this might be the perfect time to invite kids to help out in the kitchen (above all, assuming everyone is healthy and properly washing their hands!). We are all spending so much time together at home these days. So, why not make cooking a family activity?! Not only will cooking together help pass the time, but cooking with your kids has some real educational benefits. For example, cooking with kids can boost self-esteem and foster healthy eating habits.
---
HOW KIDS CAN HELP MAKE THIS Rice and Chicken Meal: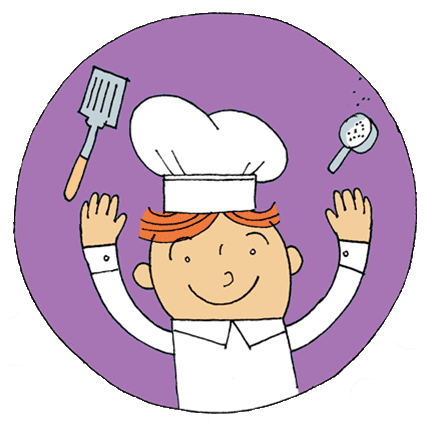 This one pan chicken & rice recipe involves many kid-friendly tasks. Here are some ways for your lil' sous chefs to help out:
Cut! Kids can use one of these safe, awesome kids kitchen knives to cut the onion while you are doing other things. Our kids also like wearing swimming goggles to cut the onion! It's kind of hilarious to see, but functionally, it keeps their eyes from tearing up.
Measure and pour! The biggest task in this recipe is measuring. Pull out all your cups and spoons and let your kids do the measuring. It will be messy, but kids really like this task!
Add cheese! As long as they don't eat all the cheese in the process (haha), your kids can add the shredded parmesan the the parmesan chicken as a final step.
---
FINAL TIPS FOR SMOOTH SAILING
Mimi's Cooking Tips & Shortcuts:

🍅 For chopping, these Curious Chef knives and Core cutting boards are perfect for little hands.
🍅To protect their eyes, encourage kids to wear swim goggles as they chop onion. 
🍅 For added nutrients, use brown rice instead of white.
Our "Kidify" Tips for Picky Eaters:

🍅 Separate the parts! As far as I'm concerned, this is always a consideration. If your kids don't like their ingredients blended together, set aside some chicken before mixing in the rice and other ingredients. You can also cook the peas separately.
🍅 Maybe skip the onions if this ingredient is a deal breaker. 
🍅 Garlic Bread! My kids will eat almost any bread. Who knows why, but I remember being like that as a kid too. Their favorite is Pepperidge Farm's frozen garlic bread. It's super easy. I always try to have two loaves in the freezer at a time.
---
One Pan, Easy Pea-sy Chicken and Rice Recipe
BUY IT
1

onion, chopped

3

T

butter

1 - 1 1/2

lbs

chicken breast, cut into bite-sized pieces

2-3

cloves

garlic, minced

1

t

paprika

1

t

salt

1/2

t

black pepper

2

cups

chicken broth

1

cup

minute rice

1

cup

frozen peas

1/2

cup

milk

1/2

cup

parmesan cheese, shredded
MAKE IT
Melt butter in a large pan. Stir in chopped onion and cook for 2-3 minutes.

Add chopped chicken, garlic and seasonings. Stir together and cook chicken until golden and no longer pink on the inside.

Add chicken broth and rice, stir together, and bring to a boil. Cover and simmer for 15-20 minutes or until rice is fully cooked.

Stir in milk, peas and cheese. Cook for another 1-2 minutes. Enjoy!
PLATE IT
Serve topped with extra parmesan cheese as desired.
We recommend all children drink milk with their meal.
---
WHAT CAN KIDS DO WHILE GROWNUPS COOK?
---
CRAFT FOR One Pan CHICKEN & RICE RECIPE:
Rice Ghost Craft! Get in the Halloween spirit with these adorable Rice Ghosts! Kids will love turning their ghosts into puppets, magnets or festive decor! All you need is rice, glue, paper, tape, scissors and a writing utensil. Bonus if you have popsicle sticks. You can even use different colored paper, dye the rice, or make a different spooky character. Get creative!
---
OTHER RICE DISHES YOU MIGHT LIKE:
🍅 Quick Vegetarian Chili over Rice
🍅 Cashew Chicken with Broccoli
🍅 Shrimp with Corn in Creamy Poblano Pepper Sauce
---