Some nights call for simple, comfort food, and boy do we love these amazing turkey burger sliders! This turkey burger recipe is incredibly simple AND tasty! Bonus: You can make these sliders in less than 30 minutes!
Juicy and Flavorful Turkey Burger Sliders
What we love most about our turkey burgers is the patties' juicy flavor and texture. We use breadcrumbs in our mixture, as well as a variety of seasonings. We also add a splash of lemon juice and Worcestershire sauce, which give the patties their sweet and savory pop in flavor!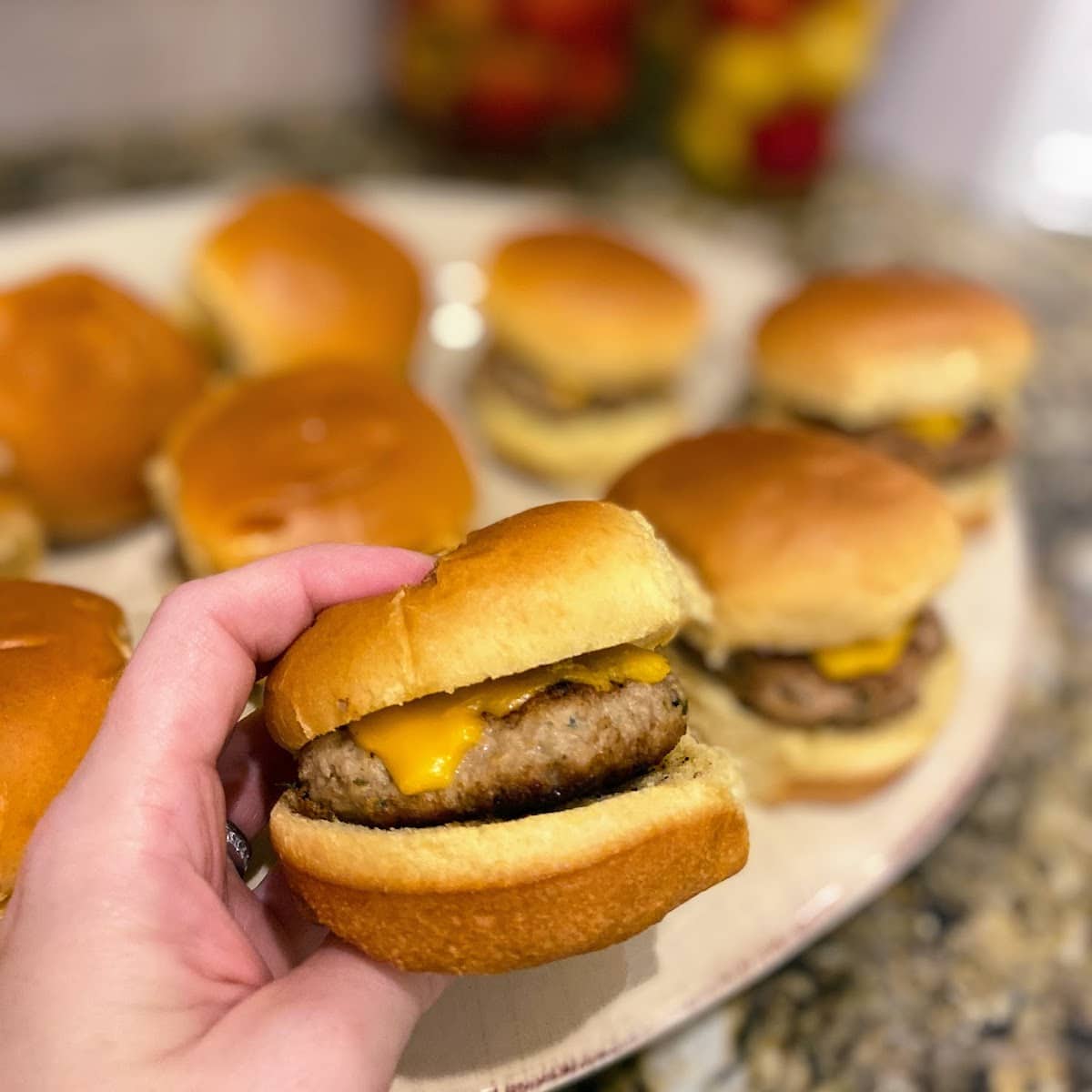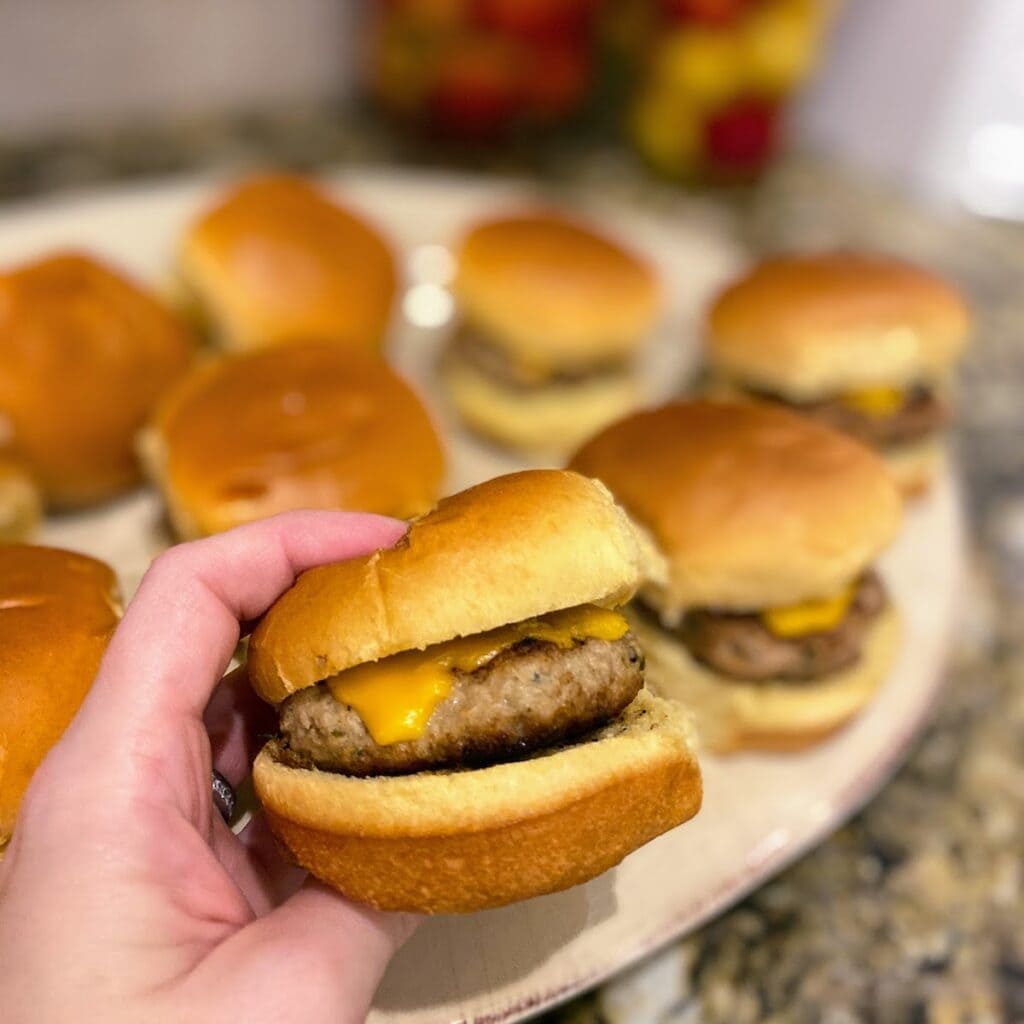 If your family loves sliders, be sure to also check out these 10 Best Sliders for Kids! For other quick and simple dinner sandwiches, consider our Hot Dogs in Crescent Rolls or Old Fashioned Sloppy Joes recipes.
Sliders for Any Occasion
These sliders make for a fabulous entree OR appetizer for any meal. I say appetizer because these sliders are much smaller than your average turkey burger. So, they could make great, savory bites before a meal.
In our house, we serve these sliders as a main meal, but just pair them with one of our favorite side dishes and a vegetable.
These are perfect sliders for kids because of their size and flavor (ideal for little hands!). We have even transformed these turkey burger sliders into mini Reindeer Christmas Burgers at Christmas time! They also make great snacks for sporting events like the Super Bowl!
Ingredients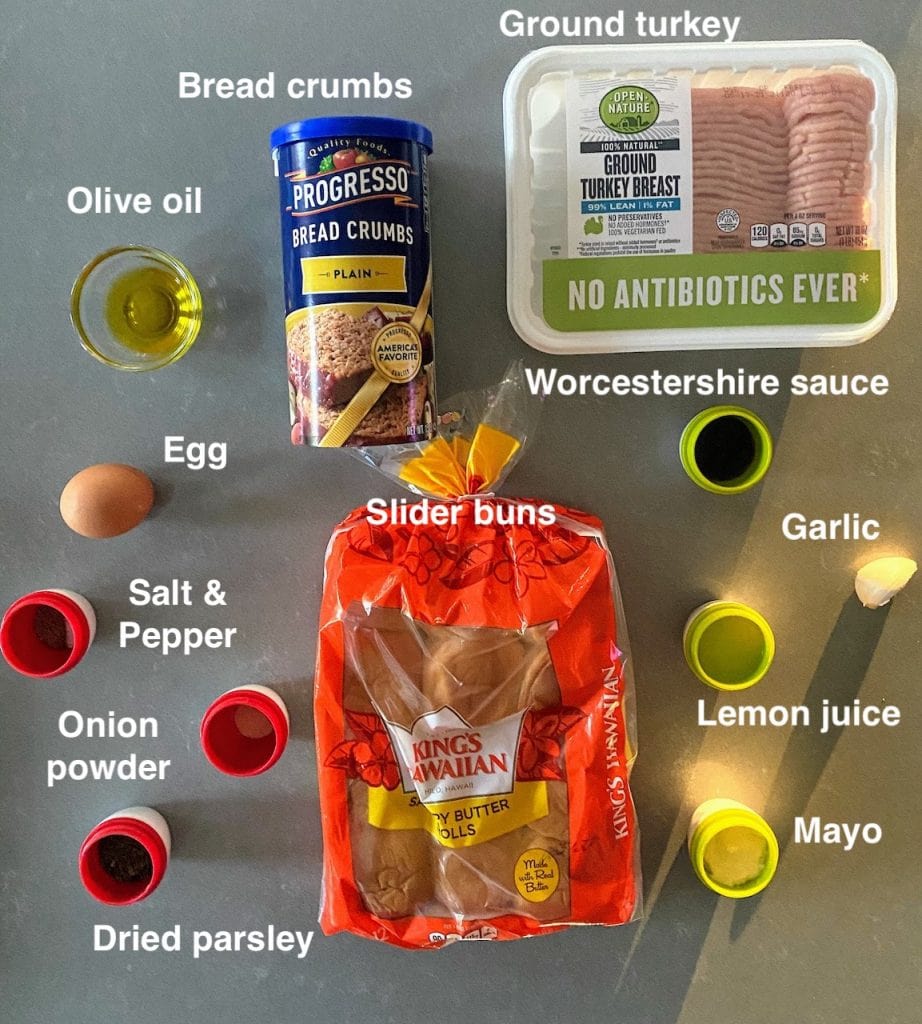 Ingredient notes:
Buns- while you can use any slider bun you like, we always get the King's Hawaiian slider rolls. The kids dig their sweet taste, and they're super soft.
Lemon juice: If working with fresh lemons, check out how to juice a lemon without a juicer for this recipe.
Other Awesome Recipes with Ground Turkey:
How to Make the Easiest Turkey Burger Sliders
There is minimal chopping for this recipe. So, the prep work is really just combining ingredients. For smooth sailing and maximizing your time, we recommend the following steps:
STEP 1: Combine turkey patty ingredients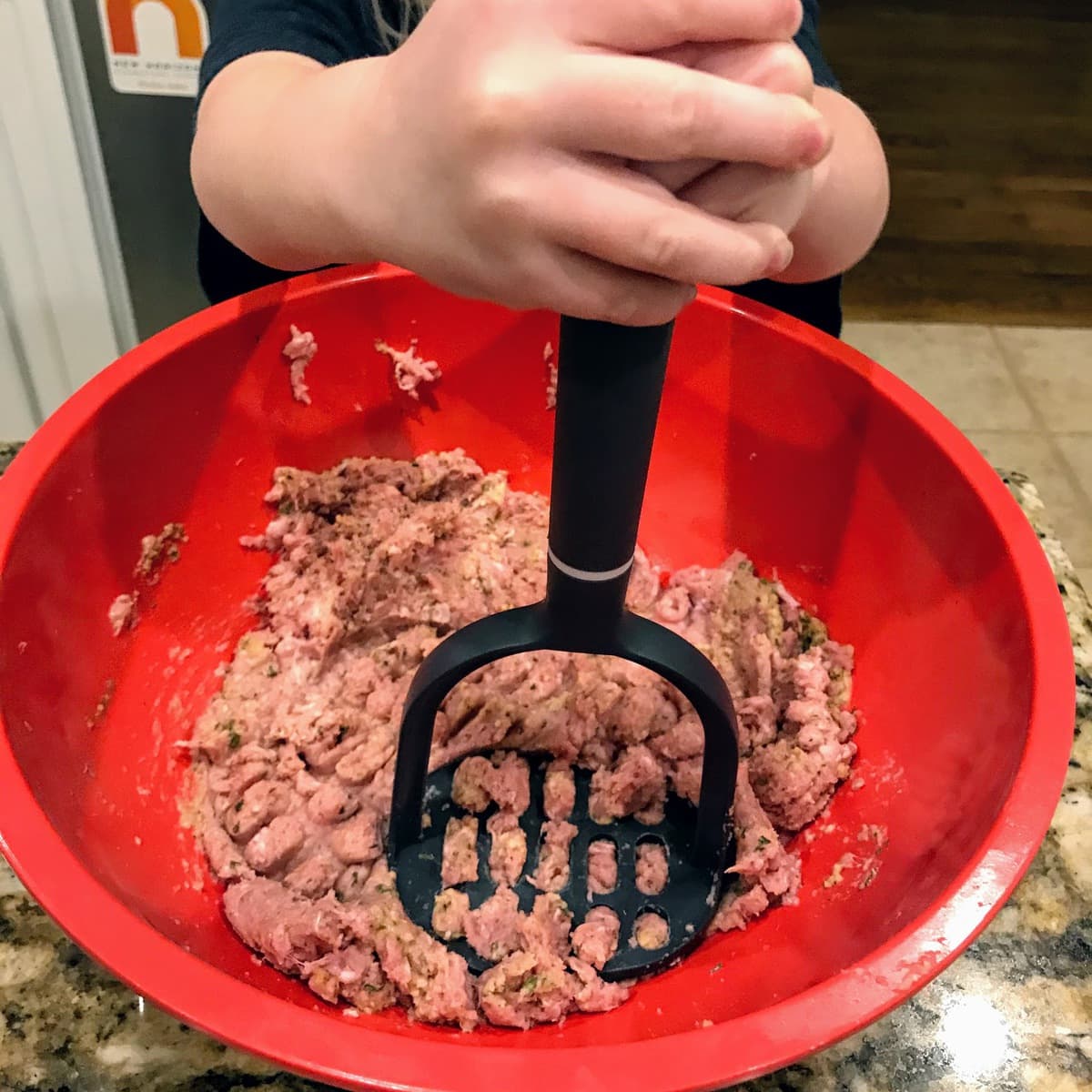 🥄 Kids Steps: Measure & mix patty ingredients! You can totally make this a lesson in measuring things! Teach your kids about the difference between cups, tablespoons and teaspoons. Then mix patty ingredients together using a potato masher!
STEP 2: Heat Pan with olive oil

🥄 Kids Step: Use a basting brush to spread the olive oil on the pan. My daughter loves doing this cause "it's like painting"! We love this Core basting brush because, although not made for kids, it's mini sized and perfect for little hands. [not necessary, but totally fun!]
STEP 3: Form and Cook turkey patties
Forming the patties can be a tad messy (which my kids love!), but once they are on the skillet, they cook pretty fast.

STEP 4: Assemble your turkey burger sliders
🥄Kids Step: Assemble sliders! Kids can place sliders on their buns, add cheese or any other desired toppings.
Pair Turkey Sliders with a side dish
These sliders make for a great meal on their own, but if you are looking for a side dish, you may want to consider one of the following: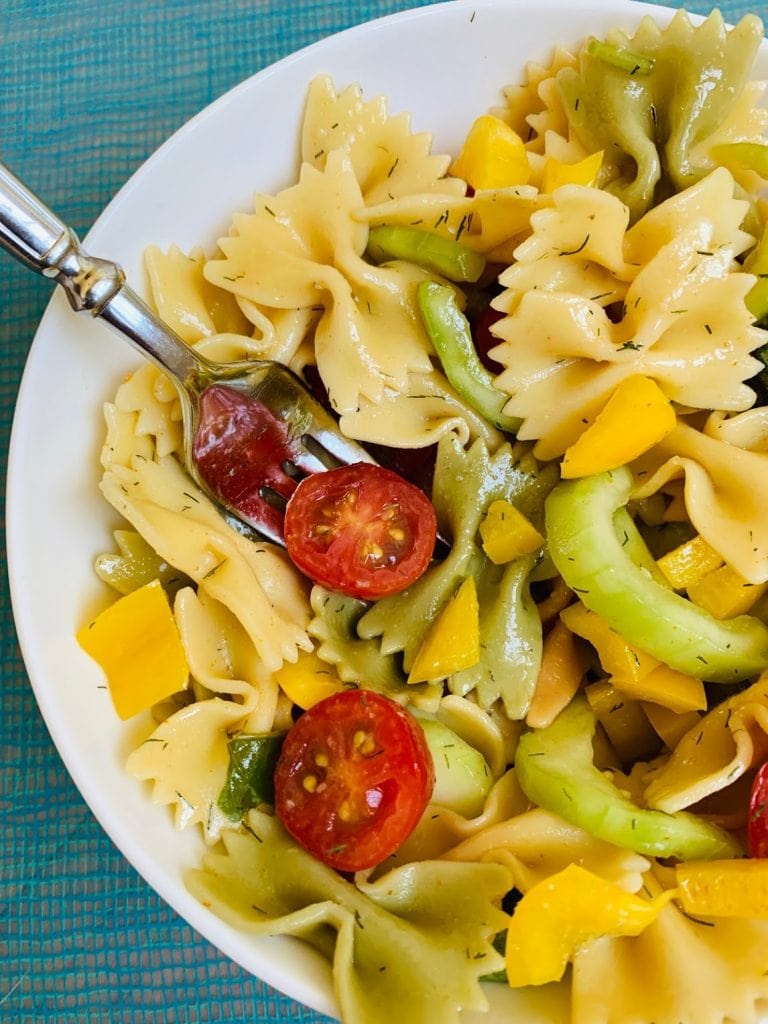 Pasta Sides:
Potato Sides:
Side Salads:
FAQ
How can I keep turkey burgers from falling apart?
Eggs helps hold burger meat together and prevent it from being too crumbly. We also added breadcrumbs into our mixture, which traps in the moisture and holds the patties together as they cook. There's nothing worse than burger patties that fall apart on the grill!

According to LeafTV, there are other simple ways to keep a hamburger together,  like limiting liquid ingredients so patties don't become too loose. LeafTv also warns not to overwork the meat or the patties may lose their stickiness. And to prevent patties from falling apart on the grill, patties shouldn't be flipped more than once or pressed down with a spatula.
 
What cheese goes best on turkey burgers?
Choosing the right cheese for your turkey burger really comes down to personal preference. We love American cheese because of it's mild flavor and how nicely it melts onto our turkey burgers. Other cheeses that melt nicely include Swiss, Fontina, Monterey Jack, and Havarti.

Cheddar is also a great choice because of its bolder taste. Food u0026 Wine has a great article on the 9 Best Cheeses for Burgers that discusses popular cheeses and what they can offer to your burger.

Are turkey burgers healthy?
If you are looking to satisfy your burger cravings without consuming more calories than necessary, these turkey burger sliders are a great choice. There are certainly recipes that require ground beef for the extra flavor the meat provides.

Yet, when given a choice, I prefer ground turkey over ground beef for my family. Both ground beef and turkey provide protein and a variety of vitamins and minerals. But compared to ground beef, ground turkey tends to be lower in saturated fat and therefore, a better choice for heart health.
TIPS for Picky Eaters
🍅 Kids choose their toppings. Lettuce, tomato, mayo, ketchup...kids can dress their burgers however they'd like!
🍅 Change up the meat! While we like ground turkey, ground beef, sausage or a vegetarian meat substitute would work great for this recipe.
🍅 Let kids choose the side dish. Fries, mac & cheese, carrot sticks, celery sticks (peeled), or sliced cucumber all go well with sliders!
Craft for this Recipe: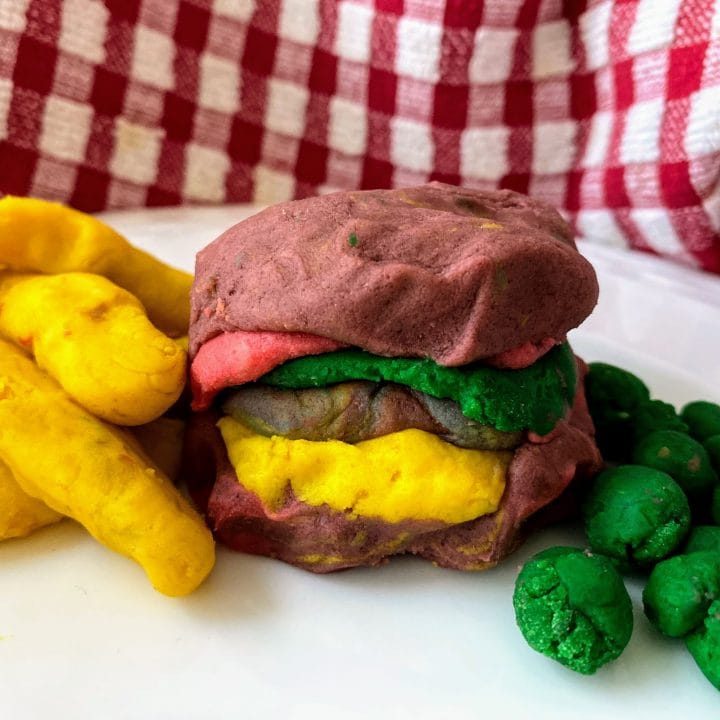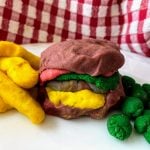 Fun Play Dough Activity: DIY Burger and Fries! This play dough activity will make you hungry! Turn your homemade, colorful play dough into a delicious burger and let the play time begin!
The Easiest Turkey Burger Sliders
Behold the most simple, tasty and juicy TURKEY BURGER SLIDERS! These sliders are perfect for little hands and will satisfy the whole family!
Instructions
Combine all turkey patty ingredients (except olive oil) and mix until evenly distributed.

Meanwhile heat a medium skillet on medium and once heated, coat with olive oil.

Form small patties (the size of the palm of your hand) and cook in the pan for 3-5 mins on each side. You can add cheese to the top of each patty during the last minute of cooking. Place cooked patty inside of slider bun with desired toppings.
Notes
To plate...serve turkey burger sliders with chips, potatoes, and/or a side salad. 
Optional toppings: cheese slices, lettuce, tomato, onion, pickles, ketchup, mayo, mustard
Consider using a potato masher to blend the turkey patty mixture.
Don't overwork the meat mixture. Otherwise it may fall apart while cooking.
Remember to coat your pan with olive oil or cooking spray so patties don't stick to the pan.
FYI, we recommend the King's Hawaiian slider rolls because they're sweet and super soft.
Alternative protein options: ground beef, sausage or vegetarian meat substitute
Cheese options: American, Swiss, Fontina, Monterey Jack or Havarti.
Nutrition
Serving:
1
serving
Calories:
202
kcal
(10%)
Carbohydrates:
19
g
(6%)
Protein:
15
g
(30%)
Fat:
7
g
(11%)
Saturated Fat:
2
g
(13%)
Polyunsaturated Fat:
2
g
Monounsaturated Fat:
2
g
Cholesterol:
52
mg
(17%)
Sodium:
300
mg
(13%)
Potassium:
171
mg
(5%)
Sugar:
5
g
(6%)
Vitamin A:
42
IU
(1%)
Vitamin C:
2
mg
(2%)
Calcium:
18
mg
(2%)
Iron:
1
mg
(6%)
*Percent Daily Values are based on a 2000 calorie diet. While we are not certified nutritionists, we work with a WordPress-integrated nutrition API to calculate our recipes' ingredient values.