Craving some amazing and fluffy pancakes? Jazz up the table with these delicious and easy Cinnamon Pancakes with Vanilla! Our Cinnamon Pancakes are way better than a boxed mix and make a great treat for breakfast, lunch OR dinner!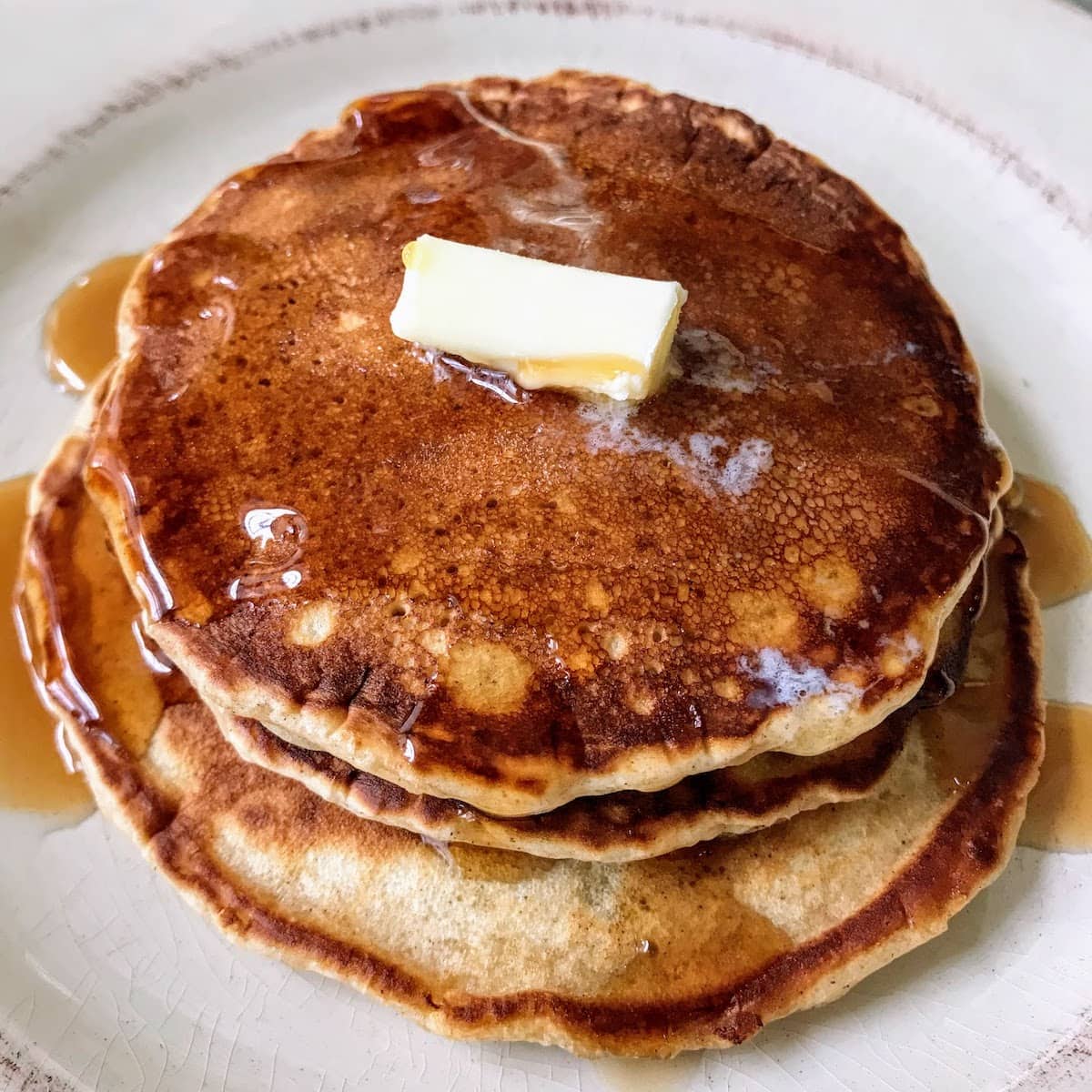 Jump to:
We love breakfast food! Eggs Benedict with Bacon & Asparagus, Sausage Frittatas, and Mini Egg Bites all hit the spot, but it's time to sweeten the deal with these warm, fluffy and mouthwatering Cinnamon Pancakes!
👍 Why We Love These Cinnamon Pancakes
A sweet treat! Make these delicious and delightful Cinnamon Pancakes with Vanilla for breakfast, lunch OR dinner!
Simple! Making pancakes from scratch couldn't be any easier. These pancakes come together quickly and with minimal steps!
Fluffy! These Cinnamon Pancakes have a fluffy, full finish that we can't get enough of!
Customizable. Jazz these pancakes up or down with cinnamon, add fruit to the mix, of serve with a side of choice, like yogurt, eggs or a breakfast meat.
🛒 Ingredients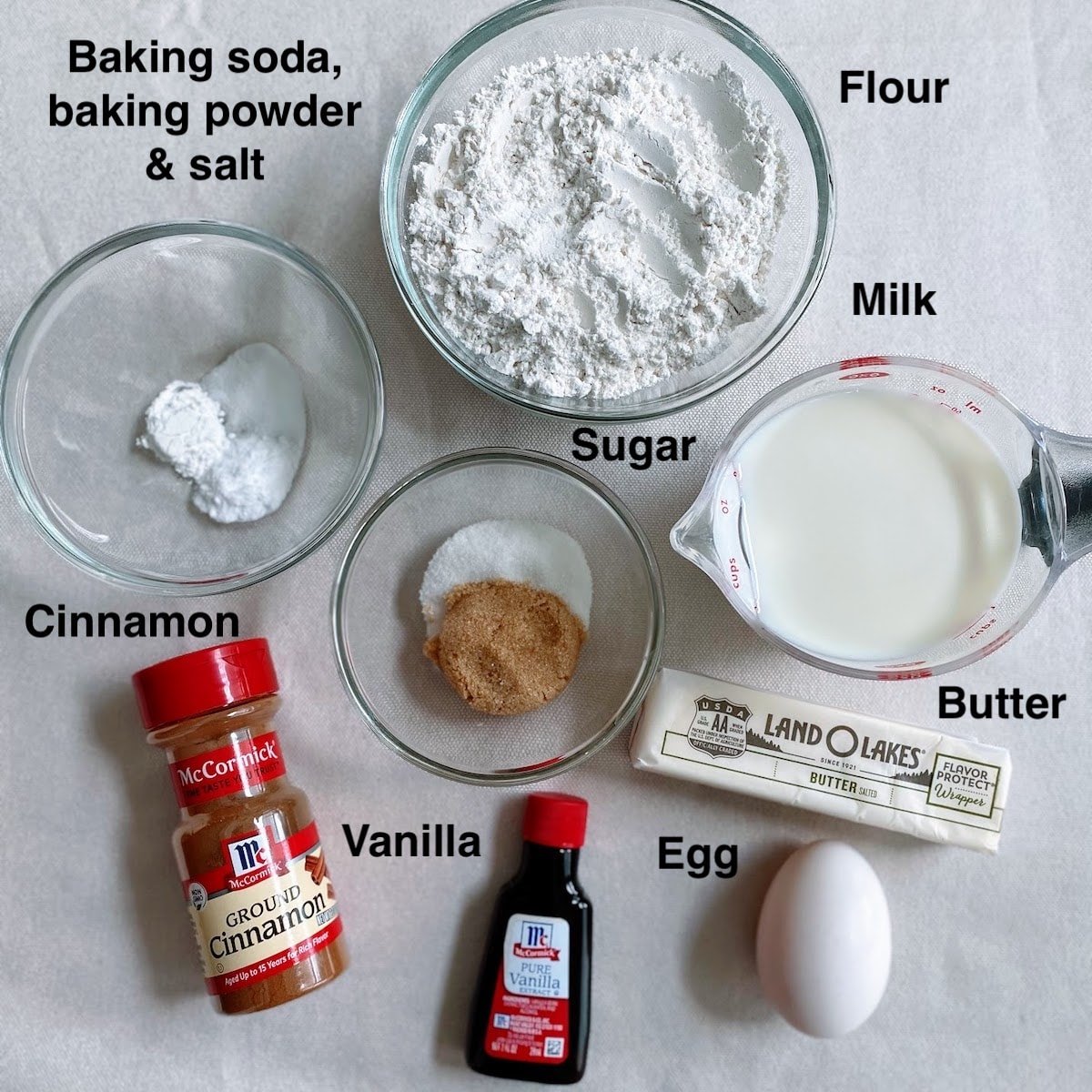 Notes on ingredients:
Flour- we prefer all-purpose flour.
White and brown sugar- give the pancakes their sweet flavor.
Salt- enhances the other flavors.
Baking powder and baking soda- these help the pancakes to rise and be fluffy.
Cinnamon- a little bit goes a long way!
Milk- regular or a non-dairy alternative.
Egg- binds ingredients.
Butter- for added flavor and moisture.
Vanilla- for a wonderful burst of flavor!
👩🏾‍🍳How to Make Cinnamon Pancakes with Vanilla
Step 1: Combine dry and wet ingredients.
Combine dry ingredients in one bowl, and wet ingredients in another. Slowly add wet ingredients to bowl of dry ingredients and whisk until evenly mixed.
🥄Kids Step: Let kids do the measuring, pouring and mixing to create the pancake batter. We used our Pyrex Measuring Cup to pour the pancake mixture onto the skillet. A wire whisk like this one is great for mixing the batter.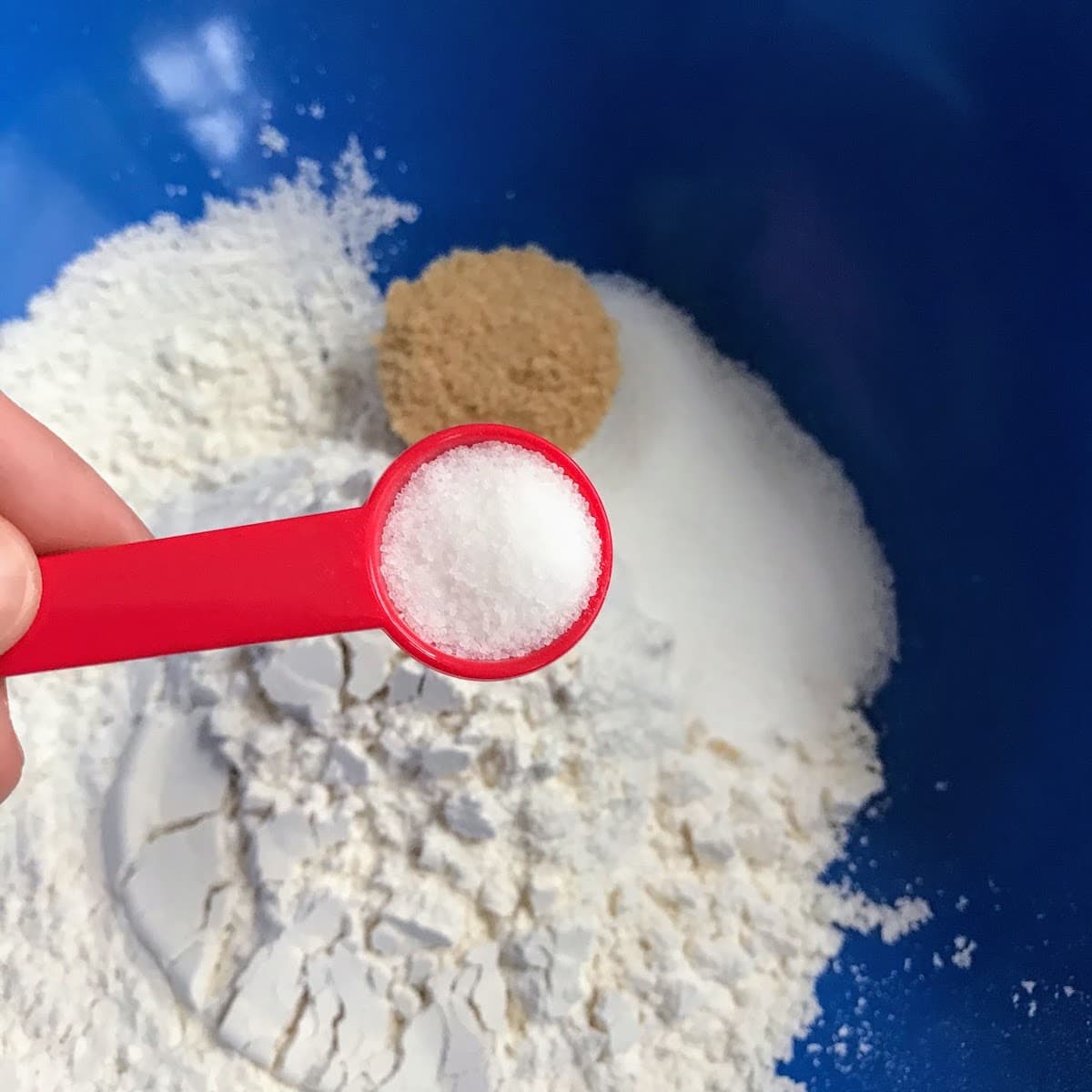 Step 2: Cook Cinnamon Pancakes!
Pour batter onto buttered, heated skillet. Wait to flip pancakes until bubbles appear and start to pop.
🥄Kid Step: With adult supervision, let the kids to the flipping! They love this job.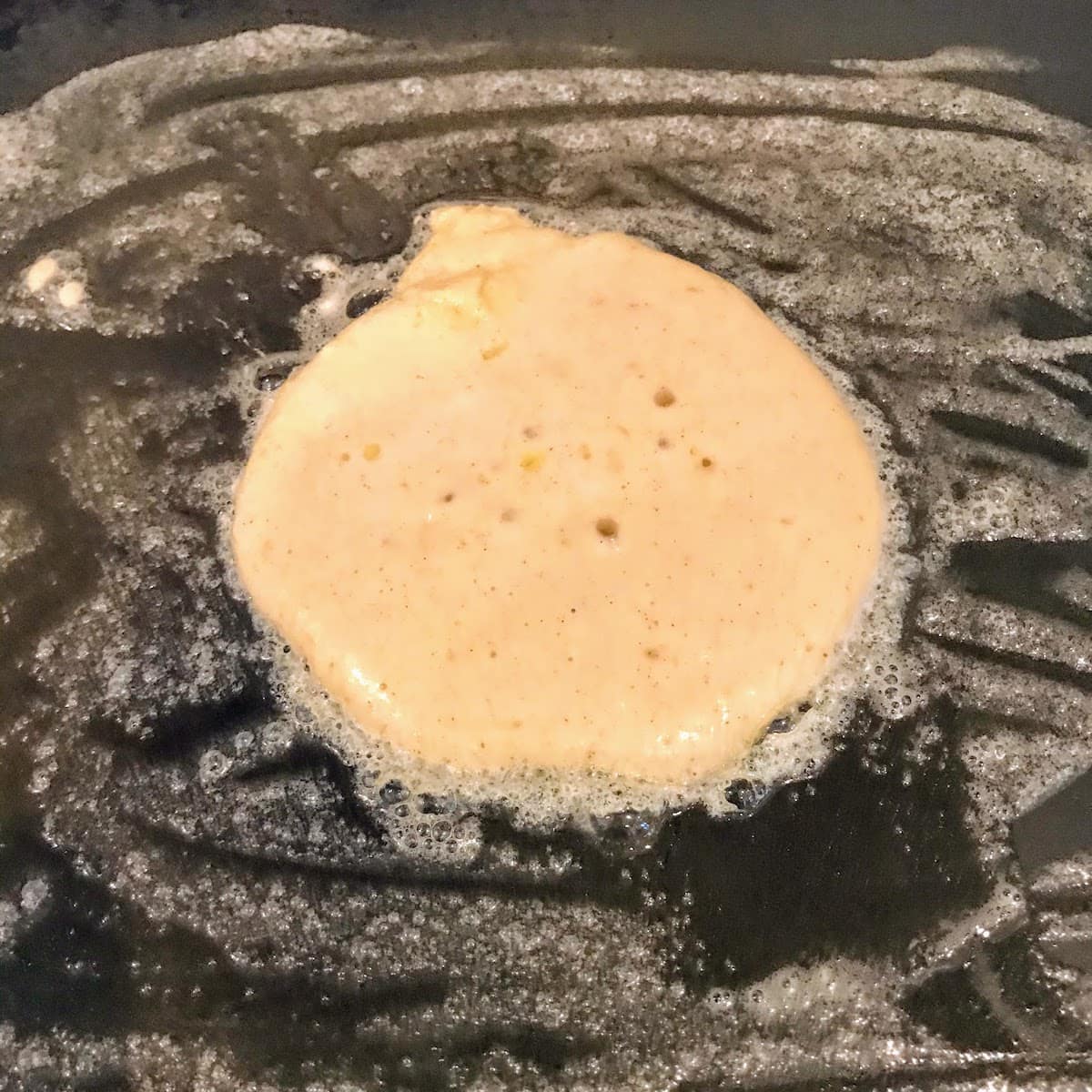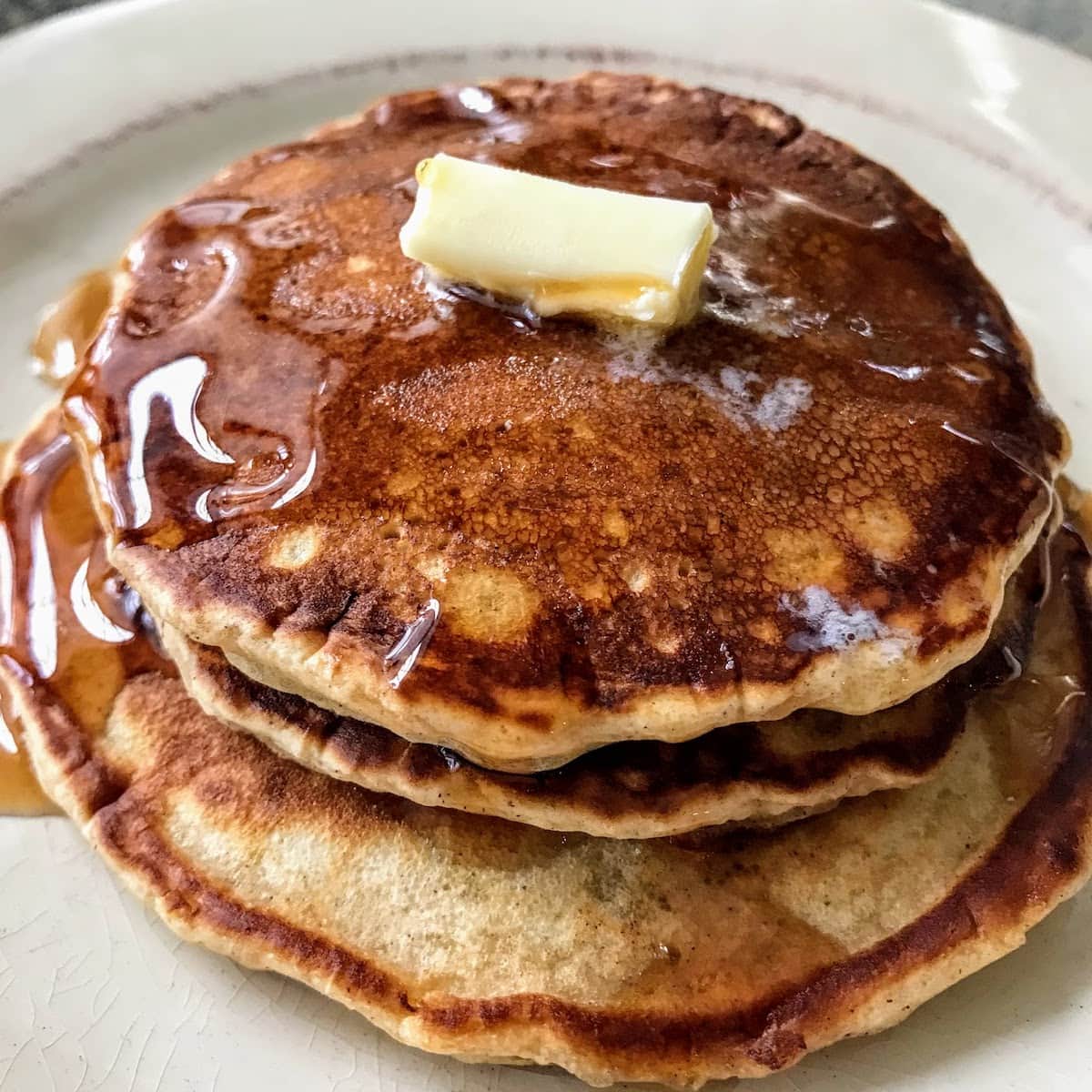 🤫 The Secret to Fluffy Cinnamon Pancakes
Let's face it, the fluffier the pancakes, the better! Not only do they look better, but they melt in your mouth! We find these strategies can help ensure a fluffy finish to your Cinnamon Pancakes:
✔️ Measure out baking soda carefully- Baking soda gives pancakes their fluffiness, so be sure to measure out that ingredient carefully. According to Bon Appetit, the baking soda should be less than 6 months old, or else it won't work as well.
✔️ Don't over-mix the batter- It's okay if your batter has a few small lumps. The more you mix the batter, the more the gluten proteins will bond tightly with other gluten proteins in your mixture. According to Sayyes.com, this makes it harder for air bubbles to form and can lead to chewy pancakes.
✔️Wait for batter to bubble before flipping- Be sure to flip your Cinnamon Pancakes once they have formed bubbles (and the bubbles have started to pop!).
✔️Don't Flatten pancakes- To keep your pancakes fluffy and full, don't manipulate them or flatten them with the spatula as they cook.
🧈 What to Put on Cinnamon Pancakes
Top Cinnamon Pancakes with butter, syrup, whipped cream, MORE cinnamon or powdered sugar! You can also add sliced fruit or peanut butter to your pancakes!
As far as sides go, we like to keep things simple and add some crispy bacon and strawberries to our plates, but the possibilities are endless. If you are planning to stay in the breakfast department, we recommend pairing Cinnamon Pancakes with yogurt, our Catchall Frittata or these adorable Mini Crustless Ham and Broccoli Quiches.
🧂Variations
Add chocolate chips- Why not go even sweeter for special occasions?
Mix in fruit-

Sliced bananas, strawberries or blueberries all mix in well to this recipe or can be served on top of pancakes.

Add nuts

- Mix in chopped pecans or walnuts for a little crunch and pop of flavor!

Increase cinnamon- If you want more of the sweet and spicy flavor, increase the amount of cinnamon according to preference. You can also vary the amount of vanilla.
❓FAQ
Can I make the cinnamon pancake batter ahead of time?
Yes, you can make this batter ahead of time. Simply mix the dry ingredients and the wet ingredients together in two separate bowls. Store covered in the refrigerator and do not combine the wet and dry ingredients until you are ready to cook the pancakes.
How can I keep my pancakes from becoming rubbery?
Be careful not to over-mix the batter, which can lead to chewy, rubbery pancakes. It's okay to have a few lumps in batter!
How should I store leftover pancakes?
Store pancakes in an airtight container in the refrigerator for up to four days.
Can I freeze pancakes?
Yes, pancakes can be stored in the freezer! First, allow pancakes to completely cool. Then, place pancakes on a baking sheet lined with wax paper and freeze for about an hour. Finally, remove pancakes from the baking sheet and store in a freezer bag or container for up to three months. This method prevents pancakes from sticking together. Pancakes can be reheated in a toaster or toaster oven.
👶🏾 Tips for Picky Eaters
Kids choose their toppings. Whipped cream, syrup, sliced fruit...kids can dress their pancakes however they'd like (within reason, of course).
Jazz up the batter! Let kids choose a fruit, nut or sweet treat to add to the pancake batter!
Let kids choose the side dish. Bacon, eggs, yogurt or fruit all go great with pancakes!
✂️ Craft for this Recipe
If you are celebrating a birthday or special occasion, you can get creative with your pancakes with our Pancake Letters and Shapes Craft. This craft makes a great breakfast treat for mom on Mother's Day.
🍽 You May Also Like...
Follow Platein28 on Pinterest, Instagram and Facebook and Sign up for our newsletter for all the latest recipes and crafts!
🥞 Easy Cinnamon Pancakes with Vanilla
Indulge in these delicious and fluffy Cinnamon Pancakes with Vanilla! You won't be disappointed and the kids will love you for it!
Ingredients
1.5

cups

flour

1

Tablespoon

brown sugar

1

Tablespoon

white granulated sugar

½

teaspoon

salt

½

teaspoon

baking powder

½

teaspoon

baking soda

½

teaspoon

ground cinnamon

1

cup

milk

1

egg

1

Tablespoon

butter

(melted, for wet pancake mixture)

2

Teaspoon

vanilla

1

Tablespoon

butter

(to melt on pan)
Instructions
Combine and mix dry ingredients together in a large bowl. Combine and whisk together wet ingredients in a separate, medium bowl. Slowly add wet ingredients to bowl of dry ingredients and stir until evenly mixed.
Notes
To plate...serve pancakes with butter, syrup or other desired toppings. 
Don't over-whisk the batter. Otherwise, the pancakes will turn out a little chewy. Some small lumps in the batter are ok.
Use a Pyrex Measuring Cup to pour the pancake mixture onto the skillet.
Flip pancakes once you see little bubbles form and then pop on top of the pancake.
Nutrition
Serving:
1
serving
Calories:
302.7
kcal
(15%)
Carbohydrates:
45.2
g
(15%)
Protein:
8.3
g
(17%)
Fat:
9.1
g
(14%)
Saturated Fat:
5.2
g
(33%)
Polyunsaturated Fat:
0.7
g
Monounsaturated Fat:
2.3
g
Trans Fat:
0.2
g
Cholesterol:
63.3
mg
(21%)
Sodium:
566.3
mg
(25%)
Potassium:
166.8
mg
(5%)
Fiber:
1.4
g
(6%)
Sugar:
9.3
g
(10%)
Vitamin A:
333.9
IU
(7%)
Vitamin C:
0.01
mg
Calcium:
124.7
mg
(12%)
Iron:
2.5
mg
(14%)
*Percent Daily Values are based on a 2000 calorie diet. While we are not certified nutritionists, we work with a WordPress-integrated nutrition API to calculate our recipes' ingredient values.
Want more 28-minute recipes? Sign up and get recipes straight to your inbox!