Note: This post contains affiliate links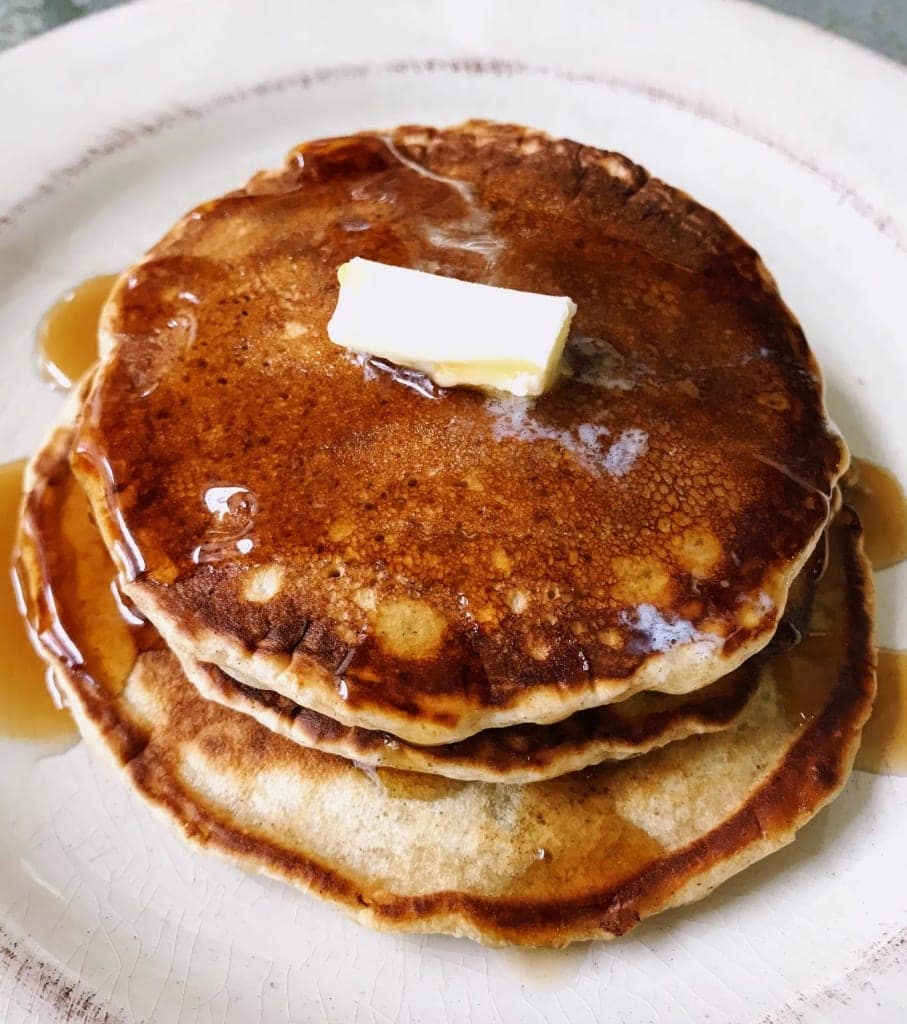 See how to make Easy Vanilla and Cinnamon Pancakes
---
Breakfast for Dinner never fails!
We love pancakes for breakfast, but there is something special and exciting about having them for dinner! It's not something we do very often, so we try to reserve this sweet indulgence for special occasions. There are ways to make this meal healthier, like by adding some fruit to the pancake mixture or serving the pancakes with yogurt or a healthy protein side dish.
The Secret to Fluffy Vanilla and Cinnamon Pancakes
Let's face it, the fluffier the pancakes, the better! Not only do they look better, but they melt in your mouth! We find these strategies can help ensure a fluffy finish to your pancakes:
Measure out baking soda carefully
Baking soda gives pancakes their fluffiness, so be sure to measure out that ingredient carefully. According to
Bon Appetit
, the 
baking soda should be less than 6 months old
, or else it won't work as well.
Don't over-mix the batter
It's okay if your batter has a few small lumps. The more you mix the batter, the more the gluten proteins will bond tightly with other gluten proteins in your mixture. According to
Sayyes.com
, this makes it harder for air bubbles to form and can lead to chewy pancakes.
Wait for batter to bubble before flipping
Be sure to flip your pancakes once they have formed bubbles (and the bubbles have started to pop!).
Don't Flatten pancakes
To keep your pancakes fluffy and full, don't manipulate them or flatten them with the spatula as they cook.
What to Serve with your Vanilla and Cinnamon Pancakes
We kept things simple and added some crispy bacon and strawberries to our plates, but the possibilities are endless. If you are planning to stay in the breakfast department, we recommend pairing the pancakes with yogurt, our
Catchall Frittata
or these adorable
Mini Crustless Ham and Broccoli Quiches.
---
How to make vanilla and cinnamon pancakes from scratch
As much we we appreciate pre-made pancake mixes, these vanilla and cinnamon pancakes are incredibly easy to make from scratch. Kids can easily take ownership of the prep work. There is no chopping involved in this recipe, just some basic measuring, pouring and mixing! For smooth sailing, we recommend following these steps while making your Easy Vanilla and Cinnamon Pancakes.
>Step 1: Combine Dry and Wet Ingredients in separate bowls.
Slowly add wet ingredients to bowl of dry ingredients and whisk until evenly mixed.
>Step 2: Melt butter on skillet
>Step 3: Cook Vanilla and Cinnamon Pancakes!
---
Turn Pancakes into Fun Numbers, Letters and Shapes!
If you are celebrating a birthday or special occasion, you can get creative with your pancakes! In honor of New Yea's Eve last year, we made 2020 pancakes! And for fun this week, my kids wanted to spell "MOM" with their pancakes. See our
Pancake Letters and Shapes Craft
for details.

---
HAVE A FAMILY COOKING SESSION
This recipe allows for lots of hands on tasks, like pouring the batter into fun shapes and flipping pancakes as they cook. So, why not make cooking a family activity?! Not only will cooking together help pass the time, but cooking with your kids has some
real educational benefits.
For example, cooking with kids can boost self-esteem and foster healthy eating habits.
---
Note: This post contains affiliate links
HOW KIDS CAN HELP MAKE THESE PANCAKES:
This recipe involves many kid-friendly tasks. Here are some ways for your lil' sous chefs to help out:
Measure and combine ingredients. Let kids do the measuring. pouring and mixing to create the pancake batter. We used our Pyrex Measuring Cup to pour the pancake mixture onto the skillet. 

A wire whisk like

this one

is great for mixing the batter. 
Choose the pancakes shape or theme!

We turned our pancakes into numbers to celebrate 2020, but you can also form letters or shapes! Let kids decide what they'd like to make (within reason!) and have fun! They may also enjoy flipping the pancakes as they cook.
---
Choose an Activity
---
Craft for this Recipe:
Pancake 
Letters
 and Shapes Craft!
Your kids can make this
Pancake Letters and Shapes
 craft while you prepare our Vanilla and Cinnamon Pancakes! Kids can practice their numbers with this 100% edible craft!
---
OTHER BREAKFAST-FOR-DINNER DISHES YOU MIGHT LIKE