Craving breakfast for dinner? Jazz up the evening with these delicious and easy Vanilla and Cinnamon Pancakes!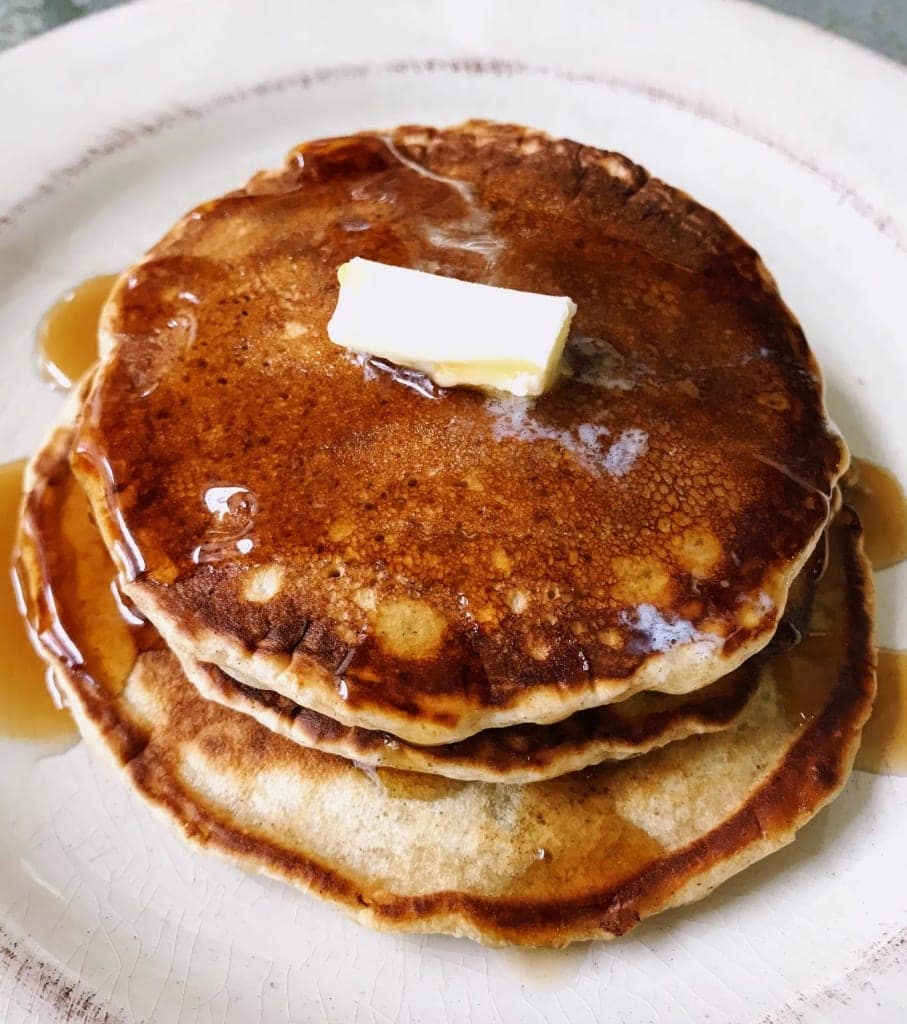 Note: Some of the links in this post are Amazon affiliate links. This means that if you click on an affiliate link and purchase an item, we will receive a commission. However, we genuinely recommend all the products we link.
---
See how to make Easy Vanilla and Cinnamon Pancakes
---
Breakfast for Dinner never fails!
We love cinnamon pancakes for breakfast, but there is something special and exciting about having them for dinner! It's not something we do very often, so we try to reserve this sweet indulgence for special occasions. There are ways to make this meal healthier, like by adding some fruit to the pancake mixture or serving the pancakes with yogurt or a healthy protein side dish.
---
The Secret to Fluffy Vanilla and Cinnamon Pancakes
Let's face it, the fluffier the pancakes, the better! Not only do they look better, but they melt in your mouth! We find these strategies can help ensure a fluffy finish to your cinnamon pancakes:
Measure out baking soda carefully
Baking soda gives pancakes their fluffiness, so be sure to measure out that ingredient carefully. According to Bon Appetit, the baking soda should be less than 6 months old, or else it won't work as well.
Don't over-mix the batter
It's okay if your batter has a few small lumps. The more you mix the batter, the more the gluten proteins will bond tightly with other gluten proteins in your mixture. According to Sayyes.com, this makes it harder for air bubbles to form and can lead to chewy pancakes.
Wait for batter to bubble before flipping
Be sure to flip your cinnamon pancakes once they have formed bubbles (and the bubbles have started to pop!).
Don't Flatten pancakes
To keep your pancakes fluffy and full, don't manipulate them or flatten them with the spatula as they cook.
---
What to Serve with your Vanilla and Cinnamon Pancakes
We kept things simple and added some crispy bacon and strawberries to our plates, but the possibilities are endless. If you are planning to stay in the breakfast department, we recommend pairing cinnamon pancakes with yogurt, our Catchall Frittata or these adorable Mini Crustless Ham and Broccoli Quiches.
---
How to make vanilla and cinnamon pancakes from scratch
Step 1: Combine Dry and Wet Ingredients in separate bowls.
Slowly add wet ingredients to bowl of dry ingredients and whisk until evenly mixed.
Step 2: Melt butter on skillet
Step 3: Cook Vanilla and Cinnamon Pancakes!
---
Turn Pancakes into Fun Numbers, Letters and Shapes!
If you are celebrating a birthday or special occasion, you can get creative with your pancakes! In honor of New Yea's Eve last year, we made 2020 pancakes! And for fun this week, my kids wanted to spell "MOM" with their pancakes. See our Pancake Letters and Shapes Craft for details.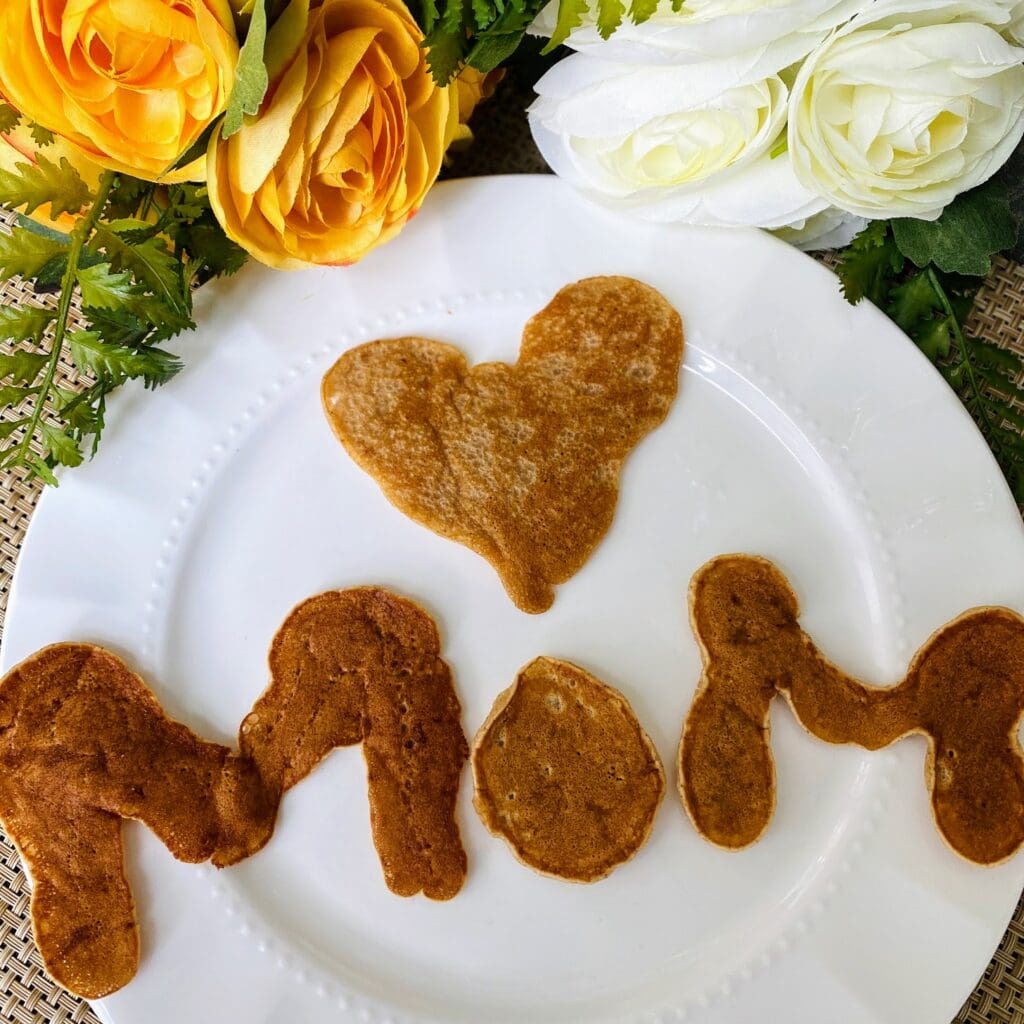 ---
HOW KIDS CAN HELP MAKE CINNAMON PANCAKES:
Measure and combine ingredients. Let kids do the measuring. pouring and mixing to create the pancake batter. We used our Pyrex Measuring Cup to pour the pancake mixture onto the skillet.

A wire whisk like

this one

is great for mixing the batter.

Choose the pancakes shape or theme!

We turned our pancakes into numbers to celebrate 2020, but you can also form letters or shapes! Let kids decide what they'd like to make (within reason!) and have fun! They may also enjoy flipping the pancakes as they cook.
---
OUR "KIDIFY" TIPS FOR PICKY EATERS:
🍅Kids choose their toppings. Whipped cream, syrup, sliced fruit...kids can dress their pancakes however they'd like (within reason, of course).
🍅Jazz up the batter! Let kids choose a fruit, nut or sweet treat to add to the pancake batter!
🍅Let kids choose the side dish. Bacon, eggs, yogurt or fruit all go great with pancakes!
---
OTHER BREAKFAST-FOR-DINNER DISHES
---
Easy Vanilla and Cinnamon Pancakes
Indulge in breakfast for dinner with these yummy, easy vanilla and cinnamon pancakes! Your kids will love you for it and you won't be disappointed!
Ingredients
1

cup

flour

1

T

brown sugar

1

T

white granulated sugar

1/2

t

salt

1/2

t

baking powder

1/2

t

baking soda

1/2

t

ground cinnamon

1

cup

milk

1

egg

2

T

butter, melted

2

t

vanilla

2

T

butter
Instructions
Combine and mix dry ingredients together in a large bowl. Combine and whisk together wet ingredients in a separate, medium bowl. Slowly add wet ingredients to bowl of dry ingredients and stir until evenly mixed.

Meanwhile, melt 2 T butter on a skillet at medium heat.
Notes
To plate...serve pancakes with butter, syrup or other desired toppings. 
Don't over-whisk the batter. Otherwise, the pancakes will turn out a little chewy. Some small lumps in the batter are ok.
Use a Pyrex Measuring Cup to pour the pancake mixture onto the skillet.
Flip pancakes once you see little bubbles form and then pop on top of the pancake.
Nutrition
Serving:
1
serving
Calories:
251.18
kcal
(13%)
Carbohydrates:
33.76
g
(11%)
Protein:
6.84
g
(14%)
Fat:
9.26
g
(14%)
Saturated Fat:
5.27
g
(33%)
Polyunsaturated Fat:
0.69
g
Monounsaturated Fat:
2.46
g
Trans Fat:
0.24
g
Cholesterol:
62.9
mg
(21%)
Sodium:
581.89
mg
(25%)
Potassium:
149.19
mg
(4%)
Fiber:
0.98
g
(4%)
Sugar:
9.74
g
(11%)
Vitamin A:
346.26
IU
(7%)
Vitamin C:
0.01
mg
Calcium:
124.89
mg
(12%)
Iron:
1.77
mg
(10%)
*Percent Daily Values are based on a 2000 calorie diet. While we are not certified nutritionists, we work with a WordPress-integrated nutrition API to calculate our recipes' ingredient values.