I've been surprised by how much homework my son has in kindergarten. One common assignment is to "rainbow write" his site words. For this task, he uses a different color for each letter of a word, sometimes making a pattern or following the order of the colors of the rainbow.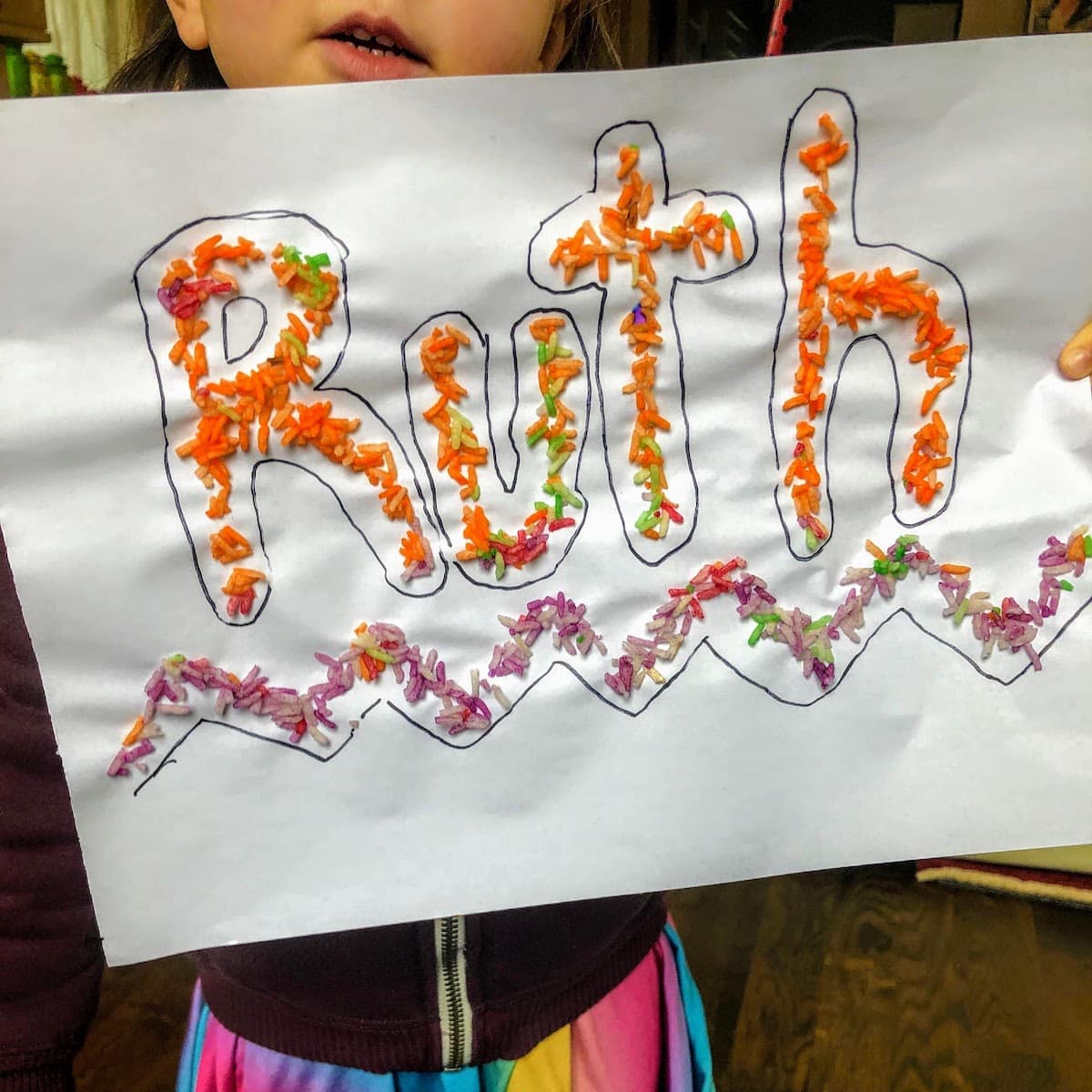 My son isn't always super eager to complete his assignments, so I thought we might jazz things up with this rainbow rice letter craft. We decided to color some rice, write our names or any favorite words with glue, and sprinkle the rice over the letters to "rainbow write." Both kids loved this messy and colorful project!
What was really awesome was that my son helped my daughter write her name. He offered to form the letters of her name using a series of small dashes. Then, my daughter was able to connect the dashes to form the letters of her name herself.
While crafting, you and your kids might want to take a moment to learn some fun facts about this meal's featured ingredient: Rice.
🥣 Rice🥣
Read more...
💡Overview💡


Ingredient: Rice

Corresponding Recipe: Tangy Turkey Taco Bowl

Skills supported: Fine motor (tracing, gluing, pouring), writing, following instructions

✂Supplies✂

1 cup of rice
3-4 small Ziploc Sandwich Bags
3-4 colors of food coloring or Crayola paint
White paper
Pencil
Rimmed baking sheet or tray (make sure tray is big enough to hold your piece of paper)

Note: This post contains affiliate links.

📝Instructions📝

Consider setting up the craft before cooking so kids can get to work right away.

Evenly distribute rice into 3-4 small plastic ziplock bags.
Pour 1-2 drops of washable paint or food coloring into each bag. Use a different color for each bag of rice. Close bag tightly and shake vigorously until color is evenly distributed. Once mixed, open bags to allow rice to air out/dry for a few minutes.
Meanwhile, write your name/word on a piece of paper with a pencil. Add pictures or designs around your name if desired. Retrace the letters and drawings with glue. You can also outline the letters with a marker to make the words more legible, either at the beginning or end of the craft.
Place your paper on tray. Sprinkle colored rice on top of glue so that all glue is covered with rice. Lightly press down on rice to ensure it sticks to the paper. Lift paper and gently shake off excess rice into tray.

*For toddlers especially, these tasks may require adult supervision and/or assistance.