We are always searching for new and creative play dough activities! My kids love making their own play food for playing chef and restaurant. So, we decided to transform our colorful play dough into one of our favorite meals: burgers and fries!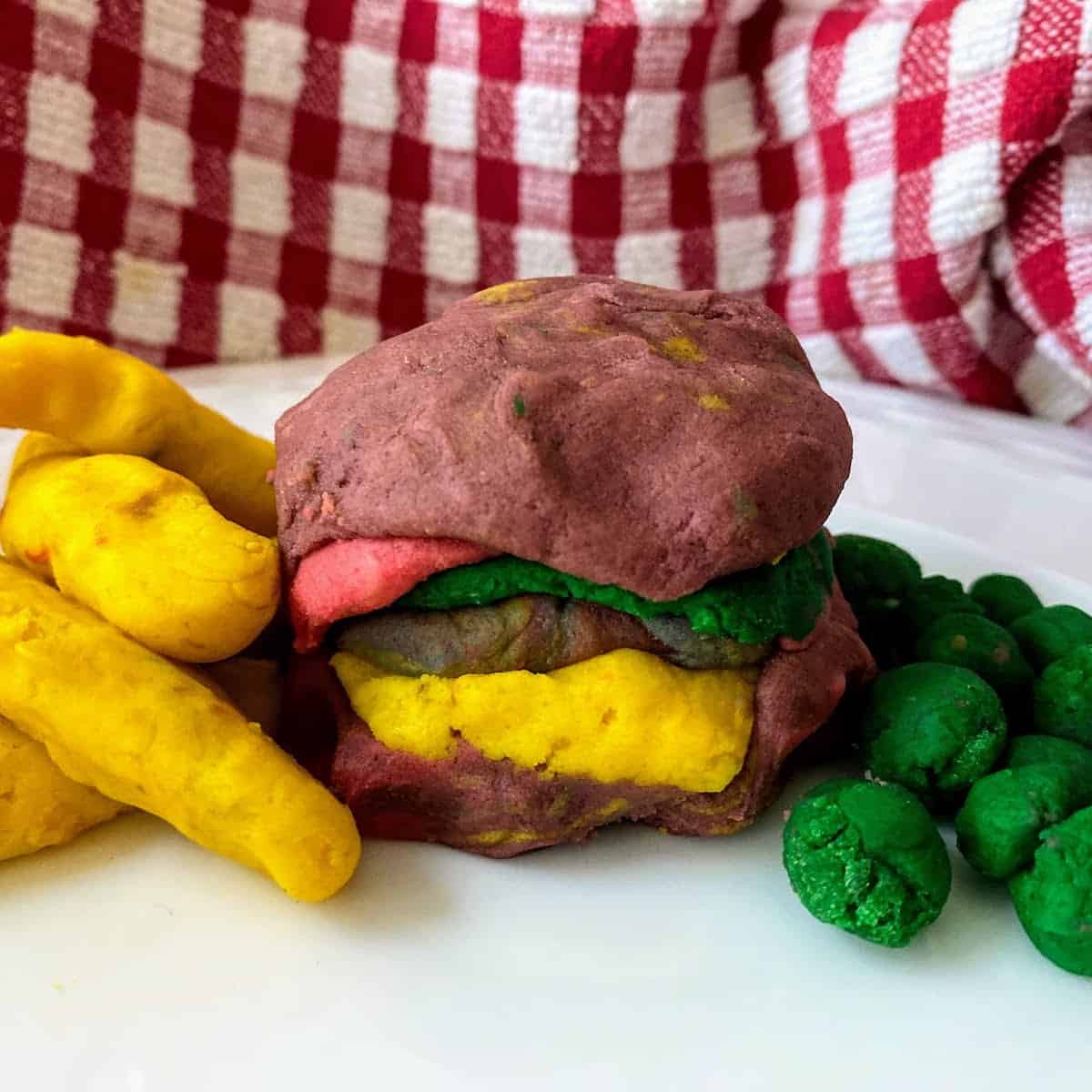 Note: This post contains affiliate links.
You can transform play dough into any kind of pretend food or meal. We've made plenty of play dough pancakes, pies, and even cheesesteaks! It all comes down to having the perfect play dough recipe and the right colors for your "meal." We made these play dough burgers the night we made our Easiest Turkey Burger Sliders for dinner.
---
Simple Play Dough Recipe
Our play dough recipe is as easy as it gets. We use the same typical ingredients that you'll find others using, plus a little extra flour since my kids don't like any stickiness on their hands when playing with play dough! Our play dough usually lasts three months or more, depending on how much regular "love" it gets.
Note: This post contains affiliate links.
Quick and Simple Play Dough
Supplies
Measuring tools

Small pot

1 ¼ cup flour

1 cup water

½ cup salt

1 T vegetable oil

1 T cream of tartar
Instructions
Combine all ingredients in pot (except food coloring).

Heat on medium and stir until play dough thickens and clumps together.
Notes
Add more flour if play dough feels too sticky.
Use a toothpick to transfer food coloring gel to play dough, as many food gel containers aren't big enough to fit a spoon.
If using more than one color, separate play dough into separate balls and then add color. You can place balls into a Ziploc bag when mixing in color so that your hands don't become colored. 
Store play dough in sealed Ziploc bags. 
---
Play Food and Imaginative Play
One of our favorite family crafts is making our own play food. My kids love pretending to be chefs, grocery shoppers or bakers; so, our play food gets tons and tons of traction. We've made carrots, asparagus, olive oil, and even hot dogs.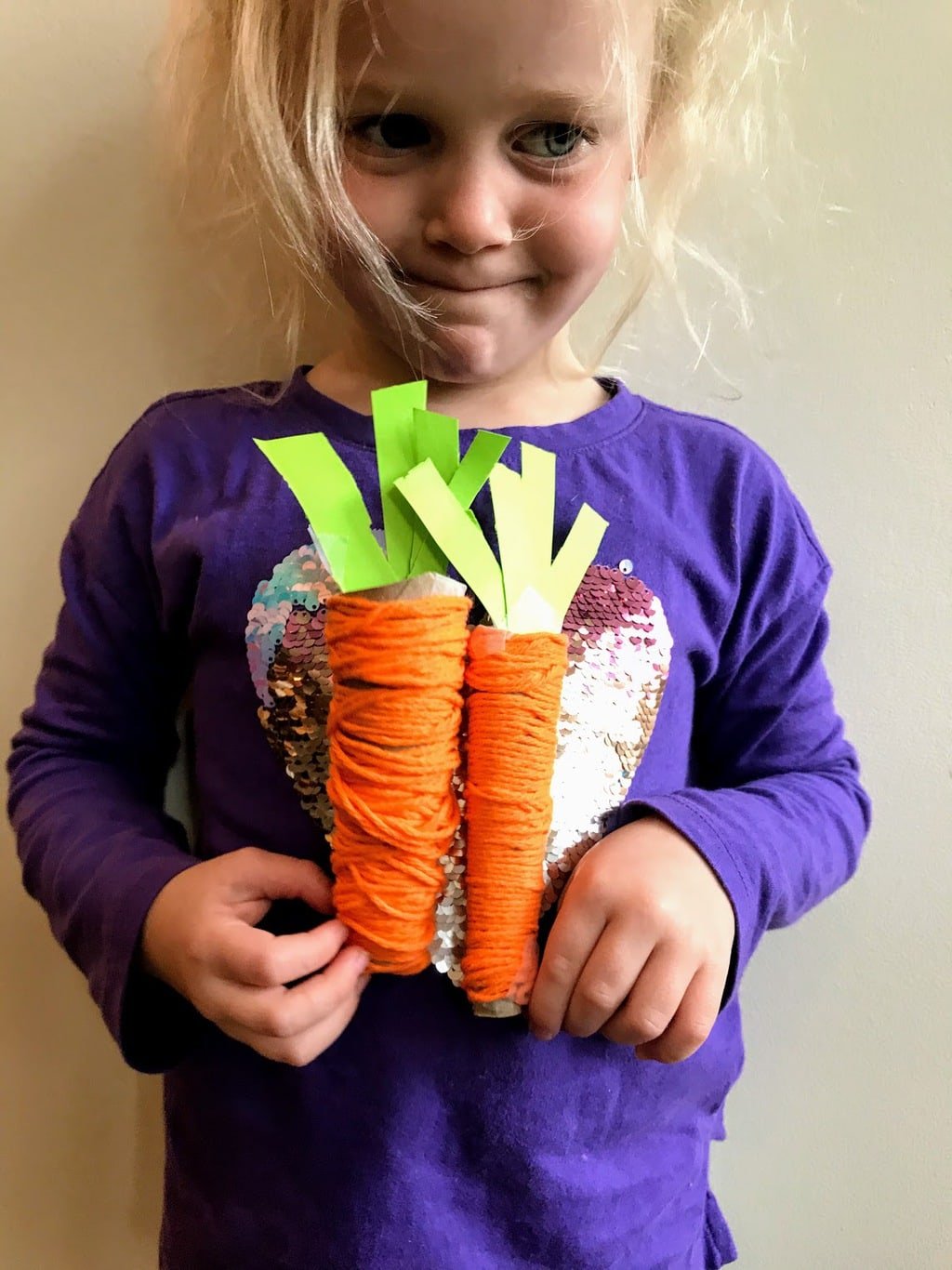 We find that making your own play food can encourage imaginative play, which has some real benefits. When kids play pretend with play food or other toys, they have a chance to practice their developing language and social-emotional skills. Kids can engage in pretend dialogue and practice sharing and taking turns. Playing "restaurant" or" store" also gives kids a chance to experiment with different social roles and to take into account others' perspectives.
You can read more about the importance of pretend play in this great article for parents by Scholastic. Connie at Kid Chenz also gives a great overview of pretend play and its benefits, along with tips for parents on how to encourage their kids' imaginative play.
---
Play dough activities and fine motor skills
Playing with play dough also gives kids a chance to practice developing fine motor skills (i.e., using and strengthening the small muscles in their hands and wrists). Kids will use their hands to squish, roll, and cut play dough. Practicing these skills will help build kids' self-confidence and prepare them to participate in learning activities more easily and willingly in school. You'll find that so many of the skills involved in playing with play dough translate to skills that teachers hone in on in early education, like cutting with scissors and writing with pencils.
---
💡

Overview

💡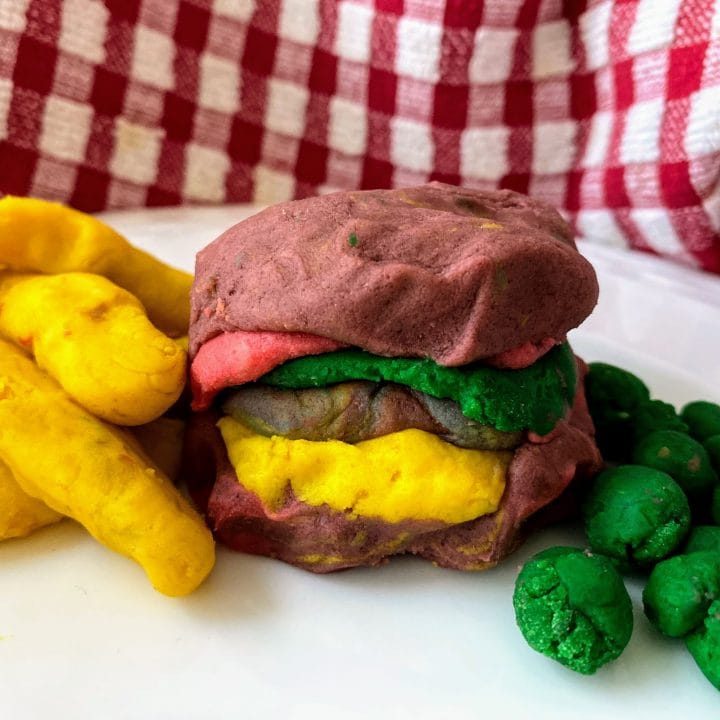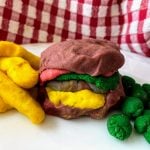 Skills supported: Fine motor (rolling, cutting, flattening), following instructions, math (composing shapes)
Corresponding recipe: The Easiest Turkey Burger Sliders
---
✂ Supplies ✂
Colored play dough: brown, gray, yellow, green and red 
---
📝

Instructions for Play Dough Food Activity

📝
Consider setting up the craft before cooking so kids can get to work right away.
1. Make your hamburger parts
Buns: Two thick circles of brown play dough
Cheese: One square of yellow play dough
Meat: A smaller, flat circle of gray play dough
Lettuce: A flat oval of green play dough
Tomatoes: Two small, round circles of red play dough
2. Make your burger! Layer your pieces of play dough in this order: bottom bun, cheese, patty, lettuce, tomatoes, top bun. Optional: Use extra yellow play dough to make fries and extra green play dough to make small peas. 
---
Find More Play Food Crafts: