Cooking with bell peppers tonight? Hold onto your peppers' tops and turn them into this adorable peppers art project!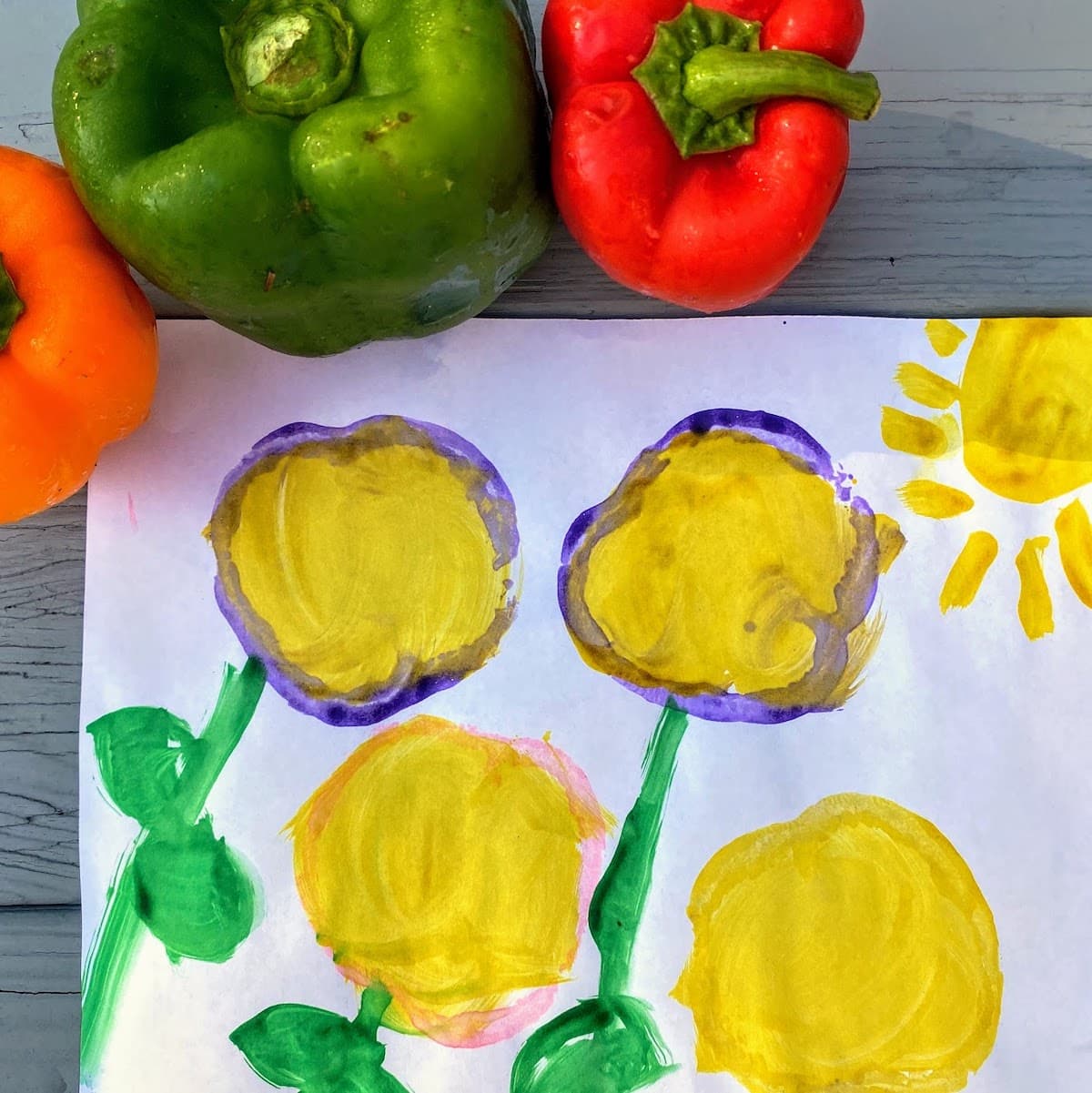 Note: Some of the links in this post are Amazon affiliate links. This means that if you click on an affiliate link and purchase an item, we will receive a commission. However, we genuinely recommend all the products we link. 
---
PEPPERS ART FOR ALL AGES!
Much like our Bok Choy Roses craft, Bell pepper tops make GREAT stamp art and allow kids to "play" with their food and make beautiful art at the same time! My kids decided to make flowers out of their bell pepper art stamps, but kids can make shamrocks, balloons or any design they desire.
As pictured below, the bell pepper's top has a really cool shape, almost like the outline of a flower. If you paint the outside rim and stamp it onto paper, it makes a beautiful, colorful design. Note: We recommend that grown-ups slice off the top of the bell pepper. 
---
LEARN ABOUT BELL PEPPERS WHILE MAKING ART
When a grown-up removes the pepper's top, kids can see the cool inside of the pepper and all its little seeds. This provides a great chance for parents to share some fun facts about bell peppers, like:
Bell peppers are classified by botanists as fruit, but nutritionally and legally they are considered veggies.
Bell peppers are native to Central and South America.
You can eat bell peppers cooked or raw. The peppers are usually red, yellow, green or orange.
Bell peppers contain important vitamins, like vitamin A and vitamin C, and they offer a number of health benefits. 
If you aren't using all of your bell pepper for cooking, consider setting aside some slices (washed, with seeds removed) for kids to snack on as they craft.
---
How to Make this Peppers Art Craft
💡

Overview

💡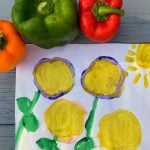 Featured Ingredient: Bell Peppers
Corresponding Recipe: The Best Vegan Romesco Sauce with Quinoa and Veggies
Skills supported: Fine motor (painting, stamping), following instructions
---
---
📝 INSTRUCTIONS 📝
Consider setting up the craft before cooking so that your kids can get to work right away.
Remove top from bell pepper.* Rinse and remove seeds.
2. Paint the sliced edges of the bell pepper top/head with washable paint. We love these foam paint brushes. Stamp the painted side onto paper to form a flower. Repeat using different colors to create a collection of beautiful bell pepper art. Note: If using washable paint, it's easy to rinse/wipe off the pepper's head and re-paint with a different color.
3. Use a paint brush to color in your flowers and add stems and leaves.  Now display your beautiful Bell Peppers Art.
*For toddlers especially, these tasks may require adult supervision and/or assistance.
---
OTHER FOOD CRAFTS YOU MIGHT LIKE:
---