Have you ever had a fajita taco? Allow us to present...our fabulously flavorful Chicken Fajita Tacos recipe! These fajita tacos are packed with juicy, perfectly seasoned chicken, and scrumptious peppers and onions. Best part: no long marinating time or complicated process. This recipe is doable in one pan and in 28 minutes or less!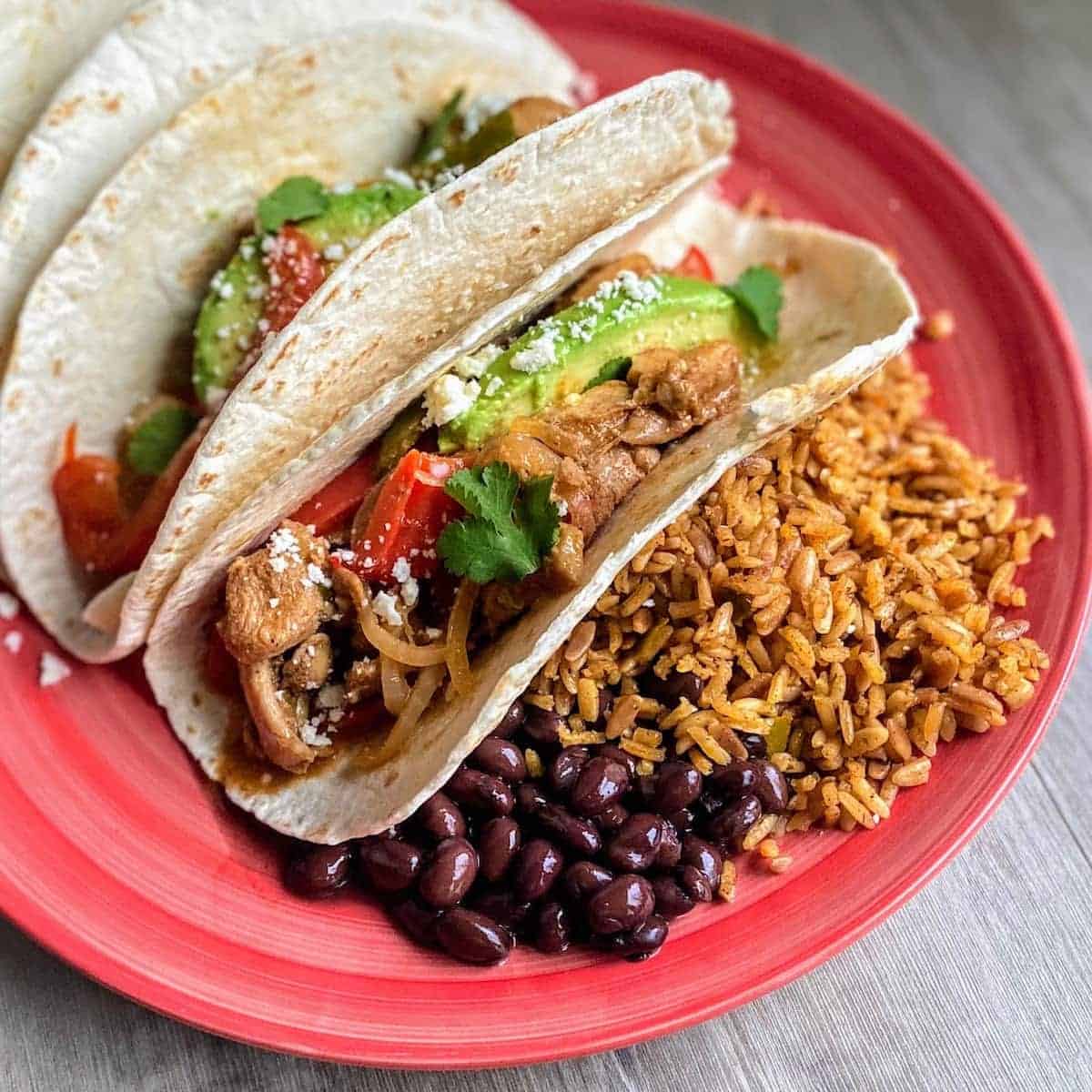 How can you have something that's both a fajita and a taco, you say?! Although fajitas and tacos are different beasts (the history of fajitas vs tacos is actually super fascinating), when you put fajita meat into a tortilla, it becomes a taco!
Note: If you love these chicken fajita tacos, be sure to also check out our Easy Red Chicken Enchiladas!
Jump to:
👍🏽 Why These Fajita Tacos are the Best!
One-pan meal! ✔️ Minimal mess, minimal cleanup
Easy and fast! ✔️ Simple process with a short cook time
Flexible, customizable meal! ✔️ Easy to change it up for kids or different dietary needs
Moist meat! ✔️ No marination needed to achieve juicy chicken in this fajita taco recipe
Fun with toppings! ✔️ You can put anything you like on your chicken fajita tacos
🛒 Ingredients
Notes on ingredients:
Garlic - Instead of fresh cloves, you can also use pre-minced garlic or 1 teaspoon garlic powder instead.
Chicken - We used chicken thighs because they're more flavorful and don't dry out easily, but chicken breasts are fine too. I used frozen thighs and put them in fridge 2 days in advance to thaw.
Lemon juice - Freshly squeezed lemon juice or (like me) bottled lemon juice both work. Could be swapped with lime juice if that's what you have.
Tortillas - we used flour tortillas, but corn tortillas and/or gluten-free tortillas would be great too. You could even buy those small street taco tortillas for mini fajita tacos.
👩🏽‍🍳 How to Make Chicken Fajita Tacos
Prep with Your Kids
The main prep is (1) measuring the spices, and (2) cutting the veggies and chicken.
🥄 Kids Step: (1) Your kiddo can measure the spices- just set them up with a bowl (to catch the measuring overflow) and four measuring spoons (T, ½ T, t, ½ t). Teach them to wipe the spoons with a clean cloth in between spices. (2) The kiddos can also manage cutting the veggies. FYI, these awesome kids' knives are great. Fun pro-tip: swimming goggles protect little eyes from tearing up around onions.
Step 1: Combine garlic and seasonings, and coat the chicken.
Step 2: Cook chicken for 5 mins.
🥄 Kids Step: Kids can rock the stirring task!
Step 3: Stir in veggies, lower heat and cover. Cook covered for 3-4 mins.
🥄 Kids Step: This step is easy enough for most kids to manage.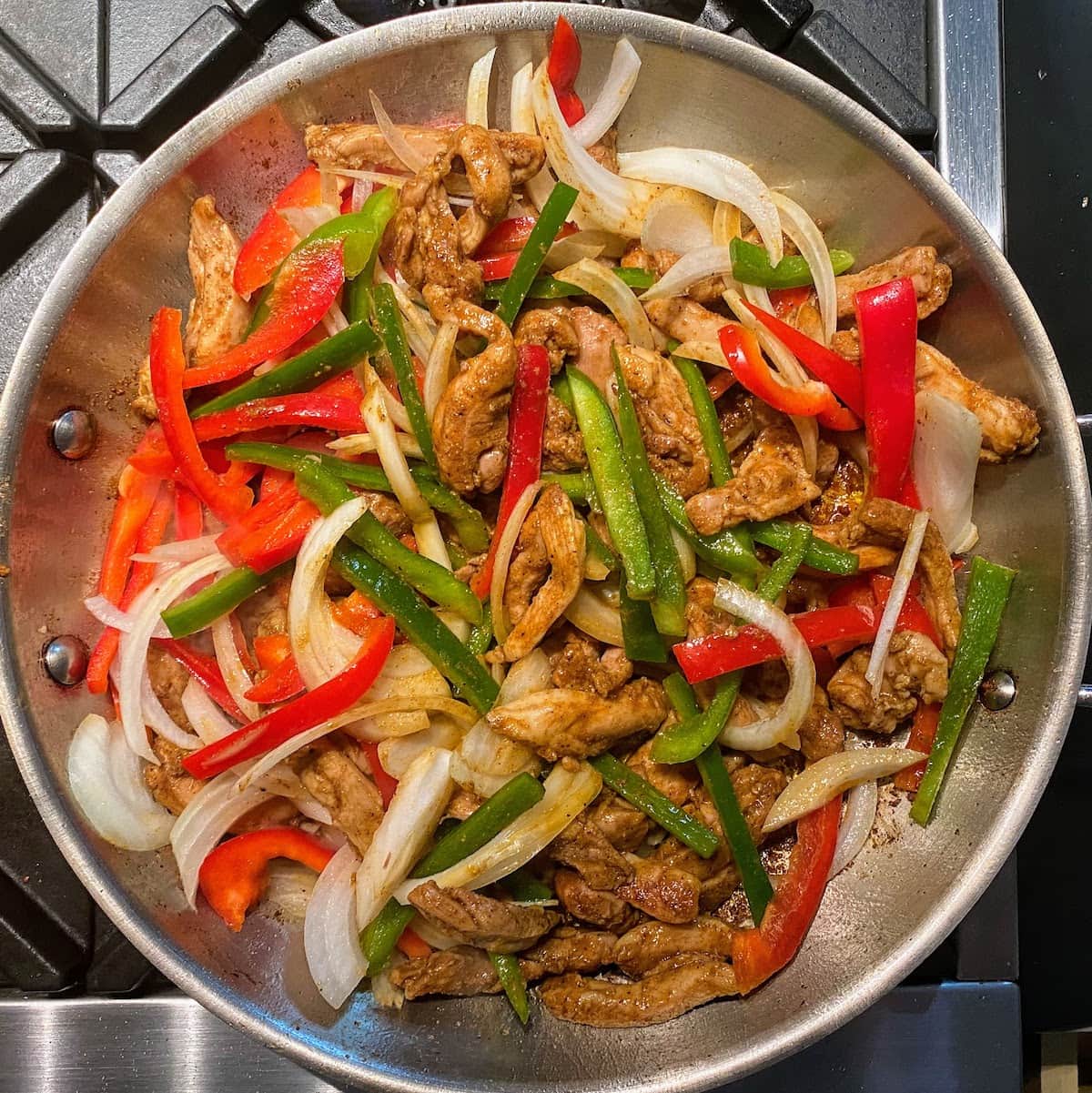 Step 3: Uncover, add in tomato paste and lemon juice, and cook uncovered for 3 mins.
🥄 Kids Step: For uncovering the pan, we love these Curious Chef kids' size potholders.
Step 4: Scoop fajita mix onto tortillas and add your favorite toppings!
🥄 Kids Step: Set up a chicken fajita taco station for your kiddo and she can put whatever toppings she likes onto her tortilla. This is the fun part!
✏️ Expert Tips & Tricks
✔️ Make sure you're cooking with a large pan. I made the mistake of cooking with a medium pan the first time. The chicken fit inside just fine, but when I added the veggies and stirred, they overflowed and kept falling all over stovetop.
✔️ Spice up your fajitas! If you and your family prefer more zest, increase the amount of chili pepper, add a little bit of cayenne or top with your fave hot sauce.
✔️ These chicken fajita tacos can be gluten-free if you use corn tortillas, gluten-free tortillas or tortillas made from an alternative flour (like rice, cassava, almond or quinoa).
✔️ You can use frozen chicken. Ya know, those giant Costco bags of frozen chicken are pretty economical. Just pull out the chicken you need, put in sealed Ziplock bag and leave in fridge for 1-2 days to thaw.
❓ FAQs
Can you make any of this meal ahead?
Yes! The day before cooking, I sliced the onions and peppers and stored them in same container. And then I cut up the chicken thighs and stored them in separate container. All in fridge. This definitely saved time on the day of cooking.
What can you serve with this chicken fajita taco recipe?
So many things go well with chicken fajita tacos. We served ours with Mexican rice and black beans, but you could also do guacamole, a small salad (like our Three Bean Salad), refried beans, corn or even elote!
What toppings go on chicken fajita tacos?
Hold on to your hats folks, cause the options are endless. Our toppings were avocado slices, cotija cheese, and cilantro. BUT other excellent toppings are: sour cream, shredded cheddar, sliced black olives, squeezed lime, salsa, hot sauces, sliced jalapeños, pico de gallo, sliced baby tomatoes, the list goes on...
How do you store these fajita tacos?
I would store the leftover chicken fajita mix in airtight container in fridge for maybe 3-4 days. The tortillas should be kept separate so they won't get soggy.
👶🏽 Tips for Picky Eaters
✔️ Kids pick the peppers! All bell peppers are delicious in fajitas! Let kids choose which color of peppers they'd like in this meal.
✔️ Turn the fajita taco mix into a quesadilla! Some of my kids didn't like the peppers, so I scooped some of the chicken onto a tortilla with shredded cheese, folded it over and microwaved it for like 45 seconds. Perfecto!
✔️ Use smaller tortillas (like Mission's street taco tortillas) for kid-sized, mini chicken fajita tacos 🙂
✔️ Add a favorite side dish! Some easy winners: Mexican rice, beans, and chips & guac.
✔️ Make a chicken fajita taco decorating station! If your kids are anything like ours, they love making choices and deciding how their food should look! We set up a toppings station, with small bowls of our kids' favorites.
While you make our chicken fajita tacos, your kiddos can make these adorable Pop-up Paper Peppers! This 3-D craft is easy for kids of all ages. And you probably have all the supplies at home already!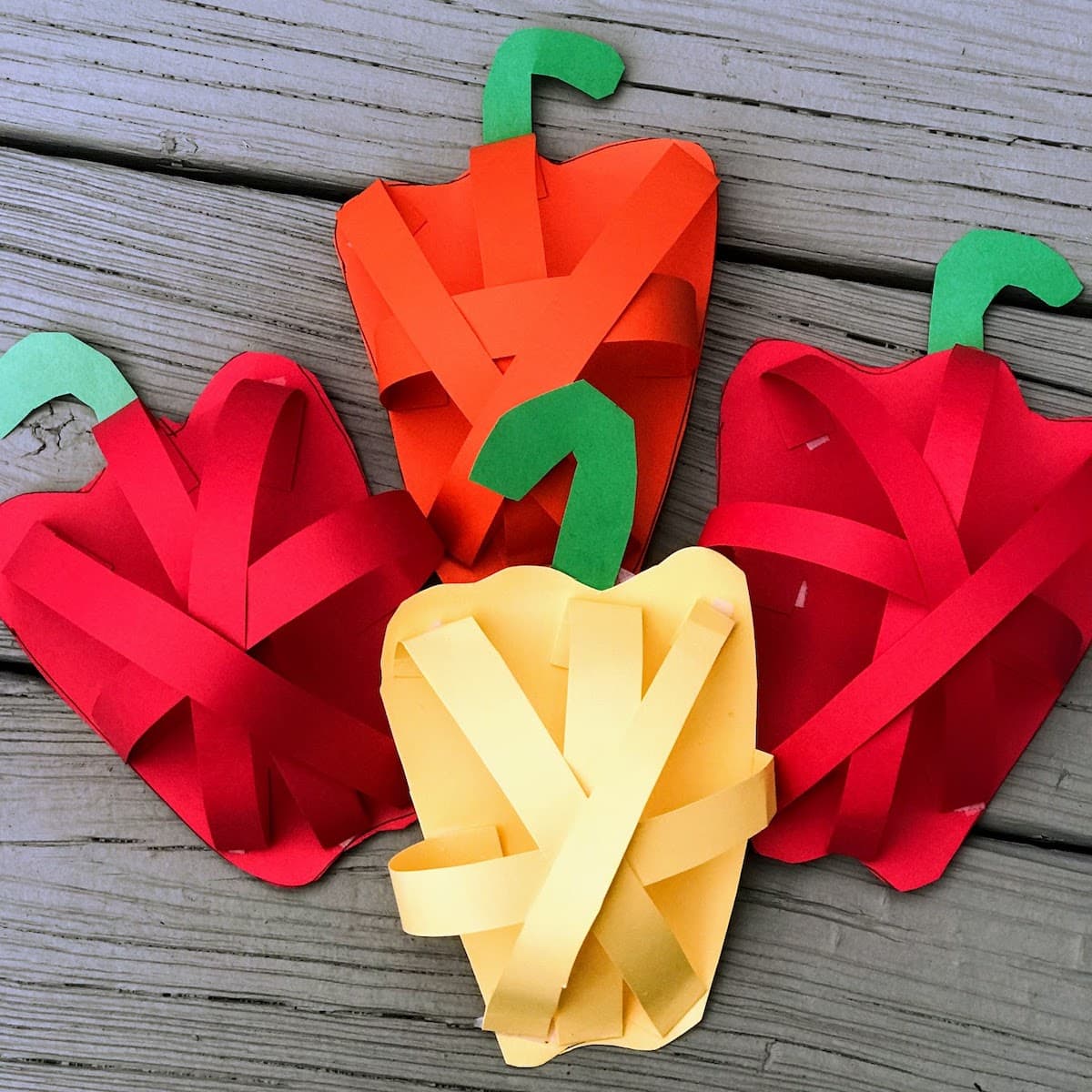 Also, check out our Color Tortillas with Edible Paint Craft where you get to paint and then eat your food!
🍴 Other One-Pot/Pan Recipes From Us!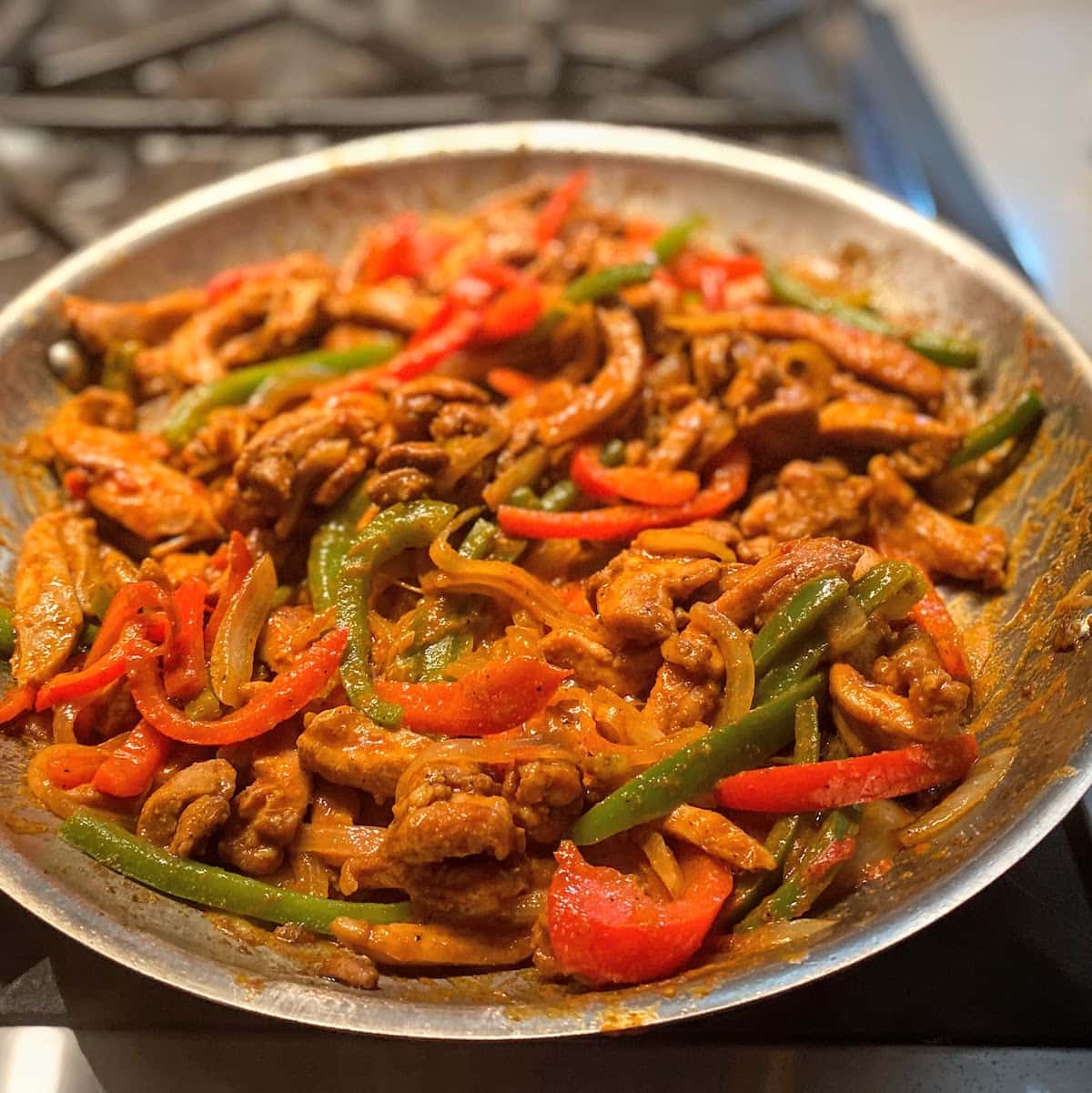 Follow Platein28 on Pinterest, Instagram and Facebook and Sign up for our newsletter for all the latest recipes and crafts!
🌮 Yummy Chicken Fajita Tacos
Did someone say flavor explosion?! These one pan chicken fajita tacos are seriously easy and seriously tasty! Plus, super moist chicken. Try them tonight!
Ingredients
2

cloves

garlic

minced

½

Tablespoon

salt

1

teaspoon

ground cumin

1

teaspoon

black pepper

1

teaspoon

paprika

½

teaspoon

chili powder

6

chicken thighs

boneless and skinless, cut into strips or chunks

2 to 3

Tablespoon

olive oil

½

onion

cut into strips or chunks

1

green bell pepper

cut into strips or chunks

1

red bell pepper

cut into strips or chunks

1

Tablespoon

tomato paste

3

Tablespoon

lemon juice
Optional Toppings
avocado

cotija cheese

cilantro
Instructions
Combine garlic and dry ingredients in a medium bowl. Add chicken to bowl and mix together until all sides of chicken are coated with the seasonings. Heat a large pan on medium. Once heated, add oil and chicken. Cook for 5 mins, stirring frequently.

Add veggies to the chicken, lower heat, stir, and cover. Cook covered for 3-4 mins, stirring occasionally, until onion is translucent.

Uncover and add tomato paste and lemon juice. Cook uncovered for another 3 mins, stirring frequently. Remove pan from heat.

Scoop fajita mix onto tortillas and decorate with your fave toppings.
Notes
🌮 To plate...scoop some fajita pan mix into a tortilla and add your favorite toppings. To make it fun, set up a little toppings station.
🌮 Make sure you're cooking with a large pan to fit all the veggies and chicken.
🌮 Spice up your fajitas! If you and your family prefer more zest, increase the amount of chili pepper used to season chicken. Or add a little bit of cayenne.
🌮 There are many possible ingredient swap options here. Chicken can be thighs, tenders or breasts. Frozen is ok too. Use 1 t of garlic powder if you don't have fresh. You can use bottled lemon juice or fresh-squeezed. Any color bell pepper is fine!
🌮 Make it gluten-free! Buy some corn tortillas or gluten-free tortillas, or just ditch the tortilla and eat the fajita mix on top of rice. Yummmmmm!
Nutrition
Serving:
1
fajita taco
Calories:
340
kcal
(17%)
Carbohydrates:
29
g
(10%)
Protein:
27
g
(54%)
Fat:
13
g
(20%)
Saturated Fat:
3
g
(19%)
Polyunsaturated Fat:
2
g
Monounsaturated Fat:
5
g
Cholesterol:
107
mg
(36%)
Sodium:
1701
mg
(74%)
Potassium:
485
mg
(14%)
Fiber:
2
g
(8%)
Sugar:
4
g
(4%)
Vitamin A:
854
IU
(17%)
Vitamin C:
47
mg
(57%)
Calcium:
121
mg
(12%)
Iron:
4
mg
(22%)
*Percent Daily Values are based on a 2000 calorie diet. While we are not certified nutritionists, we work with a WordPress-integrated nutrition API to calculate our recipes' ingredient values.
Want more 28-minute recipes? Sign up and get recipes straight to your inbox!