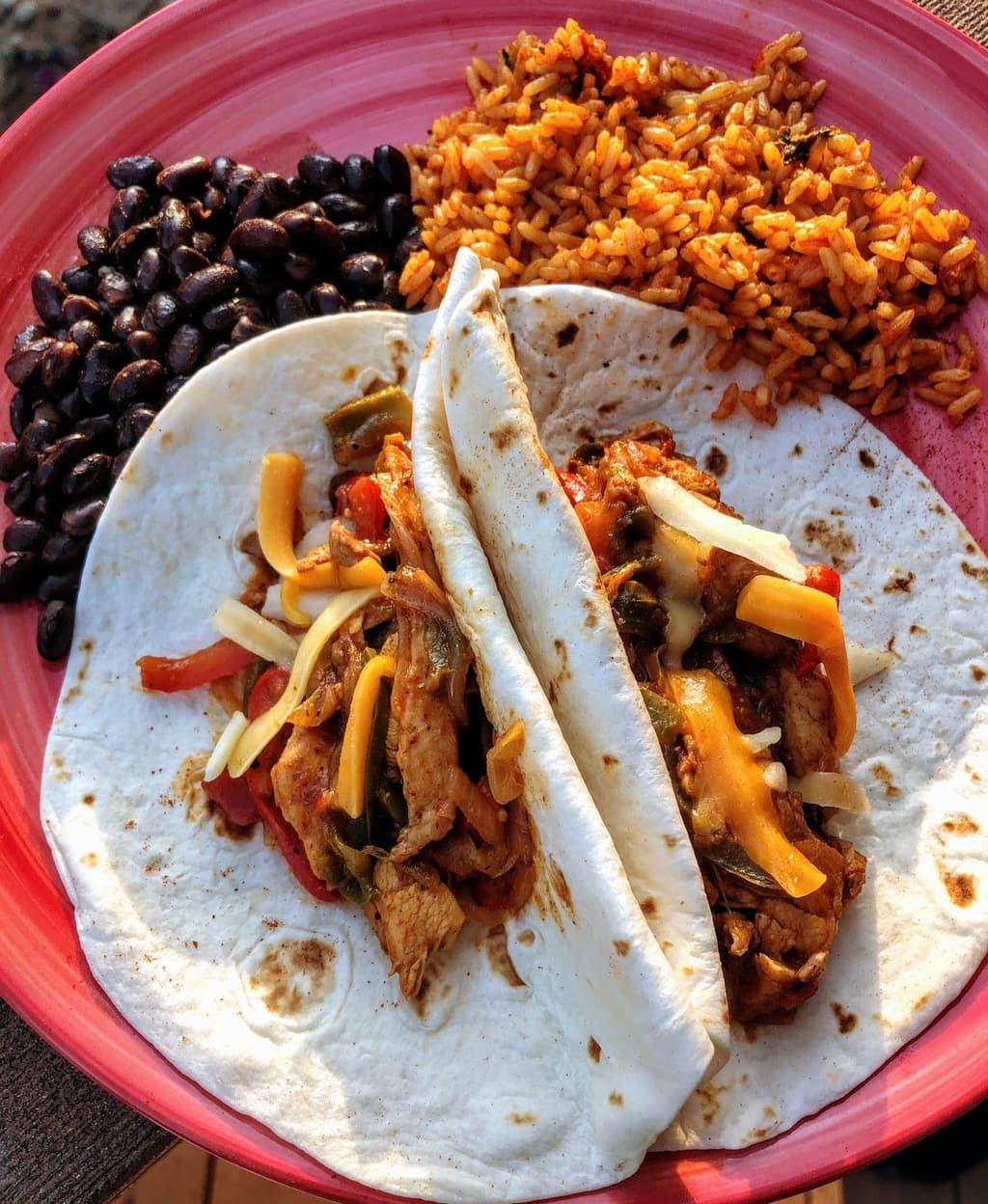 Much like the rest of the world, we have been spending a LOT of time at home recently.  To keep things interesting, we have been doing some fun themed dinners! Last night my husband made sushi for the very first time, and a few nights earlier, we made these tasty chicken fajitas! 
---
One pan dishes never fail!
Life is way easier when you only have one pan to clean!  Other than prepping the veggies and chicken, everything happens in one, single pan for this chicken fajitas recipe. 
First, we seasoned and cooked the chicken. 
Then, we added in the chopped veggies.
As a final step, we added in lemon juice and tomato paste. Then our chicken fajitas were ready to assemble! Easy-peasy! 

---
We love bell peppers!
The main veggies in this dish are bell peppers, our fave! Not only are bell peppers delicious and nutritious, but they also add such beautiful colors to our meal! And you may be surprised to know that while bell peppers are nutritionally considered veggies, they are actually classified by botanists as fruits because of their seeds.
Learn more about bell peppers and invite kids to make these adorable Pop-Up Peppers craft. Note: Our bell pepper craft has a section devoted to sharing some cool bell pepper facts, so make sure to check those out!
---
Make a chicken fajita decorating station!
If your kids are anything like ours, they love making choices and deciding how their food should look! We set up a chicken fajita decorating station and laid out small bowls for our favorite fajita toppings: shredded cheese, chopped tomatoes, sour cream, and cilantro.  
---
Use this time to cook with your kids!
We love cooking as a family, and now seems a better time than ever to invite kids to help out in the kitchen (assuming everyone is healthy and properly washing their hands!). Not only will cooking together help pass the time, but cooking with your kids has some real educational benefits, like boosting self-esteem and fostering healthy eating habits.
Note: This post contains affiliate links.
---
Final Tips To ensure smooth sailing!
What Can Kids do While Grown-ups Cook?
---
Craft for this Recipe:
Pop-Up Paper Peppers! Celebrate the remarkable color of your meal's bell peppers with this Pop-Up Paper Peppers Craft! Your kids can make these pop-up peppers while you prepare our One Pan Quick & Easy Fajitas! You probably already have all the supplies in your home!
---
Other One-Pot/Pan Recipes From Us!
🍅One Pot Chicken Sausage Pasta
🍅Yummy White Bean & Vegetable Soup
🍅Mini Crustless Ham & Broccoli Quiches
🍅One Pot Easy Pea-sy Cheese Tortellini