Every year my kids and I make 💜Valentine's Cards💜 for family and friends. Sometimes they get bored and make only one, and sometimes they really get on a roll and make a bunch. And sometimes they decide to make complicated cards for all their classmates, and only make half of them, and then I'm up late the night before Valentine's Day chugging wine and finishing all of them! (ahem!) But I feel like we do the same type of card every year. That's probably cause I have the same old art supplies hanging around and refuse to buy more. Lol.
So, I poked around online to find a craft that would pair with our heart-healthy Sweet Potato, Kale & Feta Wrap Recipe, and also switch things up. I came across this great idea by Rachelle over at TinkerLab. You can use sweet potatoes as stamps! 💟Heart stamps! 💟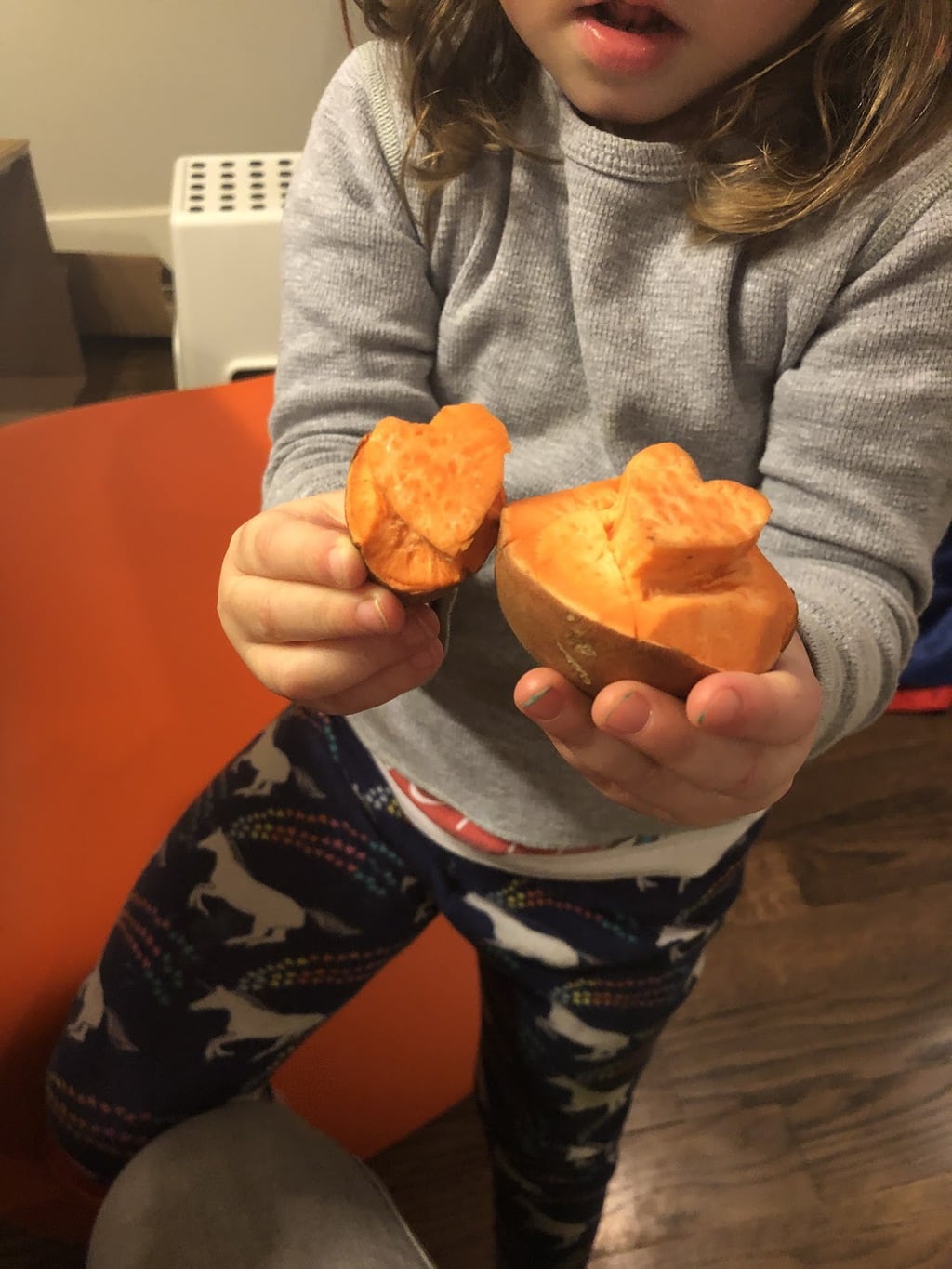 Much like our Bok Choy Roses craft, I love this sweet potato heart craft because it allows kids to handle and manipulate real food. I always feel better making meals for my kids where they can actually touch and investigate the raw form of what's going into their bodies, rather than it being some box with nebulous contents 🙂
I'm not gonna lie...this is a messy one. But anytime you do a craft with paint and small kids, it's messy 🙂 This one that my 3 yo did was so loaded up with paint and glitter that it was actually heavy to pick up! hahahaha

NOTE: If you're using ink pads, tell your kids to press down really hard with the potato stamp. Because the potato is fresh and has moisture, it doesn't pick up the ink as well as if it was dry. If you're using paint, don't use too much paint. Otherwise, the print will lose its heart shape and will just look like a blob. Just use enough paint to lightly cover the heart.
This craft provides a great chance for parents to share some of these fun facts about sweet potatoes:
🍠Sweet Potatoes🍠
Sweet Potatoes are a great source of Vitamin A. Vitamin A helps keep our eyes healthy, improving our nighttime vision and helping prevent eye problems as we get older.

Sweet potatoes are root vegetables, which means they grow underneath the ground.

Sweet Potatoes are considered a Superfood. Superfoods are natural foods that are packed with lots of nutrients and vitamins. They support our health in a major way and some even work to fight disease. Other superfoods you probably like are blueberries and avocados.
Sweet potatoes are usually orange but can also be white or purple.
North Carolina is ranked as the number 1 sweet potato producing state.
💡Overview💡
Featured Ingredient: Sweet Potatoes
Corresponding Recipe: Sweet Potato, Kale & Feta Wrap
Skills supported:Fine motor (painting, stamping), following instructions
✂ supplies ✂
1 - 2 sweet potatoes

Writing utensil

Sharp knife for carving

Washable paint or Ink pads
Paper

Your choice of decorations: stickers, markers, crayons, glitter/gems & glue, etc.
Note: This post contains affiliate links.
📝instructions📝
Consider setting up the craft before you start cooking so that your kids can get to work right away.
Cut a sweet potato in half (or if large enough, into thirds). Take a section and draw a heart onto the exposed side of the potato.

Take a carving knife and carefully cut around the heart until the heart pushes out about 1/2 " away from the potato. THIS IS A STEP FOR ADULTS ONLY!

Using a paint brush, paint the bottom of a head with a color of your choice. [If you're using an ink pad, just press the heart stamp into the pad].

Stamp the painted sweet potato onto paper to print a heart. Repeat using different colors (if using washable paint, it's easy to rinse/wipe off the sweet potato, pat it dry, and re-paint with a different color).
Decorate the rest of the Valentine with whatever you choose!
Note: *For toddlers especially, these tasks may require adult supervision and/or assistance.