We have been eating a lot of asparagus recently. We usually steam it or use our roast it (see our Lemon Butter Chicken with Roasted Parmesan Asparagus recipe), and it seems to be one of the more tolerated veggies in our house of picky eaters. 
My daughter and I decided to add asparagus to our play food collection this week. I can't emphasize enough how much we actually use and enjoy our play food crafts. Playing "restaurant" and "grocery store" just never seems to get old. 
Minimal Supplies!
We love using supplies that we typically have laying around the house. For this craft, we needed construction paper, scissors, glue, and string.  It doesn't get more simple than that!
Cut, Glue and Tie!
To make the asparagus stems, we began by cutting out 5 medium rectangles of green paper. We rolled each rectangle to form long, spears and glued them closed. To form the asparagus tips, we cut out strips of brown paper with triangular edges and wrapped and glued them around the tops of our stems. We also cut out and glued small, brown triangles to the spears to form their scales. And finally, we tied the cluster of 5 spears together with a piece of white string (a great opportunity to practice those developing shoe-tying skills!).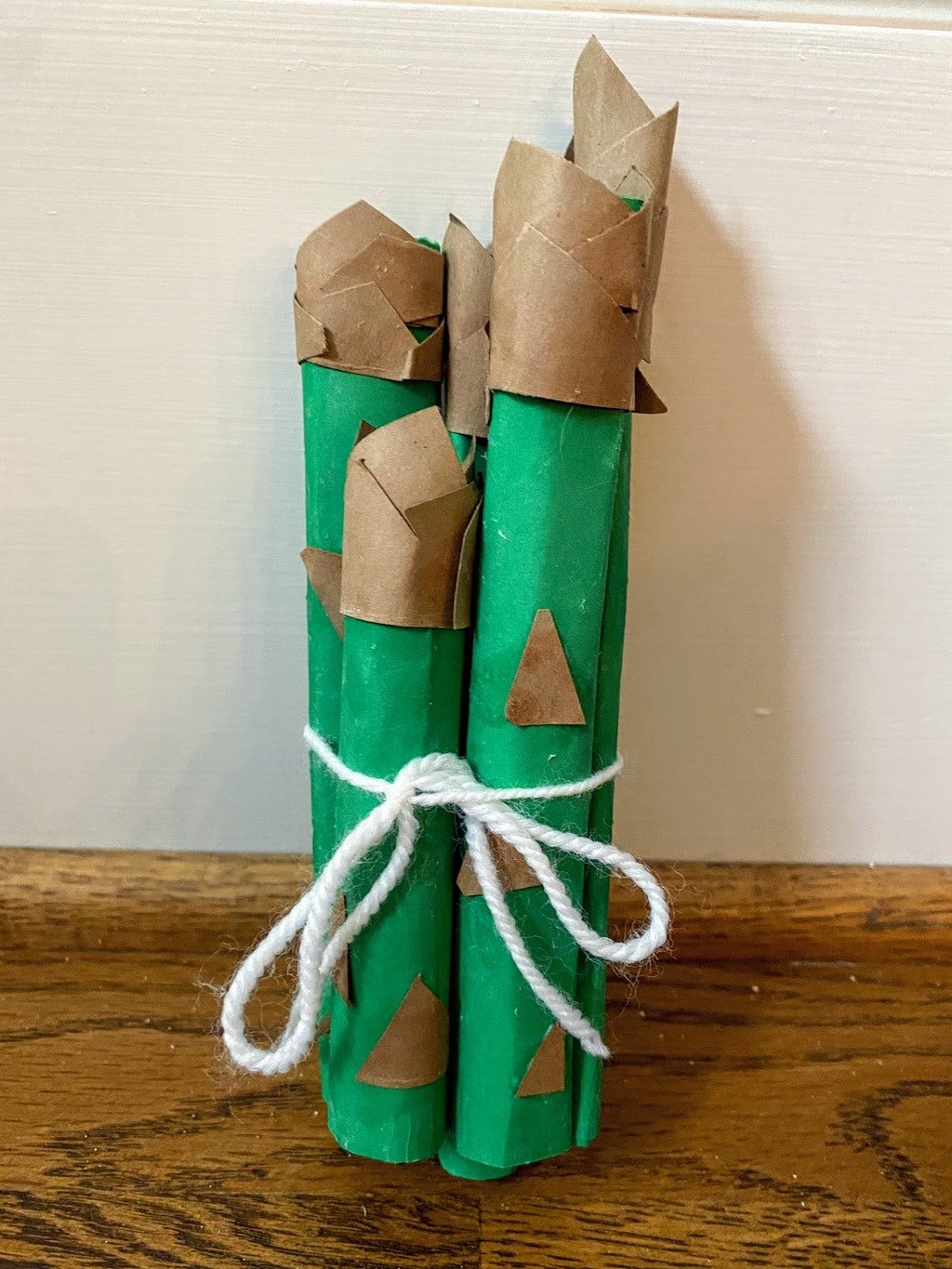 Although this craft is fairly simple, it does require some precise cutting which might be tough for little hands. We recommend that parents or older siblings step in to help with the cutting when necessary.  We love these kid-friendly scissors!
Time to Play!
The best part about this craft is that kids can play with the final product right away, which gives parents some extra time to get dinner ready.  My daughter promptly wanted to play "restaurant" with her bunch of asparagus. In fact, she made asparagus the special on her menu and served the vegetable to her two favorite dolls.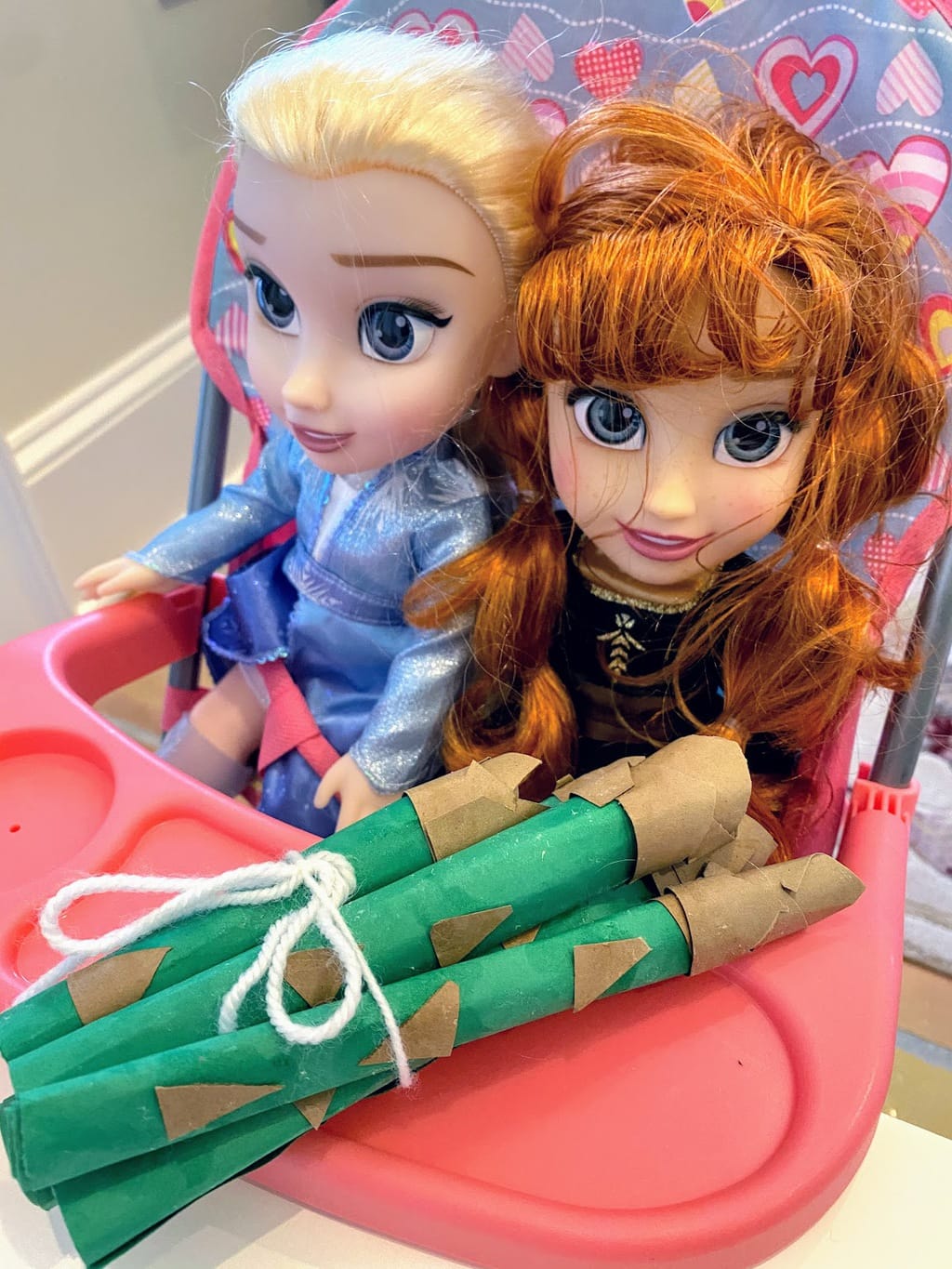 While crafting, you and your kids might want to take a moment to learn some fun facts about:
🍴 Asparagus 🍴

Asparagus is rich in vitamins, like folate, which helps keep our blood healthy.

Asparagus is usually greenish-purplish but can also be white. 

It takes asparagus three years to grow until it's ready to be harvested.
China and Peru are some of the top asparagus-producing countries in the world. 
See how to make Playfood Asparagus
💡Overview💡
Ingredient:
 Asparagus
Corresponding Recipe:
Lemon Butter Chicken with Roasted Parmesan Asparagus
Skills supported: Fine motor (cutting, folding, gluing, tying), following instructions, math (composing shapes)
✂supplies✂
Note: This post contains affiliate links.
📝instructions📝
Consider setting up the craft before cooking so kids can get to work right away.
Spears: Cut out 4-6 medium rectangles of green paper. Roll each rectangle to form long, spears and glue them closed.*
Tips: Cut out several thin strips of brown paper. Use scissors to form a jagged/triangular edge on each strip.  Divide the strips into smaller pieces and wrap and glue two small strips, staggered, around the tops of each stem.*
Scales: Cut out several small, brown triangles. Glue 3-4 triangles to each spear to form its scales.* Carefully tie your bunch of asparagus together with string and enjoy!
*For toddlers especially, these tasks may require adult supervision and/or assistance.
Back to Lemon Butter Chicken with Roasted Parmesan Asparagus Recipe