If you're planning on making spaghetti for dinner, sit your kids down to work on this fun rainbow spaghetti art craft while you cook! Kids will love turning colored spaghetti into words!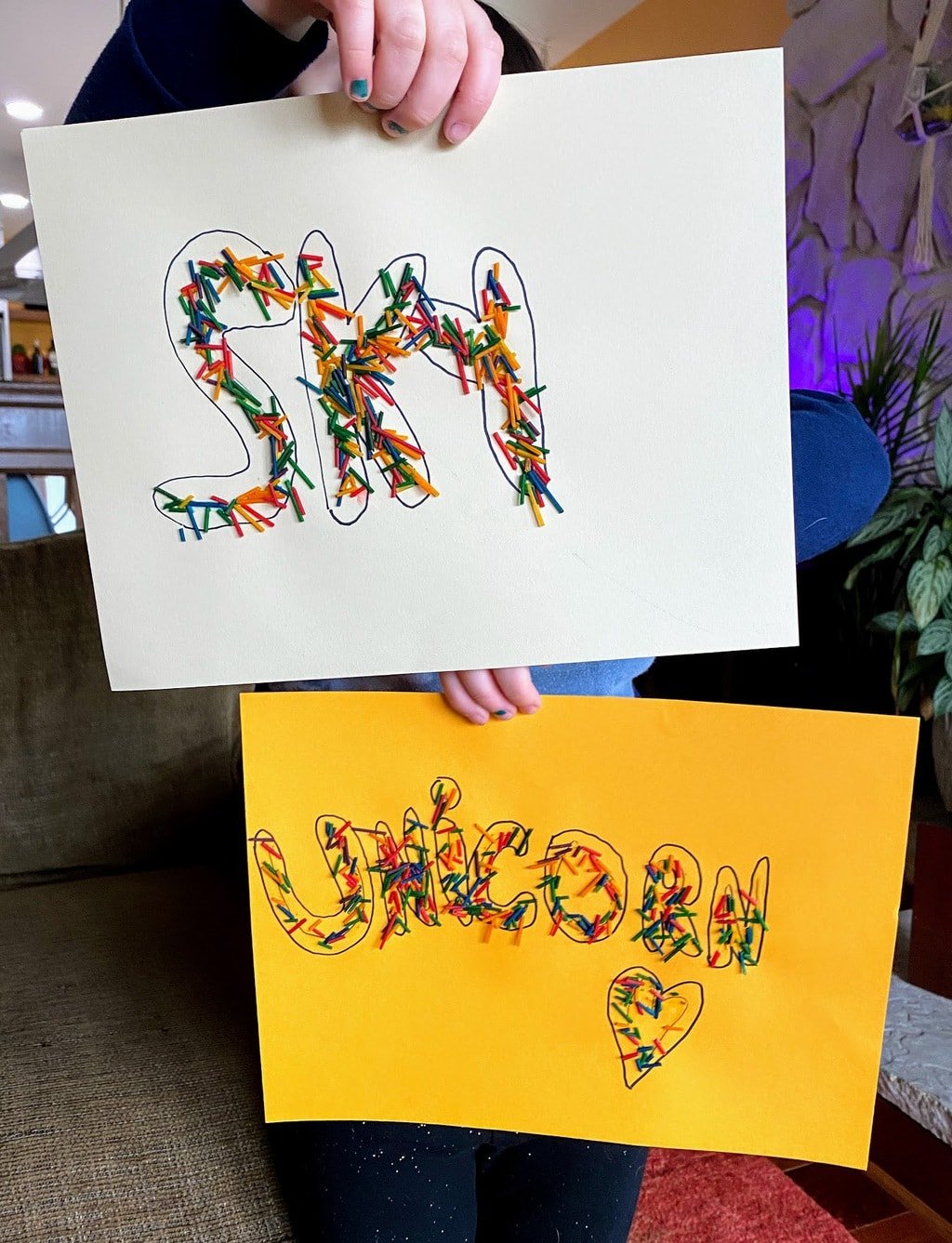 This craft is some messy fun, but totally worth it! My sister did hers outside so she wouldn't have to worry about the mess. It always amazes me how far a tiny drop of food coloring can go! If that's not an option for you (like for me here in perpetually rainy Portland), just keep a wet towel and small sweeper/dustpan on hand. Regardless, if you had fun and did it right, your hands should look like this when you're done!
How to Make Spaghetti Art
Note: This post contains affiliate links.
Craft Supplies
Don't be alarmed by the list. You probably have 75-100% of this at home already, especially if you bake.
Worth noting: this craft is very similar to our Rainbow Rice Letters Craft, except we used thin spaghetti instead of rice. So, there are a lot of different dry ingredients you can use for the craft. Good alternates to the spaghetti: any rice, shell pasta, or alphabet noodles.
Crafting Notes
To make your rainbow spaghetti art, you'll need to break up some dry spaghetti noodles and put the pieces into Ziploc bags, adding a couple drops of different-color food dye to each. Then, once you give your baggies a good shake, the noodles will turn a nice bright shade of color! Write a word of your choice on paper, being as creative as you like! Outline the letters with marker and then trace the letters with Elmer's Glue. Finally, sprinkle the colorful noodles on top of your letters and behold! Vibrant, rainbow spaghetti letters!
💡

Overview

💡

Ingredient: spaghetti
Corresponding Recipe: Ground Turkey Spaghetti Sauce with Hidden Veggie Recipe
Skills supported: Fine motor (tracing, gluing), writing, following instructions
Note: This post contains affiliate links.
✂

S

upplies ✂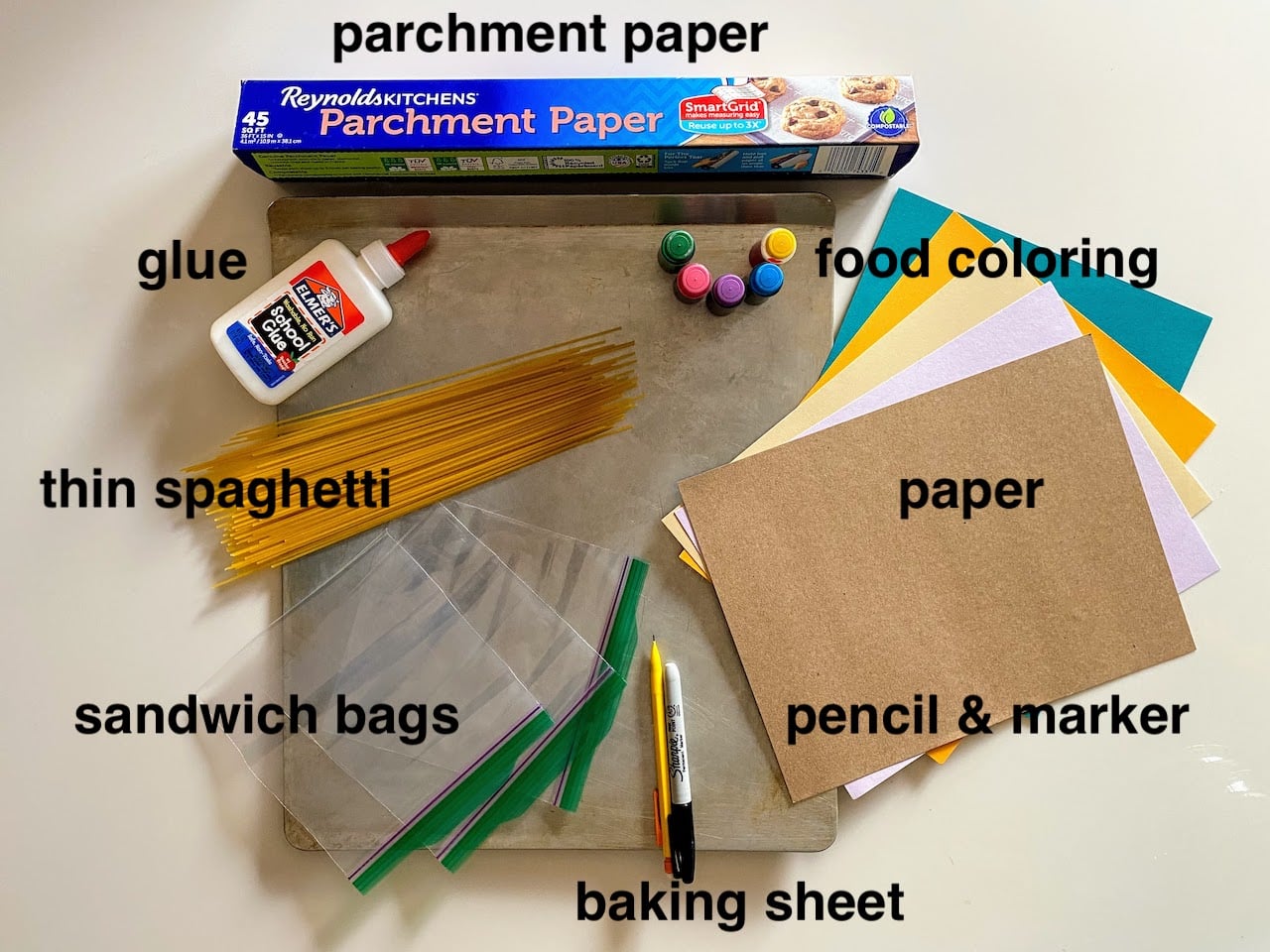 Notes on Supplies:
Thin spaghetti - if you don't have this, you could use any kind of dry rice or dry pasta shells.
Bags - we used Ziploc sandwich bags, but you could use any plastic bags. If you don't have bags or don't want to be wasteful, just stir noodles and dye together in separate bowls.
Food coloring - We used 5 food dye colors, which gave a nice rainbow palette. But you can use however many you like. Gel food coloring would also work.
Baking sheet - the baking sheet is just a flat surface for the colored noodles to dry. You could also use a cutting board, countertop or tabletop. Just make sure you cover it with parchment paper or wax paper.
Paper - it's best if paper is on the thicker side, like construction paper.
3 optional (but helpful!) supplies - (1) a medium bowl for your noodle-breaking (we discovered that the noodles fly everywhere when you're breaking them up and a receptacle helps a bit); (2) a tool to help break up the noodles once your hands get tired (i.e. meat tenderizer or potato masher); and (3) rag or towel you don't care about, to absorb food dye mess. We did not anticipate needing these supplies, but in retrospect, they made a big difference.
---
📝

I

nstructions 📝
Consider setting up the craft before cooking so that your kids can get to work right away.
Take your dry noodles and break them up into small pieces with your hands. TIPS: (a) we discovered that the pieces can fly everywhere when you're doing this, so doing it in a medium bowl may help with that; and (b) if your hands get tired, try something else, like a potato masher or meat tenderizer to do the breaking 🙂
Put some of the broken noodles into a bag, add several drops of a color food dye, seal the bag, and shake it baby! Once the color is well distributed, repeat until you have 3-5 different color noodle bags.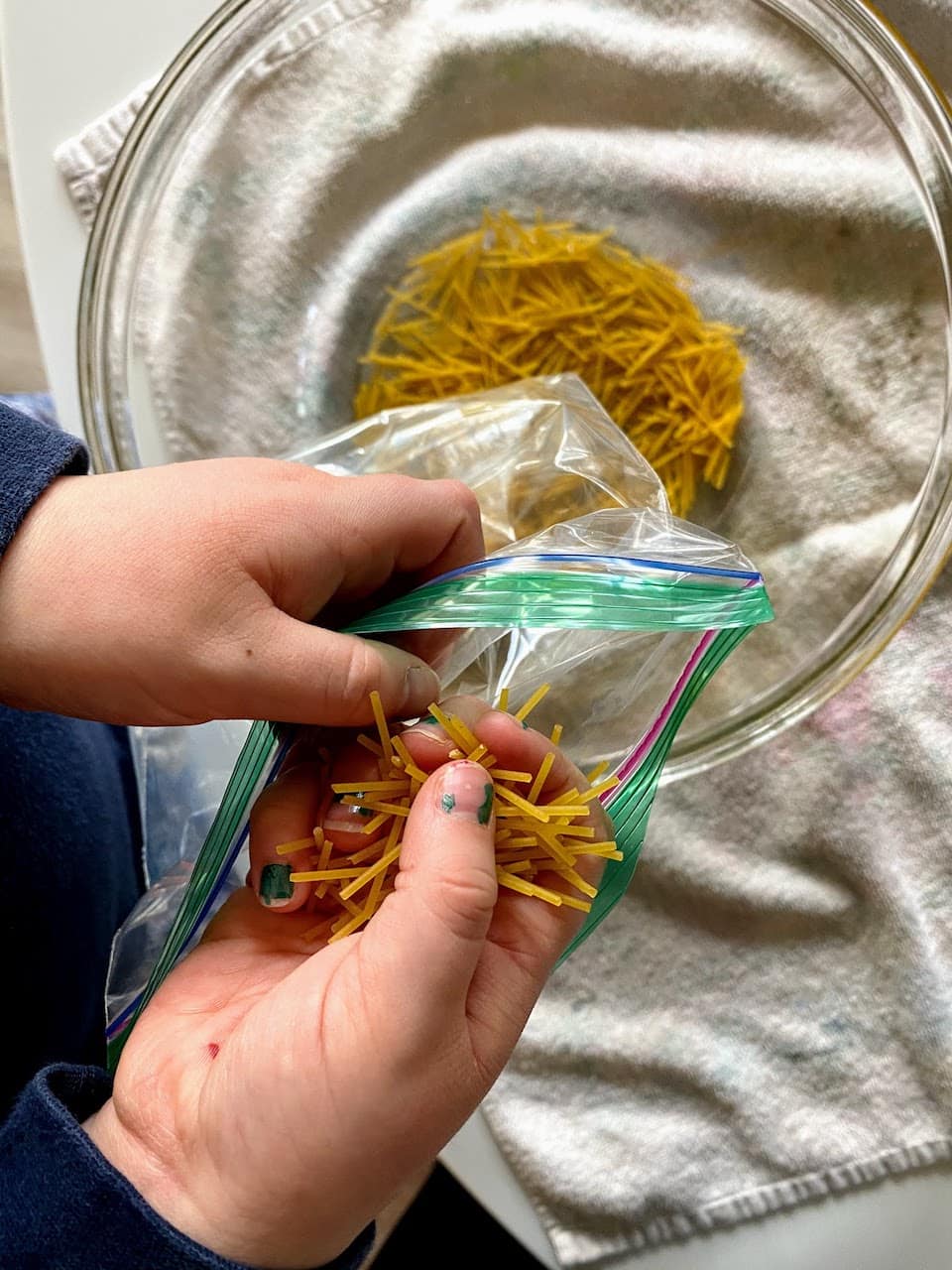 Put a piece of parchment or wax paper on your baking sheet. Empty each bag of noodles onto the paper separately to dry.
Meanwhile, write a word on a piece of paper with a pencil. Add pictures or designs around your name if you like. Using a marker, outline each letter with a bubble letter, to make the end result more legible.
Retrace the pencilled letters with glue. Then sprinkle colored spaghetti on top of glue so that all glue is covered. Lift paper and gently shake off excess noodles either back onto tray or into trash. [for very young ones, parents might need to help with this last part]

 
Back to Ground Turkey Spaghetti Sauce with Hidden Veggie Recipe