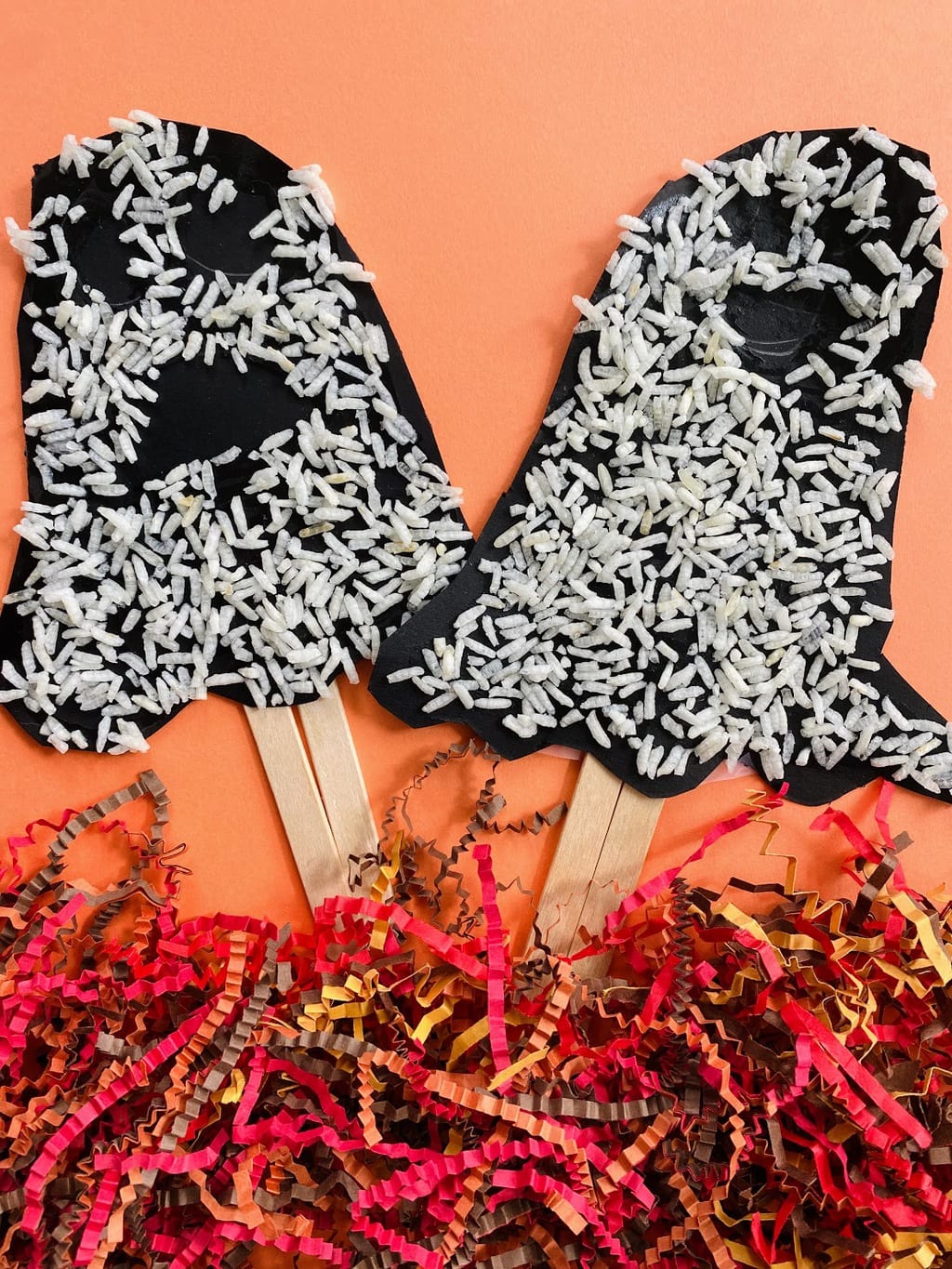 Halloween is this month and the kids couldn't be more excited! While making our One Pan, Easy Pea-sy Chicken & Rice Recipe this week, we used a handful of extra rice to make these adorable Rice Ghosts. This incredibly simple craft brought smiles to my kiddos' faces and even inspired them to make a festive puppet show!
---
[the_ad id="8295"]
Rice Ghosts: Simple and Sweet!
This craft is simple enough that kids can largely make their rice ghosts on their own. While younger kids might need assistance with cutting out their ghost, the rest is pretty straightforward. Kids will love "painting" their rice ghosts with glue and watching as the rice sticks to the glue with such ease. Just be sure to have a plate or tray under your ghost to catch access rice and avoid a huge mess!
Note: This post contains affiliate links.
ENJOY YOUR Halloween Rice Ghost Craft
We hope your kids will enjoy creating their rice ghosts! Here are some ways they can play with their ghosts:
Make a puppet show!
Turn them into decorations! Hang on the wall, window or door.
Use them as magnets! Instead of taping popsicle sticks to your ghosts, add an adhesive magnets to the back of the ghost and display them on your fridge. 
---
SHARE FUN FACTS ABOUT RICE WITH YOUR KIDS
When crafting with food, we usually discuss some fun facts about the foods we are working with, like their origin and nutritional benefits. These discussions often spark more questions and curiosity about how foods are produced and harvested. According to Dr. Jennifer Cohen, the Fussy Eating Doctor, parents can start teaching kids about food by discussing the parts of food and what they do for kids' bodies. According to Cohen, this can send a more personal and meaningful message to kid.  Some good sites for this info are: Choose My Plate (by the USDA) and Science Kids. 
---
RICE

---
💡

Overview

💡
Featured Ingredient: Rice
Corresponding Recipe: One Pan, Easy Pea-sy Chicken & Rice Recipe
Skills supported: Fine motor (drawing, cutting, taping/gluing), following instructions
---
✂ supplies for rice ghosts ✂

Note: This post contains affiliate links.
---
📝 instructions for rice ghosts 📝
Consider setting up the craft before cooking so that your kids can get to work right away.
Draw and cutout a ghost on black construction paper.* Draw eyes and a mouth on your ghost.
Cover all of your ghost with glue except for your ghost's eyes and mouth.
Sprinkle rice onto a plate. Press the ghost with glue on top of the rice. Turn over and gently shake off access rice onto plate.

Optional: Tape 1-2 popsicle sticks to your rice ghost to turn it into a puppet!
*For toddlers especially, these tasks may require adult supervision and/or assistance.
---
FIND MORE CRAFTS WITH RICE & PASTA:

---