Let's welcome spring with this adorable DIY Cork Honeybee Craft! This craft is so simple and is a great way to repurpose those wine corks!
Note: Some of the links in this post are Amazon affiliate links. This means that if you click on an affiliate link and purchase an item, we will receive a commission. However, we genuinely recommend all the products we link.
We were originally inspired to make this honeybee cork craft when making our Easy Honey Garlic Chicken Thighs. Cooking with honey seemed like a good opportunity to talk to the kids about where this fascinating ingredient comes from and how its made. So naturally, we wanted to make our own adorable honeybees.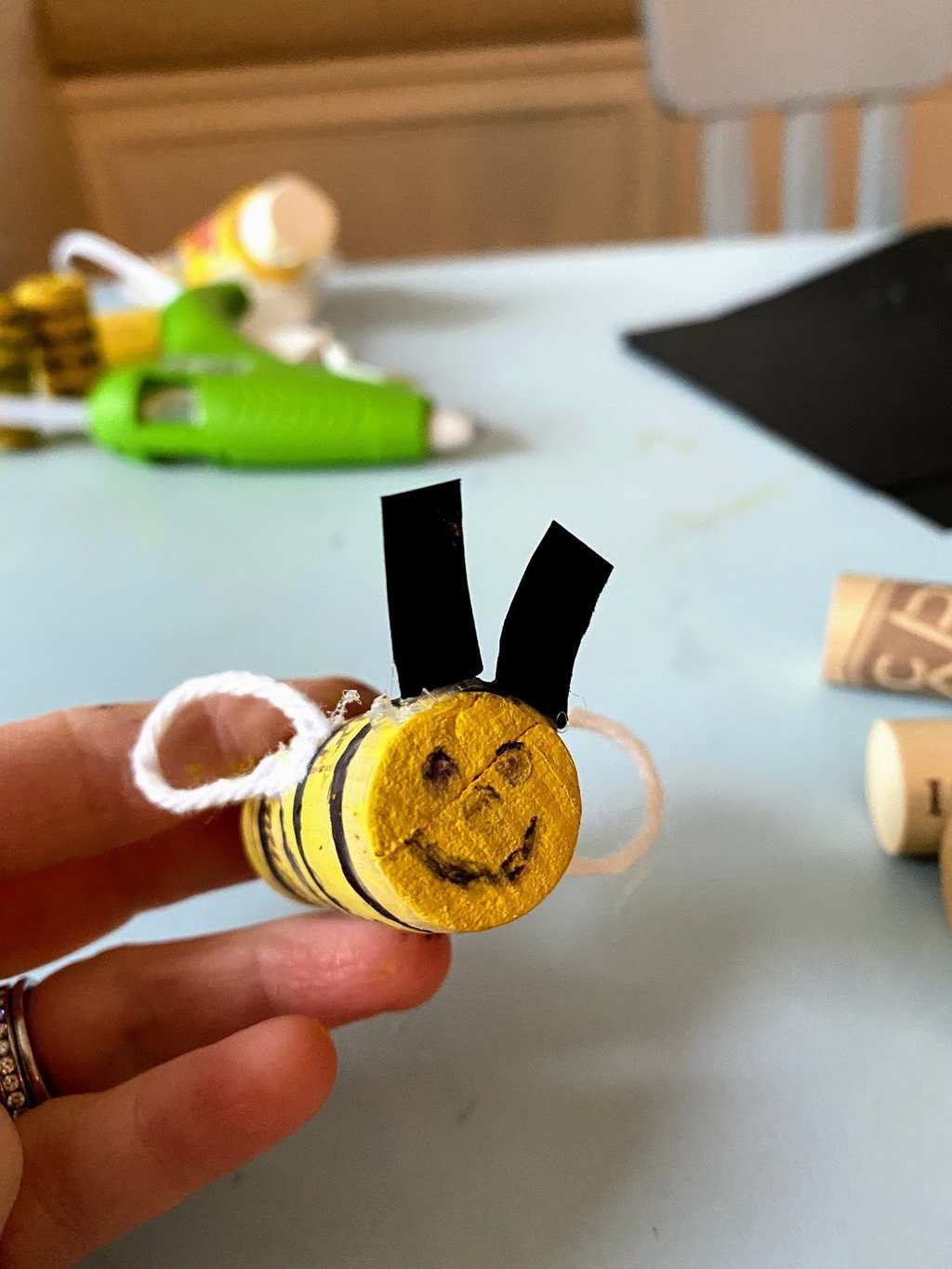 hang on to those wine corks for crafts!
My husband and I tend to hold on to our wine corks. Sometimes we use them as decorative fillers in vases, or we keep them handy for crafts like these! Now that we have used our corks to make this adorable cork honeybee craft, the possibilities seem endless!
In addition to the wine corks, we needed a few other key items: yellow acrylic paint, a black sharpie, black construction paper, a hot glue gun, and some white string. This may sound like a lot, but you may have many of these items laying around the house.
Turn your cork honeybees into a hanging mobile
We decided to fasten our cork honeybees to a popsicle stick with string to make a hanging mobile. We thought this was a fun way to make our honeybees actually "fly." This step is totally optional but worthwhile if you are looking for some adorable spring or summer decorations! My daughter also loved to make the bees dangle and dance.
While making the cork honeybee craft, you and your kids might want to take a moment to learn some fun facts about:
🍴 Honey 🍴
Honey is a sweet, syrup-like liquid produced by bees. 

Bees produce honey by gathering nectar from flowers, ingesting it, and then regurgitating it in the hive to produce honey. 
Since honey is high in sugar and calories, it should be consumed in moderation. 
Honey may offer some health benefits, like improved heart health. High quality honey contains many important antioxidants which may help lower blood pressure and thus reduce one's risk of heart disease. 
For more information on the history of honey and its health benefits, check out this awesome post by ManyEats. 
💡Overview💡



Corresponding Recipe:  Easy Honey and Garlic Chicken Thighs
Skills supported: Fine motor (painting, coloring, cutting, gluing), following instructions
✂supplies✂
Note: This post contains affiliate links.
See how to make this Wine Cork Honeybee craft
📝instructions📝
Consider setting up the craft before cooking so kids can get to work right away.
Honeybee's body: Paint wine corks with yellow acrylic paint. Let corks dry completely. Use a black Sharpie to draw 3-6 black lines around the body of the cork.
Honeybee's face and antennae: Use the same black Sharpie to draw eyes, a nose and mouth on the flat base of the cork. Cut out two thin strips of black paper for the honeybees antennae. Glue strips above the honeybee's face. Note: I folded down the bottoms of the antenna and glued the folded part of the strips to the cork to best secure the strips to the cork.
Honeybee's wings: Cut out two small pieces of white string (about 5-6 inches long). Fold each piece of string in half and glue the ends together and to each side of the honeybee's body.
If you'd like to turn you cork honeybee craft into a honeybee mobile, simply glue your honeybees to long pieces of string and fasten them to a popsicle stick.
*For toddlers especially, these tasks may require adult supervision and/or assistance.