While we were making our Potato Leek Soup, I was really admiring the leeks themselves and wondering what cool, food scrap craft we could do with the leek leaves afterwards.
I honestly don't handle leeks very often and they're quite beautiful and dynamic. Their dark green leaves at the top are really sturdy and we didn't even need them for the dish. So, it seemed the perfect plan to use them in a craft. Just playing around, my kids and I decided to just start cutting them into shapes to see how well they held up with scissors. The answer is: very well! Haha. So, we decided to make outdoor, tree scenes on paper, using the leek leaves however we wanted. Between my kids and I, we used them as tree leaves, bushes, and the body of a duck!
FAVORITE CRAFT!
Seriously, my son said that this was his favorite craft we've done. He got really into it! The leaves were super easy to cut and place with glue. And I think he loved how there were no rules or plans for this craft. I did an apple tree with a basket of apples at the base and a ladder propped up against the tree. My son did a tree with some wildly creative bushes, a duck with her baby ducks, and interestingly enough, a golfer hitting a ball. My daughter did a tree with colorful flowers (that look like fireworks or weird insects, lol) climbing the tree, and a duck at the bottom.
NOTE ON INSTRUCTIONS
This is an extremely open ended craft. So, don't pay much mind to our instructions. We decided to do trees/landscapes. But you can do anything you want. Our first go around involved cut-out hearts and stars. So, really, this food scrap craft can be anything you'd like it to be! Worth mentioning is that we had all these supplies in the house already. They are pretty basic kids' art supplies. So, you might not have to buy anything at all to do this craft!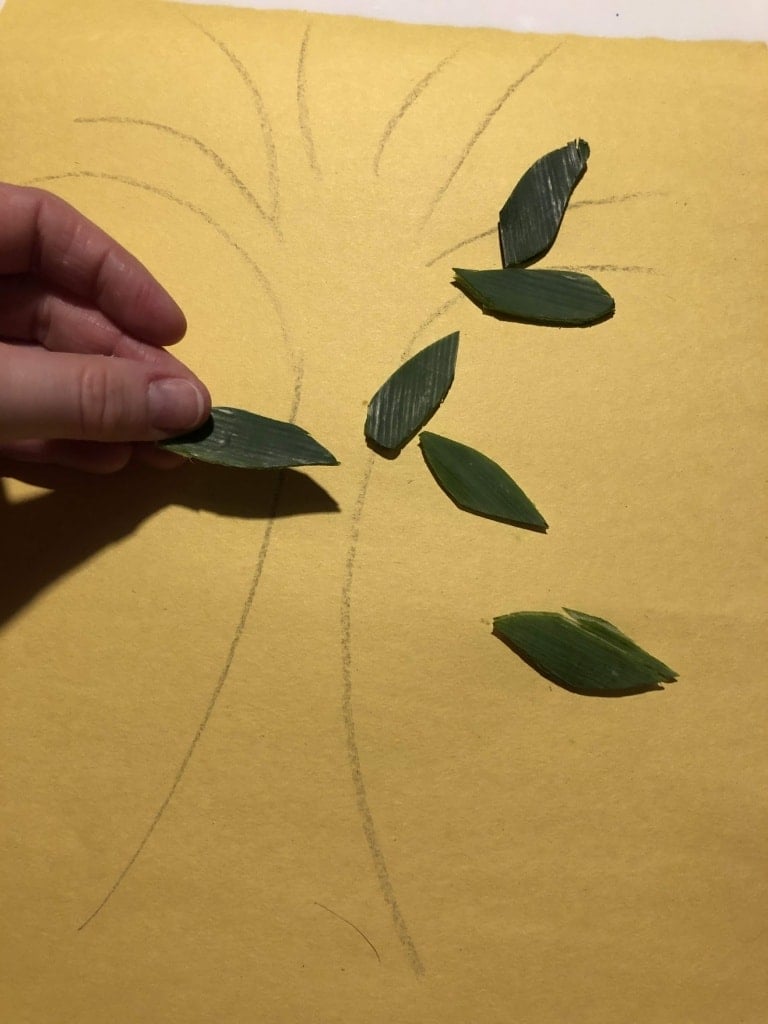 NOTE ON AGE
While my 6 yo son needed zero help with this craft, my 4 yo daughter did. She needed me to glue some of the leaves down and also help her with a few drawing details. Naturally, this all depends on the creativity, personality and dexterity of your child. But all in all, it's pretty, universally easy with little parent guidance/help needed.
While making this food scrap craft, you and your kids might want to take a moment to learn some fun facts about this meal's featured ingredient:
Read more...
💡

Overview

💡


Ingredient: Leeks

Corresponding Recipe: Potato Leek Soup

Skills supported: Fine motor (coloring, cutting and gluing), following instructions

✂ supplies ✂

dark green leaves from a leek
(anything else you want!)

Note: This post contains affiliate links.

📝 instructions 📝

Consider setting up the craft before cooking so that your kids can get to work right away.

Start by outlining a tree with a crayon.
Cut leaf shapes out of the leek greens. Glue the leaves onto the tree wherever you like.
Draw apples, flowers, ducks, grass, bushes, whatever! You are the artist!

*For toddlers especially, these tasks may require adult supervision and/or assistance.