My kids love trail mix, and we eat it all the time. BUT we mostly just buy pre-made trail mix from the store. Today, I thought it would be cool for once to actually make our own, homemade trail mix. I know this isn't exactly a craft, but it definitely does take some creativity.
Trail Mix as Gifts
Instead of making a huge bowl of trail mix for ourselves, we decided to make little baggies of trail mix as gifts. It's back-to-school season for us. So, we thought it would be sweet to give little bags to the kids' new teachers. Or you could give the trail mix out as gifts to friends, family, or neighbors. We bought cheap party bags at the dollar store, and those were perfect for this!
Duh note: keep nut allergies in mind!
Bulk Bins
Today I took my kids to the store and let them pick out all the ingredients. Our store has a really nice, extensive bulk bin section, with tons of nuts, dried fruit, etc. Of course, if all the choices were totally up to my kids, we would have a mix of jelly beans, chocolate coins, and gummy frogs! Those were the bins they gravitated towards at the store, of course. So...I had to steer them a bit.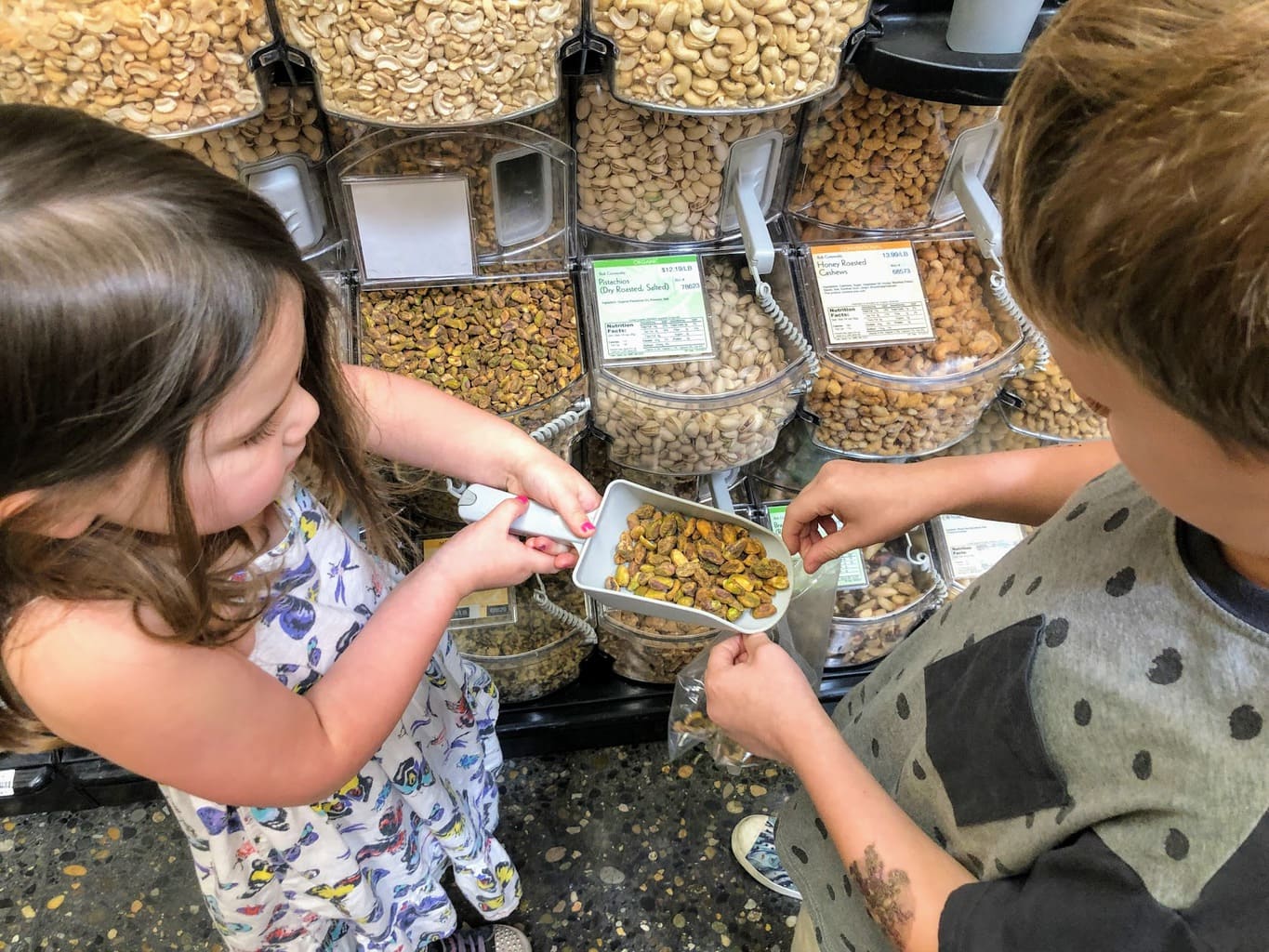 Note on Price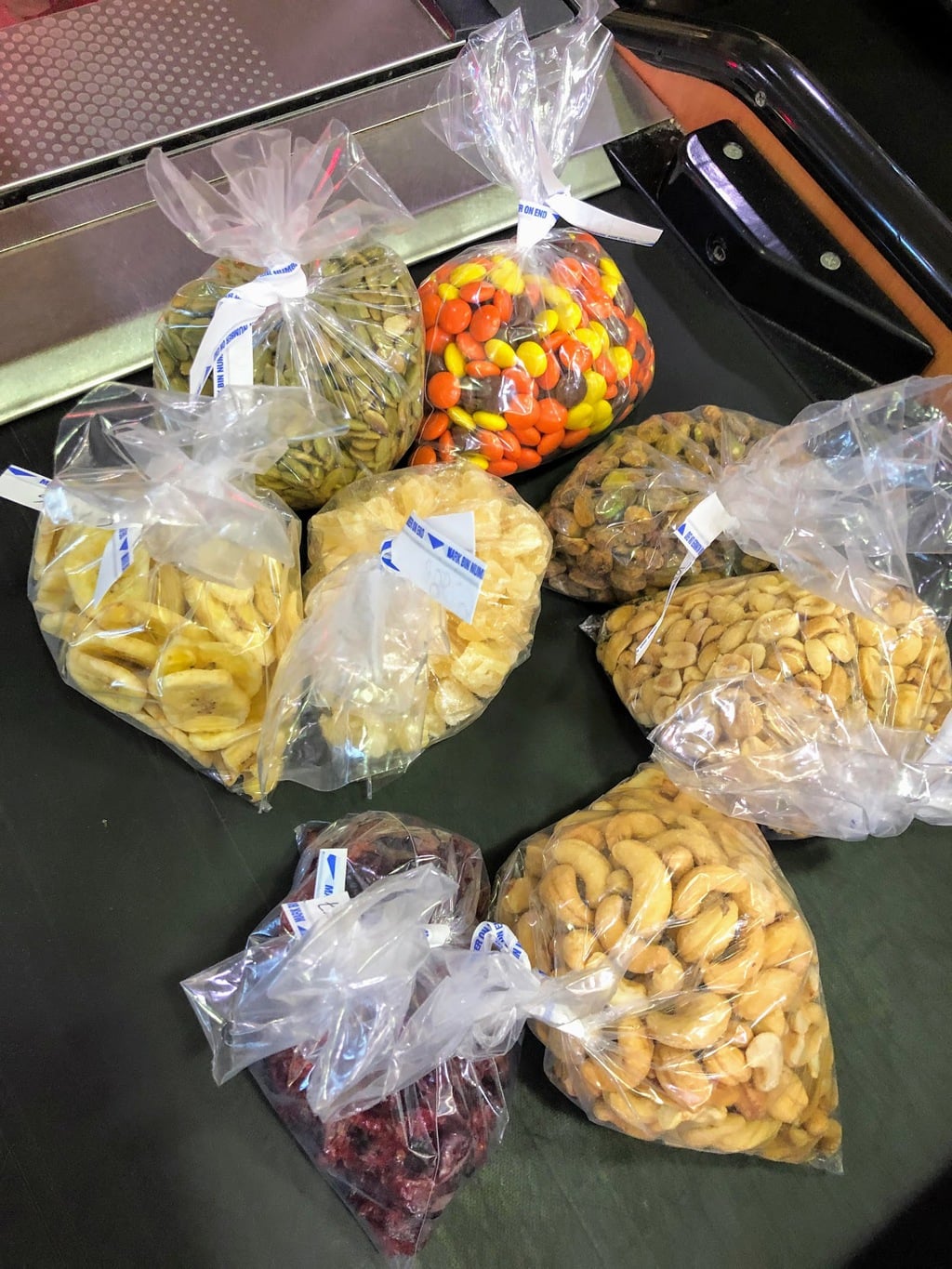 I will say that making your own trail mix can get expensive. I now understand why people buy pre-made mixes. Definitely pay attention to the posted price per pound. For some of the items, there was an organic vs. non-organic product, and choosing the latter helps cut down on price. I think you can also steer clear of less common items, like fruits that aren't grown domestically as much, or fruit that needs to be pitted or has a short growing season. For example, dried cranberries are cheaper than dried cherries. And peanuts are cheaper than walnuts or pecans. Also, sometimes a bag of nuts or whatever you're selecting can be cheaper than buying fresh from the bins.
What We Picked:
cashews, peanuts, dried pineapple chunks, shelled pistachios, cranberries, reeses pieces, dried banana chips, pumpkin seeds
Other Options For You:
granola, walnuts, dried mango, m&m's, chocolate covered almonds, almonds, sesame sticks, sunflower seeds, pretzels, yogurt/chocolate covered pretzels, pecans, dried cherries, dried peas, dried blueberries/strawberries, raisins, cornnuts/quicos, cereal (like chex), dried coconut, skittles, chocolate chips, popcorn, dried apricots, marshmallows, small crackers (like cheez-its)
Basically, the choices are endless! Healthy or not-so-healthy, it's all up to you. Enjoy picking out your ingredients, mixing everything together, and assembling into fun gifts! I know we did!
While crafting, you and your kids might want to take a moment to learn some fun facts about this meal's featured ingredient:
Read more...
💡Overview💡


Ingredient: Cashews

Skills supported: Fine motor (scooping, tying), following instructions

✂supplies✂

trail mix ingredients
spoon & scoop
little bags with twisty ties

Note: This post contains affiliate links.

📝instructions📝

Consider setting up the craft before cooking so that your kids can get to work right away.

Take your kids to the market and let them pick out trail mix ingredients, within reason 😹
At home, dump all the ingredients into one big bowl, and mix together with a big spoon or clean hands!

Scoop the trail mix into little baggies. We scooped about 2 cups into each bag.

Tie up the bags with twisty ties, ribbon, or string.

"This post has been included by Twinkl in their blog on Extracurricular Activities"