Egg cartons make the absolute best containers for little treasures!  This week we used some paint and stickers to turn one of our empty egg cartons into this adorable Egg Carton Treasure Chest.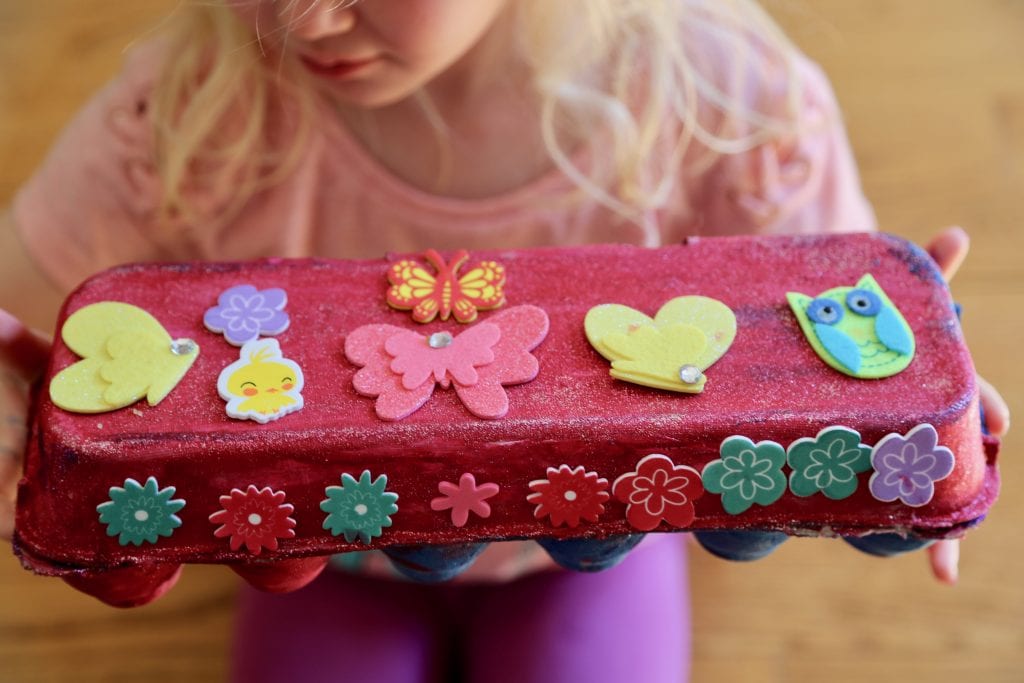 Note: This post contains affiliate links.
---
Why Egg Cartons Make the Best Crafts
Egg cartons are such a great crafting tool. They can be transformed into games, containers and even small planters! After doing some research online, I was inspired by Abigail Matsumoto's lovely article, 20 Totally Unique Ways to Use Extra Egg Cartons from Red Tricycle.  The possibilities are endless when it comes to egg carton craft projects!
Making a treasure box out of our egg carton was the perfect choice for our family. My kids are really into finding "treasures." A penny on the floor, a really cool rock, a four-leaf-clover...they get so much joy out of believing they have found something truly special. This project was a great way for them to keep their little treasures organized and safe. 
---
How to Make your Egg Carton Treasure Box
This turned out to be a very simple craft that my daughter could do completely on her own (no cutting or complicated steps). Even better, she's still using her treasure chest and feels really proud about the way it turned out. What an awesome way to recycle our recyclables! There were really just two steps:
Painting the egg carton
Decorating the treasure chest with stickers!
And I highly recommend using Crayola's awesome, washable Glitter Paint. My daughter loved the sparkly finish the paint gave her treasure chest, making it the perfect container for her sparkly treasures.
---
Pause to Learn About Eggs!
Making this egg carton treasure chest also provides a great opportunity to share some fun facts about the original "inhabitants" of your off carton: eggs!
🍳 eggs 🍳

Eggs are high in protein. Protein helps build, maintain and replace the tissues in our bodies.
Eggs are laid by female chickens, which are called hens.
The yolk of an egg contains most of the egg's nutrients.
Eggs can be many colors, especially white, brown, and green.
---
other Crafts made from RECYCLABLES:
---
💡

Overview💡

Featured Ingredient: Eggs
Corresponding Recipes: The Best Mini Egg Bites with Ham & Cheese, Eggs Benedict with Bacon & Asparagus, The Easiest Sausage Frittata Recipe
Skills supported: Fine motor (painting, gluing, sticking), following instructions
---
✂ supplies ✂
Note: This post contains affiliate links.
---
📝instructions📝
Consider setting up the craft before you start cooking so your kids can get to work right away.
Paint your treasure chest (i.e., egg carton) with the foam brushes. We recommend painting the inside first.
Let the paint dry and then decorate your chest! We opted for spring-themed stickers, but you can also use stamps, jewels, beads...anything you can successfully stick to your box. 
Once it's dry...store your treasures! My daughter decided to use her chest for her favorite jewelry and charms!