We love making homemade gifts in our house! This week we crafted these adorable, heart-shaped DIY picture frames, decorated with some leftover rotini from dinner! These are great for Valentine's Day, a birthday or as Christmas gifts. My daughter decided to make one for her dad, and one for each of her teachers. 
Simple Supplies
We had a few key items laying around the house that seemed perfect for an impromptu picture frame craft: cardboard, rotini and food coloring! We used the cardboard to build our photo frame (along with colorful construction paper), and we decorated our frame with colored rotini.
Step 1: Color the pasta
This isn't the first time we've used food coloring to decorate pasta (see our Mac and Cheese Play Food and Falling Leave Tree crafts). It's pretty easy to color pasta with just a teaspoon of white vinegar and a few drops of food coloring. My kids love watching the noodles turn a bright new color as they shake them in a sealed, Ziploc bag. 
Step 2: Make your frames
To form the frames, we cut out several rectangles out of an empty cardboard box (grown-ups should help with this part!). Then, I let the kids take the lead on covering their boards with colorful construction paper. They also loved cutting out the heart-shaped center for their frame (this is something they had been practicing at school). We love these kid-friendly scissors!
For the frame's photo, my kids had a couple ideas. First, my daughter wanted to draw a picture of our family in the frame's photo placeholder which was really sweet. In another frame, we placed a photo of her and her brother. And as a finishing touch, we framed the heart-shaped photos with our colored rotini.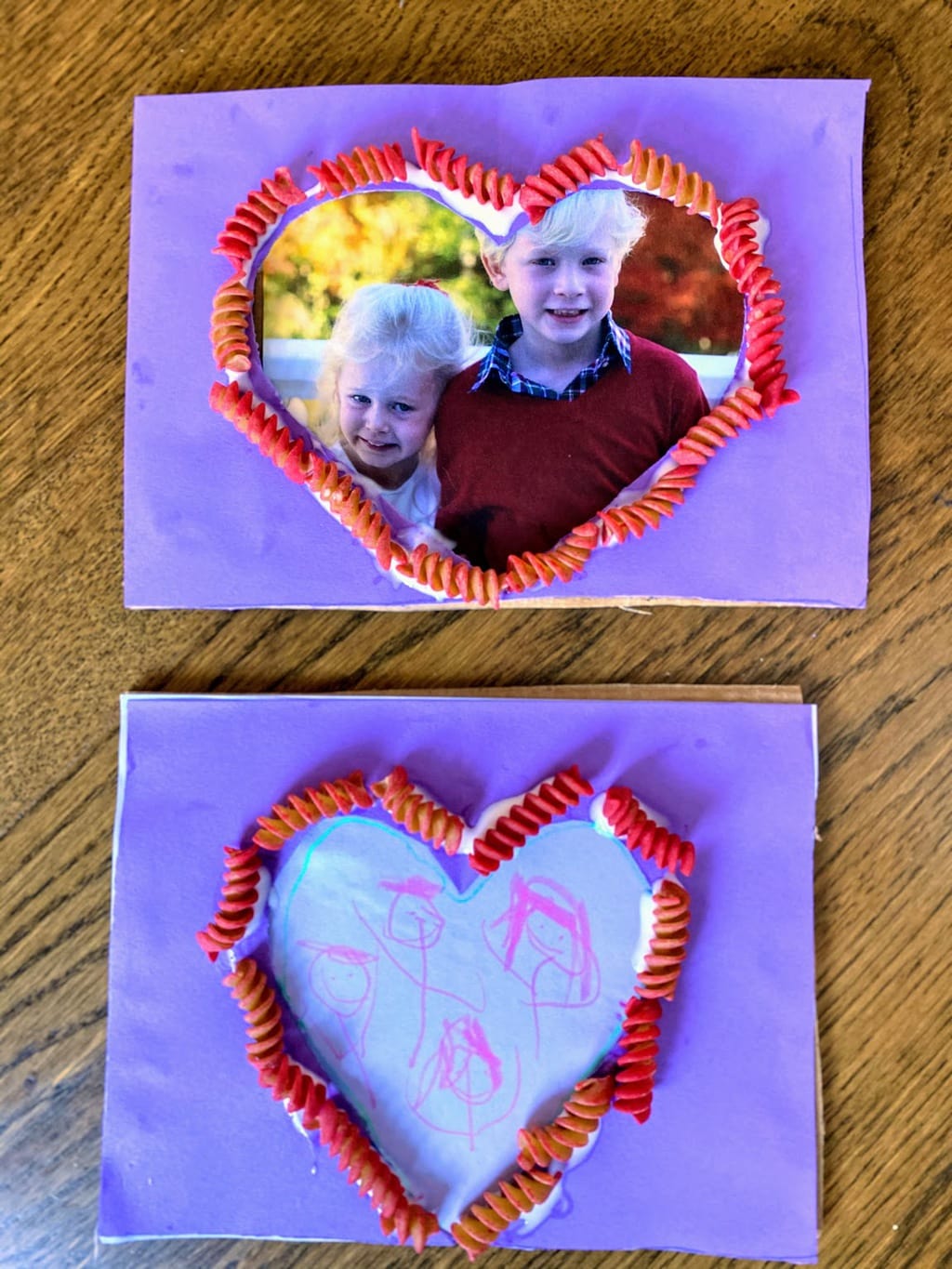 While crafting, you and your kids might want to take a moment to learn some fun facts about:
🍴 ROTINI 🍴

Rotini are short pasta shaped like corkscrews.

Because of its shape, rotini pasta captures sauces and meat well. 

Rotini originated in Northern Italy.
Rotini pasta is a good source of carbohydrates, which give our body energy.
💡Overview💡

Ingredient: Rotini pasta
Corresponding Recipe: One Pot Chicken Sausage Pasta
Skills supported: Fine motor (cutting, folding, gluing, tracing), following instructions, math (composing shapes)
✂supplies✂
Colored Pasta:
Picture Frame:
Note: This post contains affiliate links.
See how to make this craft
📝instructions📝
Consider setting up the craft before cooking so kids can get to work right away.
Colored Pasta:
Mix 1 tsp of white vinegar with 1-2 drops of food coloring in a small bowl.
Pour 1 cup of uncooked rotini into a plastic Ziploc bag. Add color mixture. Seal bag and shake vigorously until pasta is evenly colored.
Pour pasta onto a cooking tray covered with parchment paper to dry (about 10 minutes).
Picture Frame
Meanwhile, cut out medium rectangle(s) of cardboard*. Trace cardboard on a colorful piece of construction paper and cut out the tracing.
Fold this rectangular piece of paper in half lengthwise and draw a half-heart shape along the folded edge. Cut the heart out and set aside (you won't actually need this paper heart so you can save it for another project).
Paste picture (or artwork) in center of cardboard. Paste paper with heart-shaped cutout over your photo so that the heart-shaped cutout frames your photo. 

Decorate your frame! We suggest framing your heart-shaped photo with the rotini.
*For toddlers especially, these tasks may require adult supervision and/or assistance.