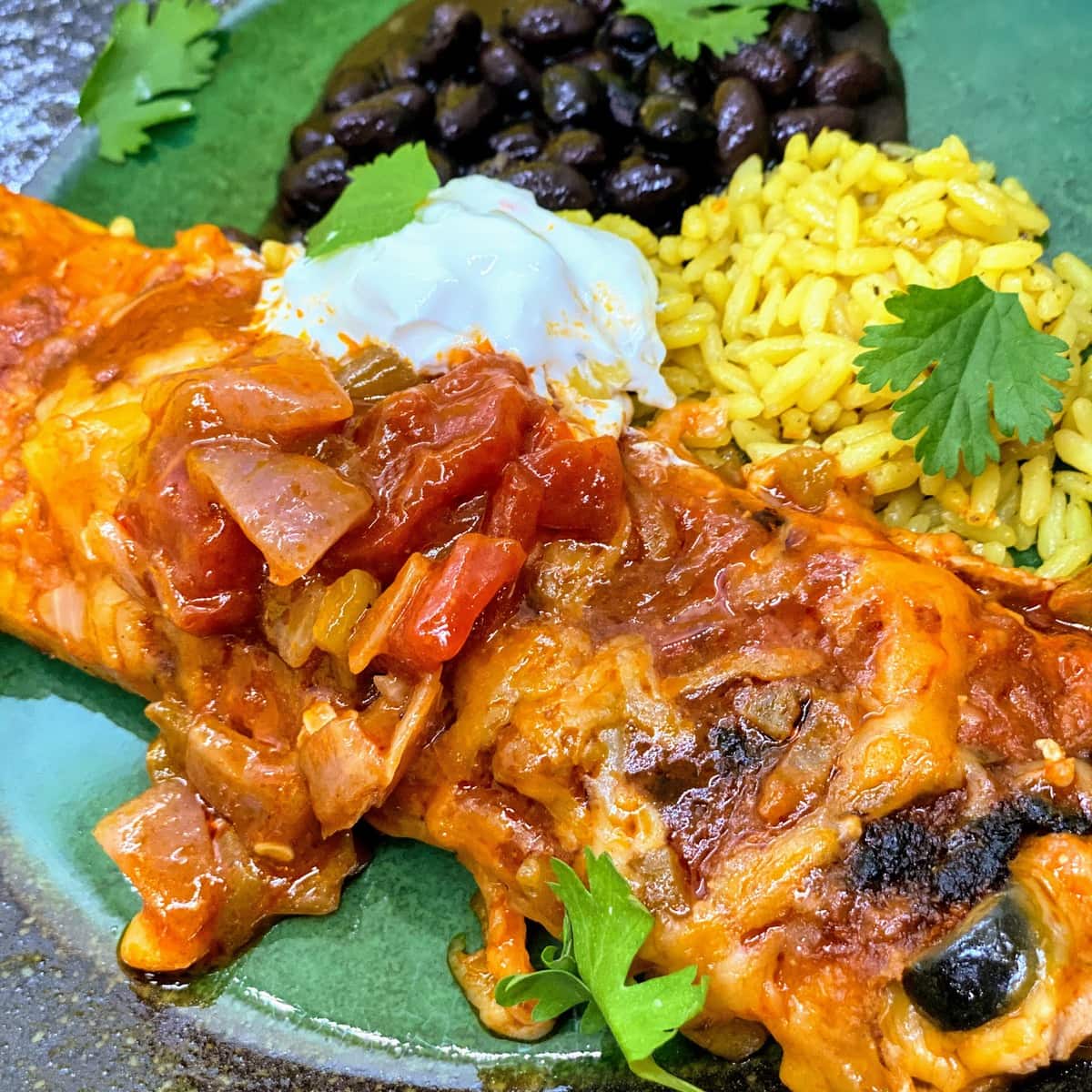 Note: This post contains affiliate links.
When brainstorming meals for the week, my partner suggested we make chicken enchiladas. Our kids ask for soft tacos all the time, so we thought this dish would go over pretty well. And as expected, it was a huge hit! We've been trying hard to stick with whole wheat and whole grains recently, so we thought we'd make some chicken enchiladas with whole wheat tortillas.
Of course, my initial concern with this dish was that it would be impossible to make chicken enchiladas in less than 30 minutes. Typically, enchiladas are assembled and then baked for 25-30 minutes. So, prep + cook time combined can easily add up to 45-60 minutes. Yet, it occurred to us that maybe if we used the broiler, the enchiladas might achieve the same crispy and bubbly effect in a shorter amount of time. And they really did!
---
Steps for Success:
Here's how to make chicken enchiladas in 28 minutes (or less):
>STEP 1: Make the Filling
Total time: 10-12 minutes
Time saver tricks: First and most important is the filling. Not only is the filling the heart of the enchiladas, but it also requires the most time. To cut down on time, we used canned, chopped green chilis and our favorite jarred enchilada sauce!
>STEP 2: Assemble the Chicken Enchiladas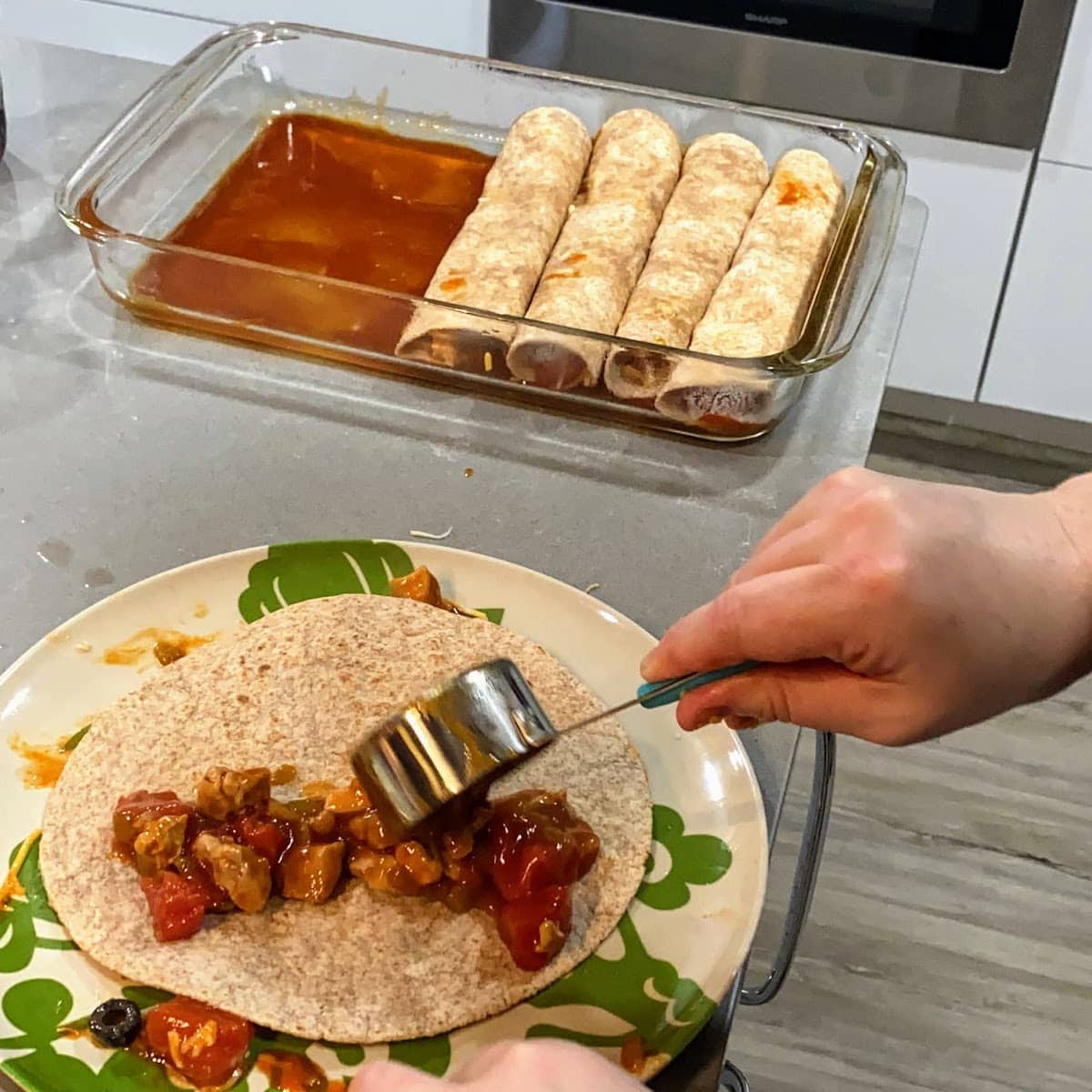 Total time: 5-8 minutes
Time saver tricks: The assembly of the enchiladas can go pretty quickly, especially if you have a good setup and maybe a little helper 🙂 We set up an assembly line on the counter as follows (from left to right): pan of chicken/sauce ---> tortillas ---> cheese & olives --> baking dish.
>STEP 3: Broil the Chicken Enchiladas
Total time: 3 minutes
Time saver tricks: Because they can burn easily, be sure to keep an eye on the enchiladas while they are in the oven. Once your enchiladas are as crisp and bubbly as you desire, take 'em out and serve! [See Mimi's Tip below on how to use your broiler].
>STEP 4: Make Beans & Rice
Total time: 4 mins
Time saver tricks: Finally, while the enchiladas are in the broiler, heat up the beans (with seasonings) stovetop in a pot. And microwave your Uncle Ben's Ready Rice for only 90 seconds!
>STEP 5: EAT!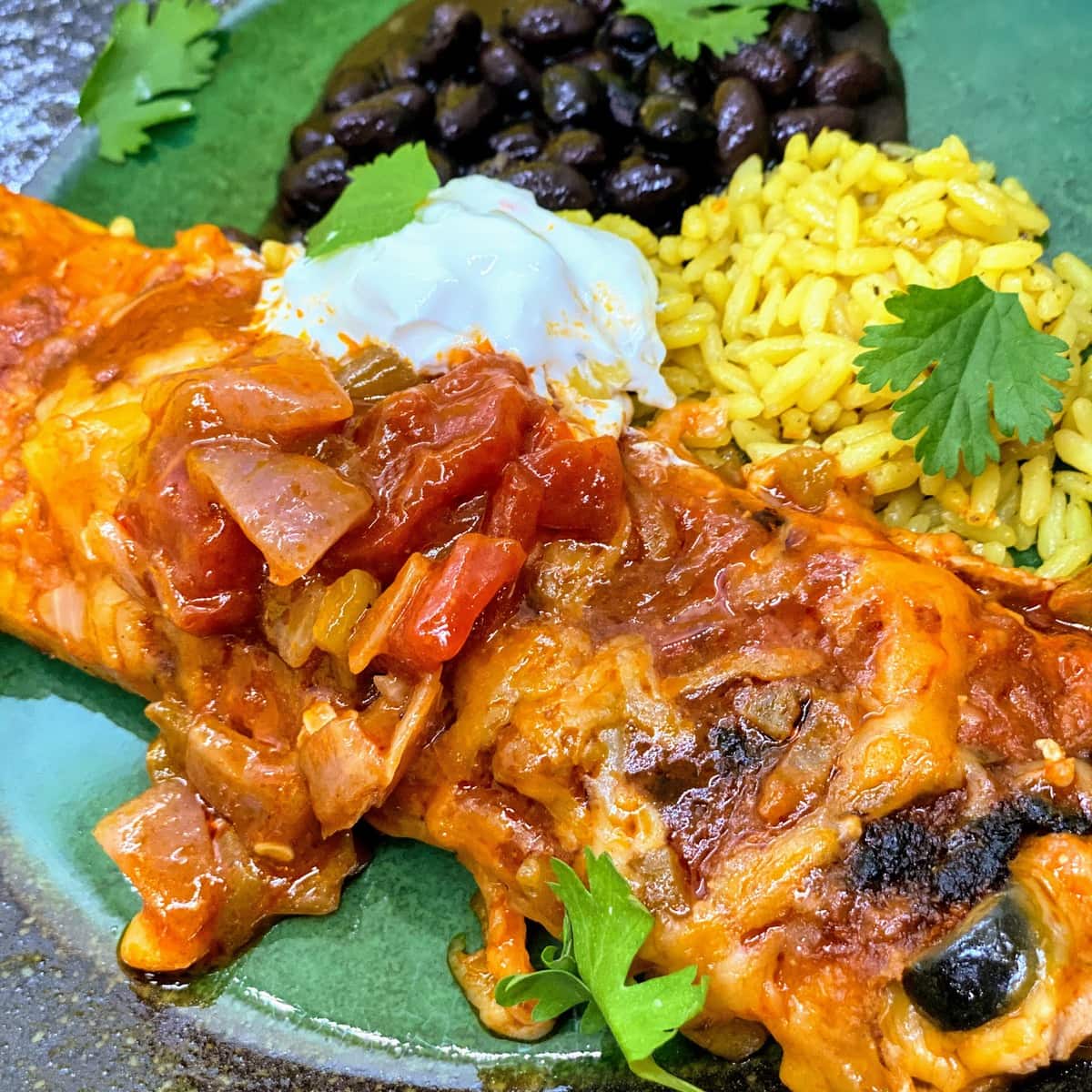 Note: This post contains affiliate links.
---
Are Chicken Enchiladas Healthy?
The answer is no...and yes. It all depends on what goes into your enchiladas.
We use whole wheat tortillas instead of flour tortillas because - when you have the choice - whole wheat is much healthier. The Spruce Eats has a great, simple breakdown of this. In creating white flour, the process includes stripping the flour of a lot of nutrients and also fiber. Because whole wheat flour has not undergone that processing, it is way higher in nutrients and fiber.
Our enchiladas have a ton of cheese, which....well....can be said to be unhealthy. Except that cheese makes you happy and a happy mind is a happy life. That's how it works, right?! lol. In all seriousness though, cheese isn't necessary. OR you can use a lower fat cheese. Same goes for sour cream. You can buy a low fat sour cream, or skip it altogether.
Every other ingredient can be pretty healthy. Onions, check. Green peppers, check. Tomatoes, check. Un-breaded chicken, check. You can also use other veggies like bell peppers, mushrooms and corn. Lots of options. If you really wanted to go for a fully unprocessed meal, you could even make your own enchilada sauce. However, we can't guarantee our 28 min cooking time with that choice.
---
Customize Your Enchiladas
There are sooo many ways to make enchiladas. Here are some options:
🍅 Tortillas: There are many kinds. For instance, there are corn, flour, whole wheat and sprouted grain. Most would argue that white flour tortillas are the least healthy (see Healthline's breakdown of flour vs corn tortillas). I like corn tortillas for smaller, open tacos ('street' tacos) and whole wheat for enchiladas and wraps.
If you're looking for some alternatives, check these out. Mission is a great option for gluten free tortillas. La Tortilla Factory makes gluten free tortillas from a few different ingredients. For example, they use ivory teff (a whole grain), cassava (a root vegetable), and cauliflower. Whole Foods makes almond flour tortillas. In addition, Food for Life is pretty popular for their sprouted corn tortillas.
🍅 Vegetarian Filling! Replace the chicken with pea protein crumbles. I'm a huge fan of Beyond Meat Beefy Crumbles. I've used them for years to make vegetarian chili and they are soooo delicious. I'm definitely a meat eater and I can't tell the difference. Worth noting is that these crumbles are high in protein and also gluten-free. Another option is to replace the chicken with rice, roasted peppers and corn (or hominy). That would also be delicious!
🍅 Topping Options: sour cream, cilantro, avocado, enchilada sauce, salsa, hot sauce, pico de gallo, black olives, chopped onion, jalapeños, thinly sliced radish, fresh-squeezed lime
---
What Sides to Eat with Chicken Enchiladas?
Originally we made this enchilada dish on its own, but it felt like it was missing something. So, we decided to go with a classic beans & rice side. For the beans, we poured a can of black beans into a small pot, added salt and taco seasoning and cooked for maybe 4 mins. [Btw, I totally recommend having a shaker of taco seasoning in your house. I know that taco kits come with seasoning, but sometimes it's not enough. And it's an excellent seasoning for Mexican-style dishes without shells, i.e. these beans].
For the rice, we found these awesome Uncle Ben's Ready Rice packets that cook in your microwave in 90 seconds. We already had the 'Roasted Chicken' flavor in the pantry. But if I had gone to the store, I would have looked for their 'Spanish Style,' 'Whole Grain Brown' or 'Whole Grain Medley' flavors. Boom. Easiest sides ever!
We have a great corn salad we made to go along with our Carne Asada (see Easy Carne Asada with Corn Salad & Creamy Chimichurri Sauce). Also, our Three Bean Salad would be sooooo good on the side!
---
HAVE A FAMILY COOKING SESSION:
Worth considering is how this might be the perfect time to invite kids to help out in the kitchen (above all, assuming everyone is healthy and properly washing their hands!). We are all spending so much time together at home these days. So, why not make cooking a family activity?! Not only will cooking together help pass the time, but cooking with your kids has some real educational benefits. For example, cooking with kids can boost self-esteem and foster healthy eating habits.
Note: This post contains affiliate links
---
---
Mimi's Cooking Tips:

🍅 Door open or closed while broiling? There are very different opinions about this. Typically, people say to leave the broiler door slightly ajar for electric ovens and closed for gas ovens. On the other hand, some say to just do whatever you were taught. Food52 has an interesting answer to this question, and ultimately suggests following your oven's manual. 
🍅 Make an assembly station! This is super fun for kids and also makes enchilada assembly easy. Lay out the ingredients in this order: chicken/sauce pan --> tortillas --> cheese & black olives --> baking dish.
🍅 When assembling each enchilada, scoop the filling a little left of center in the tortilla. After that, you'll find it's much easier to roll up the tortilla.
---
OUR "KIDIFY" TIPS for Picky Eaters:

🍅Kids choose the filling! We decided to have chicken, cheese and black olives in our enchiladas. But you could also choose: pork, carne asada, shrimp, corn, black/pinto/refried beans or rice.
🍅Kids choose a topping! The sour cream and cilantro are optional. You could also do salsa, a pre-made guacamole, hot sauce (if your kiddos are adventurous), melted cheese sauce, chopped avocado, or a squeeze of fresh lime.
🍅Kids choose a side! Lastly, let kids choose if they want tortilla chips, rice, beans or corn as a side dish. My kids and I have always liked this Three Bean Salad. Warning: choosing tortilla chips may turn dinner into something more like snack time, and not sure if that's what you want. Lol.
---
---
Choose an Activity
---
CRAFT FOR THESE CHICKEN ENCHILADAS:
Edible Paint: Painting Tortillas with Food Coloring: Blow your kids minds! I bet they never thought about painting tortillas that they can eat. After painting the tortillas, you can use them to make soft tacos, quesadillas, or enchiladas! Behold colorful, edible art!
---
Similar Dishes You Might Like:
🍅 Easy Carne Asada with Corn Salad & Creamy Chimichurri Sauce
🍅 One Pan, Quick & Tasty Chicken Fajitas
🍅 Crunchy Taco Salad with Pasta & Ranch Dressing
---