Looking for a healthier spin on enchiladas that your kids will dig? Try our delicious and healthy chicken enchiladas for kids using whole wheat tortillas! Your family won't be disappointed!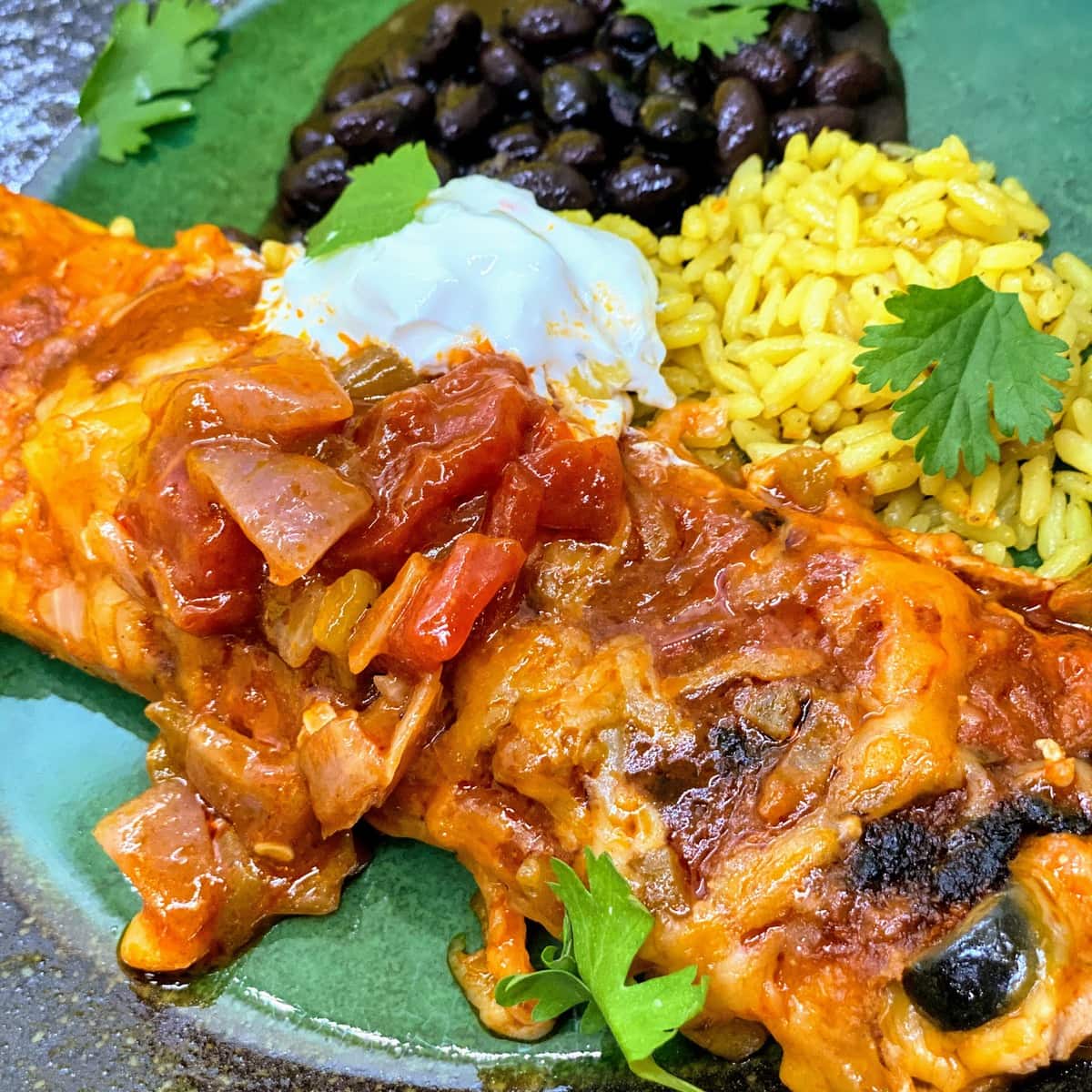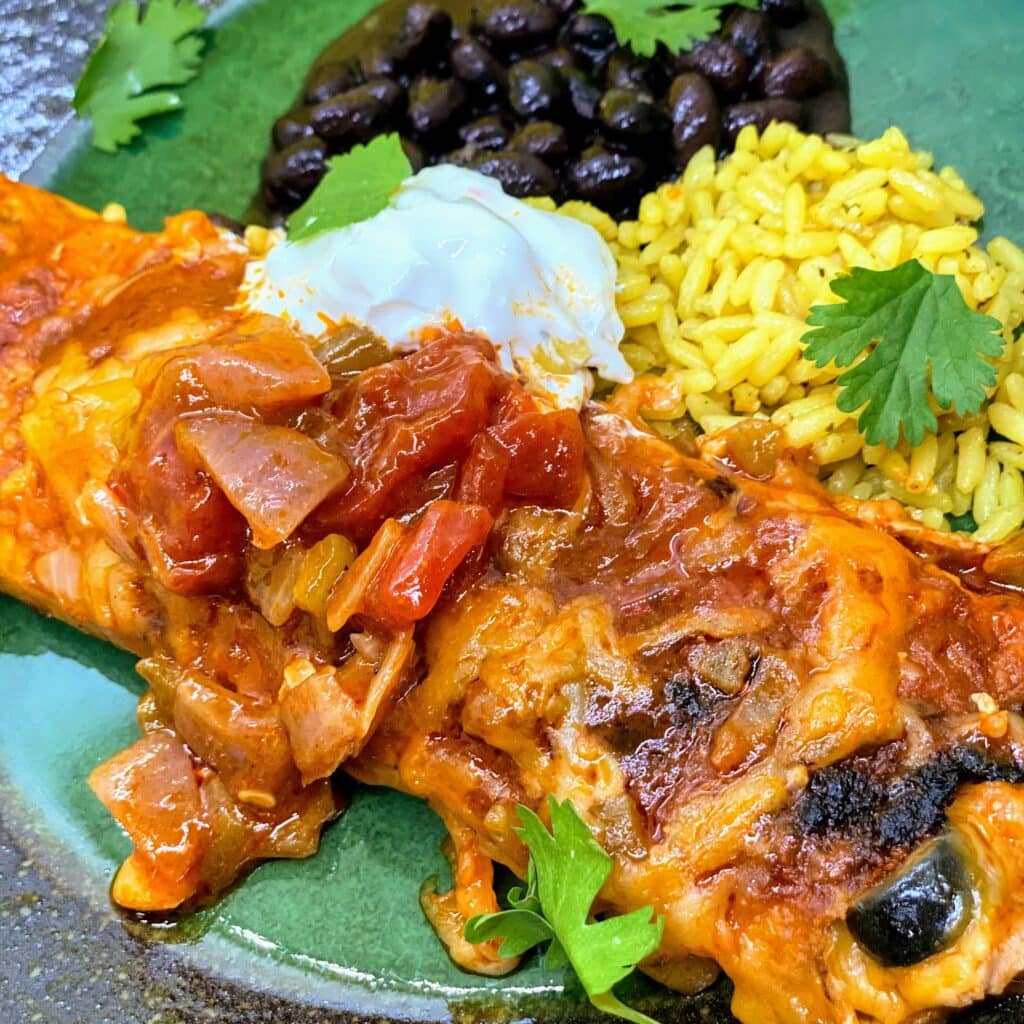 Note: Some of the links in this post are Amazon affiliate links. This means that if you click on an affiliate link and purchase an item, we will receive a commission. However, we genuinely recommend all the products we link.
---
Enchiladas in under 30 minutes!
Believe it or not, chicken enchiladas can be made in under 30 minutes. The key is to work strategically to prepare your enchilada casserole and finish with the broiler.
Typically, enchiladas are assembled and then baked for 25-30 minutes. So, prep + cook time combined can easily add up to 45-60 minutes. Yet, it occurred to us that maybe if we used the broiler, the enchiladas might achieve the same crispy and bubbly effect in a shorter amount of time. And they really did!
---
What Makes these Enchiladas Kid-Friendly?
To keep this dish simple, we incorporate some of our kid staples- chicken, cheese and tortillas- and slip in some veggies-onions, peppers, tomatoes and olives. While not spicy, these enchiladas are super tasty and can easily be jazzed up with additional toppings. This dish truly meets kids and grown-ups in the middle!
To make this dish EVEN MORE kid-friendly, you can give kids choices when it comes to...
---
Can Enchiladas Really Be Healthy?
The answer is no...and yes. It all depends on what goes into your enchiladas. Here is how we make our enchiladas for kids a tad bit healthier.
---
The Best Kid-Friendly Sides
Sometimes sides can make or break a dish for little ones, so we recommend pairing our healthy enchiladas for kids with one of the following:
Beans: Pour a can of black beans into a small pot, add salt and taco seasoning and cook for maybe four minutes.
Rice: We love Uncle Ben's Ready Rice packets that cook in your microwave in 90 seconds. We already had the 'Roasted Chicken' flavor in the pantry. But, if I had gone to the store, I would have looked for their 'Spanish Style,' 'Whole Grain Brown' or 'Whole Grain Medley' flavors. Boom!
Chips and Guac: Check our our 4 Ingredient Guacamole. Super simple to make and amazingly delicious!
Salad: Our Three Bean Salad would be sooooo good on the side! Any other simple salad would do the trick as well.
---
Similar Dishes to Check out
---
How to Make Enchiladas for Kids
---
Ingredients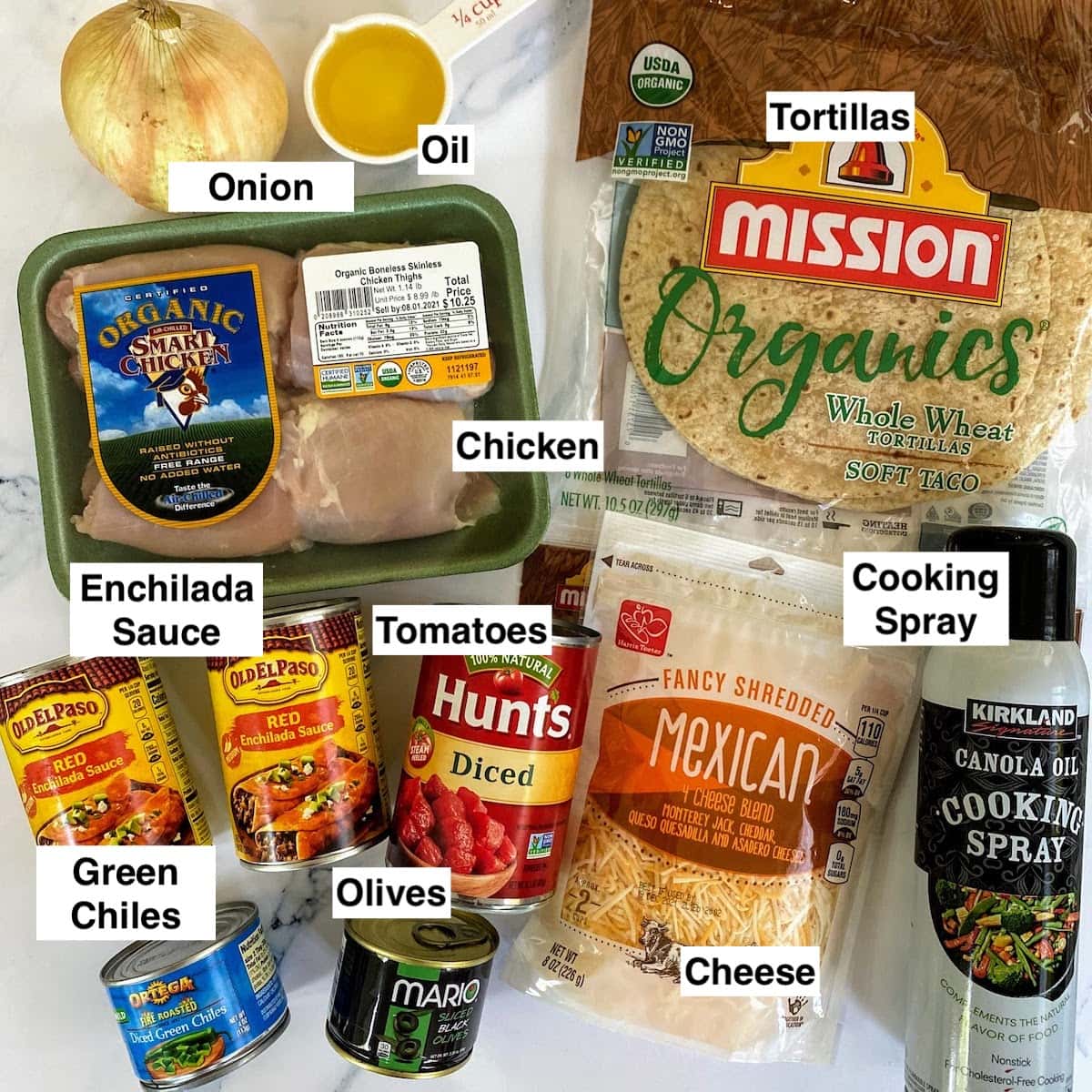 Notes on Ingredients:
Instructions
Here's how to make our enchiladas for kids in 28 minutes (or less):
Step 1: Make the Filling
First and most important is the filling. Not only is the filling the heart of the enchiladas, but it also requires the most time. Total time: 10-12 minutes
🥄 Kids Step: Help chop veggies! We're big fans of these kid-friendly knives.
Step 2: Assemble Enchiladas
The assembly of the enchiladas can go pretty quickly, especially if you have a good setup and maybe a little helper. Total time: 5-8 minutes
🥄 Kids Step: Assemble! On their own, your child can scoop the chicken/sauce mix onto the tortilla, sprinkle cheese and olives atop, roll up the tortilla and place it seem-side down in the baking dish.
Step 3: Broil Enchiladas
Because they can burn easily, be sure to keep an eye on the enchiladas while they are in the oven. Total time: 3-5 minutes.
🥄 Kids Step: Prep the baking dish! Your kiddo can spray the pan and then coat the baking dish with enchilada sauce using a basting brush. We love the mini basting brush that comes with this Core Mini Utensil Set, which, while not made for kids, has a small handle that's great for little hands.
---
Cooking Tips and Tricks
---
FAQ
How do you keep enchiladas from getting soggy?
Bon Appetit suggests quickly frying tortillas until they just start to crisp before assembling enchiladas. While this can add time, it's definitely a great strategy for preventing enchiladas from getting soggy.
Which tortillas are best for enchiladas?
There are many kinds, including corn, flour, whole wheat and sprouted grain. Most would argue that white flour tortillas are the least healthy (see Healthline's breakdown of flour vs corn tortillas). I like corn tortillas for smaller, open tacos ('street' tacos) and whole wheat for enchiladas and wraps.
Should you leave the oven door open or closed while broiling?
There are very different opinions about this. Typically, people say to leave the broiler door slightly ajar for electric ovens and closed for gas ovens. On the other hand, some say to just do whatever you were taught. Food52 has an interesting answer to this question, and ultimately suggests following your oven's manual. 
Which tortillas are gluten-free?
Mission is a great option for gluten free tortillas. La Tortilla Factory makes gluten free tortillas from a few different ingredients. For example, they use ivory teff (a whole grain), cassava (a root vegetable), and cauliflower. Whole Foods makes almond flour tortillas. In addition, Food for Life is pretty popular for their sprouted corn tortillas.
What are the best toppings for enchiladas?
It really comes down to personal preference, but we recommend sour cream, cilantro, avocado, enchilada sauce, salsa, hot sauce, pico de gallo, black olives, chopped onion, jalapeños, thinly sliced radish, or fresh-squeezed lime.
Can enchiladas be made ahead of time?
Yes, enchiladas can be assembled ahead of time, covered, and stored in the refrigerator before baking for up to 24 hours.
How can I make these enchiladas vegetarian?
Simply use a vegetarian filling. Replace the chicken with pea protein crumbles. I'm a huge fan of Beyond Meat Beefy Crumbles. I've used them for years to make vegetarian chili and they are soooo delicious. I'm definitely a meat eater and I can't tell the difference. Worth noting is that these crumbles are high in protein and also gluten-free. Another option is to replace the chicken with rice, roasted peppers and corn (or hominy).
---
Craft for this recipe
Edible Paint: Painting Tortillas with Food Coloring: Blow your kids minds! I bet they never thought about painting tortillas that they can eat. After painting the tortillas, you can use them to make soft tacos, quesadillas, or enchiladas! Behold colorful, edible art!
---
Healthy Chicken Enchiladas for Kids
Did you know you can make chicken enchiladas for kids in under 30 minutes?! And they are both delicious AND healthy! Try this recipe tonight!
Equipment
medium/large skillet

13 x 9 baking dish
Ingredients
1/4

cup

olive oil

1

small onion, chopped

(or half a large onion)

1 1/2

lbs

boneless & skinless chicken thighs, chopped into small pieces or thin strips

1

cup

canned diced tomatoes

1 1/2

cups

enchilada sauce

(divided)

2+

cups

shredded Mexican blend cheese

2.25

oz

can black olives

1+

cup

sour cream

(optional)

1

bunch

cilantro leaves, de-stemmed, for garnish

(optional)
Instructions
Heat olive oil in a skillet over medium-high heat. Add onion and cook for 2 mins. Stir in green chilis and chicken, and cook for 4-5 mins, turning chicken frequently. Pour the tomatoes and 1 cup of the enchilada sauce over the chicken in the skillet and stir. Turn the heat to low-medium. Cook chicken in sauce 2-4 mins, until sauce thickens and chicken is cooked through [165 degrees].

Meanwhile, set oven to broil. Spray a 13 x 9 baking dish with cooking spray. Spoon the remaining enchilada sauce into the pan and spread evenly. Set aside.

Time to assemble enchiladas! Spoon 1/3 cup of chicken mixture onto a tortilla, and sprinkle some black olives and cheese on top. Roll tortilla and place it seam side down in casserole dish. Repeat 6-8 times until casserole dish is full. Sprinkle the casserole with more shredded cheese. Place casserole dish in the oven on top rack for 3-5 mins, or until cheese is golden brown and bubbly.

Serve enchiladas with a dollop of sour cream and a sprig of cilantro on top.
Notes
When assembling each enchilada, scoop the filling a little left of center in the tortilla. After that, you'll find it's much easier to roll up the tortilla.
Because they can burn easily, be sure to keep an eye on the enchiladas while they are in the oven. Once your enchiladas are as crisp and bubbly as you desire, take 'em out and serve!
Nutrition
Serving:
1
serving
Calories:
510
kcal
(26%)
Carbohydrates:
33
g
(11%)
Protein:
37
g
(74%)
Fat:
26
g
(40%)
Saturated Fat:
8
g
(50%)
Polyunsaturated Fat:
2
g
Monounsaturated Fat:
11
g
Cholesterol:
131
mg
(44%)
Sodium:
1496
mg
(65%)
Potassium:
440
mg
(13%)
Fiber:
5
g
(21%)
Sugar:
8
g
(9%)
Vitamin A:
759
IU
(15%)
Vitamin C:
13
mg
(16%)
Calcium:
549
mg
(55%)
Iron:
3
mg
(17%)
*Percent Daily Values are based on a 2000 calorie diet. While we are not certified nutritionists, we work with a Wordpress-integrated nutrition API to calculate our recipes' ingredient values.