Want to learn how to cut cucumbers...so your kids will actually eat them?! Check out this simple and quick trick that will surely become a household favorite!
To give our kids a fun and appealing snack, we used Mimi's trick to peel, score and slice cucumbers. They turned into adorable floral-like slices that my kids were thrilled to eat. In fact, my daughter ate them so quickly that my son barely got any! Take a look!
---
Why we love cucumbers
They are easy to slice, chop and peel and incorporate into your recipes.
They make for a great snack on their own, paired with hummus or your favorite salad dressing. While I've never pickled cucumbers on my own, pickled cucumbers are certainly a delicious way to eat this yummy vegetable. In fact, Ali with Gimme Some Oven has an incredible recipe for Easy Refrigerator Pickles that is worth checking out!
They are incredibly nutritious! Cucumbers are low in calories but high in many vitamins and nutrients. According to Healthline, cucumbers contain antioxidants which may help reduce the risk of chronic disease. They are also composed of about 96% water, which helps increase hydration. To encourage kids to eat cucumbers, we love this simple trick to cut cucumbers creatively for kids!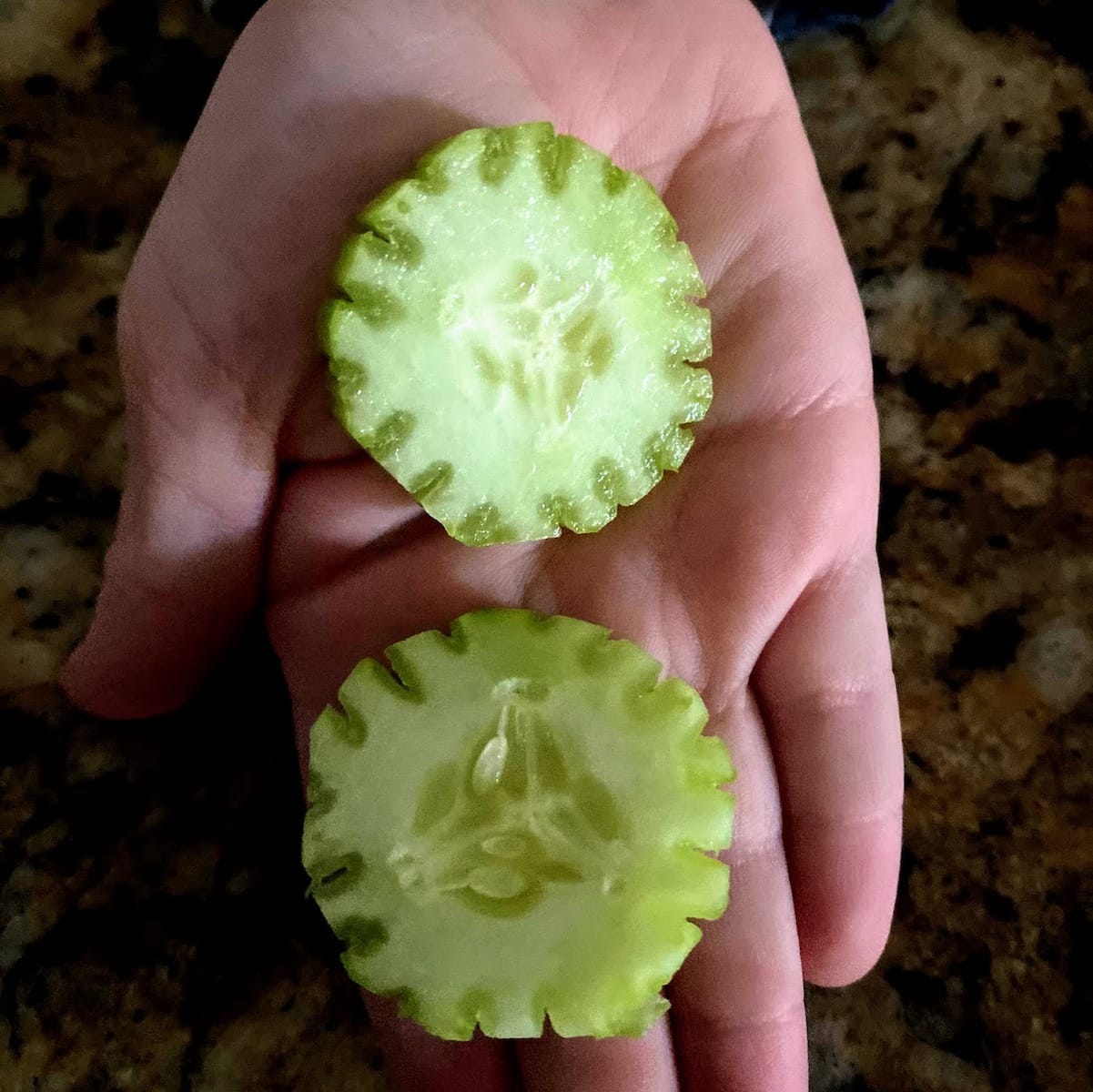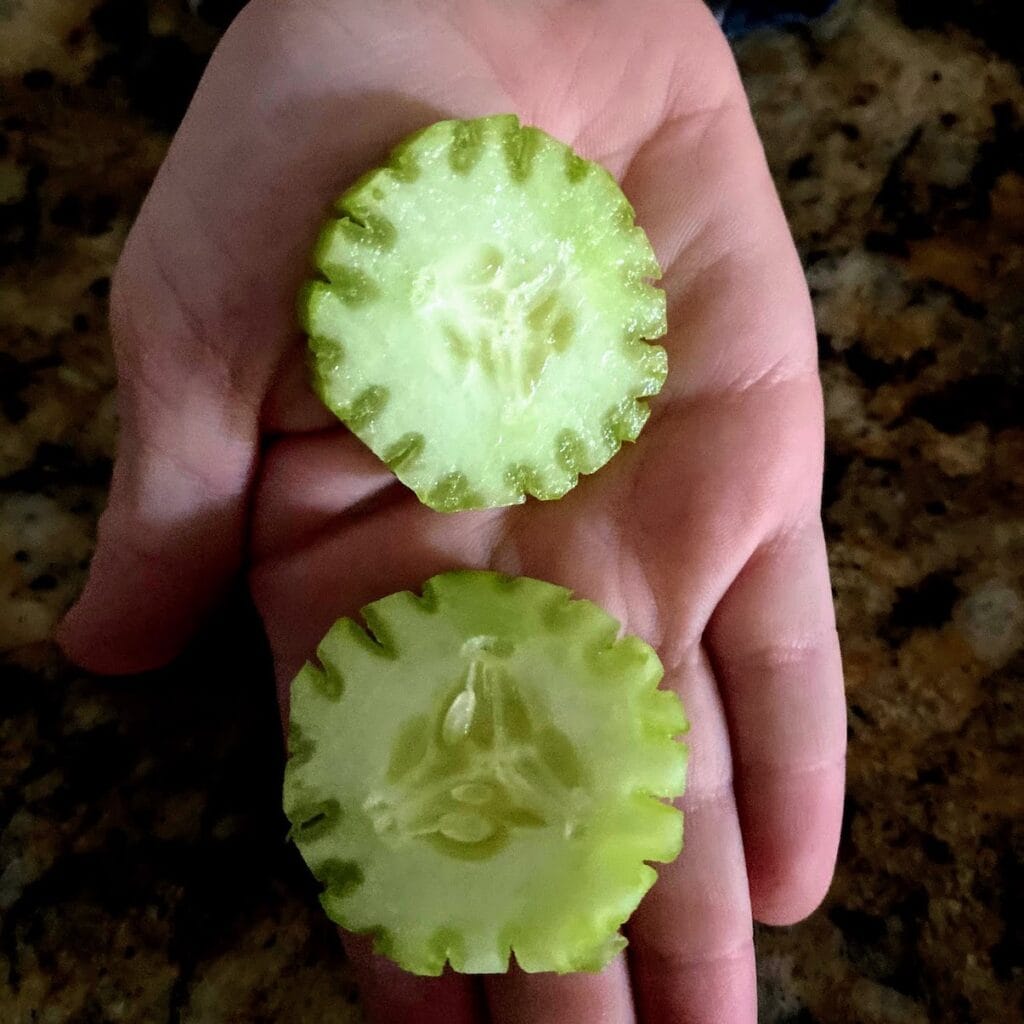 ---
Should you peel cucumbers before slicing?
When deciding how to cut their cucumbers, some people wonder whether it's safe or recommended to eat a cucumber's peel. According to LiveScience, a cucumbers seeds and peel are the most nutrient-dense parts of the cucumber, so eating the peel has added benefits. That being said, some people aren't super fond of the texture of the cucumber's peel and choose to remove it. So it's really up to you whether or not you choose to peel your cucumber.
---
How to cut cucumbers your kids can't resist
Ingredients
Just cucumbers!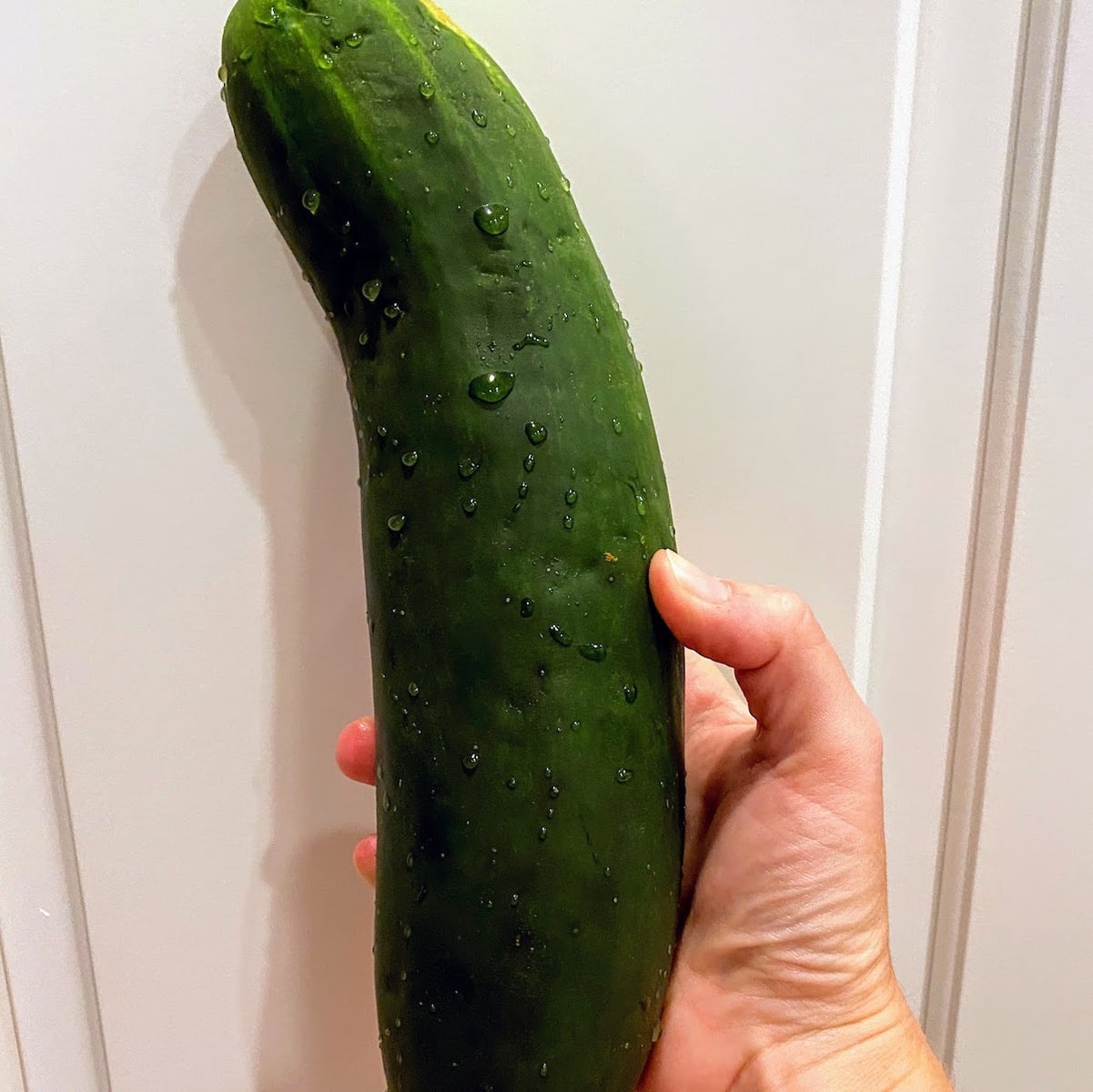 Instructions
Rinse and peel cucumber
Slice off ends on each side
Score all sides of cucumber with a fork
Slice cucumber as thick or thin as desired
Note: We love this Opinel peeler for kids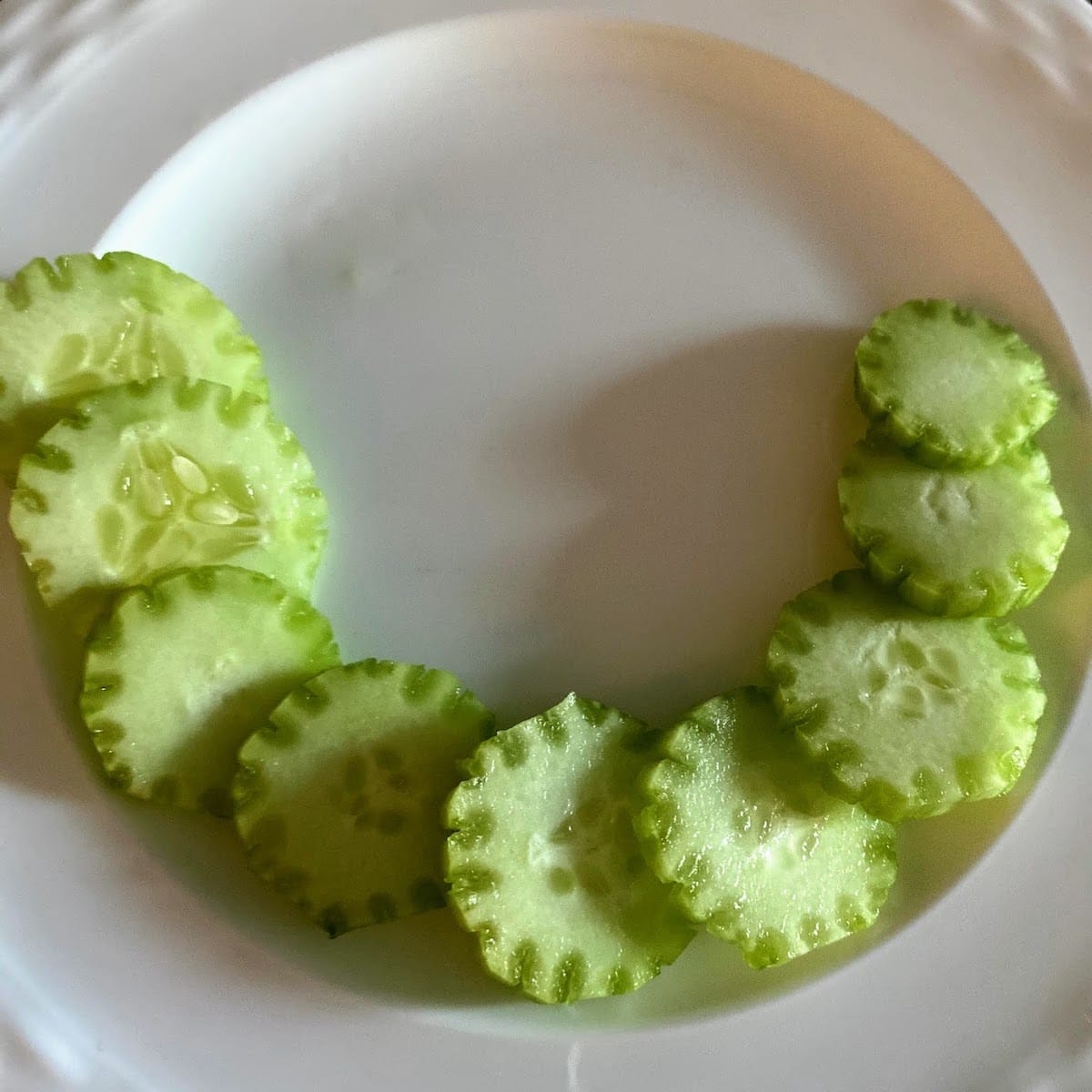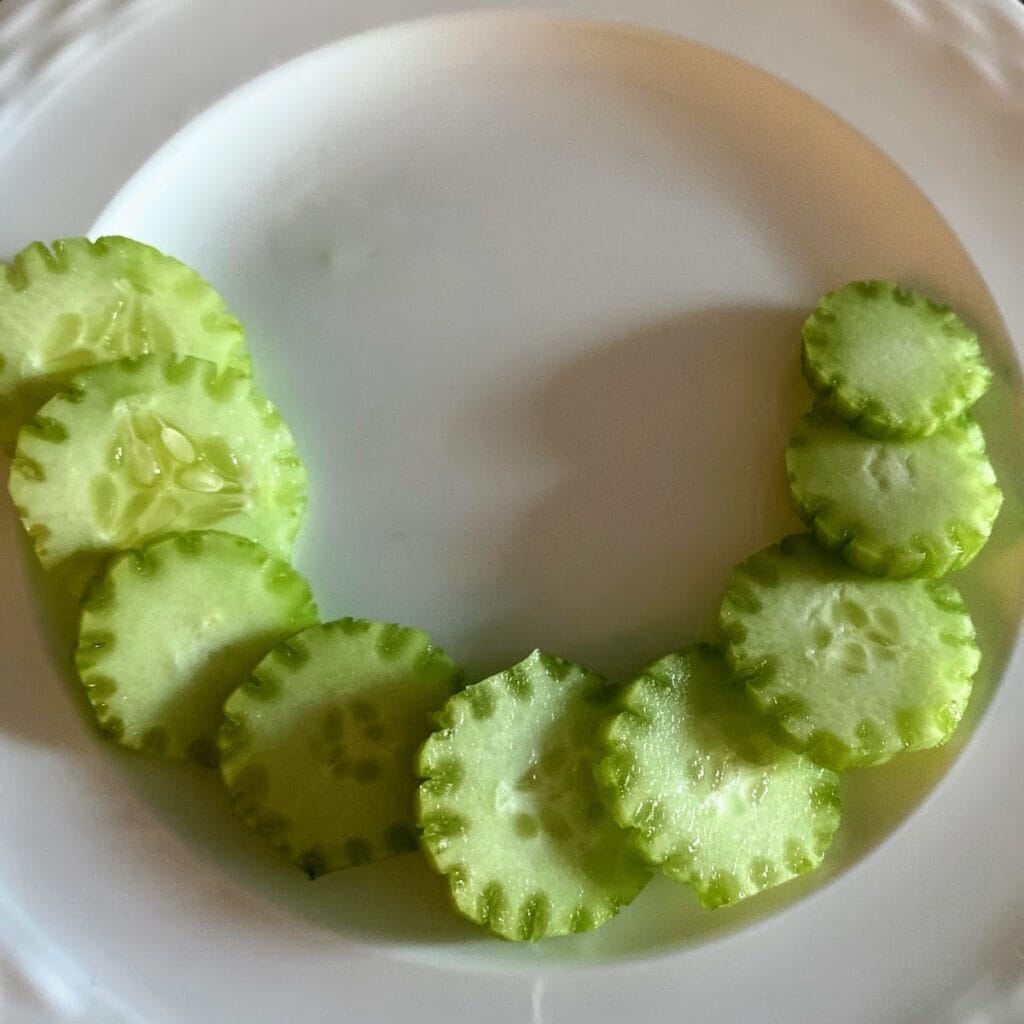 ---
Other Cooking Tips and Tricks
---
How to Cut Cucumbers for Kids
Ever wonder how to cut cucumbers so kids will actually eat them? We have the best trick ever! Check it out!
Instructions
Slice off ends on each side

Score all sides of cucumber with a fork

Slice cucumber as thick or thin as desired
Notes
Be sure to rinse cucumber before slicing!
Nutrition
Calories:
36
kcal
(2%)
Carbohydrates:
6
g
(2%)
Protein:
2
g
(4%)
Sodium:
6
mg
Potassium:
408
mg
(12%)
Fiber:
2
g
(8%)
Sugar:
4
g
(4%)
Vitamin A:
216
IU
(4%)
Vitamin C:
10
mg
(12%)
Calcium:
42
mg
(4%)
Iron:
1
mg
(6%)
*Percent Daily Values are based on a 2000 calorie diet. While we are not certified nutritionists, we work with a WordPress-integrated nutrition API to calculate our recipes' ingredient values.
---
Check out our recipes with Cucumbers