My kids love eating raw carrots, gnawing away at them like bunny rabbits. Haha! Since playing "restaurant" and "chef" just never gets old in our house, we decided to make some play food carrots to add to our collection.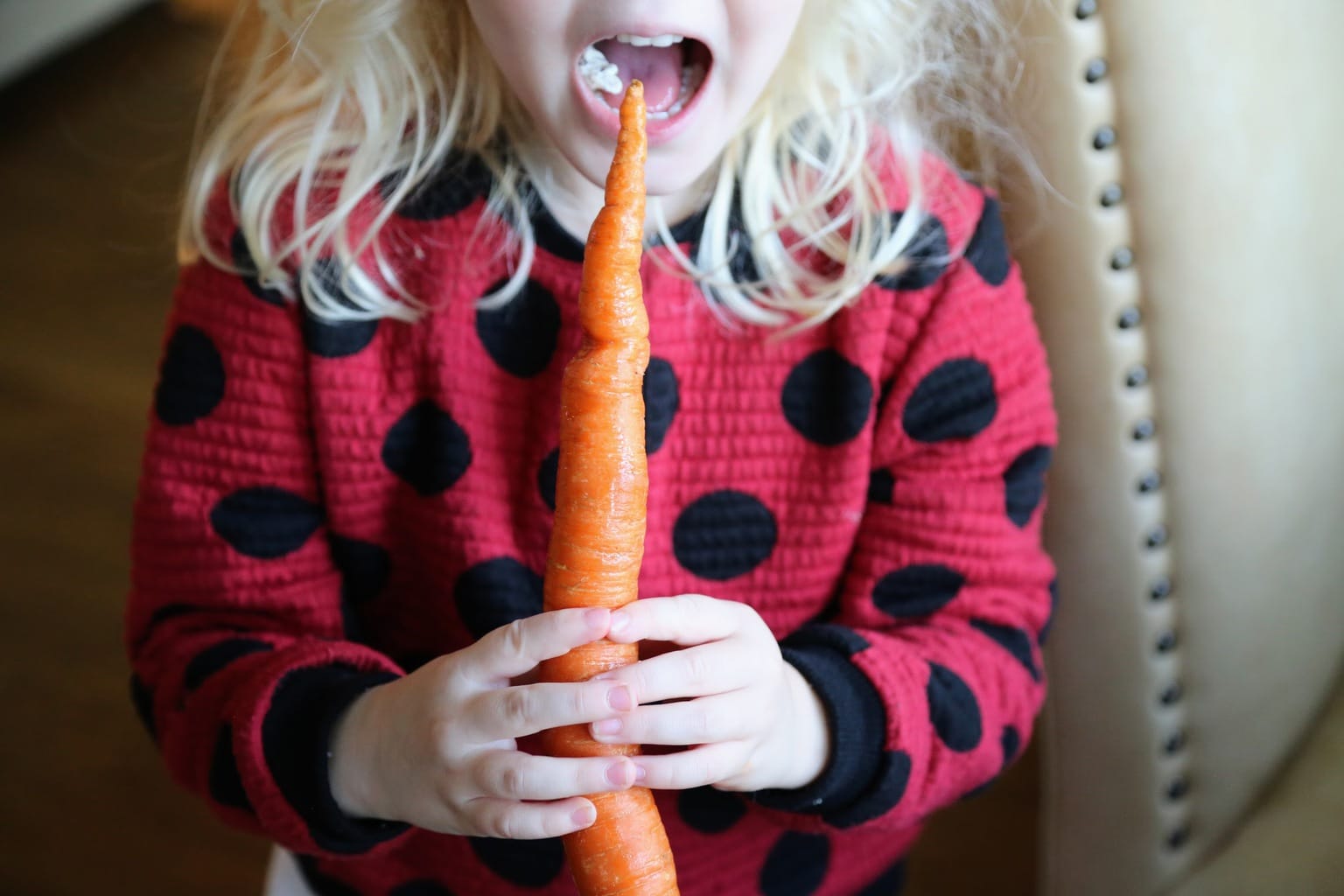 Minimal Supplies and Minimal Mess!
I'm a big fan of using supplies that we have laying around the house. Since we always seem to have an abundance of empty toilet paper rolls at home, it made sense to use these to create the body of our play food carrots. Once we formed and secured a cone-shape out of our toilet paper rolls (see instructions below), we simply tightly wrapped our play carrots in orange yarn. As a final step, we taped some strands of green construction paper to the top of the carrot to form the carrot's stem/greens. These steps allow kids to practice their fine motor skills and make a very minimal mess! A win-win!
If you don't 
have orange yarn...
We happened to have orange yarn left over from our Halloween crafting. Of course, if you don't have orange yarn lying around, there are lots of other ways to give your play food carrot an orange color, like by painting your toilet paper roll orange or by decorating it with orange construction paper. It might also be fun to cover your carrot with small squares of orange tissue paper.
Time to Play!
Immediately after my daughter made her play food carrots, she was ready to play! Since this craft is pretty quick and simple, your kiddos will be able to put their carrots to use right away, which will give you some extra time to get dinner on the table.
While crafting, you and your kids might want to take a moment to learn some fun facts about this meal's featured ingredient:
🍴 Carrots 🍴

Carrots are root vegetables, which means they grow underground.
Carrots are typically orange but can also be purple, red, white, or yellow.
It is thought that carrots were first grown in Asia.
Carrots are packed with beta-carotene, a red-orange pigment found in some plants and fruits. Our bodies convert beta-carotene into Vitamin A, which we need for healthy vision, bones, teeth and skin.
See how to make our play food carrots
💡Overview💡
Ingredient:
 Carrots
Corresponding Recipe

:
Quick Vegetarian Chili Over Rice 
Skills supported

:
Fine motor (cutting, folding, taping, stringing), following instructions, math (composing shapes)
✂supplies✂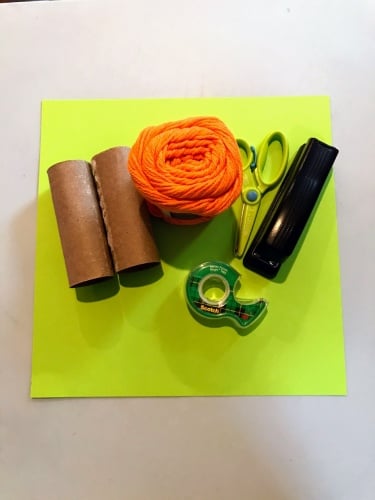 Note: This post contains affiliate links.
📝instructions📝
Consider setting up the craft before cooking so kids can get to work right away.
Cut a vertical line down an empty toilet paper roll to form a large, flat rectangle. Slightly fold in the upper left corner and slowly wrap the top right corner down and around the right side to form a cone. Secure the cone's shape with tape.
Tape the beginning of the strand of yarn to the bottom of the cone. Then tightly wrap the cone with orange yarn. Cut and tape down the end of the strand at the top.
Cut out 4-5 thin, rectangular strips of green construction paper (the thicker the paper, the better!). Form a triangle shape with the strips and tape/staple them together where they meet. Secure the bunch of strips to the inside of the paper carrot with tape or a staple. Now get ready to play!
*For toddlers especially, these tasks may require adult supervision and/or assistance. Back to Quick Vegetarian Chili Over Rice