Everyone loves spaghetti, right?! For picky eaters with aversion to veggies, this easy ground turkey spaghetti is a huge win. We have perfected a sauce for you that's easy to make, is kid tested and approved, and most importantly, contains hidden veggies!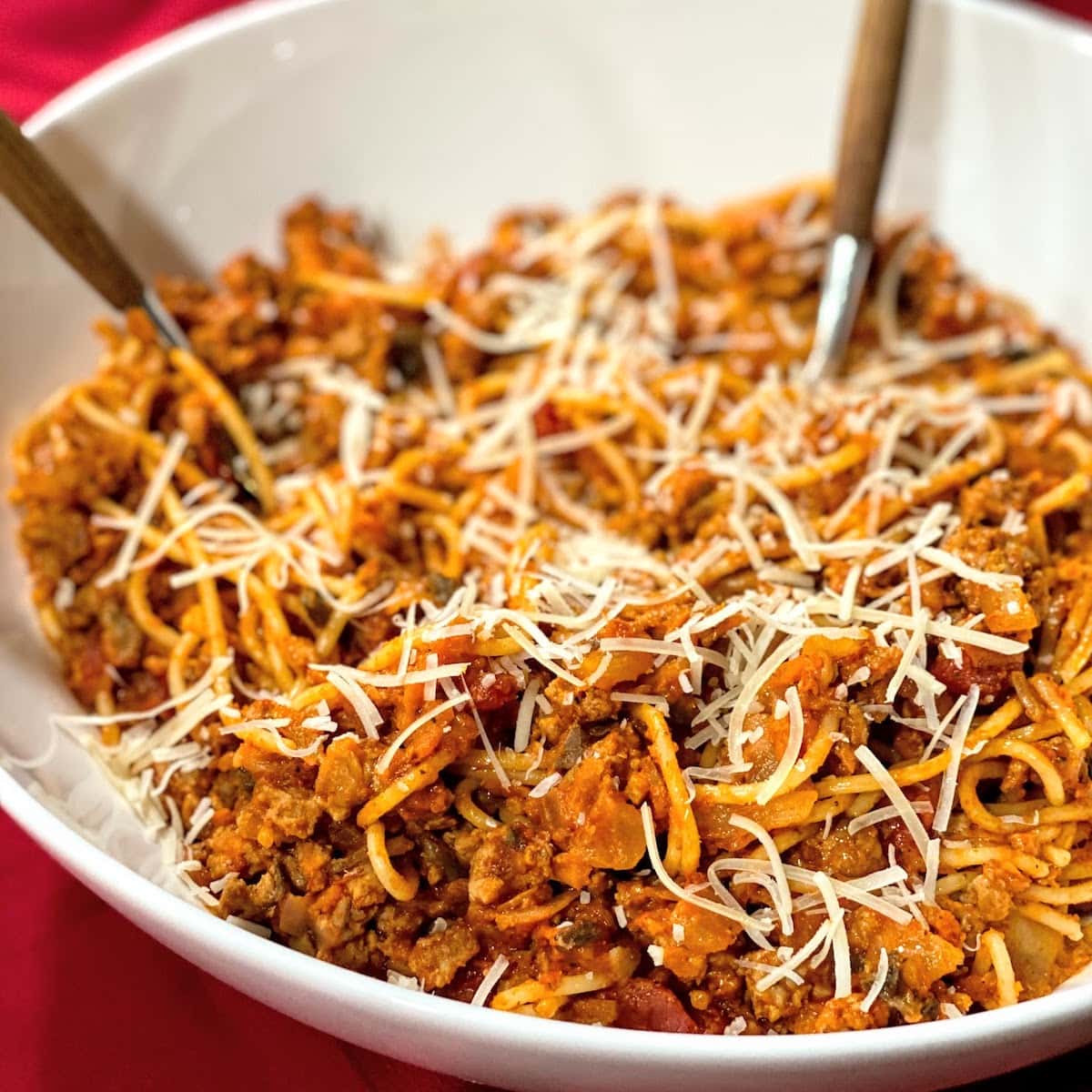 Note: Some of the links in this post are Amazon affiliate links. This means that if you click on an affiliate link and purchase an item, we will receive a commission. However, we genuinely recommend all the products we link.
---
WHY WE LOVE GROUND TURKEY SPAGHETTI
🍅 As always, doable in 28 mins or less. Fast!
🍅 Not from scratch, but still feels like from scratch. A jar of your fave tomato sauce is the base, but then you add a bunch of things to it.
🍅 Hidden veggies add nutrition. Excellent for veggie-averse kiddos.
🍅 Extremely easy to make vegan, with only 2 ingredient swaps: nutritional yeast instead of cheese & pea protein crumbles instead of ground turkey
🍅 Oh, I almost forgot! Tested, approved and devoured by 5 kids and 5 adults ✔️
---
Why Hide Veggies in the Sauce?
While we don't believe we should dupe our kids, we also recognize that for some families, the veggie struggle is real. Hiding veggies in your veggie-loathing kids' food delivers those missing nutrients...without fits and whines.
My secret veggie idea was inspired by a cookbook I like: Deceptively Delicious: Simple Secrets to Get Your Kids to Eat Good Food, by Jessica Seinfeld (yes, Jerry Seinfeld's wife). Seinfeld incorporates vegetable purees in all of her dishes, for added nutrients. While our recipe doesn't contain a puree, it does contain incognito veggies.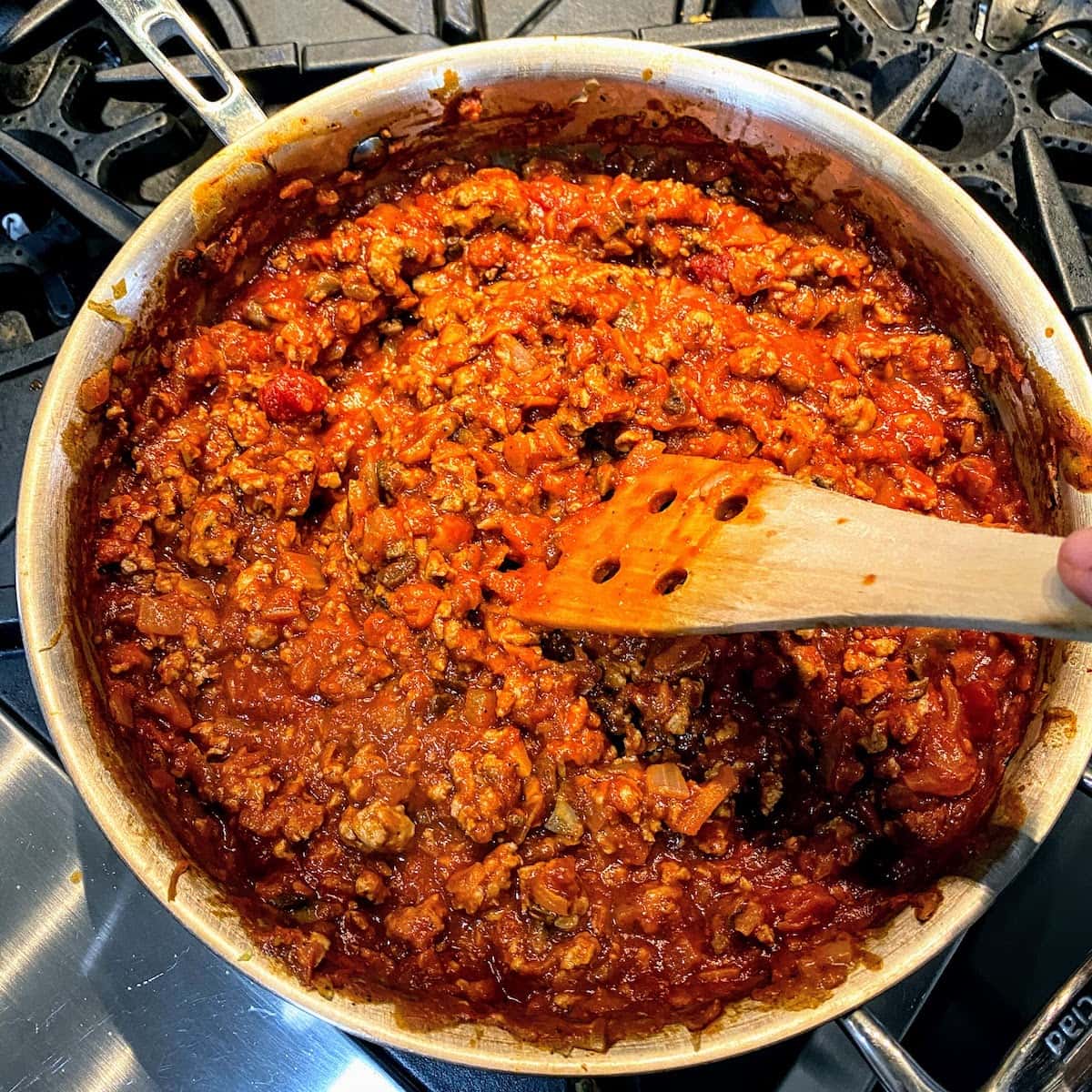 Note: All this being said, please note that we support kids consciously and conscientiously developing good eating habits for life. So, whenever possible, it's best for kids to know what they're consuming.
---
For this sauce, we added onion, carrots and mushrooms, but choose what works for you and your family. The following "hidden veggies" are all great options:
Onion- chopped and diced so they are barely detectable but still provide flavor
Grated Carrots - these add a naturally sweet flavor to the sauce that kids love!
Mushrooms- finely chopped mushrooms add a savory, meaty flavor to a sauce
Zucchini- this veggie cooks down very nicely
Celery- chopped and cooked thoroughly to avoid the crunchy texture that some kids despise
---
How to Make Ground Turkey Spaghetti
INGREDIENTS
Note: I like Newman's Own as a brand because it gives 100% of everything it makes to charity. But use whatever sauce you love.
COOKING TOOLS
Note: To be clear, you only need one knife. I used my Cutco Chef's Knife. The other knives shown are our recommended kids knives: Curious Chef Knife Set, Opinel Knife, & Made for Me Beginner's Knife for chopping, and Opinel kids peeler.
---
STEP 1: COOK PASTA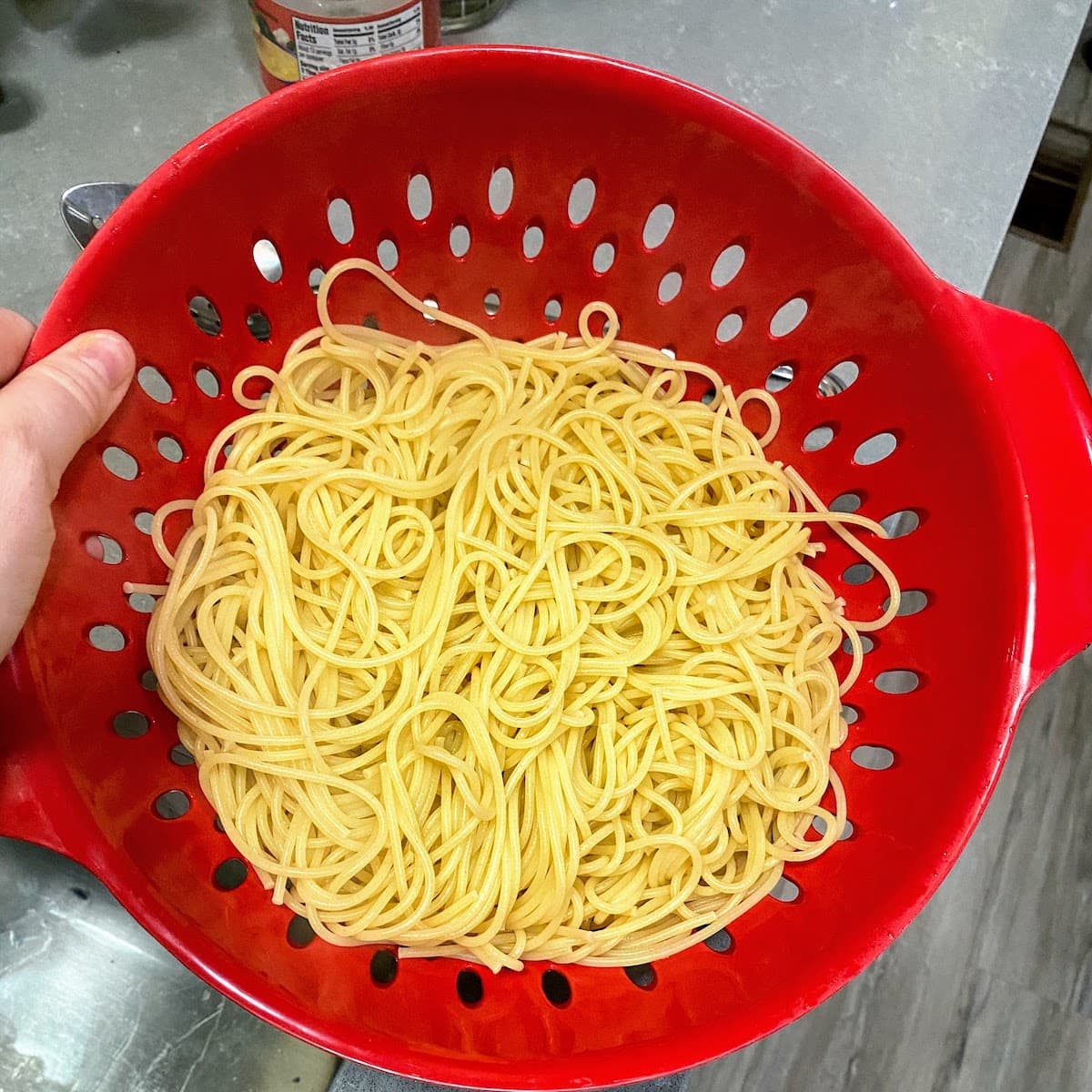 🥄 Kid Steps: This might be a no brainer, but let your kid be the master taster. My kids love deciding when the pasta is 'done' cause it means tasting a noodle every 2 mins.
STEP 2: PREP & COOK VEGGIES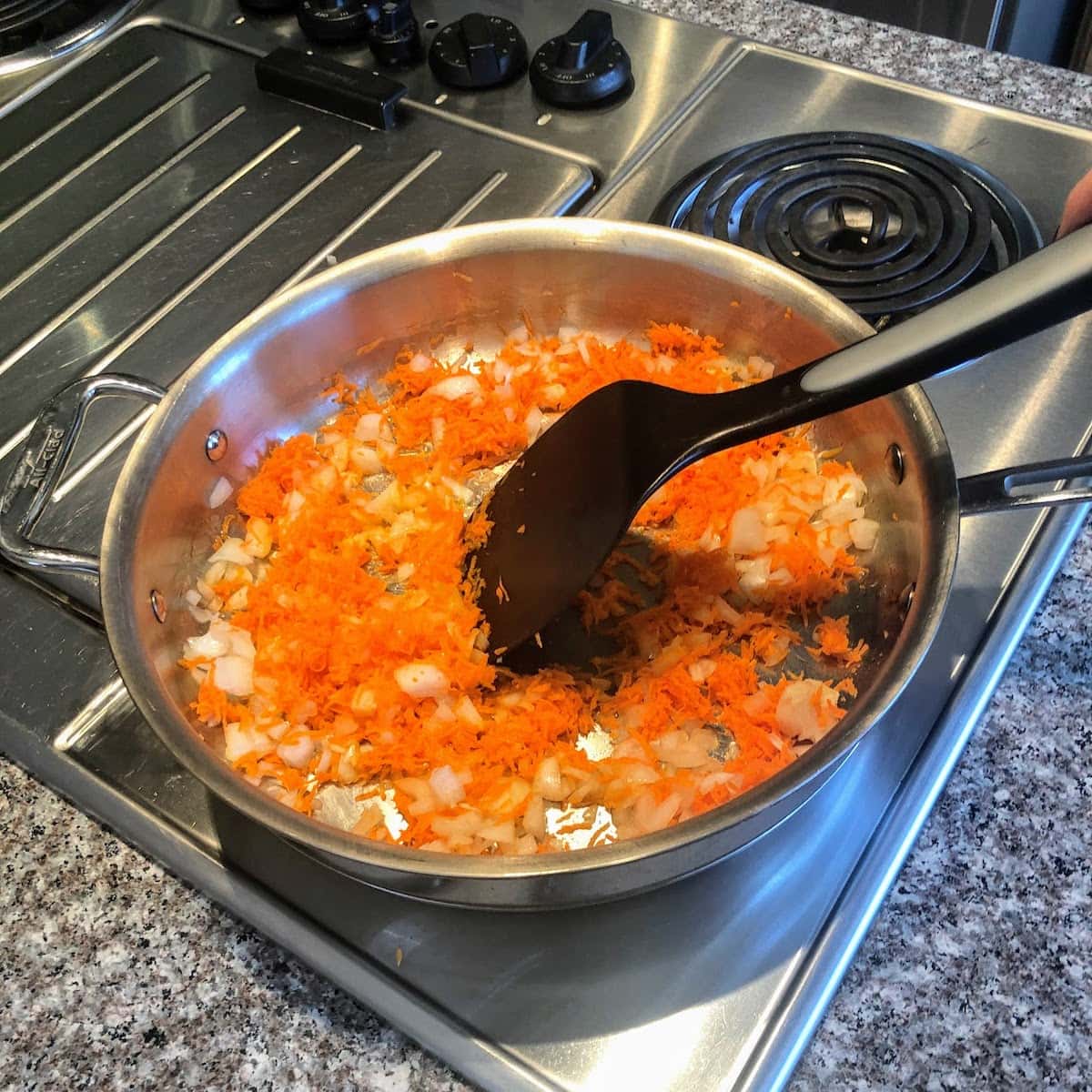 🥄 Kid Steps: Your kids can help prep the veggies. We recommend Curious Chef Knife Set, Opinel Knife, & Made for Me Beginner's Knife for chopping, and Opinel kids peeler. And it's weird, but swimming goggles are great for protecting little eyes while chopping onions. Kids see it as a fun costume too.
STEP 3: ADD TURKEY, TOMATO SAUCE & SEASONINGS
🥄 Kid Steps: Have your kiddo use this Calphalon Potato Masher (or any similar tool you like) to break up the turkey as it cooks. It's a fun job.
STEP 4: MIX TOGETHER PASTA, SAUCE & CHEESE
---
Recipe Variations
For picky eaters: Set aside some noodles without sauce and add just a little sauce to ease your kids into the flavor.
For dairy free folks: Replace the parmesan cheese with a couple tablespoons of nutritional yeast.
For gluten free folks: Opt for a different noodle, like rice noodles, Ancient Harvest quinoa pasta (careful not to overcook cause it can get mushy), or Trader Joe's Organic Brown Rice & Quinoa Fusilli Pasta. Also make sure your marinara sauce doesn't contain gluten.
For vegan folks: Only 2 swaps. (1) turkey --> pea protein crumbles (huge fan of Beyond Meat's Beyond Beef Plant-Based Ground, which also happen to be gluten-free), and (2) parmesan cheese --> a couple tablespoons of nutritional yeast.
---
SIDES FOR GROUND TURKEY SPAGHETTI
Garlic bread or simple rolls with butter
Side salad- a simple green salad will definitely complement this dish
Steamed veggies, like broccoli, asparagus, or peas (let your kids choose!)
Sliced, raw veggies, like cucumbers sliced for kids, carrots or peppers
---
FAQ
Can you make and freeze ground turkey sauce ahead of time?
Yes! Simply make a batch of your sauce and freeze in a sealed, airtight container. The sauce should be good for a few months or more!
How long will this sauce keep in the fridge?
We love having this sauce as next-day leftovers, as the flavors of the sauce have had more time to meld. We recommend eating this sauce within 3-5 days of cooking.
What other types of pasta will work with this meal?
You can try and pasta you'd like, though we prefer long, thin pasta like spaghetti, angel hair, fettuccini or pappardelle. Whole wheat spaghetti is also a great, healthy option, though it may add a few minutes of cooking time.
Can other ground meats be used instead of turkey?
Any kind of ground meat will work nicely in this spaghetti dish, including ground beef, chicken or sausage. You may vary your seasoning accordingly.
Is ground turkey healthier than beef?
When given a choice, I prefer ground turkey over ground beef for my family. Both ground beef and turkey provide protein and a variety of vitamins and minerals. But compared to ground beef, ground turkey tends to be lower in saturated fat and therefore, a better choice for heart health.
---
OTHER PASTA RECIPES FOR YOU
---
CRAFT FOR THIS RECIPE
Rainbow Spaghetti Art for Kids: Making this spaghetti? Set some dry noodles aside so your kids can make colorful spaghetti art with words! Creative, educational, messy, awesome.This is a great craft for kids who need practice writing letters too!
---
Ground Turkey Spaghetti with Hidden Veggies
Have veggie-averse kiddos? We've got you covered! Try our simple and delicious ground turkey spaghetti with hidden carrots and mushrooms!
Equipment
chopping knife

peeler

grater

mincer

Measuring tools

large pot

medium/large pan

colander
Ingredients
2

teaspoon

salt

(divided)

12

ounce

thin spaghetti

1 - 1 ½

Tablespoon

olive oil

1

small onion, chopped

¾

cup

carrot, peeled & finely grated

(~ 1 or 2 medium carrots)

3

cloves

garlic, minced

4

ounce

mushrooms, finely chopped

(~ 5 small mushrooms)

1

pound

ground turkey

24

ounce

tomato or marinara sauce

(your fave)

½

teaspoon

ground black pepper

1

cup

parmesan cheese, shredded
Instructions
First, fill a large pot with water, add 1 ½ teaspoon of the salt, and bring to a boil. Once boiling, add pasta and cook according to instructions on package. Strain pasta when done and return to empty pot.

Meanwhile, heat a medium-large pan over medium heat and add olive oil. Once heated, add onion, carrot, and garlic, and cook until vegetables are tender (~ 5 mins). Add mushrooms and cook 2 mins more.

Add turkey to the pan and mix it into the veggies, breaking up the meat chunks with a potato masher or spatula as you go. Cook turkey until no longer pink, ~ 5-7 mins. Stir in the tomato sauce, black pepper and remaining ½ teaspoon salt. Cook sauce on low for 10 mins.

Pour sauce on top of noodles in pot. Add parmesan and mix everything together until the cheese is completely melted and everything is well incorporated.
Notes
To plate...serve spaghetti in bowl or on plate. Any steamed veggie or garlic bread are great sides.
You can play around with the veggie quantities, using more or less of each. Another good veggie to throw in is finely chopped celery.
We've found that a potato masher helps to break up the ground turkey in the pan.
This recipe can be made ahead and stored in the freezer for several months. It also tastes great the day after cooking and can be stored in the fridge for 3-5 days.
Nutrition
Serving:
1
serving
Calories:
458.35
kcal
(23%)
Carbohydrates:
53.11
g
(18%)
Protein:
33.65
g
(67%)
Fat:
12.8
g
(20%)
Saturated Fat:
4.12
g
(26%)
Polyunsaturated Fat:
1.61
g
Monounsaturated Fat:
6.03
g
Trans Fat:
0.01
g
Cholesterol:
52.91
mg
(18%)
Sodium:
1691.28
mg
(74%)
Potassium:
882.64
mg
(25%)
Fiber:
4.52
g
(19%)
Sugar:
8.38
g
(9%)
Vitamin A:
3314.36
IU
(66%)
Vitamin C:
10.79
mg
(13%)
Calcium:
238.5
mg
(24%)
Iron:
2.86
mg
(16%)
*Percent Daily Values are based on a 2000 calorie diet. While we are not certified nutritionists, we work with a WordPress-integrated nutrition API to calculate our recipes' ingredient values.