Everyone loves spaghetti, right?! Especially kids. However, as we all know, many kids have a tough time with vegetables. We have perfected a sauce for you that's easy to make, is kid tested and approved, and most importantly, contains hidden veggies [insert triumphant, celebratory trumpet music]. For picky eaters with aversion to veggies, this ground turkey spaghetti sauce may just save the day.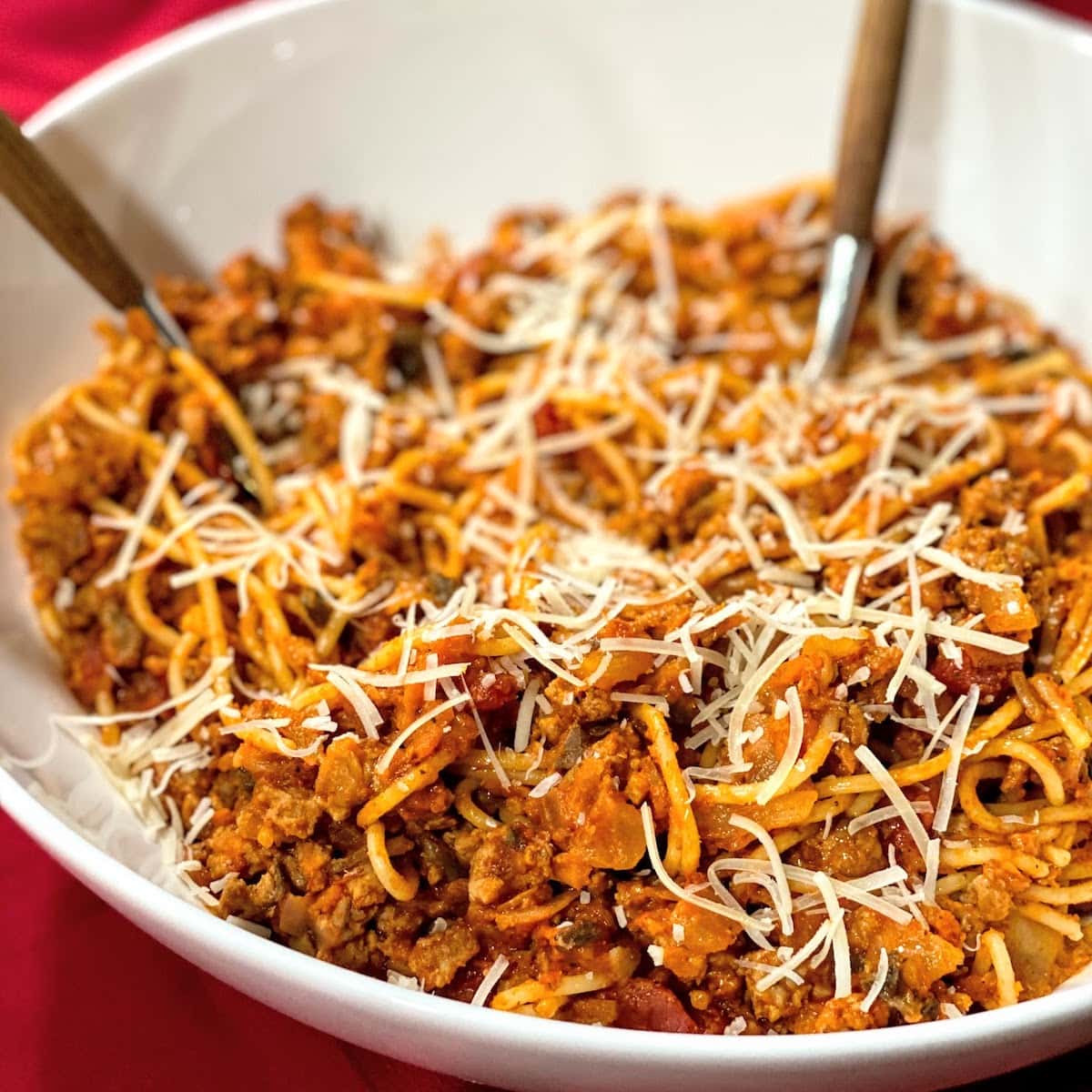 Note: we make a small commission based off of some affiliate links in this post
---
WHY WE LOVE THIS SAUCE
🍅 As always, doable in 28 mins or less. Fast!
🍅 Not from scratch, but still feels like from scratch. A jar of your fave tomato sauce is the base, but then you add a bunch of things to it.
🍅 Hidden veggies add nutrition. Excellent for veggie-averse kiddos.
🍅 Extremely easy to make vegan, with only 2 ingredient swaps: nutritional yeast instead of cheese & pea protein crumbles instead of ground turkey
🍅 Oh, I almost forgot! Tested, approved and devoured by 5 kids and 5 adults ✔️
---
While I don't believe we should dupe our kids, I also recognize that for some families, the veggie struggle is real. Hiding veggies in your veggie-loathing kids' food delivers those missing nutrients...without fits and whines. As far as adult benefits go, I think putting secret veggies in your meals encourages you to cook creatively and also helps you rid of fridge produce that's on its way out.
My secret veggie idea was inspired by a cookbook I like: Deceptively Delicious: Simple Secrets to Get Your Kids to Eat Good Food, by Jessica Seinfeld (yes, Jerry Seinfeld's wife). Seinfeld incorporates vegetable purees in all of her dishes, for added nutrients. While our recipe doesn't contain a puree, it does contain incognito veggies.
Now, all this being said, please note that we support kids consciously and conscientiously developing good eating habits for life. So, whenever possible, it's best for kids to know what they're consuming.
---
WHAT YOU NEED FOR THIS RECIPE
INGREDIENTS
Note: I like Newman's Own as a brand because it gives 100% of everything it makes to charity. But use whatever sauce you love.
COOKING TOOLS
Note: To be clear, you only need one knife. I used my Cutco Chef's Knife. The other knives shown are our recommended kids knives: Curious Chef Knife Set, Opinel Knife, & Made for Me Beginner's Knife for chopping, and Opinel kids peeler.
---
HOW TO MAKE THIS SPAGHETTI SAUCE
STEP 1: COOK PASTA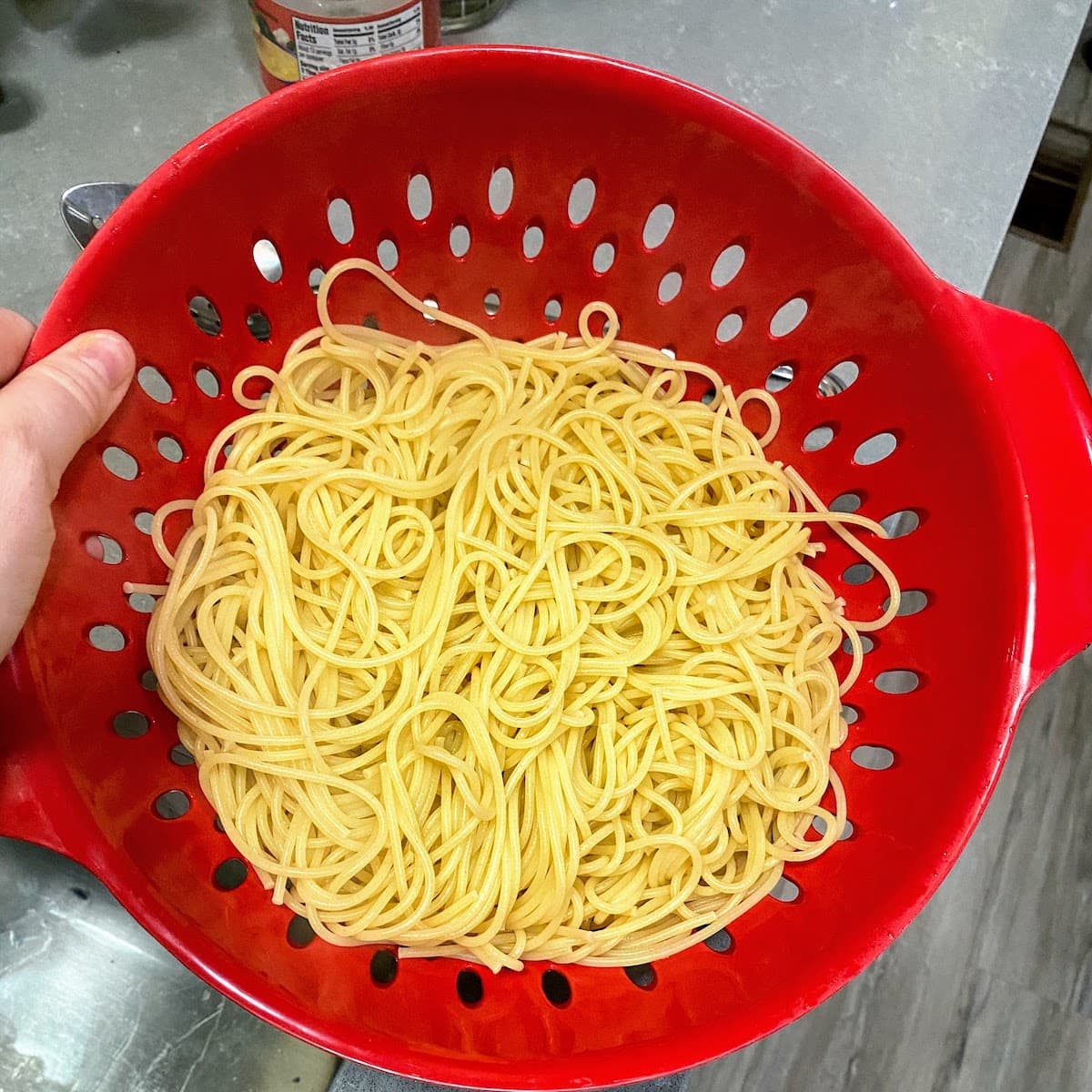 🥄 Kid Steps: This might be a no brainer, but let your kid be the master taster. My kids love deciding when the pasta is 'done' cause it means tasting a noodle every 2 mins.
STEP 2: PREP & COOK VEGGIES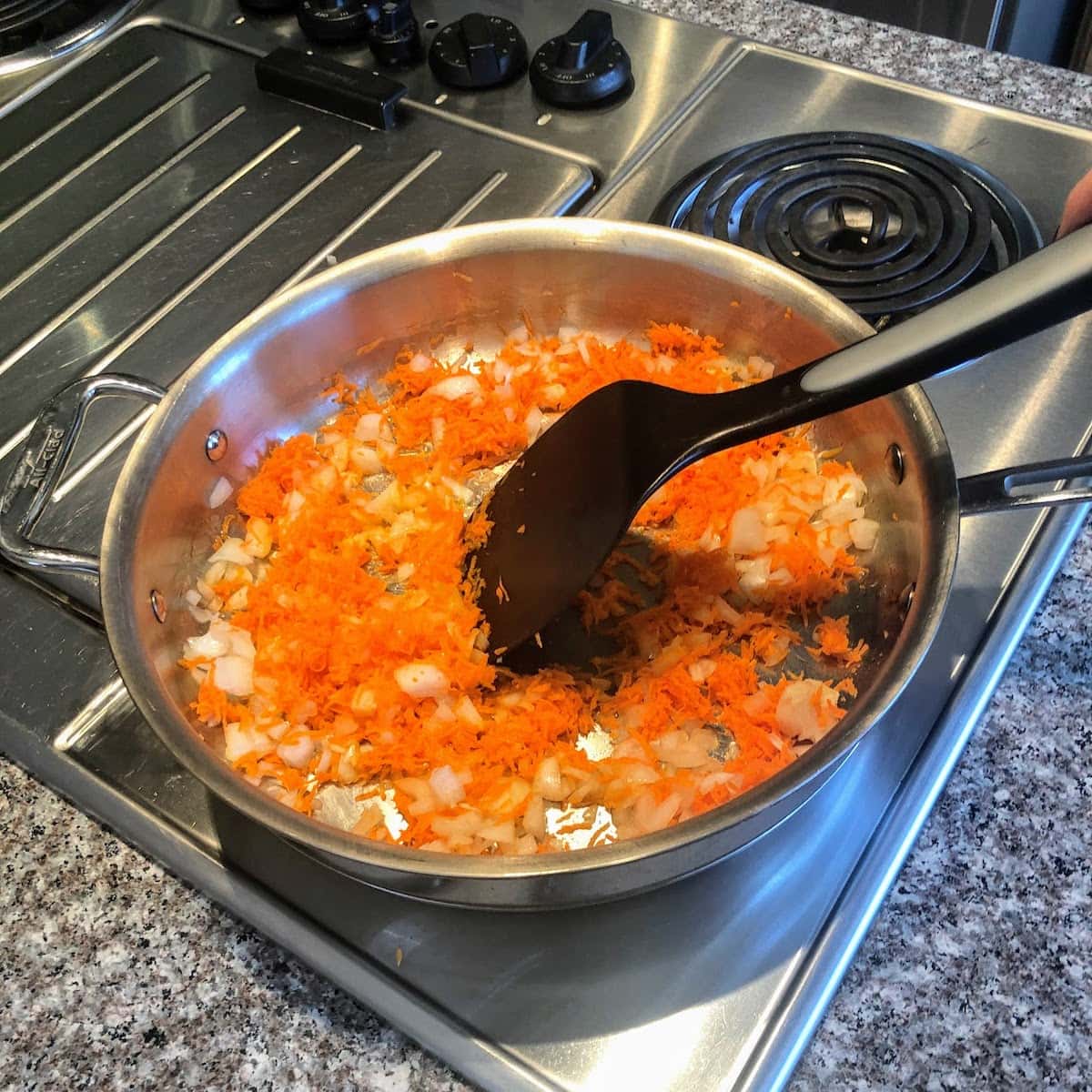 🥄 Kid Steps: Your kids can help prep the veggies. We recommend Curious Chef Knife Set, Opinel Knife, & Made for Me Beginner's Knife for chopping, and Opinel kids peeler. And it's weird, but swimming goggles are great for protecting little eyes while chopping onions. Kids see it as a fun costume too.
STEP 3: ADD TURKEY, TOMATO SAUCE & SEASONINGS
🥄 Kid Steps: Have your kiddo use this Calphalon Potato Masher (or any similar tool you like) to break up the turkey as it cooks. It's a fun job.
STEP 4: MIX TOGETHER PASTA, SAUCE & CHEESE
Note: we make a small commission based off of some affiliate links in this post
---
RECIPE TIPS:
For picky eaters: set aside some noodles without sauce and add just a little sauce to ease your kids into the flavor.
For dairy free folks: Replace the parmesan cheese with a couple tablespoons of nutritional yeast.
For gluten free folks: Opt for a different noodle, like rice noodles, Ancient Harvest quinoa pasta (careful not to overcook cause it can get mushy), or Trader Joe's Organic Brown Rice & Quinoa Fusilli Pasta. Also make sure your marinara sauce doesn't contain gluten.
For vegan folks: Only 2 swaps. (1) turkey --> pea protein crumbles (huge fan of Beyond Meat's Beyond Beef Plant-Based Ground, which also happen to be gluten-free), and (2) parmesan cheese --> a couple tablespoons of nutritional yeast
---
OTHER PASTA RECIPES FOR YOU
🍅 The Best Pesto Recipe: Chicken Pesto Pasta with Roasted Tomatoes
🍅 Shell Mac and Cheese with Ham and Broccoli
🍅 One Pot Vegan Pasta with Chickpeas
---
CRAFT FOR THIS RECIPE
Rainbow Spaghetti Art for Kids: Making this spaghetti? Set some dry noodles aside so your kids can make colorful spaghetti art with words! Creative, educational, messy, awesome.This is a great craft for kids who need practice writing letters too!
---
Ground Turkey Spaghetti Sauce with Hidden Veggie Recipe
BUY IT
2

t

salt

(divided)

12

oz

thin spaghetti

1 - 1 1/2

T

olive oil

1

small onion, chopped

3/4

cup

carrot, peeled & finely grated

(~ 1 or 2 medium carrots)

3

cloves

garlic, minced

4

oz

mushrooms, finely chopped

(~ 5 small mushrooms)

1

lb

ground turkey

24

oz

tomato or marinara sauce

(your fave)

1/2

t

ground black pepper

1

cup

parmesan cheese, shredded
MAKE IT
First, fill a large pot with water, add 1 1/2 t of the salt, and bring to a boil. Once boiling, add pasta and cook according to instructions on package. Strain pasta when done and return to empty pot.

Meanwhile, heat a medium-large pan over medium heat and add olive oil. Once heated, add onion, carrot, and garlic, and cook until vegetables are tender (~ 5 mins). Add mushrooms and cook 2 mins more.

Add turkey to the pan and mix it into the veggies, breaking up the meat chunks with a potato masher or spatula as you go. Cook turkey until no longer pink, ~ 5-7 mins. Stir in the tomato sauce, black pepper and remaining 1/2 t salt. Cook sauce on low for 10 mins.

Pour sauce on top of noodles in pot. Add parmesan and mix everything together until the cheese is completely melted and everything is well incorporated.
PLATE IT
We recommend all meals for young children be served with milk.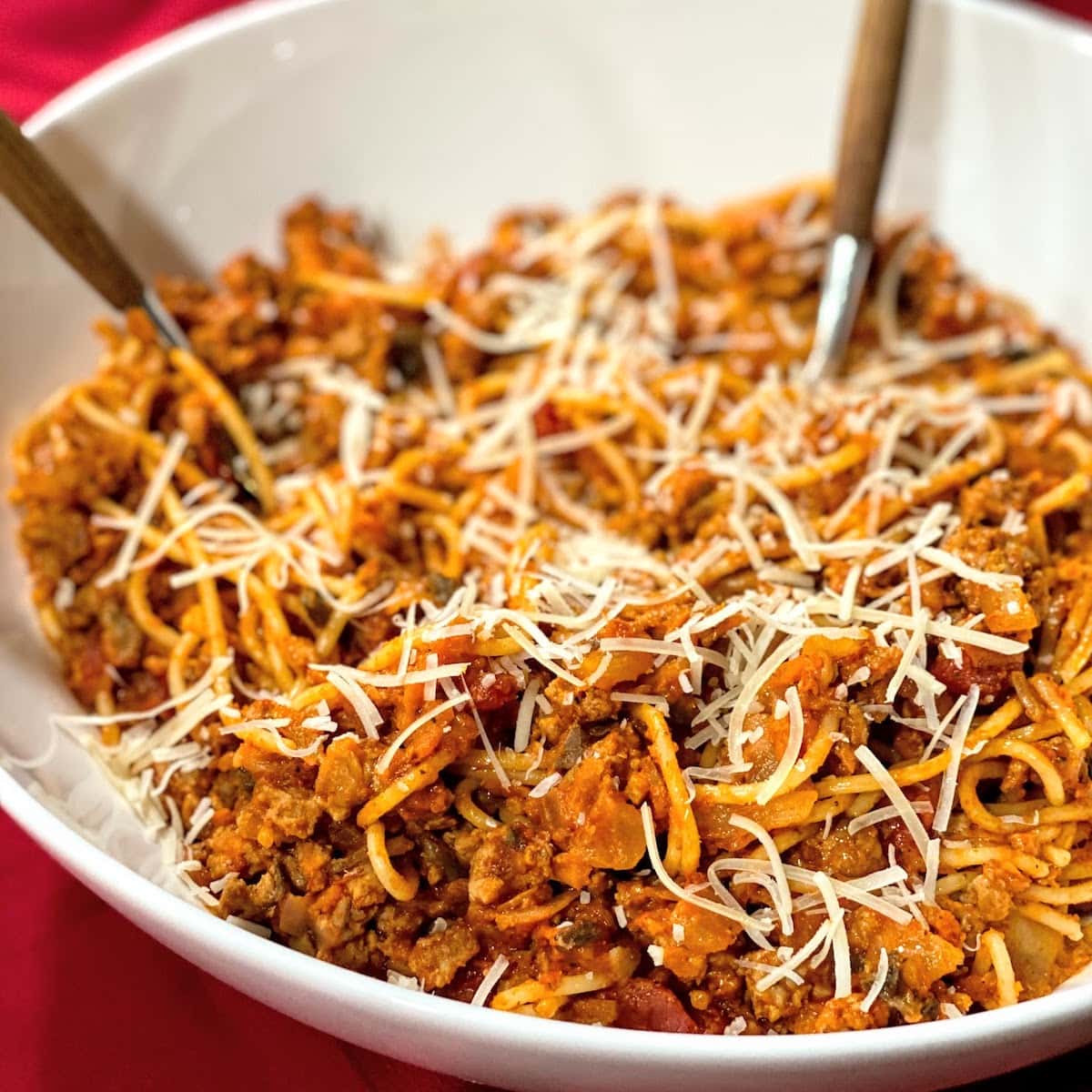 RECIPE NOTES:
🍅You can play around with the veggie quantities, using more or less of each. Another good veggie to throw in is finely chopped celery.
🍅To make this dairy free, swap the cheese for 2 T nutritional yeast. 
🍅To make this gluten free, use a gluten free pasta (like, Trader Joe's Organic Brown Rice & Quinoa Fusilli Pasta) and make sure your tomato sauce is gluten free. 
🍅To make this vegan, swap the turkey for a pea protein crumble (like, from the Beyond Beef brand) or other meat substitute, and swap the cheese for 2 T nutritional yeast.
---