Recently, the kids and I discovered how to make sunflowers with the most basic yet creative craft supplies: paper plates, Pom Poms and lasagna noodles! This craft is so simple and makes the best spring decor or DIY gifts for special occasions!
Note: we make a small commission based off of some affiliate links in this post
Since we had some extra lasagna noodles leftover while making our One Pot Lasagna Soup, the craft seemed like the perfect way to use up our scraps while getting into the spring spirit!
---
How to Make Sunflowers with Paper Plates
There are really three main components of your sunflower that you will need to create: the petals, the seeds and the sunflower's stem. To make our paper plate sunflower we glued lasagna noodle fragments to the plate's edges for the petals, brown and black Pom Poms to the center of the plate for seeds, and green pipe cleaners extending from the bottom of our flower for the sunflower's stem and leaves.
Craft Supplies and Substitutions
The best part about this craft is that it requires supplies you may already have at home. And many of these items can be swapped for something else.
Small or medium paper plates-If you don't have paper plates, a round piece of cardboard would also work!
Green pipe cleaners- Your can also use green construction paper to make your sunflower's stem
Black and/or brown Pom Poms-If you don't have Pom Poms, use marker to draw the center of your sunflower
Broken pieces of lasagna noodles-We love crafting with food, but yellow construction paper can also be used to make your flower's petals
Hot glue gun and tape
---
Sunflower Gift!
These paper plate sunflowers make great gifts for family members, teachers or friends! This craft would especially make a great homemade Mother's Day gift. Kids can make several sunflowers and put them together as a bouquet for their mom or grandparent!
---
Other Paper-Based Crafts
If you loved learning how to make sunflowers, be sure to check out our other paper plate crafts!
---
💡

Overview

💡


Ingredient: lasagna noodles
Corresponding Recipe: The Best One Pot Lasagna Soup
Skills supported: Fine motor (taping, gluing), following instructions
---
✂

S

upplies ✂

6-8 uncooked lasagna noodle fragments
paper plate(s)
black and/or brown Pom Poms (15-30 depending on size)
2 green pipe cleaners
tape
---
📝

I

nstructions 📝
Consider setting up the craft before cooking so that your kids can get to work right away.
Petals: Glue 6-8 fragments of lasagna noodles onto the back, outer edges of a paper plate.
Seeds: Glue several black or brown Pom Poms to the center of your plate.
Stem and leaves: Fold a pipe cleaner in half to form your stem. Bring the edges of a second pipe cleaner together to form your flower's leaves and twist together at the center. Wrap your leaves around your stem and glue to the back of your paper plate sunflower.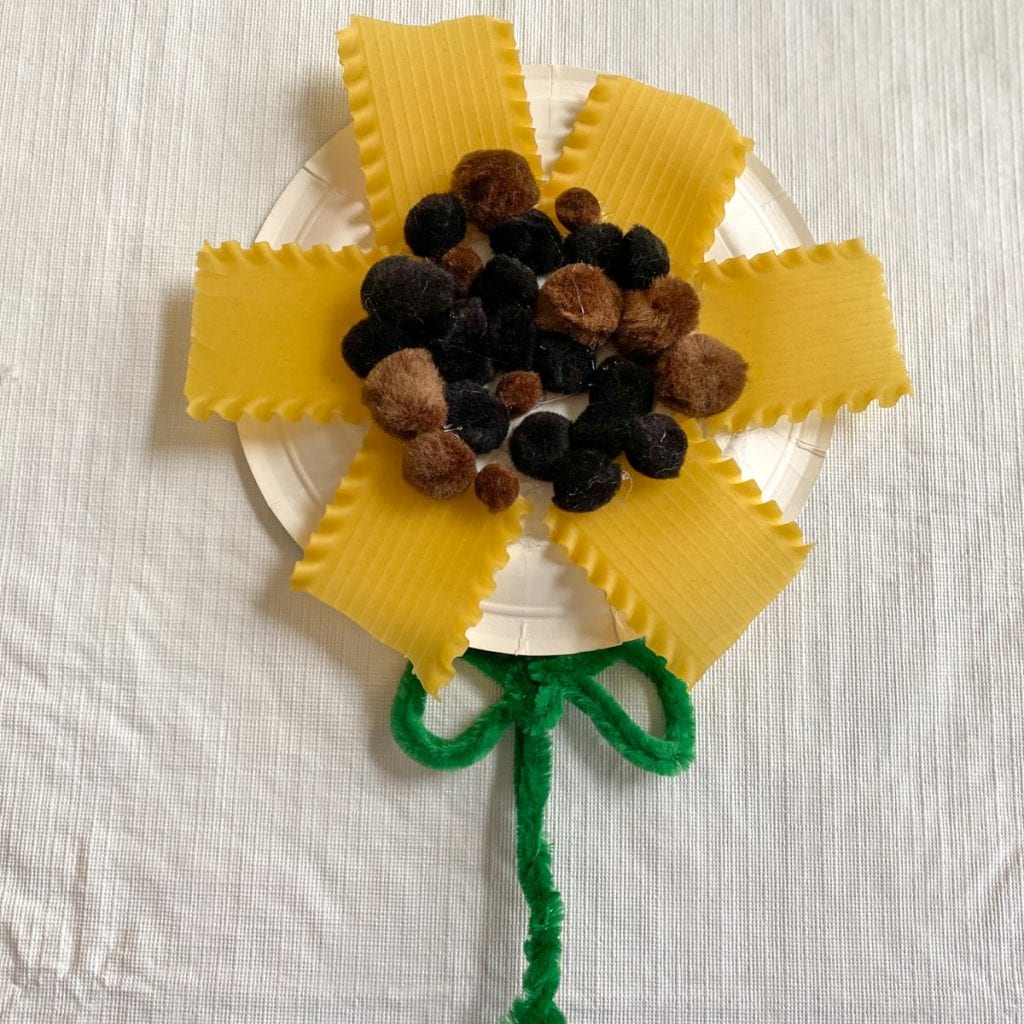 ---