I am pretty particular about portion control with my kiddos, especially when it comes to crunchy snacks. I almost never let the kids (or myself!) eat chips, popcorn or pretzels "straight from the bag" because I know how easy it is to overeat these delicious snacks. Instead, I serve my kids these snacks in small bowls.
So as we were snacking on tortilla chips leftover from our Crunchy Taco Salad with Pasta & Ranch Dressing, we had the idea of making our own little containers for chips. Paper chip bags!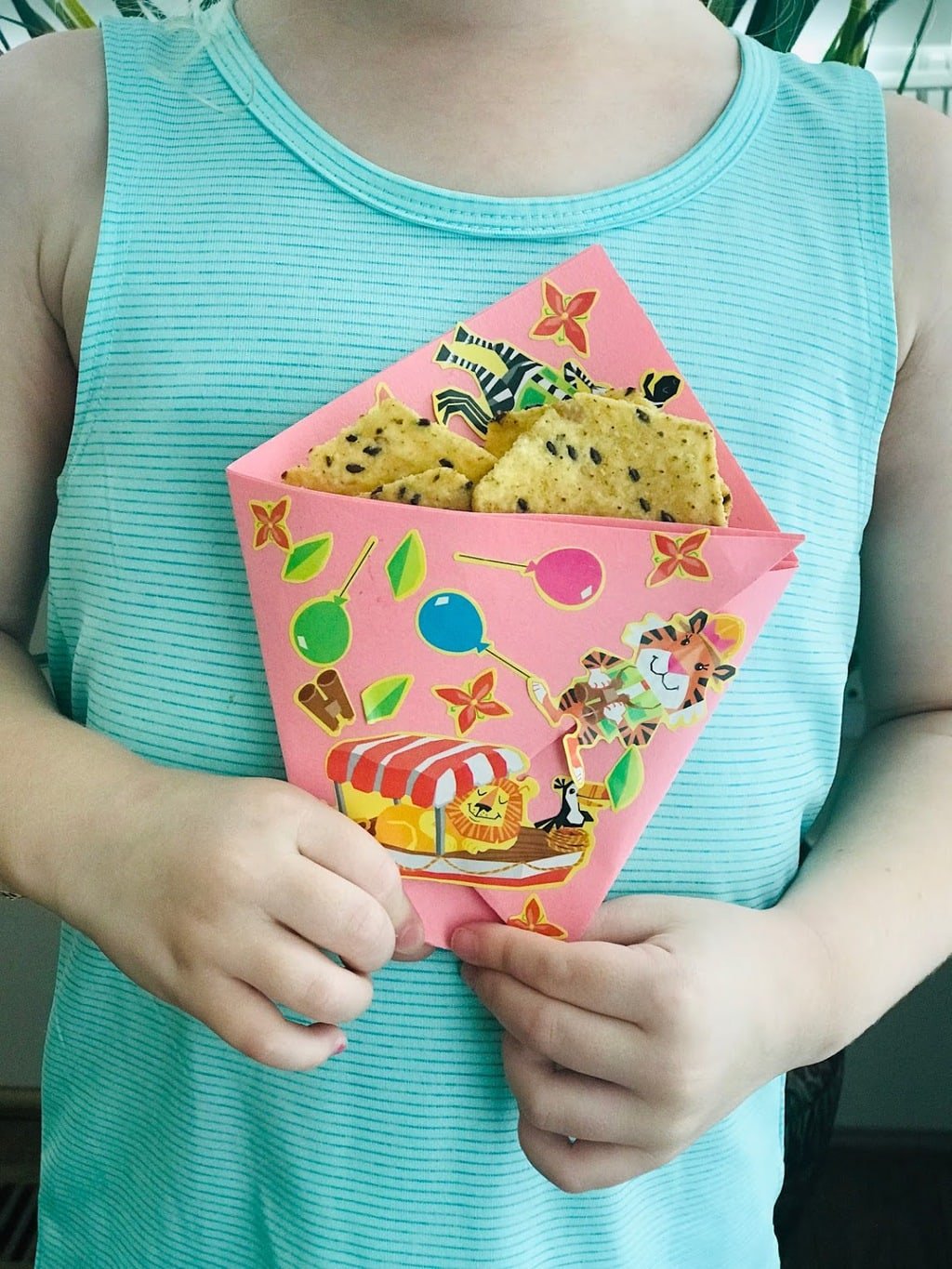 This craft was inspired by Kids Activities' awesome post featuring DIY Paper Bags.  All you need is square pieces of construction paper, tape and/or stickers! It's super easy and once you show kids show to make one paper chip bag, they can go on to make as many as they would like. In fact, these bags would make a great homemade party favor bags that kids could make for their guests at any future birthday party.
This paper chip bags craft also provides a great opportunity to share some fun facts about this meal's featured ingredient:
🍴TORTILLA CHIPS🍴

💡Overview💡

Featured Ingredient: Tortilla Chips
Corresponding Recipe: Crunchy Taco Salad with Pasta & Ranch Dressing
Skills supported: Fine motor (cutting, folding, taping/gluing), following instructions, math (composing shapes)
✂ supplies ✂
Note: This post contains affiliate links.
📝instructions📝
Consider setting up the craft before cooking so kids can get to work right away.
1.  Fold square piece of paper in half to form a triangle.
2.  Fold right side over.
3. Fold left side over.
4. Secure the paper bag with a large sticker (or tape)
5. Decorate your chip bag and fill it up with chips!  
Note: *For toddlers especially, these tasks may require adult supervision and/or assistance.