Note: This post contains affiliate links.
In the spirit of the new year and healthier eating, my family is trying to eat more vegan meals. We're jumping on to the Veganuary craze a bit late 🙂 Because we're a meat-eating bunch, I'm easing us in slowly. So, I thought I'd start with a tried and true dish: mac and cheese. And I gotta say...this tasty vegan mac and cheese was a hit!
---
So, What's in This Tasty Vegan Mac and Cheese?
The seminal ingredient in a vegan 'cheese' is nutritional yeast. Now, everyone's ingredient choices beyond these can vary quite a bit. The goal is a combo of flavors that create something akin to the flavor of cheese.
First, you need a thickening base. The most common I see is cashews, potatoes, carrots, wheat flour or tapioca flour. Next, you need your liquid. This could be water, soy milk, or coconut milk. Then, there is fat [which has some crossover with thickeners]. Options for fats are cashews, olive oil, coconut oil, and non-dairy butter. Finally, there are the flavorings. We kept it relatively simple with just nutritional yeast, salt, mustard and lemon juice. But I have also seen onion powder, garlic powder, mustard powder, paprika, curry powder and garlic.
There are also adjustments you can make based on different dietary needs. For instance, if you need your 'cheese' to be nut-free, stick to potatoes/carrots or flour for a thickening base. If you're gluten-free, don't go the wheat flour route, of course. And, FYI, nutritional yeast is gluten-free.
---
What is Nutritional Yeast?
Nutritional yeast is a yeast grown to be a food product, that is naturally very high in nutrients. Typically you find nutritional yeast in the form of yellow flakes that you can sprinkle on or measure out for food. Healthline has a great breakdown of all the qualities of nutritional yeast.
According to Healthline, nutritional yeast is a complete protein, meaning that it has all 9 amino acids that we need. It also has lots of antioxidants and B vitamins, helping to prevent vegans from being low in B12, especially. And, finally, nutritional yeast may help boost immunity and lower cholesterol.
---
Steps for Success:
Here's how to make our tasty vegan mac and cheese in less than 28 minutes:
>STEP 1: Make Pasta
First, heat water to boiling, add pasta (we used medium shells) and cook according to product instructions.
>STEP 2: Make 'Cheese'
Next, steam potatoes. Then, puree all ingredients together in Vitamix or blender.
>STEP 3: Combine Pasta & 'Cheese'
Finally, pour your 'cheese' over the pasta and mix together. Creamy yummmm. Boom!
Note: This post contains affiliate links.
---
Does Vegan Mac and Cheese Taste as Good as Standard Mac and Cheese?
In my opinion, vegan mac and cheese is just as tasty as standard mac and cheese. But, while you can get a vegan 'cheese' to taste pretty darn close to dairy-based cheese, it's just never going to be quite the same. So, I choose to view vegan 'cheese' as a different sauce altogether. Anyway, I've never been a big fan of vegan foods that are intended to taste just like their non-vegan counterparts, i.e. soy 'burgers' and 'meat' crumbles. However, it's amazing how close the taste can be.
---
What Sides to Eat with this Tasty Vegan Mac and Cheese?
🍅 Soup: our Vegan Tomato Soup or Potato Leek Soup (with its vegan modifications)
🍅 Raw fruit & veggies: cucumber slices, sugar snap peas, baby tomatoes, baby carrots, grapes, sliced apple, sliced pear
🍅 Anything your kids like!
---
HAVE A FAMILY COOKING SESSION:
Worth considering is how this might be the perfect time to invite kids to help out in the kitchen (above all, assuming everyone is healthy and properly washing their hands!). We are all spending so much time together at home these days. So, why not make cooking a family activity?! Not only will cooking together help pass the time, but cooking with your kids has some real educational benefits. For example, cooking with kids can boost self-esteem and foster healthy eating habits.
Note: This post contains affiliate links
---
How kids can help make our Vegan Mac and Cheese:
This dish involves many kid-friendly tasks, like measuring and combining ingredients. Here's are some ways for your lil' sous chefs to help with this mac and cheese:
🍅 Prep the potatoes! Potatoes are a great veggie for kids to work with because they are so soft.  We love this Opinel peeler for kids. For really little ones, check out these Curious Kids kitchen knives. And for more elementary school aged kids, we prefer this Made for Me Beginner Kitchen Knife and the Opinel Kids Knife.
🍅 Measuring! There are so few ingredients in this recipe that it's easy for kids to helm the measuring tasks. Make sure you have: a cup, 1/2 cup, tablespoon, and teaspoon. Teach your kids a basic measurement: that 3 teaspoons = 1 tablespoon. As a result, this simple math will help them understand amounts, especially with the recipe's salt.
🍅 Press that Blender Button! Why do kids love this so much? Who knows?! Let your kid be in charge of adding all the ingredients to the Vitamix/blender and then pureeing.
Note: This post contains affiliate links.
---
OUR "KIDIFY" TIPS for Picky Eaters:

🍅 Pick the Pasta! It doesn't matter what pasta you choose for this mac and cheese. I just wouldn't recommend long noodles, like spaghetti. Because of their fun shape, we love shells. Other excellent options are: rotelle (wheels), macaroni (duh), any alphabet or character-shaped pasta, farfalle (bowtie) or cavatappi (corkscrews)
🍅 Mix something in! If you're concerned that your non-vegan kids won't take to the different taste of the 'cheese,' add something into the pasta that they like and that's familiar. For example, peas or baby tomatoes.
---
Tasty Vegan Mac and Cheese for the Family
Ingredients
5

t

salt

(divided)

1

lb

medium shell pasta

2

medium yukon gold potatoes, peeled & cut into small pieces

2

cups

water

1/2

cup

raw cashews

1

T

yellow mustard

1

t

lemon juice
Instructions
In large pot, heat water for pasta. Add 3 teaspoons (or 1 Tablespoon) of the salt to water. Once boiling, add pasta and cook according to package. Strain and put pasta back into empty pot.

Meanwhile, in a medium pot, steam potatoes. While waiting, put the remaining ingredients (including the remaining 2 t of salt) in the blender/Vitamix container. Once potatoes are soft, carefully add them to the blender container, as well. Puree altogether.

Now pour your "cheese" over the pasta and mix together.
Notes
Scoop mac & cheese into bowls or plates. Serve alone or with a side, like cherry tomatoes and sliced cucumbers, or a salad.
We recommend that all meals for children be served with milk.
*Percent Daily Values are based on a 2000 calorie diet. While we are not certified nutritionists, we work with a Wordpress-integrated nutrition API to calculate our recipes' ingredient values.
---
Some Awesome Vegan Resources
Cookbooks:
Forks over Knives Family by Alona Pulde, MD and Matthew Lederman, MD.
The Forest Feast for Kids, by Erin Gleeson
Plant-Based on a Budget: Delicious Vegan Recipes for Under $30 a Week, in Less Than 30 Minutes a Meal, by Toni Okamoto
Cooking Websites:
Cookie & Kate (vegetarian recipes)
The Minimalist Vegan (and their great list of high quality vegan blogs)
---
Choose an Activity
---
CRAFT FOR THIS TASTY VEGAN MAC AND CHEESE:
Make DIY Play Food Pasta: Mac and Cheese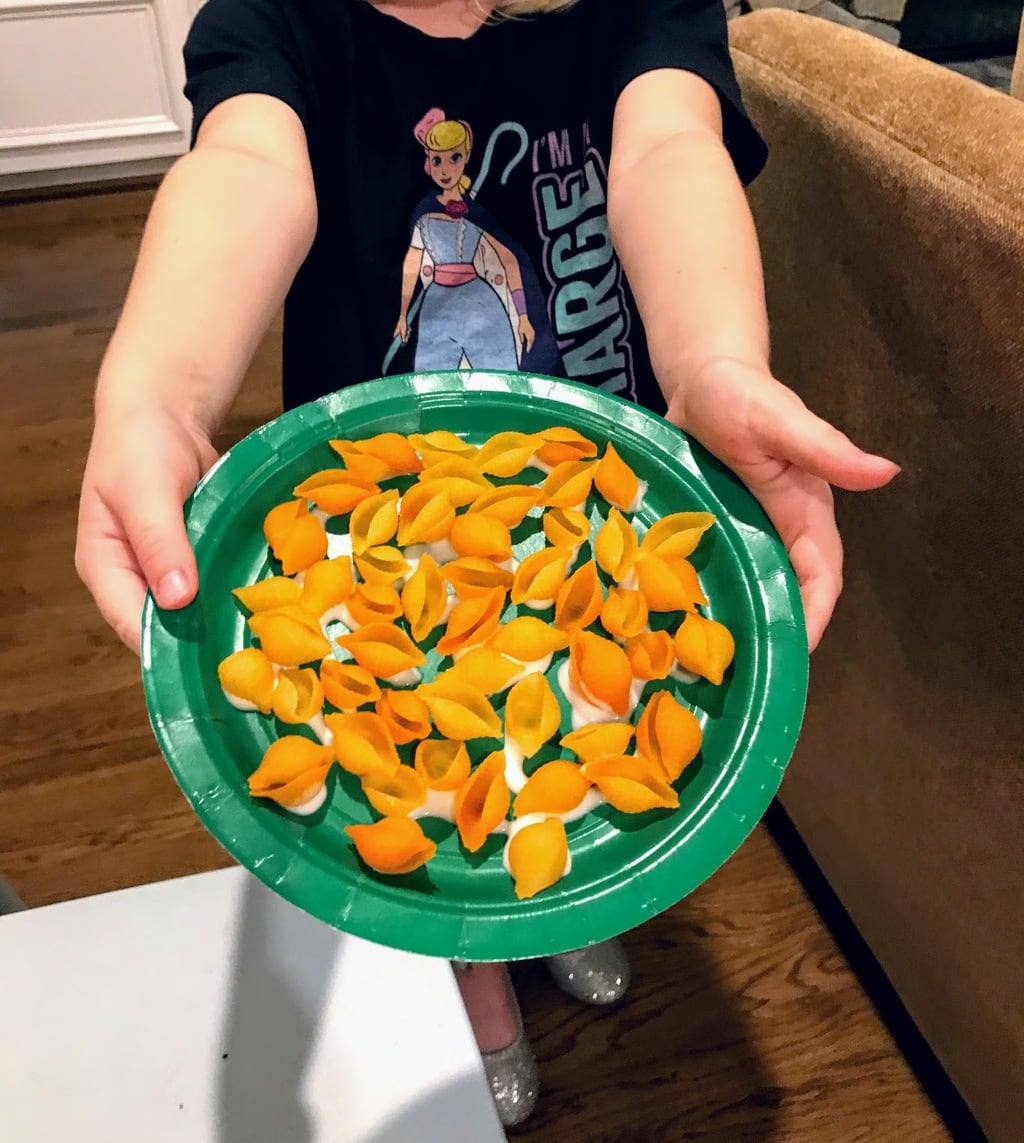 Make DIY Play Food with actual food! Dye uncooked pasta with food coloring, glue it onto a paper plate, and you have instant mac and cheese play food. It's that easy! This craft guarantees a pretend dinner that your kids will play with over and over again.
---
Similar, Other Vegan Dishes You Might Like:
🍅 One Pot Vegan Pasta with Chickpeas
🍅 Potato Leek Soup (with its vegan modifications)
🍅 The Best Vegan Romesco Sauce with Quinoa & Veggies