Why buy play food for your kids' imaginative kitchen when you can just make it right at home?! Our DIY Play Food pasta could not be any easier!

DIY Play Food
Playing "restaurant" and "chef" never gets old in our house! Because it's one of our favorite activities, we have all kinds of pretend foods. For example, we have ice cream cones, pizzas, salad ingredients...the list goes on and on.
When cooking with shell pasta the other night,, we realized that we don't have any mac and cheese play food at home. Since mac and cheese is my kids' favorite food, we decided to make our own DIY play food mac and cheese! We had some extra uncooked shell pasta and therefore, decided to dye it and glue it to a paper plate. It was really that simple!
Note: This craft pairs nicely with the following recipes: Shell Mac and Cheese with Ham and Broccoli Recipe, Tasty Vegan Mac and Cheese for the Family and Creamy Vegetable Pasta.
Note: This post contains affiliate links
---
Play food for the win!
I just love crafts that my kids can actually enjoy and play with for days! After our mac and cheese play food dried, we immediately starting playing 'restaurant.' My daughter felt proud to have made this special dish herself. As a result, she played even longer! It was also surprisingly easy to color the pasta; so, I anticipate using food coloring to make our DIY play food a lot more.
---
Other Fun, DIY Play Food Ideas
There are so many play food ideas out there. We can't help but love, for instance, our kids' favorites from our site:
Learn About

Shell Pasta
While making this DIY play food, you and your kids might want to take a moment to learn some fun facts about this meal's featured ingredient: Shell Pasta.
Shell pasta is also referred to as conchiglie because its shape resembles a conch shell. It comes in three sizes: small (conchigliette), medium (conchiglie) and large (conchiglioni). Large shells are often stuffed and baked. Because pasta is a good source of carbohydrates, it gives our body energy.
---
💡

Overview

💡

Ingredient: Shell Pasta
Corresponding Recipe: Shell Mac and Cheese with Ham and Broccoli, Tasty Vegan Mac and Cheese for the Family, and Creamy Vegetable Pasta
Skills supported: Fine motor, (pouring, mixing and gluing), math (counting, measuring), following instructions
Note: This post contains affiliate links.
---
✂ supplies ✂
---
📝 instructions 📝
Consider setting up this DIY play food craft before cooking so that your kids can get to work right away.
1. First, cover a baking sheet with parchment paper. In a small bowl, combine 1 teaspoon of white vinegar with 1-2 drops of yellow or orange food coloring. Whisk together.
2. Then, place uncooked shells into a Ziploc sandwich bag. Pour vinegar-color mixture into bag and seal bag shut. Shake bag of pasta vigorously until shells are evenly colored, but make sure that bag is sealed! Pour colored noodles onto parchment paper. Allow noodles to dry for 3-5 minutes.
3. Next, place droplets of glue onto paper plate. Glue the noodles one-by-one onto the plate. To make this more challenging, have kids count their pasta and make enough droplets of glue to match their number of pasta pieces.
4. Finally, allow glue to dry and then start playing!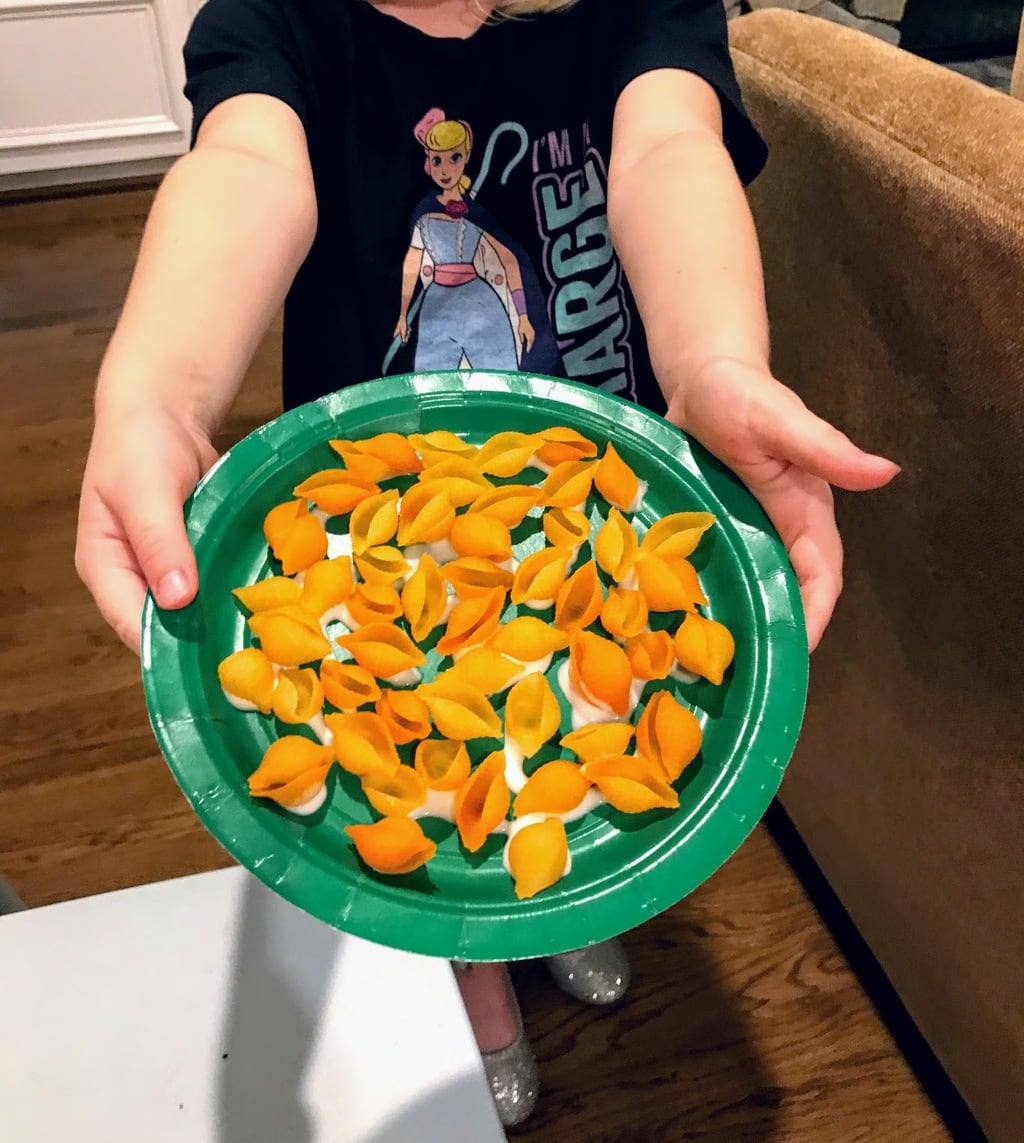 Your kids can have endless sessions of 'kitchen' and 'restaurant' with this easy, DIY play food pasta! But don't forget...you can't really eat it! Haha
*For toddlers especially, these tasks may require adult supervision and/or assistance.
Back to Shell Mac and Cheese with Ham and Broccoli Recipe or Tasty Vegan Mac and Cheese for the Family
---