Love snacking on celery? Learn how to peel celery and get rid of those tough strings so you can enjoy your fresh celery stalks! Celery makes a great addition to a veggie tray, lunch box, or side dish to a meal.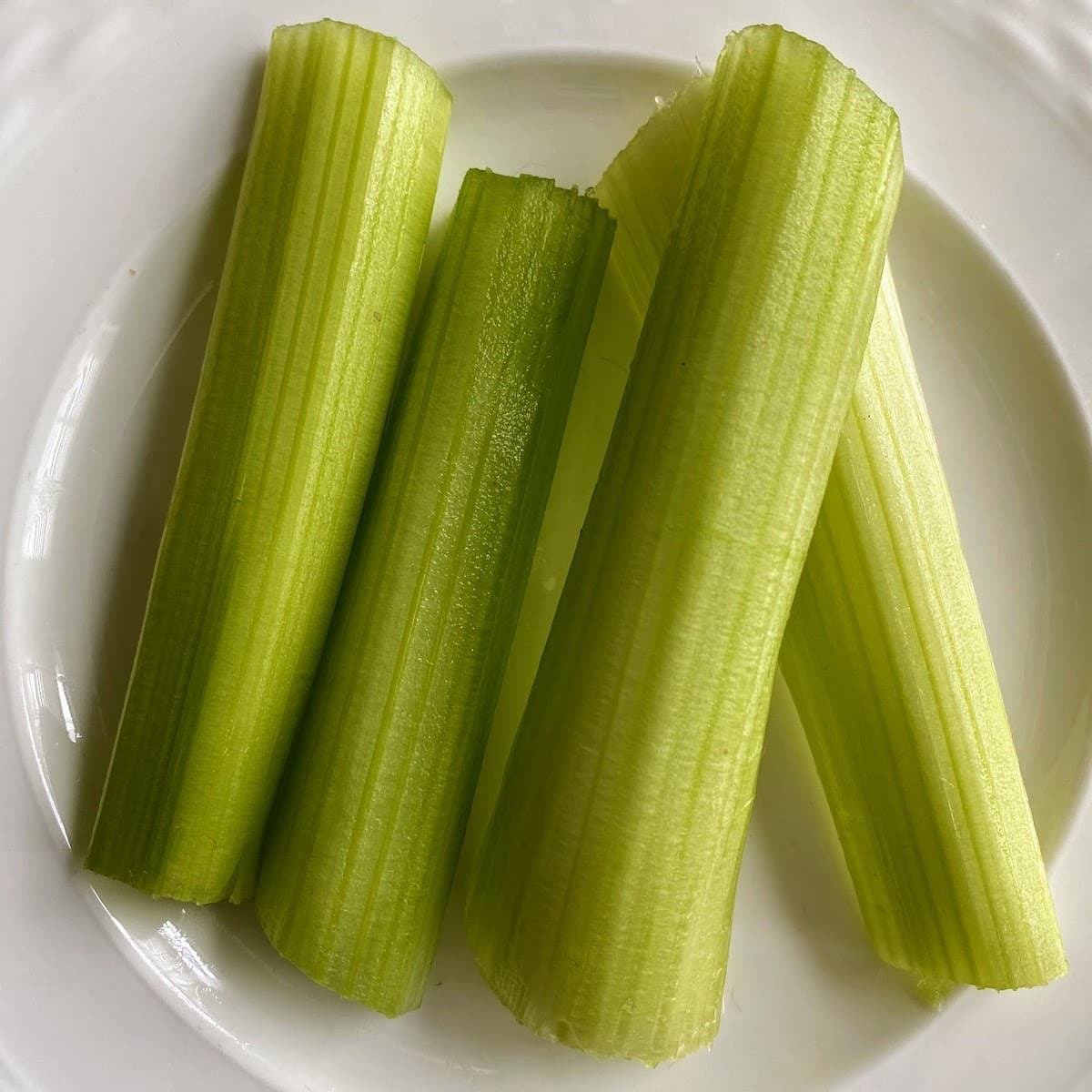 Do your kids turn up their noses at celery? Maybe the issue isn't the celery's taste, but a rib of celery's chewy texture. The reality is, raw celery stalks don't have to be chewy. When you gently peel celery, you can easily remove these strings so that the rib of celery can be ready for dipping, crunching and munching on!
Note: If you're looking for a fun and healthy activity for kids, hold onto some extra celery stalks for this adorable Skeleton Veggie Tray craft!
Jump to:
👍 Why We Love Celery Stalks
Low calorie food- A cup of chopped celery contains only 14 calories!
Nutritious. Celery is rich in fiber and loaded in antioxidants, which can play a role in reducing the risk of cancer.
Quick and easy to prepare. Celery stalks are easy to peel and cut into strips or matchsticks. It takes almost no time to prepare celery sticks, and they can last up to two weeks in the fridge.
Delicious snack. Peeled and cut celery stalks make great snacks on their own, paired with hummus, your favorite salad dressing, or even peanut or almond butter.
Perfect for little hands! We love popping celery sticks into our kids' lunches, and they go great with cucumber slices and carrot sticks.
Great in chicken salad! Celery is delicious in our Chicken Salad Wraps and Perfect Picnic Chicken Salad Sandwich.
🔪Pairing Knife vs. Vegetable Peeler?
When we peel celery ribs, we prefer to use a sharp pairing knife (we love Calphalon's knives) instead of a vegetable peeler. While using a peeler may seem easier and safer, with a pairing knife, you tend to remove less of the celery's "flesh" and thus don't waste as much of the celery in the process. Just be careful of your fingers of course!
👩‍🍳 Instructions
Step 1: Rinse celery stalk and snap (or cut) off ends.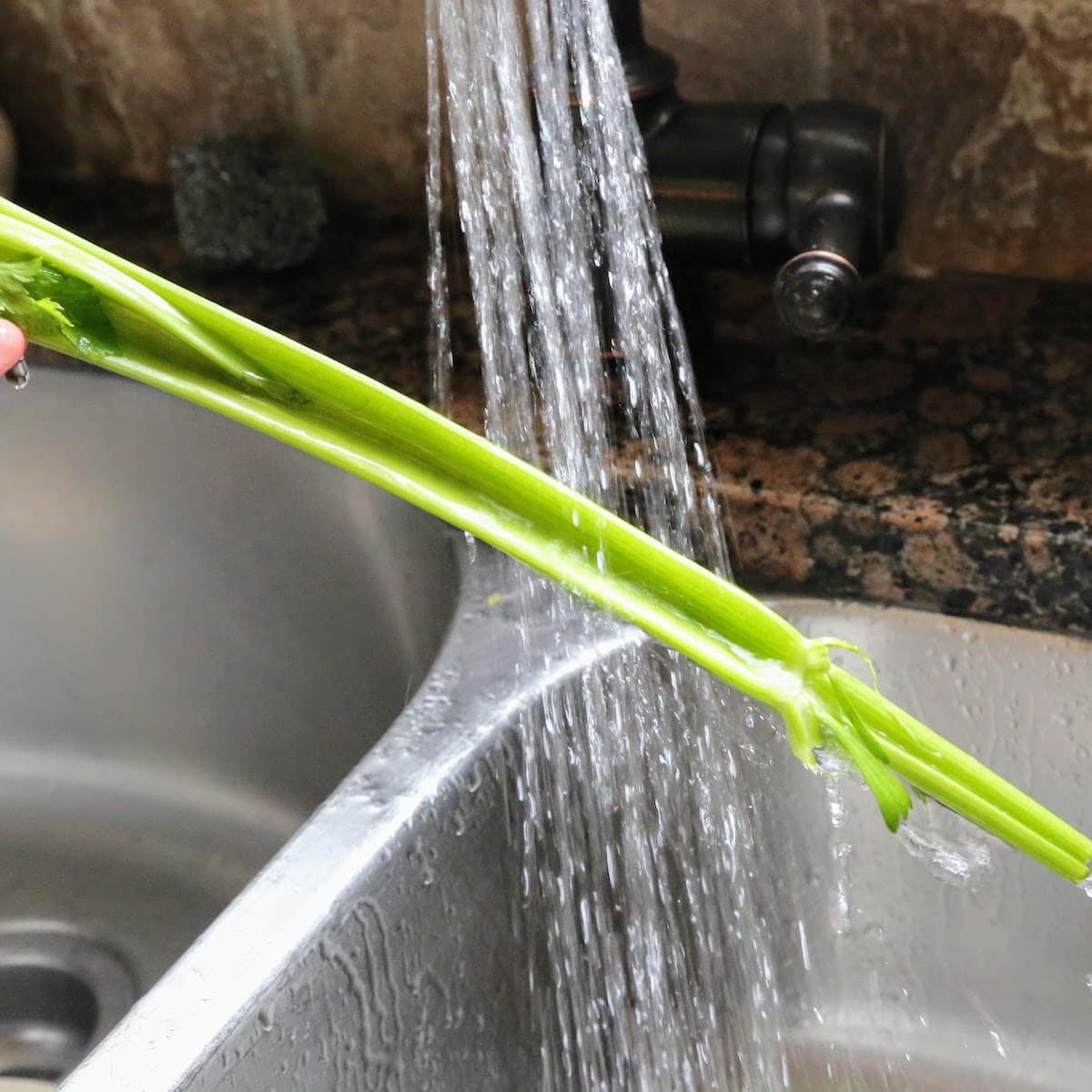 Step 2: Gently peel celery strings, starting at the base of the stalk and moving up the length of the celery. We recommend (carefully!) using a pairing knife for this task.
❓FAQ
What is the difference between a rib of celery and a stalk of celery?
In recipes, there really isn't a difference! Traditionally, the term "celery stalk" refers to the whole bunch or head of celery, while a rib of celery is a singular "stick" of celery broken off from the bunch.

However, when it comes to recipes, a celery stalk is generally referring to just one of the many long, stick-like sections, or ribs, extending from the bottom of the celery plant.
Can celery be eaten raw?
Yes, celery can be eaten in a variety of ways, including uncooked. If you don't like the crunch of raw celery, you can also steam, boil or roast the vegetable.
It is always necessary to peel celery stalks?
While we think removing celery strings allows for a better and less chewy eating experience, it is totally optional.
How long do celery sticks keep in the fridge?
Cut and peeled celery stalks can last up to two week in the fridge when stored properly.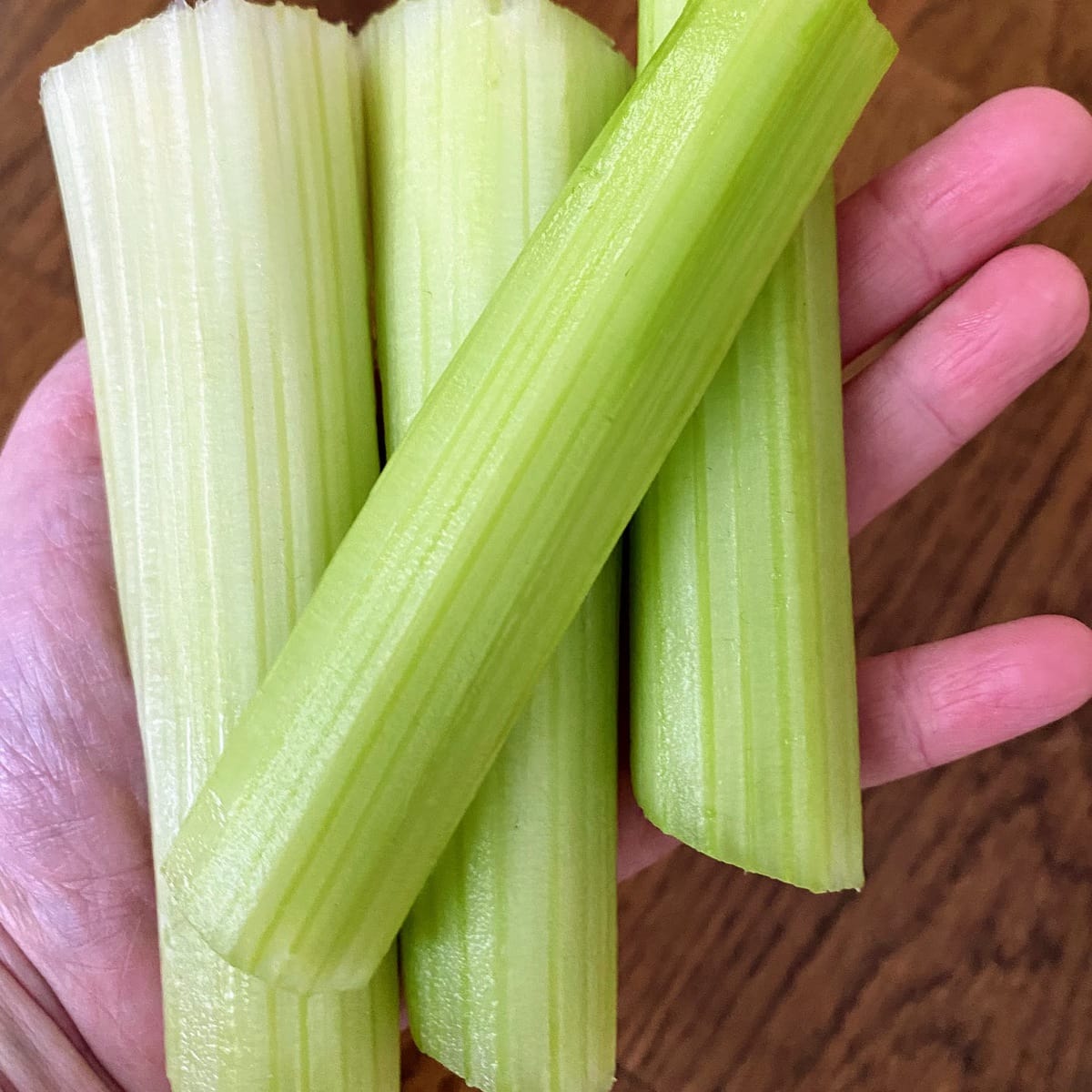 🍽 Other Cooking Tips and Tricks
Follow Platein28 on Pinterest, Instagram and Facebook and Sign up for our newsletter for all the latest recipes and crafts!
🔪 How to Peel Celery
Celery doesn't have to be chewy! Learn how to peel celery stalks and get rid of those tough strings so you can enjoy your delicious, fresh celery!
Equipment
pairing knife

cutting board
Instructions
Rinse and dry celery stalks. Cut off ends (on the bottom end, cut where the celery starts to turn white).

Use a paring knife to shallowly carve into the base of the celery stalk and gently pull strings up the length of the celery until removed. Repeat until the stalk is fully peeled.
Notes
While we prefer to use a pairing knife (we love Calphalon's knives), a vegetable peeler may also be used. 
Nutrition
Calories:
1
kcal
Sodium:
3
mg
Potassium:
10
mg
Vitamin A:
18
IU
Calcium:
2
mg
*Percent Daily Values are based on a 2000 calorie diet. While we are not certified nutritionists, we work with a WordPress-integrated nutrition API to calculate our recipes' ingredient values.
Want more 28-minute recipes? Sign up and get recipes straight to your inbox!