As summertime approaches every year, I crave pesto! And there's something about the combo of pasta, an herb-based sauce, and vegetables that is so refreshing. Our vegetarian recipe for pesto pasta has fresh, roasted veggies and is ready is 28 minutes or less!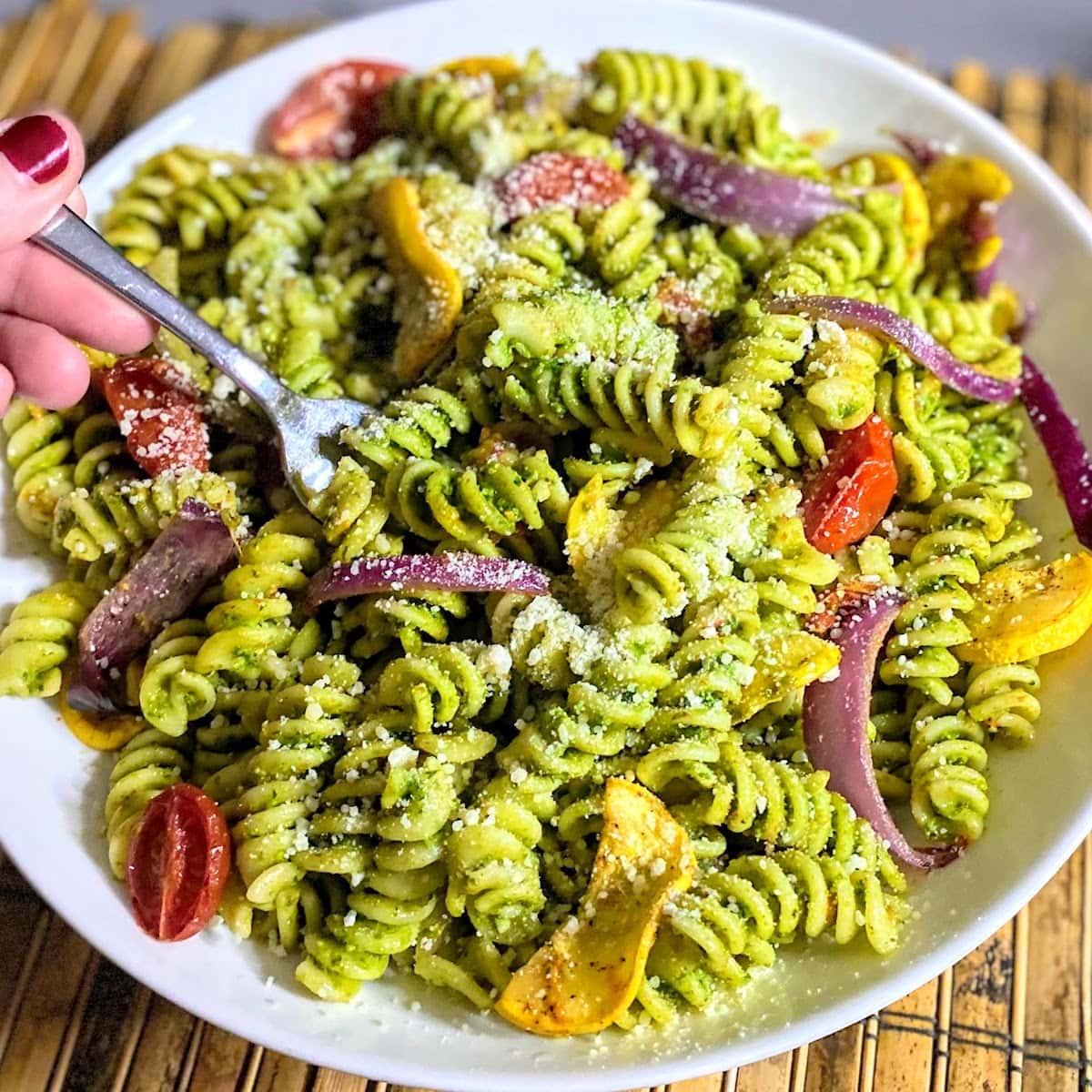 You can totally use store bought pesto, but we highly recommend making our spinach pesto instead. Making our pesto from scratch doesn't even add extra time to the recipe. You just whip up the pesto in the time it takes for the veggies to roast!
FYI, I'm not gonna lie - I have never met a person who didn't fall in love with our homemade pesto. It's killer. Even my kids are obsessed!
Jump to:
💚 Why this Recipe for Pesto Pasta is the Best!
Easy and fast! This pesto pasta takes 28 minutes or less and is very simple. While the pasta cooks and veggies roast, you can casually make the pesto and just hang out!
Always a hit! I have never made this and not had a rave review. Both adults and kids love it. Note - this is when I use our homemade pesto recipe.
Veggies galore! Not only does this pasta have three fresh veggies; its pesto sauce is full of fresh herbs and greens!
Very customizable! Choose your favorite pasta and even swap out the veggies for others you prefer. You can also omit the veggies altogether or even add in a protein (roasted chicken is delicious in this). Make our homemade pesto or use store-bought.
Note: If you love veggie pastas, be sure to try our Light & Simple Bow Tie Pasta Salad and Creamy Vegetable Pasta.
🛒 Ingredients
Notes on Ingredients:
Pasta - we like any corkscrew shaped pasta (fusilli & rotini). Pasta with ridges are great for holding the pesto sauce. But penne is a popular choice, as well. Really, use whatever pasta you love! If you eat gluten free [GF], some good pastas to try are: Ancient Harvest quinoa pasta, Trader Joe's Organic Brown Rice & Quinoa Fusilli Pasta, Barilla's GF pastas and Ronzoni's GF pastas.
Veggies - this is super flexible. Other great veggie options: steamed broccoli, pan fried zucchini and mushrooms, etc.
✅ How to Make Pesto Pasta
Step 1: Roast Veggies
🥄 Kids Step: Cutting the veggies! While the oven heats up, your kids can use one of our fave kids' knives: Curious Chef Knives, Opinel Le Petit Chef Knife, or Made for Me's Beginner Chef Knife. My son also sneaks a bunch of tomatoes while he's cutting, which I'm definitely not mad about.
🥄 Roasting Tip: Cut your tomatoes length-wise so they hold their juices in better while being roasted. Make sure they lie cut-side-up on your sheet pan.
Step 2: Cook Pasta
🥄 Kids Step: Ummmm...my kids are always up for tasting the pasta to see if it's done, but like every 2 minutes 😂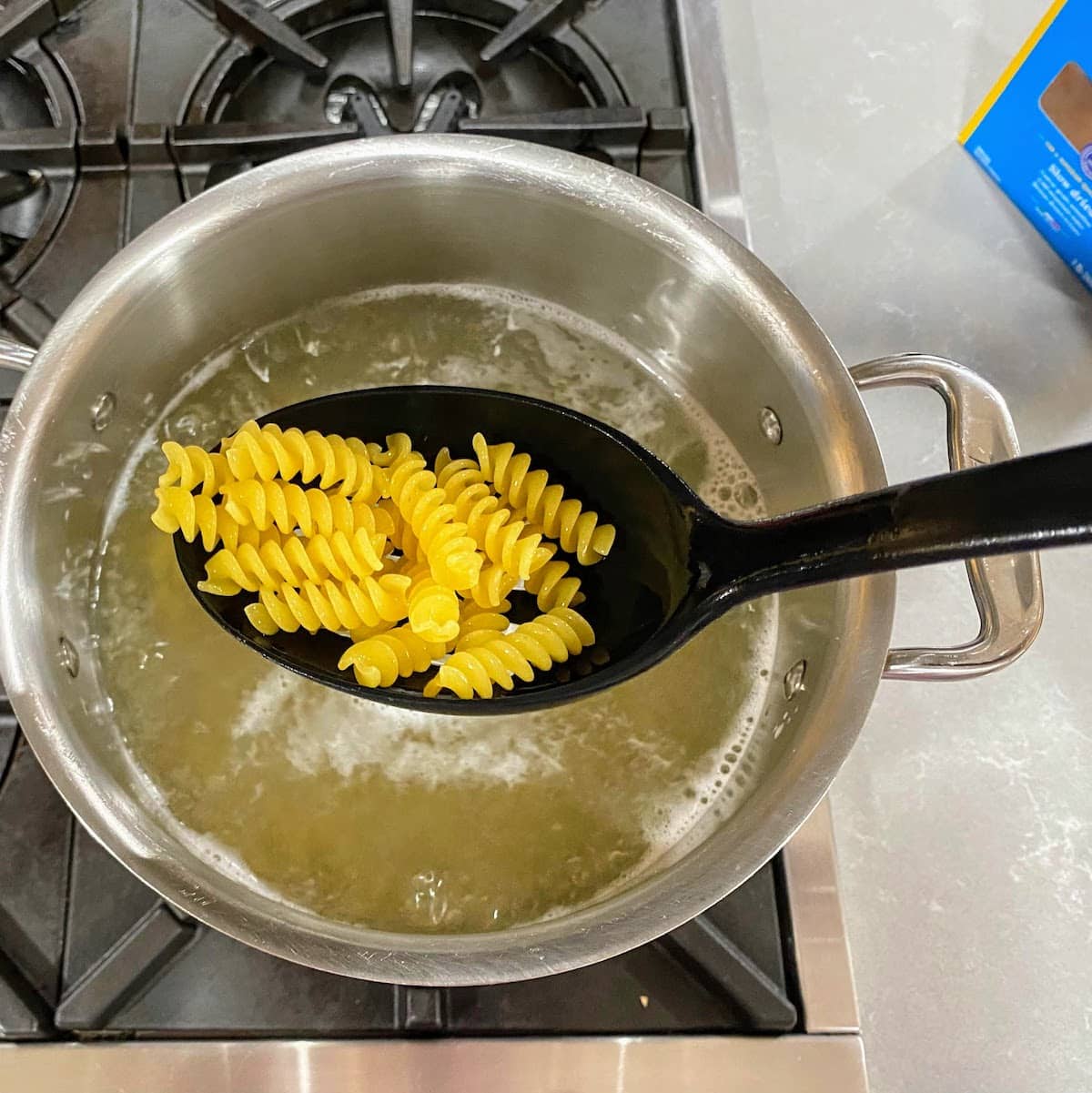 [Optional] Step 3: Make Pesto
Check out our Spinach Pesto Recipe for some serious deliciousness! I'm telling ya, it's our pesto that really *makes* this dish!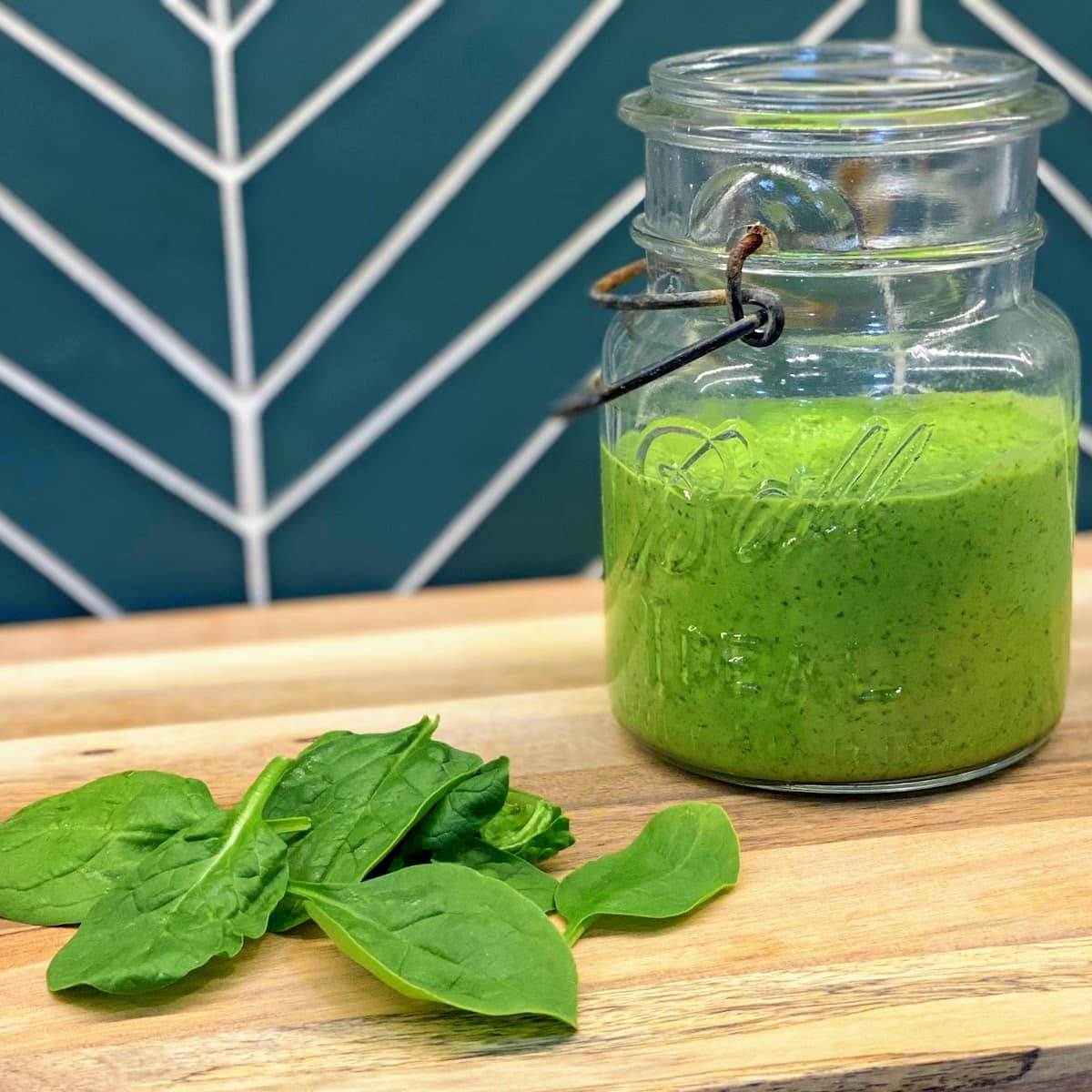 Step 4: Toss Everything Together
🥄 Kids Step: Your kiddo can stir everything together until "it's all green."
Personally, I can't stand pesto pastas where the pesto is so sparse that the pasta is dry and it feels unsatisfying. We included enough pesto in the recipe (~ 1 ⅔ cups) to really coat the pasta. However, feel free to increase or decrease the amount as you see fit.
💡 Pesto Pasta Ideas
There is almost no wrong way to make this pasta! Here are some variations and options for you:
Veggies: super flexible! Aside from our recipe's ingredients, you could do steamed broccoli, pan fried zucchini and mushrooms, roasted cauliflower and bell peppers, sundried tomatoes, peas, or add in some greens (i.e. spinach, chard, kale).
Pasta: pick your fave! Our faves are fusilli & rotini (basically any pasta with ridges to hold the pesto sauce). Penne is great too, and angel hair is fun. Really, whatever pasta you want! Some pretty good GF pastas are: Ancient Harvest quinoa pasta, Trader Joe's Organic Brown Rice & Quinoa Fusilli Pasta, Barilla's GF pastas and Ronzoni's GF pastas.
Add a protein: this pasta is great with chicken, salmon and shrimp. You could also mix in some bacon.
How to serve: I recommend topping the pasta with lots of parmesan, for maximum deliciousness. You could let everything cool and serve this as a pasta salad. You could also have the pasta as a side to some grilled chicken or salmon. Or you could mix in some shredded chicken. Our first version of this dish was with chicken, roasted tomatoes and sugar snap peas - it was fantastic!
❓ FAQs
What pasta is good with pesto?
I like pasta with ridges that can hold the delicious pesto sauce. For instance, any corkscrew shaped pasta like fusilli & rotini.
What can I serve with pesto pasta?
Garlic Bread is the best side! My kids' favorite is Pepperidge Farm's frozen garlic bread. I always try to have two loaves in the freezer at a time. Or serve with peas or steamed broccoli. As the ultimate summertime meal, you can serve the pasta with grilled chicken, shrimp, eggplant or veggie kabobs.
How do I store leftover pesto pasta?
To be honest, pesto is best when it's fresh. I would actually mix the pesto in with the pasta per bowl / individual serving. Then keep all the leftover pesto and pasta in separate sealed containers in fridge for a few days. The pesto keeps better that way.
👶 Tips for Picky Eaters
🍅 Set aside some raw tomatoes. My kids prefer some of their veggies raw, so I set some aside before cooking.
🍅 Set aside some cooked plain pasta & veggies. Just in case your kids don't like the pesto.
🍅 Serve with a surefire side. None of us ever know if our kids will dig a new dish we're trying out. So, on the side we had baby carrots, salami, and sliced cucumbers, which are always a hit. Steamed broccoli is another option.
🍅 Garlic Bread! My kids will eat almost any bread. Who knows why, but I remember being like that as a kid too. Their favorite is Pepperidge Farm's frozen garlic bread. It's super easy. I always try to have two loaves in the freezer at a time.
🧶 Craft for this Recipe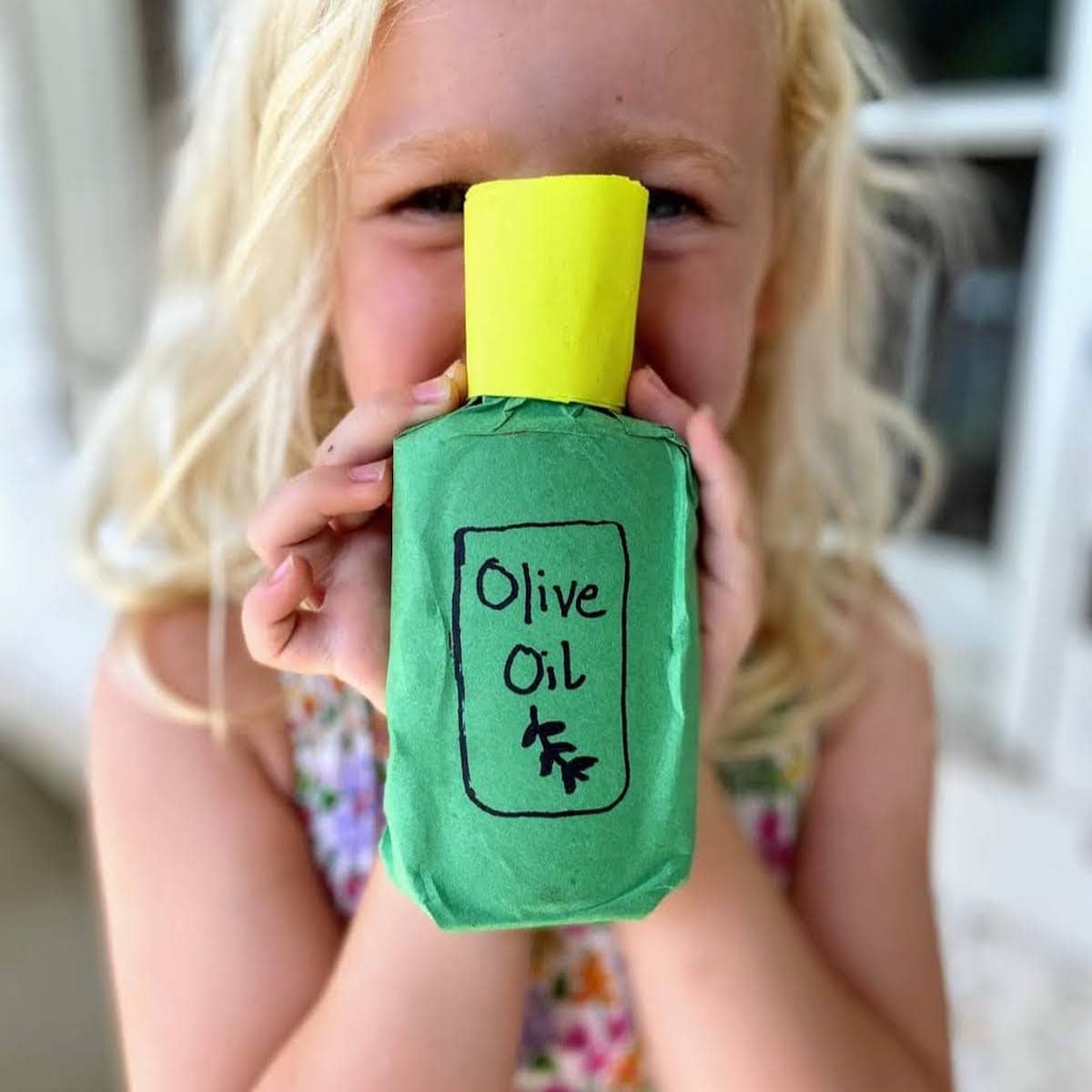 Play Food Olive Oil Bottle! If your kids like to play restaurant or chef, this is the perfect craft. Take an empty glue bottle and turn into an adorable olive oil bottle! You'll feel better recycling the bottle and your kid will have a new item for the play pretend kitchen time!
🍽 Check out our Other Pastas!
Follow Platein28 on Pinterest, Instagram and Facebook and Sign up for our newsletter for all the latest recipes and crafts!
🌱 Simple Pesto Pasta
You'll fall in ❤️ with our Pesto Pasta with fresh, roasted vegetables. Nothing beats a light, delicious dish that's also easy and fast to make. It's summertime, baby!
Ingredients
Instructions
Preheat oven to 400°. [And take a second to start heating water for pasta]. Line a baking sheet with parchment paper. In a medium bowl, toss together veggies, olive oil, salt, and pepper. Spread the veggies on the parchment paper (tomatoes cut side up). Roast for 10-15 minutes. Set aside.

Meanwhile, cook pasta according to instructions on package. Drain pasta, rinse with cold water, and pour into a large bowl.

Optional: if you are making our homemade spinach pesto, assemble all ingredients into your Vitamix/food processor/blender while you wait for the veggies and pasta. Once the pasta is done, reserve a cup or so of its water for the pesto. Then you can blend the pesto!

Add the pesto to the pasta, stir together, and then add in the veggies. Serve with parmesan cheese sprinkled atop, as desired.
Nutrition
Serving:
1
serving
Calories:
252
kcal
(13%)
Carbohydrates:
46
g
(15%)
Protein:
9
g
(18%)
Fat:
4
g
(6%)
Saturated Fat:
1
g
(6%)
Polyunsaturated Fat:
1
g
Monounsaturated Fat:
2
g
Cholesterol:
1
mg
Sodium:
323
mg
(14%)
Potassium:
303
mg
(9%)
Fiber:
3
g
(13%)
Sugar:
4
g
(4%)
Vitamin A:
310
IU
(6%)
Vitamin C:
14
mg
(17%)
Calcium:
32
mg
(3%)
Iron:
1
mg
(6%)
*Percent Daily Values are based on a 2000 calorie diet. While we are not certified nutritionists, we work with a WordPress-integrated nutrition API to calculate our recipes' ingredient values.
Want more 28-minute recipes? Sign up and get recipes straight to your inbox!