This Sausage Orzo Soup with Kale is PACKED with flavor, warmth and BELLY-WARMING goodness! This soup also only requires TWO big dishes, so clean-up isn't a big deal!
Note: Some of the links in this post are Amazon affiliate links. This means that if you click on an affiliate link and purchase an item, we will receive a commission. However, we genuinely recommend all the products we link.
---
The Amazing Flavors of Sausage Orzo Soup
This cozy Italian orzo soup is so simple yet full of zest! We used our favorite veggies and a chicken and tomato-based broth seasoned with flavors that make the flavor of this soup truly pop! The sausage offers even more of a kick as well as the cheese which brings the whole dish together. 
We can't seem to get enough of Italian soups these days (check our our Healthy Italian Wedding Soup and Italian Vegetable White Bean soup for more inspiration!).
---
Why We Add Kale
First of all, kale is a superfood, meaning it's chock full of vitamins and nutrients. While the soup already contains a lot of veggies, we wanted to add kale for that extra health boost. Maybe it's my west-coastiness and the need to green-ify everything. Who knows?! I do believe it also really added some good flavor and texture to the soup, not to mention the green is a beautiful color in the pot. My kids aren't big fans of leafy greens, but because kale holds it shape so well, they just picked it out or ate around it.
---
A Note About Leftovers
The cool thing about the sausage orzo soup is what happens to the leftovers. If you have any leftovers, you'll find that the orzo soaks up ALL the broth overnight. What's left is sort of a rice dish. So, the next day, you can add broth and have soup again. OR you can eat the dish as-is. I prefer to eat the leftovers as a rice-like dish because (a) everybody gets bored with leftovers and this is like a whole new dish!, and (b) my kids actually liked it better because they could pick out the parts they liked (and didn't like!) more easily. Enjoy!
Note: To prevent the orzo from soaking up the broth, simply cook the pasta separately.
---
How to Make Sausage Orzo Soup with Kale
Ingredients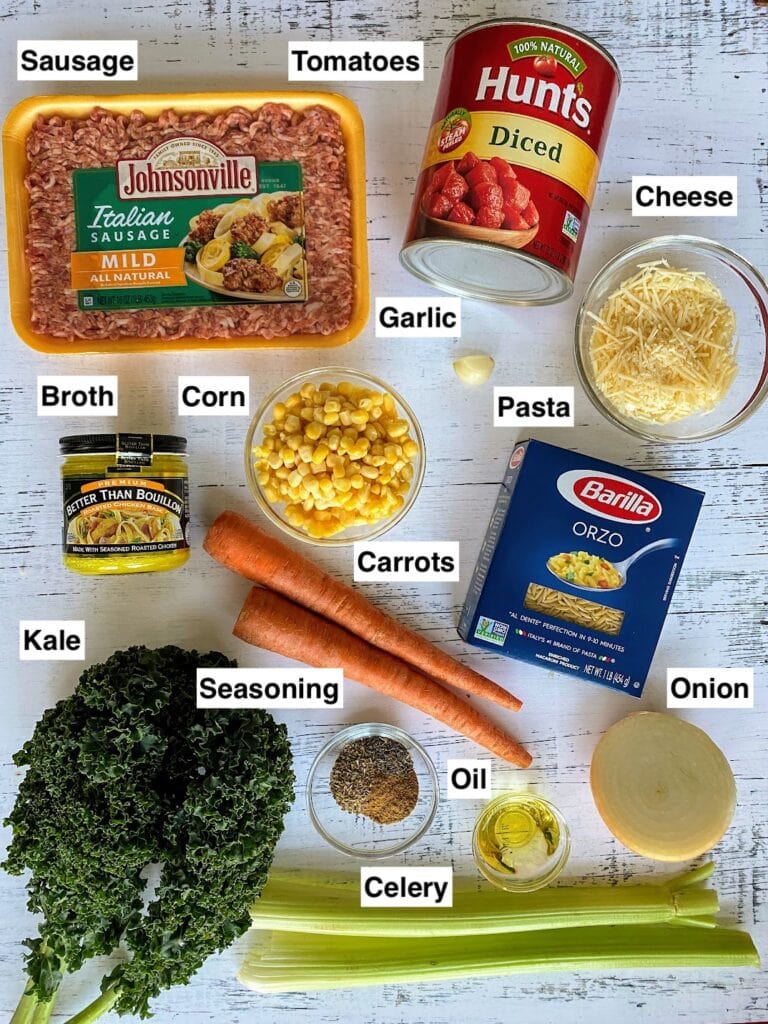 Notes on Ingredients:
Broth - we love Better than Bouillon chicken base because it's condensed and lasts a while, takes up little room in the fridge, and it's packaging is more eco-friendly
Veggies - the smaller you chop them, the faster they'll cook
Garlic - fresh (minced or finely chopped) or jarred, minced garlic all work
Orzo - cook directly in the broth OR separately if you plan on having leftovers and don't want the orzo to absorb all the broth

Kale - cut leaves off kale stems using scissors or Kitchen Shears
Instructions
Step 1: Combine broth, veggies (carrots, corn and tomatoes) and seasonings. Bring to a boil
Kid Step: Peel carrots. This is a fun challenge for older children. We like this Cutco veggie peeler for adults. For kids specifically, this Opinel veggie peeler for kids is great.
Step 2: Cook onion and celery in a separate pan
Kid Step: Chop onions safely with this Opinel knife and finger guard for kids (it comes with a peeler too). Fun tip: kids can wear goggles to slice/chop onions to protect their little eyes from tearing up.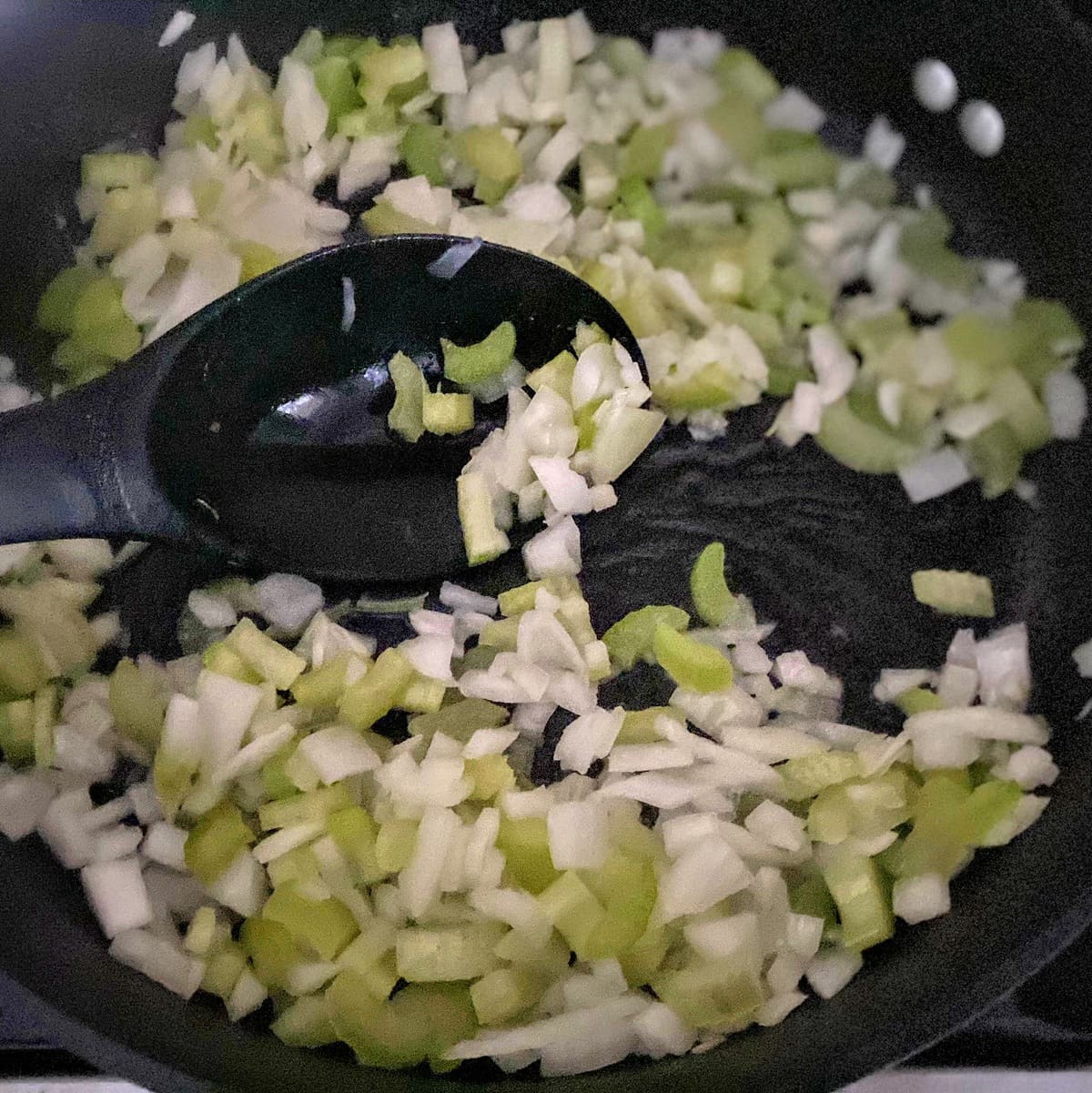 Step 3: Add garlic and sausage to pan and cook until sausage is no longer pink
Kid Step: Break up sausage using a Potato Masher. Just be sure to not use a metal masher on a non-stick pan.
Step 4: Add pan contents and orzo pasta to pot. Simmer for 15 mins
Kid Step: Taste the pasta! Let kids decide if the orzo is done. Hungry toddlers love this job!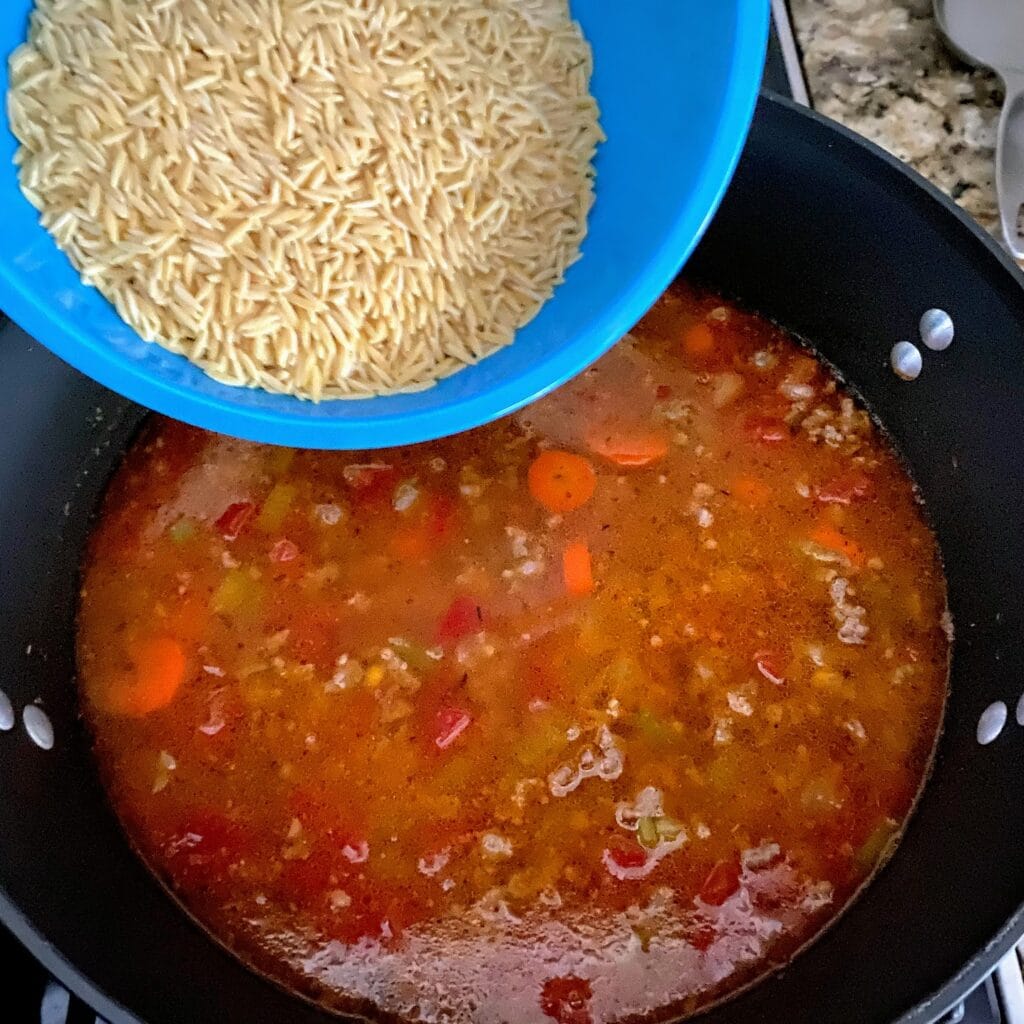 Step 5: Add kale as final step, five mins before serving
Kid Step: Cut leaves off kale stems using scissors or Kitchen Shears.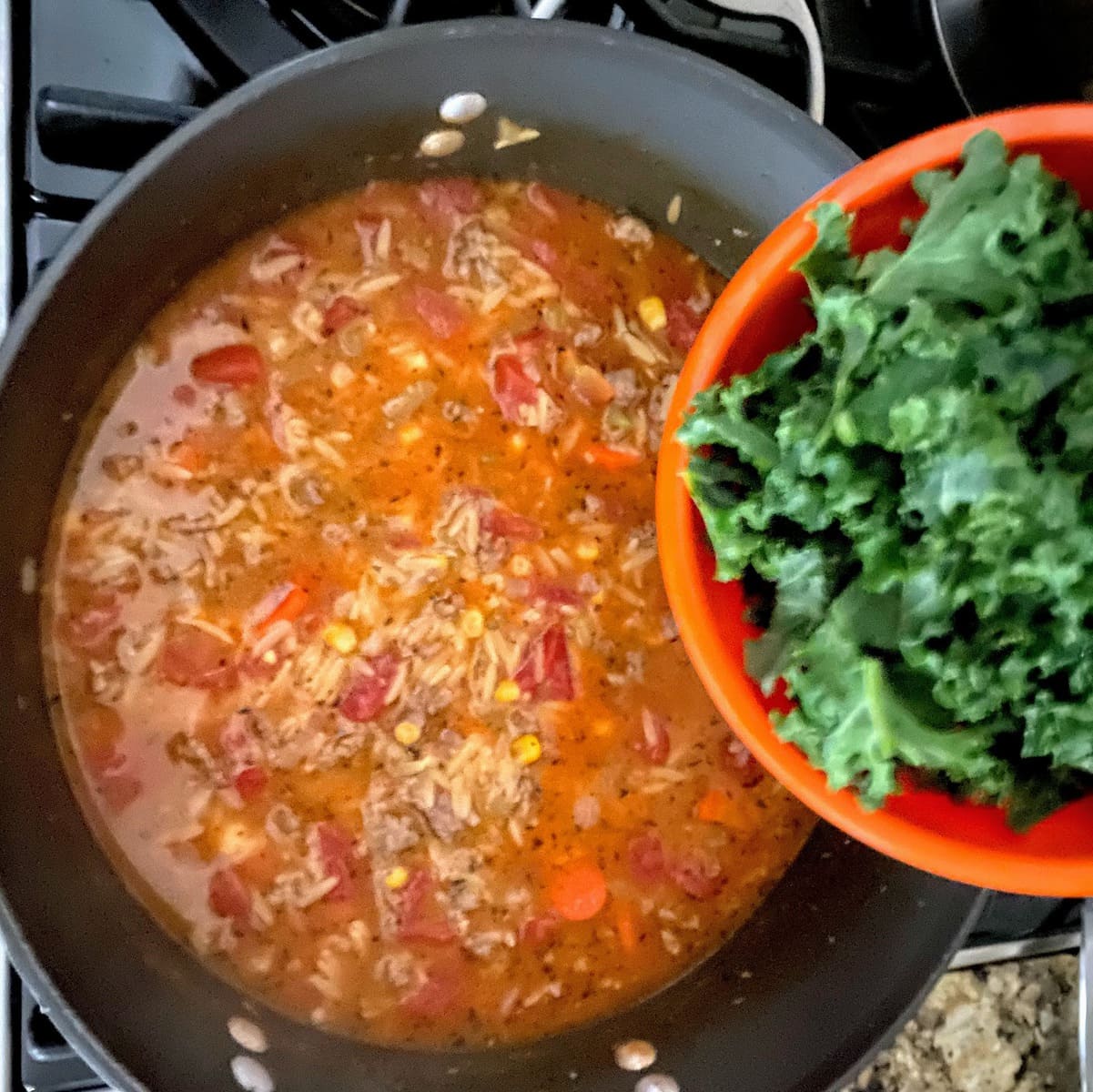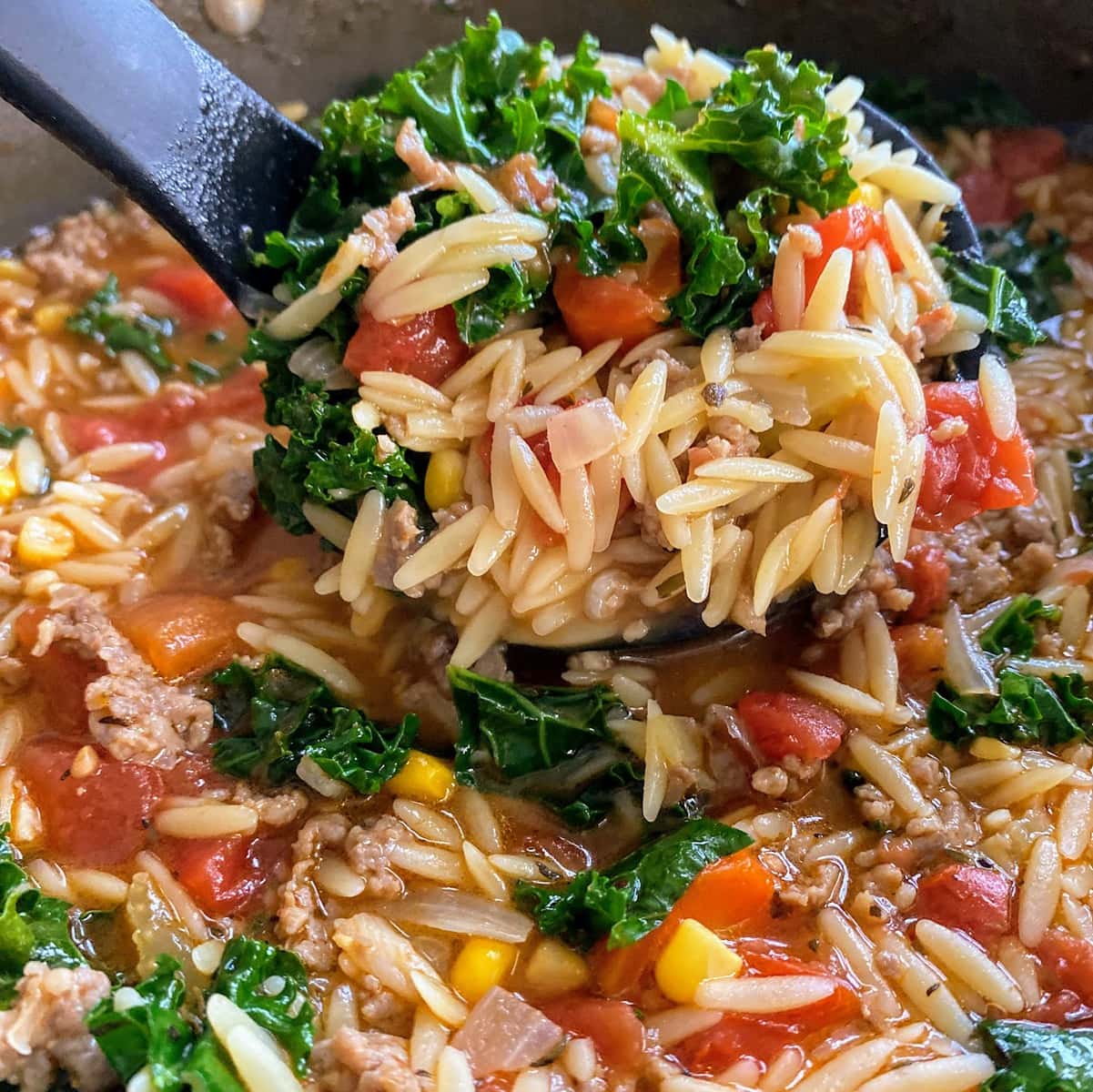 ---
Customize your Sausage Orzo Soup
Make it dairy-free: Just don't sprinkle any cheese on top of the soup! And find garlic bread that doesn't have cheese atop.
Make it gluten-free: (1) Simply replace the orzo with rice. However, rice may take a bit longer to cook, so check the rice package's instructions first. (2) Make sure the broth you're using doesn't contain traces of gluten. (3) And instead of garlic bread, serve a salad on the side. That's healthier anyway 🙂
---
Tips for Picky Eaters
Swap the veggies. Try exchanging some veggies in the soup for ones your kids prefer. Or increase/decrease veggies in the recipe. Marcie's family loves corn, so she added 1/2 cup more.
Pick another pasta. Swap the orzo for your kids' favorite noodles, i.e. rotini or penne. If that gets them more pumped to eat dinner, it's totally worth it.
Ditch the kale. I literally had to fish the "yucky green stuff" (aka kale) out of my daughter's soup bowl because it freaked her out. Consider omitting the kale completely. Or, scoop the soup into your kids' bowls before you add the kale to the pot.
Add some carbs! You can have some bread, toast, or crackers with the soup. Marcie's kids liked to add goldfish crackers to their soup and dip toast into the broth.
---
FAQ
What side goes best with sausage orzo soup?
We served the soup with garlic bread on the side, and feel it was the perfect addition. I just bought a locally made loaf that only required 10 minutes of baking. But I'm also a huge fan of the good ol' frozen Pepperidge Farm Garlic Bread Loaf. Omg, I could eat the whole loaf myself. Buy two of those if you're gonna do it! The garlic bread was totally my 2-year old's idea, by the way. I mean, give credit where credit's due.
What type of sausage is best for sausage orzo soup?
We use ground pork mild Italian sausage. For a spicier flavor, consider medium or hot Italian sausage.
What is the best pasta for this soup?
While we love the small rice-like size of orzo pasta, other pastas work too. My next choices would be small shells, farfalle (bowties), macaroni or ditalini. But it all comes down to personal preference!
Can I add spinach instead of kale to my soup?
Yes, spinach and chard are great options for this soup. If you use chard, de-stem and chop it before cooking. Just remember to add your leafy green as the final step.
How can I store my sausage orzo soup leftovers?
Store leftover soup in an airtight container in the refrigerator. Keep in mind that if you cook your pasta in the soup's broth, the pasta may soak up all the broth. To avoid this, either cook and store your pasta separately from the soup or be prepared to add more broth to your leftovers. 
---
Other Soups We Love
---
Craft for this Recipe
Our Orzo Shakers musical craft is easy on the ears and simple for even the littlest ones. Use what you have around the house to make music!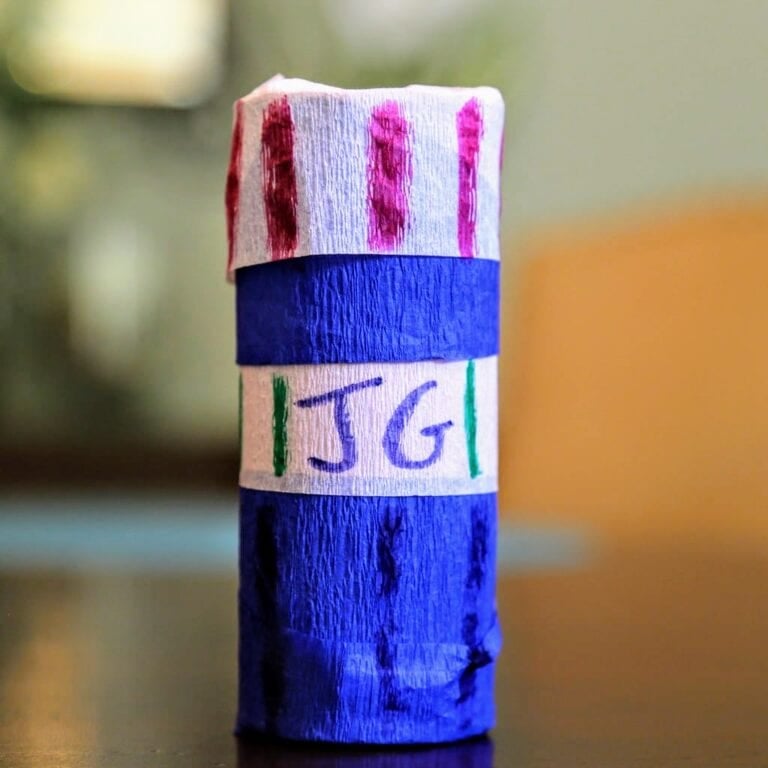 ---
Sausage Orzo Soup with Kale
Warm up on a chilly day with our super flavorful Sausage Orzo Soup! Healthy, hearty and fast. Bonus: this recipe makes killer leftovers!
Ingredients
48

oz

chicken broth/stock

2

medium carrots, chopped

1

cup

whole kernel, yellow corn

(frozen or canned/drained)

28

oz

diced tomatoes

1/2

T

dried thyme

1/2

T

dried oregano

2

t

cumin

1 - 2

T

cooking oil

1/2

large onion, chopped

2

stalks

celery, chopped

1

clove

minced garlic

(or 1 tsp)

1

lb

mild Italian pork sausage, ground

1 1/2

cups

orzo pasta, uncooked

2

cups

kale, stalks removed & chopped

shredded parmesan cheese for garnish

(optional)

1

loaf

garlic bread

(optional)
Instructions
Pour chicken stock into a 5 qt pot (my fave pot!). Add chopped carrots, corn, diced tomatoes, thyme, oregano, and cumin. Bring the soup mixture to a boil, stirring occasionally.


While the soup is cooking, heat oil in medium-large pan (my absolute fave!) at medium heat. Add

onion and celery to pan and cook for two minutes.




Stir in garlic, and then add sausage. Cook the sausage until it's no longer pink, breaking it up into smaller chunks as it cooks.

Add the pan contents to the boiling soup mixture. Add orzo and cook for 15 minutes, stirring occasionally.

Five minutes before you're ready to serve soup, add kale to pot & stir. Sprinkle with parmesan and serve.
Notes
Recommended sides: garlic bread or small salad.
Chop veggies on the smaller side so they will cook faster.
Use a Potato Masher to break up sausage as it cooks.
Buy extra broth for your leftovers, as the orzo will soak up all the broth overnight.
Nutrition
Serving:
1
bowl
Calories:
499
kcal
(25%)
Carbohydrates:
46
g
(15%)
Protein:
21
g
(42%)
Fat:
27
g
(42%)
Saturated Fat:
8
g
(50%)
Polyunsaturated Fat:
4
g
Monounsaturated Fat:
13
g
Cholesterol:
54
mg
(18%)
Sodium:
1362
mg
(59%)
Potassium:
1002
mg
(29%)
Fiber:
4
g
(17%)
Sugar:
7
g
(8%)
Vitamin A:
6000
IU
(120%)
Vitamin C:
60
mg
(73%)
Calcium:
138
mg
(14%)
Iron:
5
mg
(28%)
*Percent Daily Values are based on a 2000 calorie diet. While we are not certified nutritionists, we work with a WordPress-integrated nutrition API to calculate our recipes' ingredient values.