Are you craving some bite-sized frittatas packed with flavor? Try these adorable mini egg bites with ham and cheese! These mini egg bites are great for breakfast on-the-go, "finger food" dinners, or lunchbox meals for kids.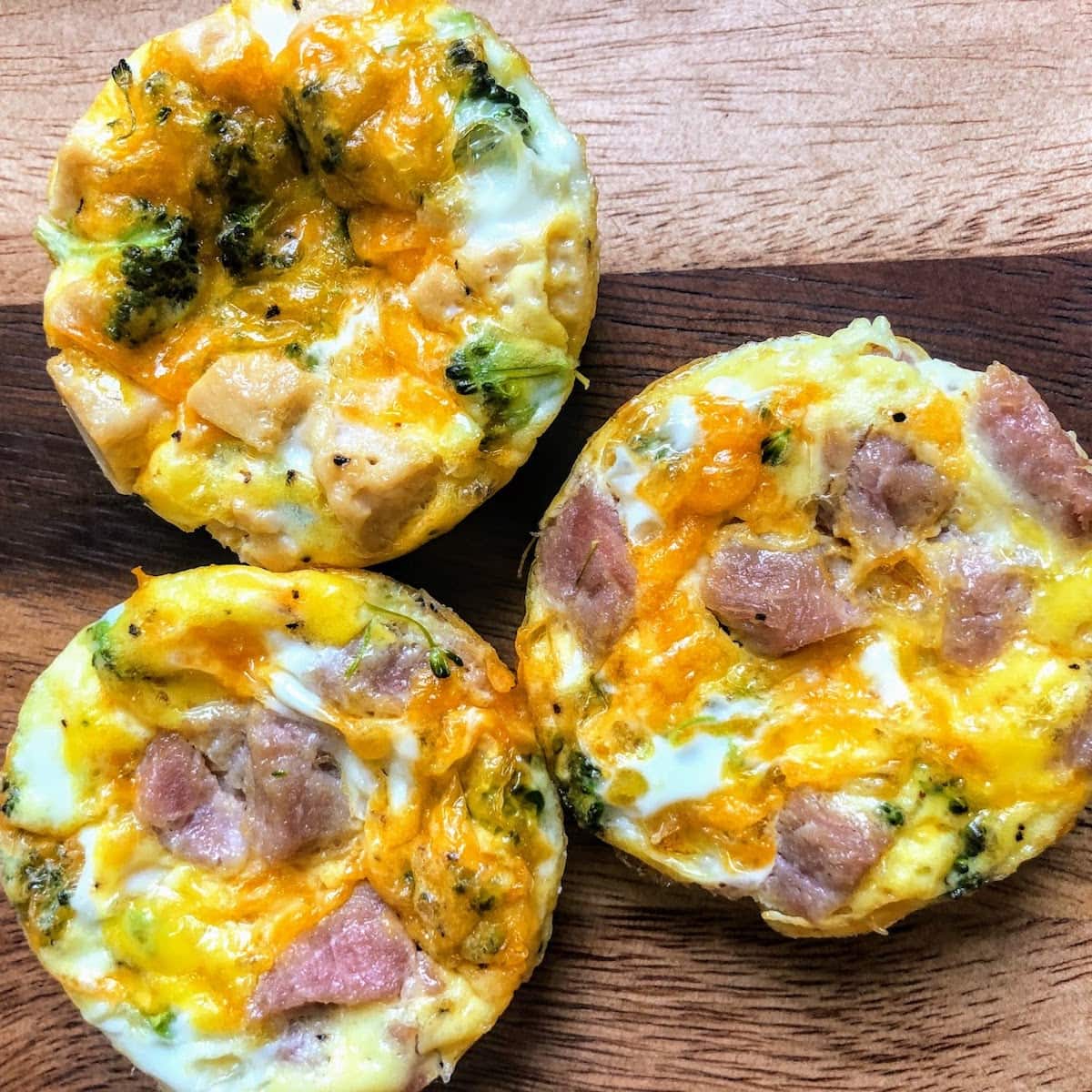 Jump to:
And if you love egg dishes, be sure to check out our amazing Eggs Benedict with Bacon and Asparagus and the Easiest Sausage Frittata. We love breakfast food any time of the day!
🤔 What are Mini Egg Bites?
Mini egg bites are like miniature frittatas that are baked in muffin or cupcake tins. The two main ingredients in egg bites are eggs and milk, and people can add whatever veggie or protein mix-ins they would like.
👍 Why do we Love them?
You can eat egg bites any time of day! Make this egg bites recipe for breakfast on-the-go, in packed lunches, picnics, or as breakfast-for-dinner.
Highly customizable. You can keep the base the same (eggs, milk, salt & pepper) and then experiment with any combo of veggies/meat/whatever to add. And if you happen to have an over-abundance of eggs after some kind of holiday (ahem, Easter), this is a great way to use up your surplus.
Great for leftovers! Finally, feel free to experiment with this egg bites recipe by adding leftovers or extra ingredients you have i the fridge. Have some leftover meat from a previous meal that you don't want to waste? Throw it in. Have a couple mushrooms but not really enough to cook with? Throw them in. You get the picture.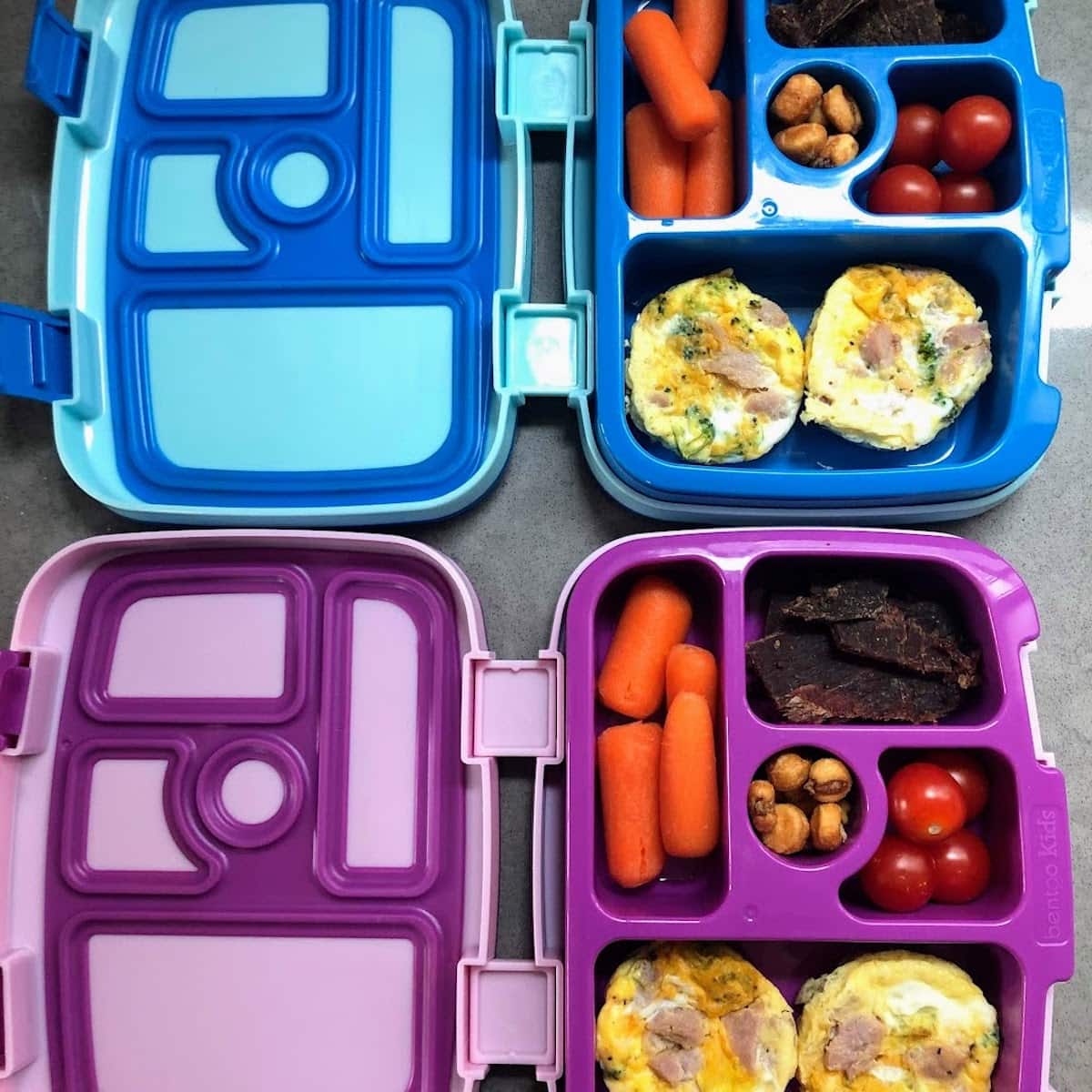 (These fit perfectly in our lunch boxes. By the way, I really love these Bentgo lunch boxes cause they take into account how much food kids can actually eat. So, your portions make sense).
🛒 Ingredients
Notes on Ingredients:
Broccoli florets- Cut as small as possible to cook faster.
Cheese- We prefer cheddar, but any shredded cheese you like will work!
Ham- Finely chopped.
Eggs- You'll need six large eggs for this recipe.
Milk- We used two percent milk, but heavy cream for half and half would also work and give your egg bites an even creamier taste.
Seasoning- Salt, pepper and onion powder gives the egg bites a nice flavor!
🧂Variations
Add spice- To enhance the flavor, you can add a generous pinch of chili flakes or red pepper flakes to your egg bites recipe.
Mix-in veggies- Other veggies can be incorporated into this egg bites recipe, like freshly chopped spinach, mushrooms or bell peppers.
Swap the protein- Instead of ham, crumbled bacon or browned breakfast sausage are also great options!
Make it dairy-free- Simply omit the cheese and use a dairy-free alternative to cow's milk.
👩‍🍳 How to Make Mini Egg Bites
Step 1: Divide broccoli, cheese, and ham evenly in a greased, 12-muffin tin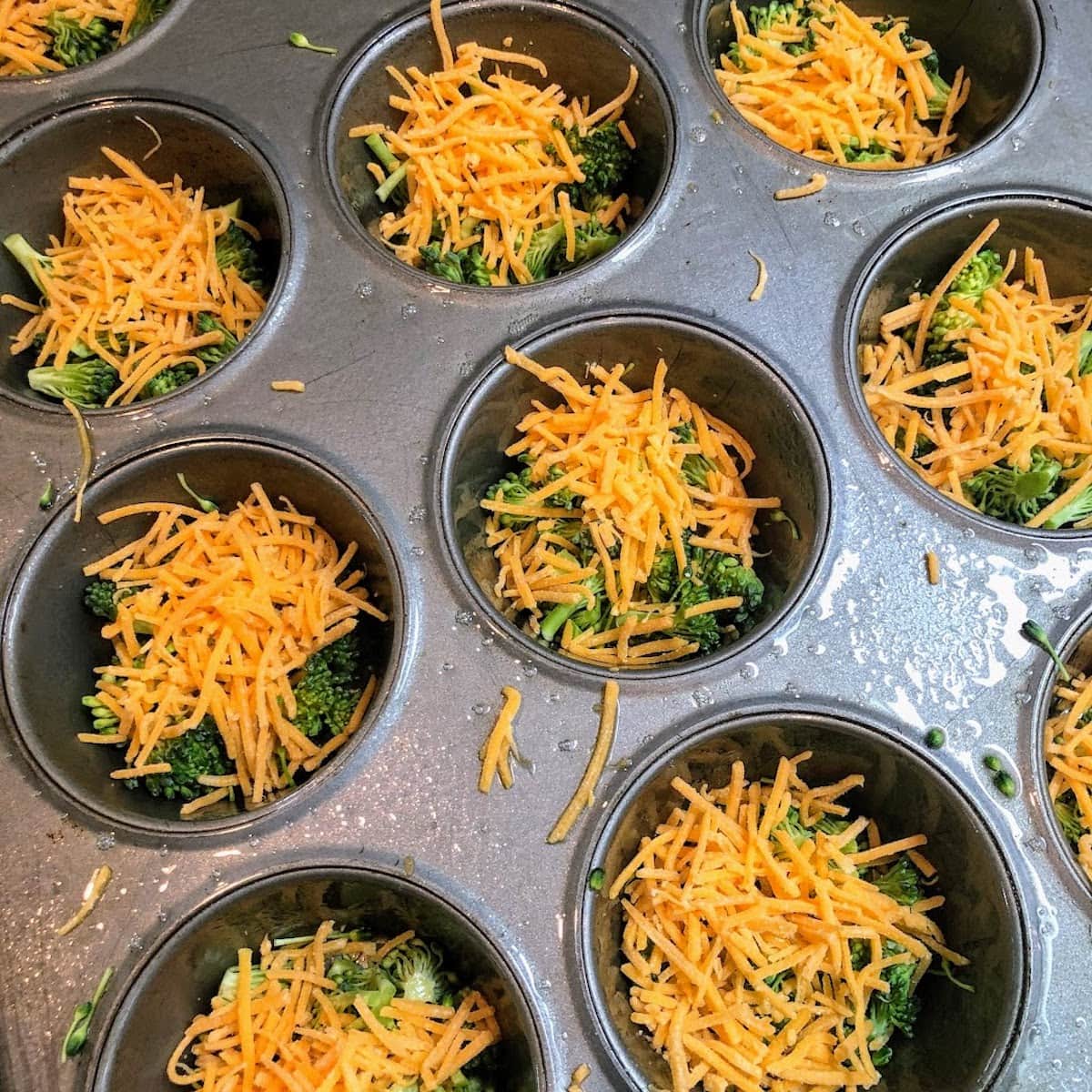 🥄 Kids Steps: First, kids can chop the ham into small pieces, using a kids knife these Curious Chef kid-safe knives. Then, the kids can sprinkle the ingredients into muffin tin. Show your kids how to evenly divide the ham, broccoli & cheese into 12.
Step 2: Whisk together eggs and seasonings, and distribute in the tin
🥄 Kids Step: Crack and whisk together eggs! Kids - make sure you crack your eggs on the counter (hard surface), and then pour into a bowl. You can use a large egg shell piece to help grab any little shells that broke off into the egg bowl. It's cool how the shells pieces will stick together.
Step 3: Bake and enjoy!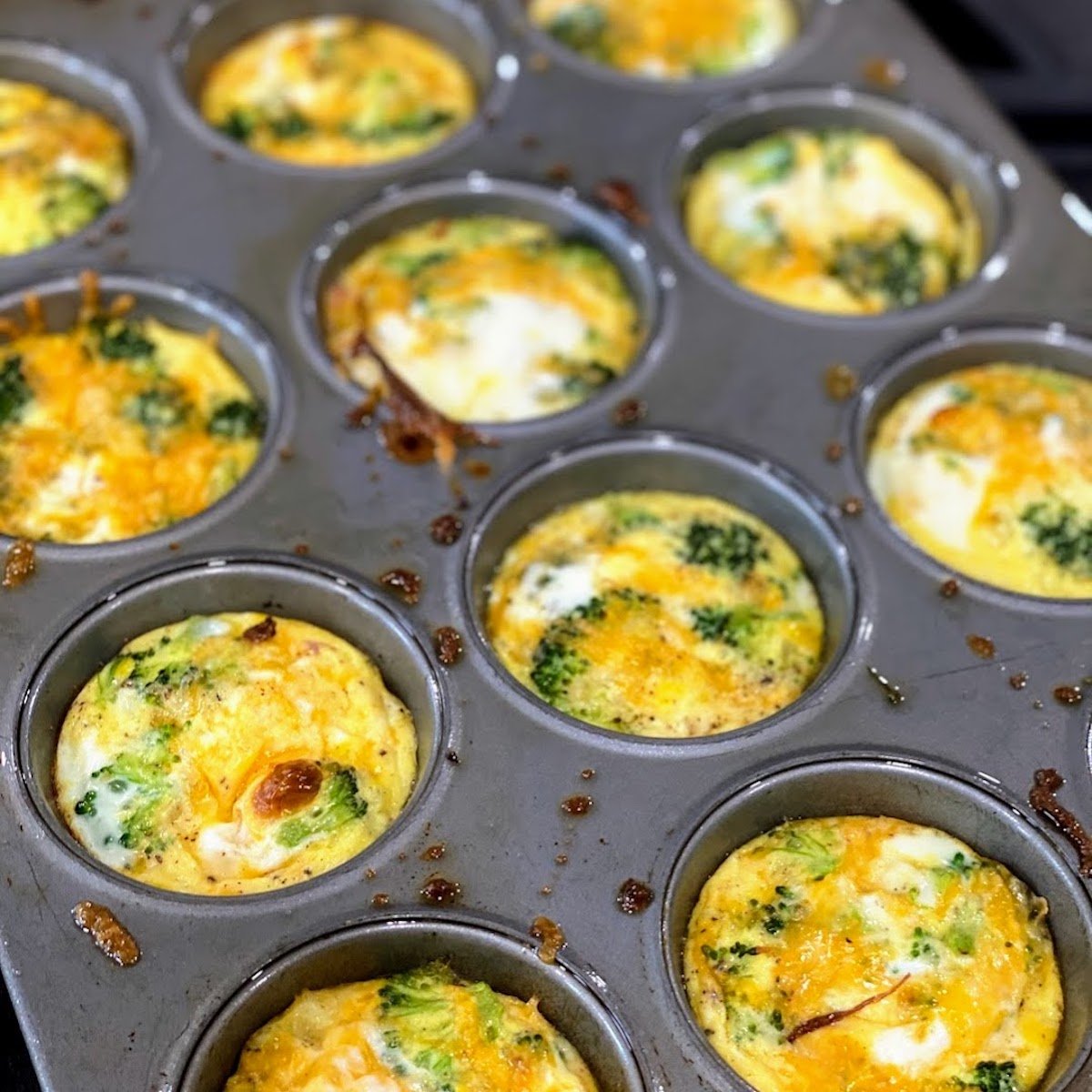 🥄 Kids Step: After the egg bites have cooled a bit, help your adult by loosening the egg bites from the tin. Run a spatula around the inside edges, around the egg bites. Just make sure everyone washes their hands after handling the shells.
❓Egg Bites FAQ
How do you store Mini Egg Bites?
Our egg bites can be stored in the fridge in an air tight container for 3-4 days, or in the freezer up to 2 months. From the fridge, the mini egg bites can be reheated quickly for 15-20 seconds in the microwave.
How do you keep egg bites from sticking to the pan?
Use a non-stick muffin or cupcake tin and grease it with a cooking oil spray. After your cooked egg bites have cooled down, run a spatula around the inside edges to loosen them from the tin.
What sides go with mini egg bites?
We paired our mini egg bites recipe with a yogurt sundae (with fruit and drizzled honey), but you may also consider:
-A fried, roasted or steamed potato side dish
-Salad, like this Grapefruit, Avocado and Arugula salad
-Veggies, liked sautéed spinach, steamed asparagus, roasted tomatoes, or peas
👧🏽Tips for Picky Eaters
🍅Kids design their egg bites. If your kids don't like ham and/or broccoli, just swap them out for something your kids are more guaranteed to eat. So, let your kids pick out which veggies, meats, and/or type of cheese to use for this egg bites recipe. Our kids loved making decisions about this egg bites recipe. My kids requested bacon and mushrooms for the next time.
🍅 Kids choose the side. If your kids want a yogurt side, let them pick out the fruit. Berries are easiest. You could even go crazy and sprinkle some almond slivers, pumpkin seeds or pistachios in there too! Just don't leave the kids unattended with the honey bottle for too long. We speak from experience here...seriously!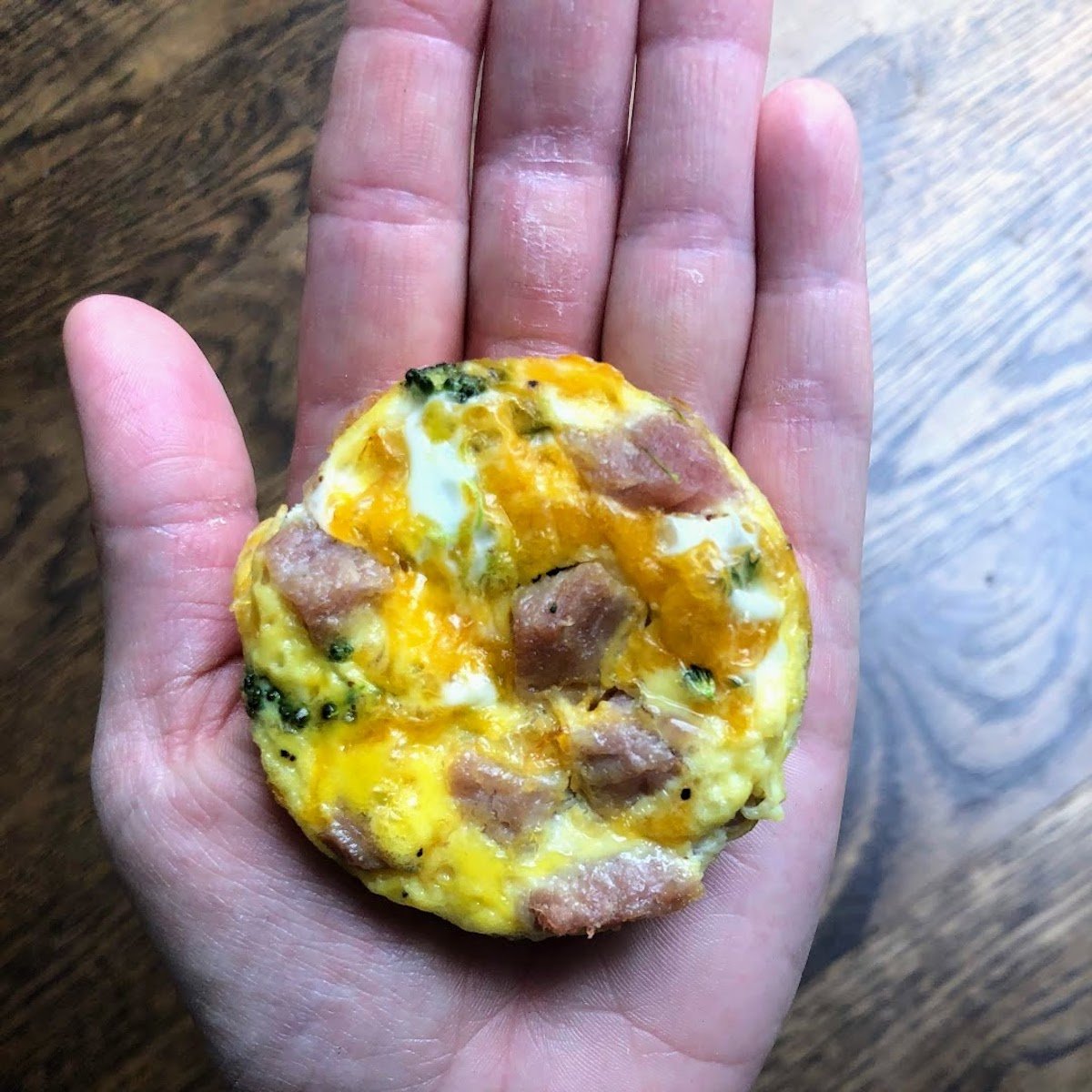 🧶 Craft for this Recipe
What to do with empty egg cartons? Your kids can create an adorable Egg Carton Treasure Chest for all their special belongings!
More Egg Dishes
Follow Platein28 on Pinterest, Instagram and Facebook and Sign up for our newsletter for all the latest recipes and crafts!
🥚The Best Mini Egg Bites
Not to brag, but our mini egg bites have the most fabulous identity crisis. So versatile they can be a to-go snack breakfast-for-dinner OR lunchbox item OR part of a breakfast-for-dinner. You decide how to eat them!
Ingredients
EGG BITES
1 ¼

cup

broccoli florets

¾

cup

cheddar cheese, shredded

½

cup

pre-cooked ham, finely chopped

6

eggs

¾

cup

milk

¼

teaspoon

salt

⅛

teaspoon

black pepper

⅛

teaspoon

onion powder
Instructions
Preheat oven to 375 and spray muffin tin with cooking spray.

Divide broccoli, cheese, and ham evenly among the 12 muffin cavities.

Crack eggs into large bowl. Whisk eggs together with milk and seasonings. Pour egg mixture into muffin cavities until each is ⅔ full. Bake 15 mins or until cooked through.
Notes
🥚 To plate...serve these egg bites any way you want. With yogurt, in the car as a snack, paired with a potato side, on a picnic. Your call! 🙂
🥚 This is a great opportunity to clear the fridge of some foods that are on their way out. Not every egg bite has to be the same. Let this egg bites recipe be useful to you!
🥚 And don't be shy about mixing random things together. Think about how almost anything works in an omelette. Same thing here.
🥚 Once the egg bites are out of the oven and a little cooled, run a spatula along the outside of the egg bites to help loosen them from the tin.
🥚 Optional: serve yogurt on the side. In small bowls, put a couple dollops of yogurt, a handful of mixed fruit, and a hefty drizzle of honey.
Nutrition
Serving:
1
egg bite
Calories:
61.42
kcal
(3%)
Carbohydrates:
1.77
g
(1%)
Protein:
6.08
g
(12%)
Fat:
3.29
g
(5%)
Saturated Fat:
1.28
g
(8%)
Polyunsaturated Fat:
0.47
g
Monounsaturated Fat:
1.08
g
Trans Fat:
0.01
g
Cholesterol:
87.39
mg
(29%)
Sodium:
194.53
mg
(8%)
Potassium:
85.6
mg
(2%)
Fiber:
0.26
g
(1%)
Sugar:
1.14
g
(1%)
Vitamin A:
217.29
IU
(4%)
Vitamin C:
8.46
mg
(10%)
Calcium:
63.52
mg
(6%)
Iron:
0.52
mg
(3%)
*Percent Daily Values are based on a 2000 calorie diet. While we are not certified nutritionists, we work with a WordPress-integrated nutrition API to calculate our recipes' ingredient values.
Want more 28-minute recipes? Sign up and get recipes straight to your inbox!