This Sausage Frittata Recipe is perfect for busy nights when you need to get a delicious meal on the table FAST! It's also super customizable, so you can be creative with the ingredients you have in your fridge or pantry.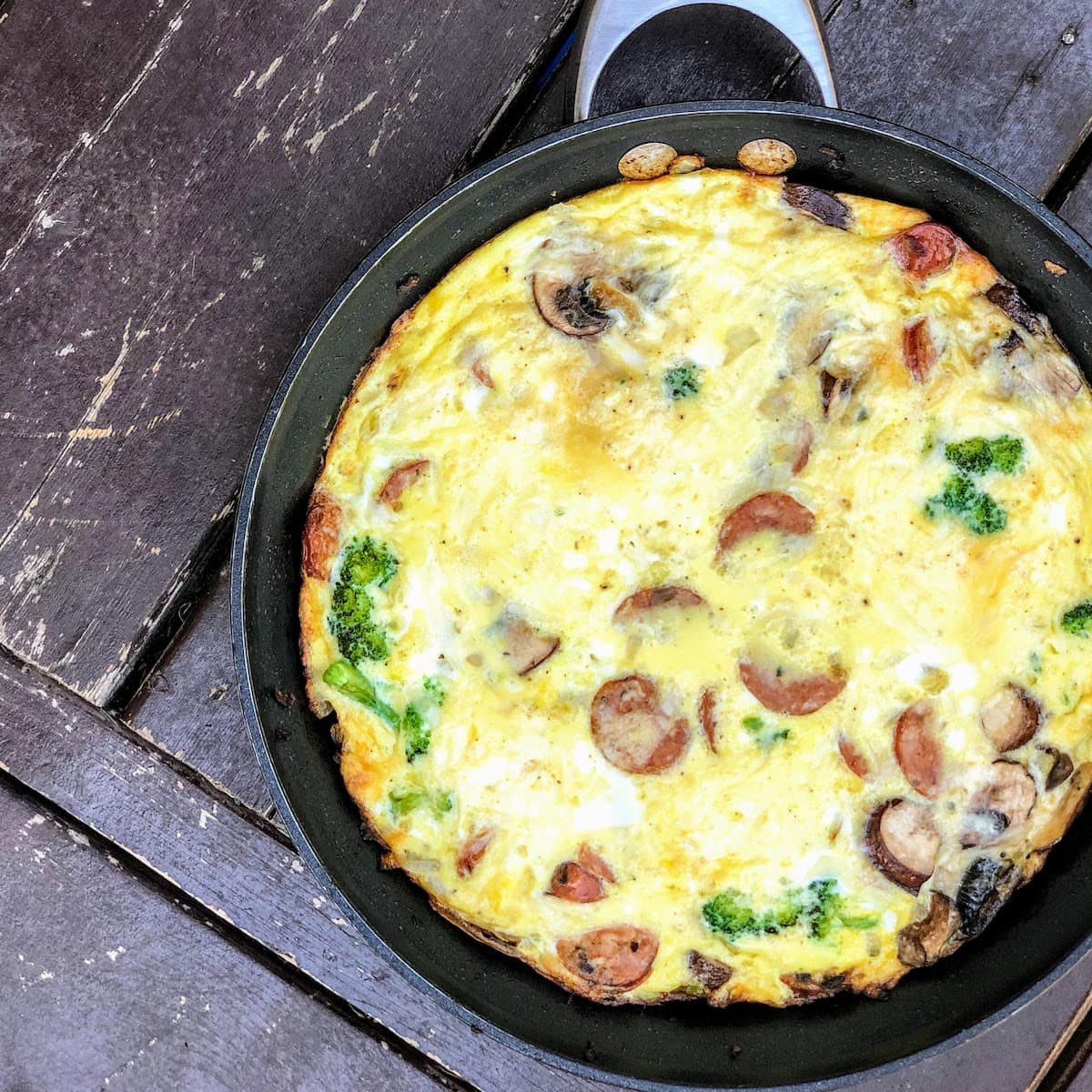 Note: Some of the links in this post are Amazon affiliate links. This means that if you click on an affiliate link and purchase an item, we will receive a commission. However, we genuinely recommend all the products we link.
---
What are Frittatas and Why do we love them?
In short, a frittata is a crustless, egg dish that contains meat and/or veggies. Some people refer to frittatas as an unfolded omelette. To me, a frittata is the easiest, most helpful dish you could ever imagine! And here's why:
Good for any time of day! Pair it with fruit and bacon for breakfast, a salad for lunch, or mac & cheese and steamed veggies for dinner.
Helps clean out your fridge! You can use up all kinds of weird/random things in your fridge and most of the time, the frittata will be delicious. If you have some veggies that about to turn, throw them in. Less waste!
Super fast!

This frittata takes less than 28 minutes to make. And a frittata with ingredients that cook more quickly (i.e. mushrooms, spinach and cheese) would take even less time.
More Egg and 'Breakfast' Dishes:
Ingredients
Here's what you'll need to make our Sausage Frittata Recipe:
How to Make our Sausage Frittata Recipe
It takes less than 30 minutes to make our frittata and you only need ONE pan. There is minimal prep work for this recipe.
Step 1: Cook your Mix-ins
Cook your veggies & sausage with butter in an oven-safe pan.
🥄 Kids Step: With a little adult oversight, kids can easily add all these ingredients to the pan and stir. This is a fun and simple task for toddlers.
Step 2: Add Egg Mixture
Add the remaining ingredients. Cook briefly on stovetop until the edges start to set.
🥄 Kids Step: Kids - crack your eggs on the counter (hard surface), and then into a bowl. If any pieces of the shell break off into the bowl, either dip your fingers into water and then fish out the shells, or use a large piece of the egg shell to pull them out. It's cool how the shells pieces will stick together.
Step 3: Cook Frittata in the Oven
Put pan in oven. Remove once eggs appear set and frittata separates a bit from the pan.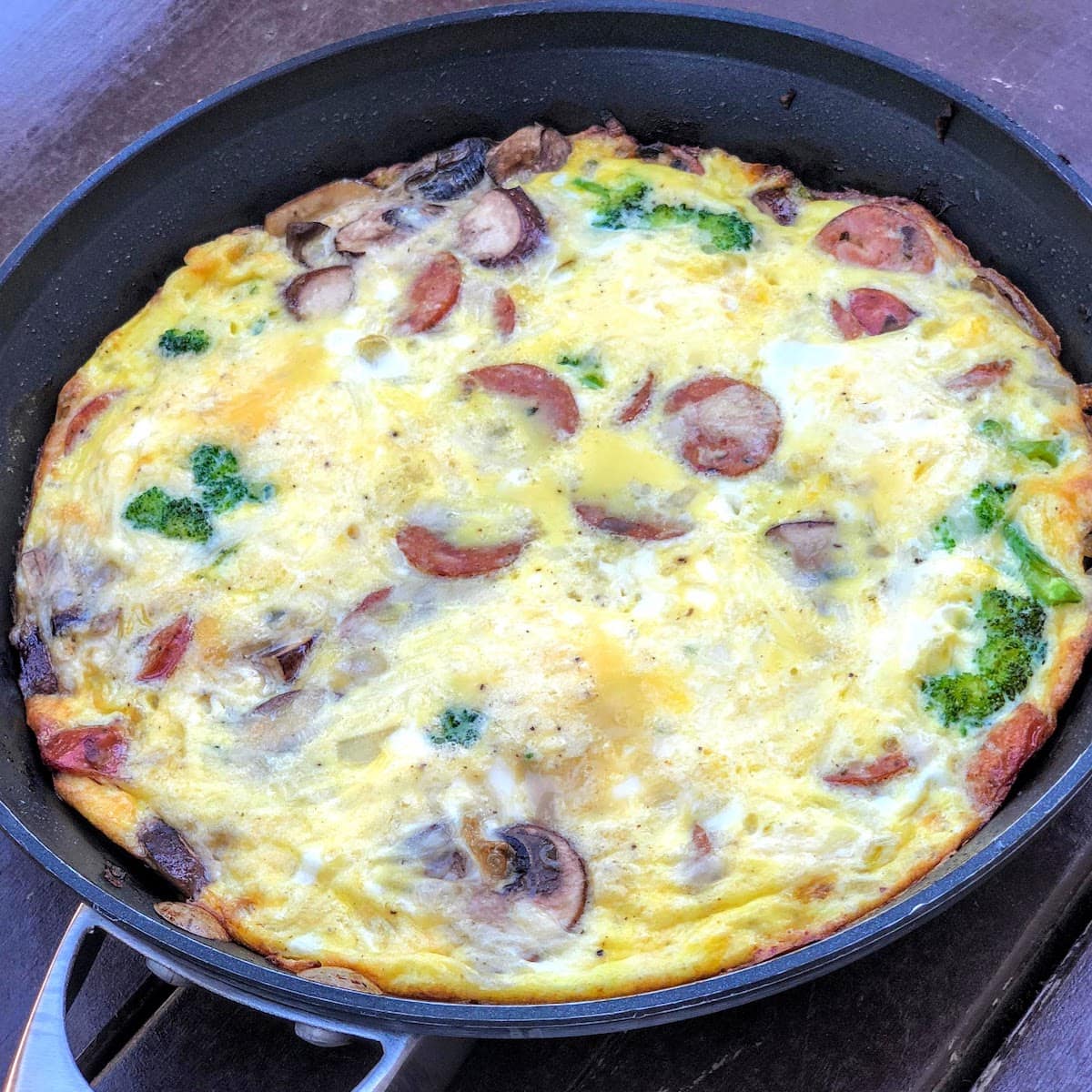 🥄 Kids Step: Set timer for frittata. This is a good chance for kids to learn about cooking times. Let them flip the oven light on to watch the cooking process too.
Step 4: Eat!
Recipe Tips for Picky Eaters
🍅Pair your Frittata with a Yogurt Sundae. Our kids loved making yogurt sundaes with their choice of fruit and drizzled honey on top!
🍅Kids design the frittata. You can throw almost anything in a frittata. So, let your kids pick out which veggies, meats, or type of cheese to use. Our kids loved making decisions about this meal.
Note: This post contains affiliate links.
Frittata FAQ
Can you use milk instead of cream in a frittata?
Yes, milk can be used in your frittata in place of cream. Keep in mind that the fattier the dairy, the creamier and/or fluffier your frittata's texture will be. Without dairy, a frittata would turn out flatter, like an omelette.
What is the best pan for a frittata?
You will definitely need an oven-safe, non-stick to make your frittata. We love our Calphalon pans!
What's the difference between a frittata and a quiche?
A quiche is baked slowly in a pie crust, while a frittata is cooked quickly without a crust. Some people describe frittatas as unfolded omelettes.
What is the difference between a frittata and a Spanish Tortilla (a.k.a. Tortilla Espanola)?
Both dishes are egg-based, but Spanish Tortillas are cooked exclusively on the stove, while frittatas finish cooking in the oven. Spanish Tortillas are also known for being an egg and potato dish, whereas frittatas may or may not include potatoes.
Craft for Sausage Frittata Recipe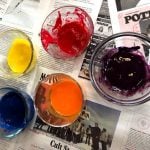 Egg Yolk Paint: In the mood for some messy fun? Your kids can get creative with our Egg Yolk Paint craft! It's cool to see how the egg yolk makes the paint shimmer.
The Easiest Sausage Frittata Recipe
Breakfast for dinner? Expect the unexpected with our Sausage Frittata recipe! There are endless ways you can make this fritatta, and they're all delicious!
Ingredients
3

Tablespoon (+ extra)

butter

(divided)

½

small onion, chopped

handful

broccoli florets

4

mushrooms, sliced or chopped

6

eggs

¼

cup

milk or cream

½

cup

shredded cheese

(your choice)

salt & pepper

(to taste)
Instructions
Preheat oven to 400 degrees. Heat your pan (my absolute fave!) on medium heat on stovetop. Add 2 T of the butter to the pan. After butter melts, add onion, sausage and broccoli, and cook for 5-7 minutes. Then add 1 T more of butter and mushrooms to pan. Cook mushrooms for ~ 3 mins.

While pan ingredients are cooking, whisk together eggs, milk, cheese, and salt/pepper in a bowl. Pour egg mixture into pan and spread evenly over the ingredients. Cook on stovetop for 3 minutes (no stirring!) until edges start to set.

Carefully place pan in oven and cook for 10 minutes. The frittata is done when eggs appear set and frittata is separating a bit from the edges of the pan. Let cool a bit, slice, and serve!
Notes
🥚 To plate...cut frittata into 6 pie-like slices. You can have your frittata with some toast and/or a yogurt sundae (yogurt, mixed fruit, and drizzle of honey) on the side. 🥚 If you don't have some of these ingredients, use what you got. Within reason, you can put almost anything in a frittata. Just note that denser ingredients require a bit more cook time. 🥚 Cook the egg mixture on low to medium heat to prevent eggs from browning. 🥚 Make sure your skillet is oven-safe before placing your frittata in the oven.
Nutrition
Serving:
1
slice
Calories:
215
kcal
(11%)
Carbohydrates:
5
g
(2%)
Protein:
13
g
(26%)
Fat:
16
g
(25%)
Saturated Fat:
7
g
(44%)
Polyunsaturated Fat:
1
g
Monounsaturated Fat:
4
g
Cholesterol:
207
mg
(69%)
Sodium:
479
mg
(21%)
Potassium:
187
mg
(5%)
Fiber:
1
g
(4%)
Sugar:
2
g
(2%)
Vitamin A:
683
IU
(14%)
Vitamin C:
15
mg
(18%)
Calcium:
95
mg
(10%)
Iron:
1
mg
(6%)
*Percent Daily Values are based on a 2000 calorie diet. While we are not certified nutritionists, we work with a WordPress-integrated nutrition API to calculate our recipes' ingredient values.