In the mood for eggs and bacon? Make this simple Bacon Eggs Benedict with asparagus in under 30 minutes! Bonus: We have a super simple Hollandaise sauce that you will LOVE.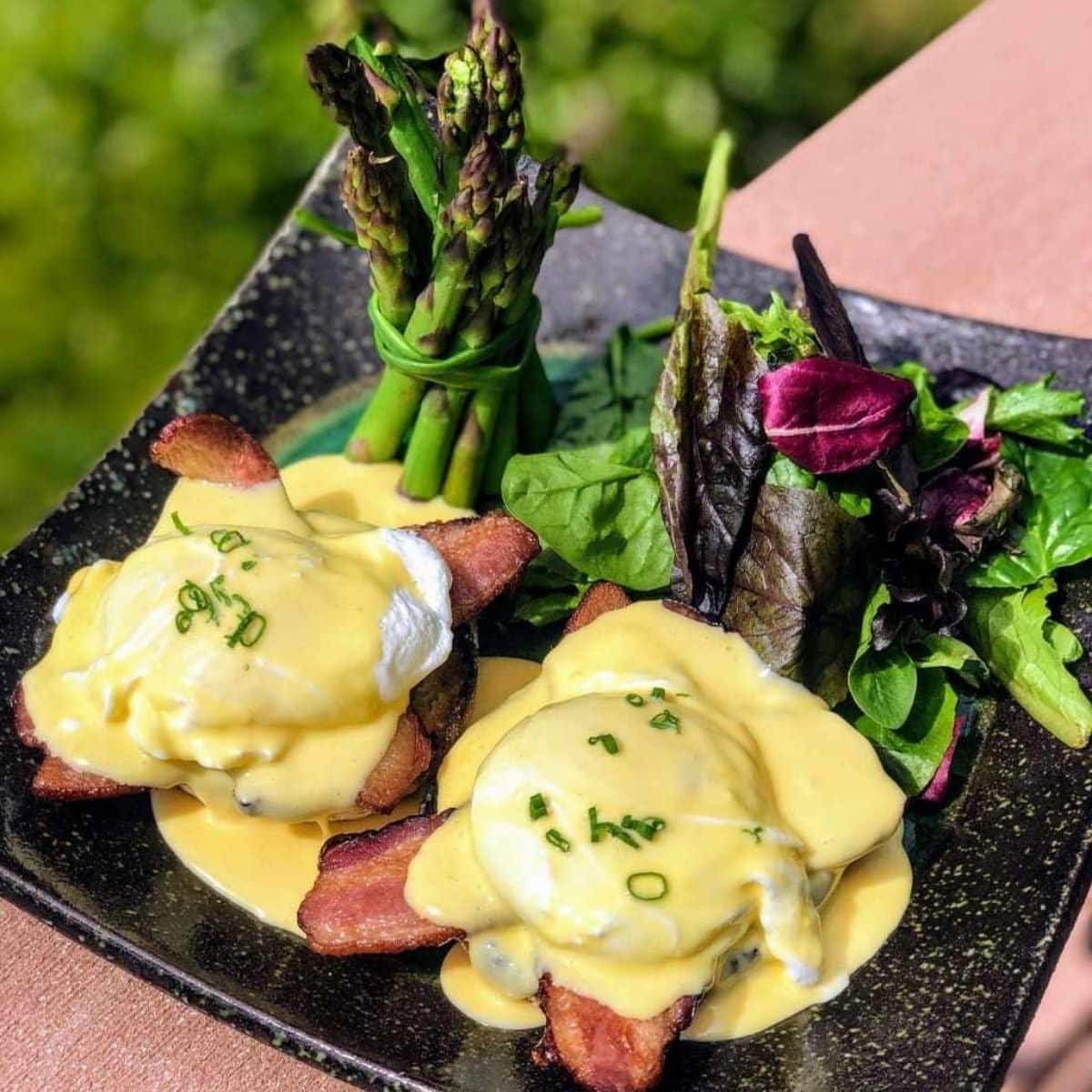 Jump to:
If you love eggs or breakfast dishes, be sure to also check our our tasty Mini Eggs Bites, Sausage Frittata and zesty Sausage Potato Skillet.
🤔 What is Eggs Benedict, Anyway?
Eggs Benedict is a popular American dish that typically consists of two halves of an English muffin topped with Canadian bacon, a poached egg and Hollandaise sauce. While typically served for breakfast, we actually like to make Eggs Benedict for dinner! Our Bacon Eggs Benedict dish is surprisingly quick and simple to make, so it's a great weeknight meal. And of course, my kids are delighted to have bacon at dinnertime.
👍 Why We Love this Dish
Restuarant-quality. Delicious crispy bacon with perfect poached eggs and a crispy English muffin make this dish restaurant worthy! Topped with creamy and zest Hollandaise gives this dish the perfect touch.
Quick! Like all our dishes this bacon Eggs Benedict can be made in 28 minutes or less.
Good anytime of day. Our Eggs Benedict with bacon and asparagus can be eaten for breakfast, brunch, lunch or dinner!
Customizable. Bacon not your favorite protein? Swap for ham, smoked salmon or even crab cakes! Also, instead of hollandaise sauce, consider Bearnaise, avocado our even a yogurt-based sauce. The options are endless!
🛒 Ingredients
Notes on ingredients:
Best to use pasteurized eggs (if you have the option) for the hollandaise sauce so as to avoid the risks that come with consuming raw eggs. You'll need a dozen eggs in total: 8 to poach, and 4 yolks for the sauce. Maybe get a few extra in case you break some yolks.
Time saving tips - use dried chives instead of fresh, and bottled lemon juice instead of having to squeeze fresh lemons
👩‍🍳 How to Make Bacon Eggs Benedict
This may seem complicated, but it's really not. For me the hardest part is poaching the eggs, but we have helpful tips on that below!
Step 1: Bake that Bacon
Oven-bacon is way less messy than pan-fried-bacon. Lay your bacon on wire baking rack (if you have one) that sits on top of a rimmed baking sheet. That way, all the grease falls under the bacon and you can more easily dispose of it (or save it) when you're done. Plus, the bacon will cook more easily and you don't have to flip in halfway. Checkered Chef's baking sheet with oven-safe rack is the kind of thing I'm talking about.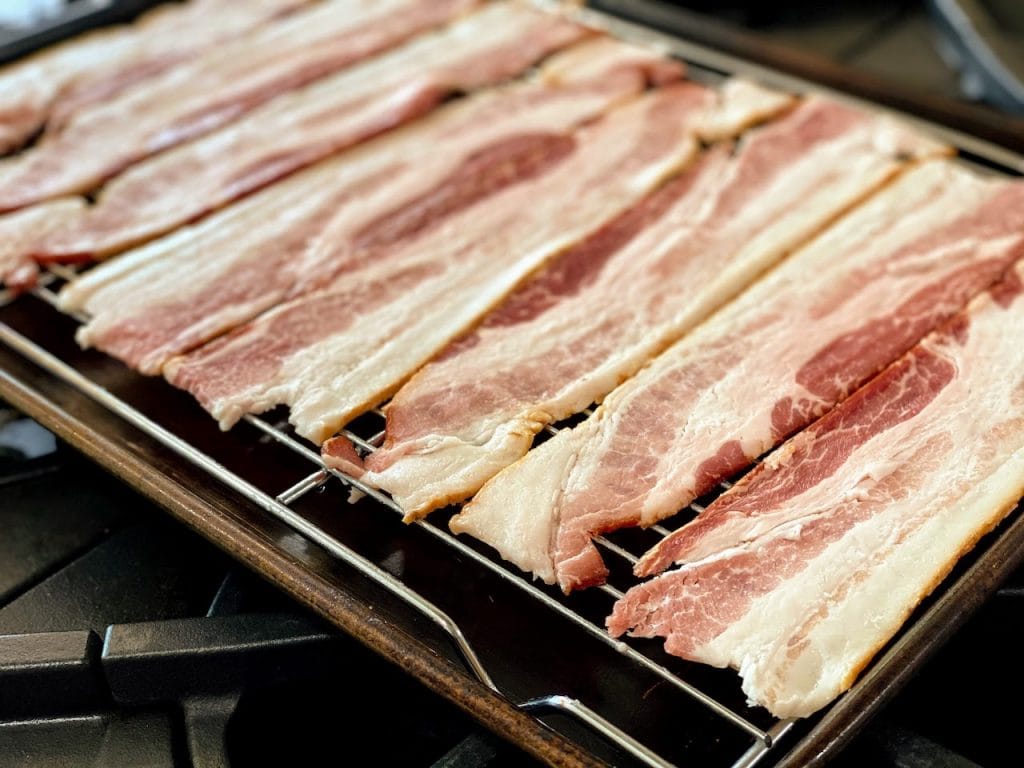 🥄 Kids Step: Set oven temperature. This is a great opportunity to talk to kids about what heat does to food at different temperatures.
Step 2: Poach the eggs
To poach your eggs, you will simply be cooking them slowly, outside of their shell, in very hot water (but not boiling!). When done, lay them on a plate wrapped tightly in plastic wrap (with holes poked through) so they can drain.
🥄 Kids Step: Crack eggs into bowl. Be careful not to puncture the yolk. Once added to the pot, kids will love seeing the egg whiten in the hot water.
Step 3: Prepare Hollandaise sauce
Simply combine sauce ingredients in your blender, and slowly add in your melted butter.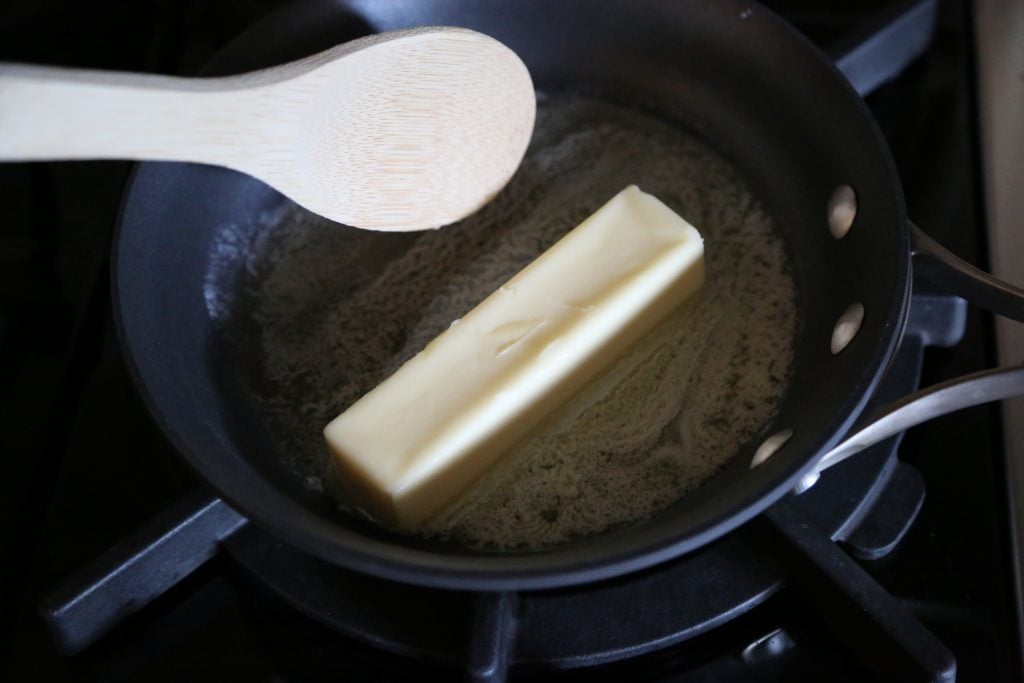 🥄 Kids Step: Measure and add sauce ingredients to blender. We used our glass Pyrex to pour melted butter into the sauce mixture, and we love our Vitamix for blending the sauce.
Step 4: Cook asparagus & toast english muffins
We opted to cook asparagus in water to make things a little healthier and crisper.
Slice English muffins in half, and toast and butter them.
🥄 Kids Step: Trim the asparagus in one of two ways. Kids can snap off the ends (there's sort of a point on each stalk where the fibrous bottom gives way to the more tender part). That's super fun, although the asparagus will be pretty uneven. OR line up your asparagus and cut off all the bottoms as once (where they start to discolor and get harder) using one of these kids knives that we always recommend: Curious Chef Knife Set or Opinel's Le Petite Chef Knife.
Step 5: Assemble Bacon Eggs Benedict
Layer each English muffin half with 2 pieces of bacon, poached egg, 2+ spoonfuls of hollandaise sauce and a pinch of chives. Serve asparagus on the side. Maybe add some fresh greens or fruit.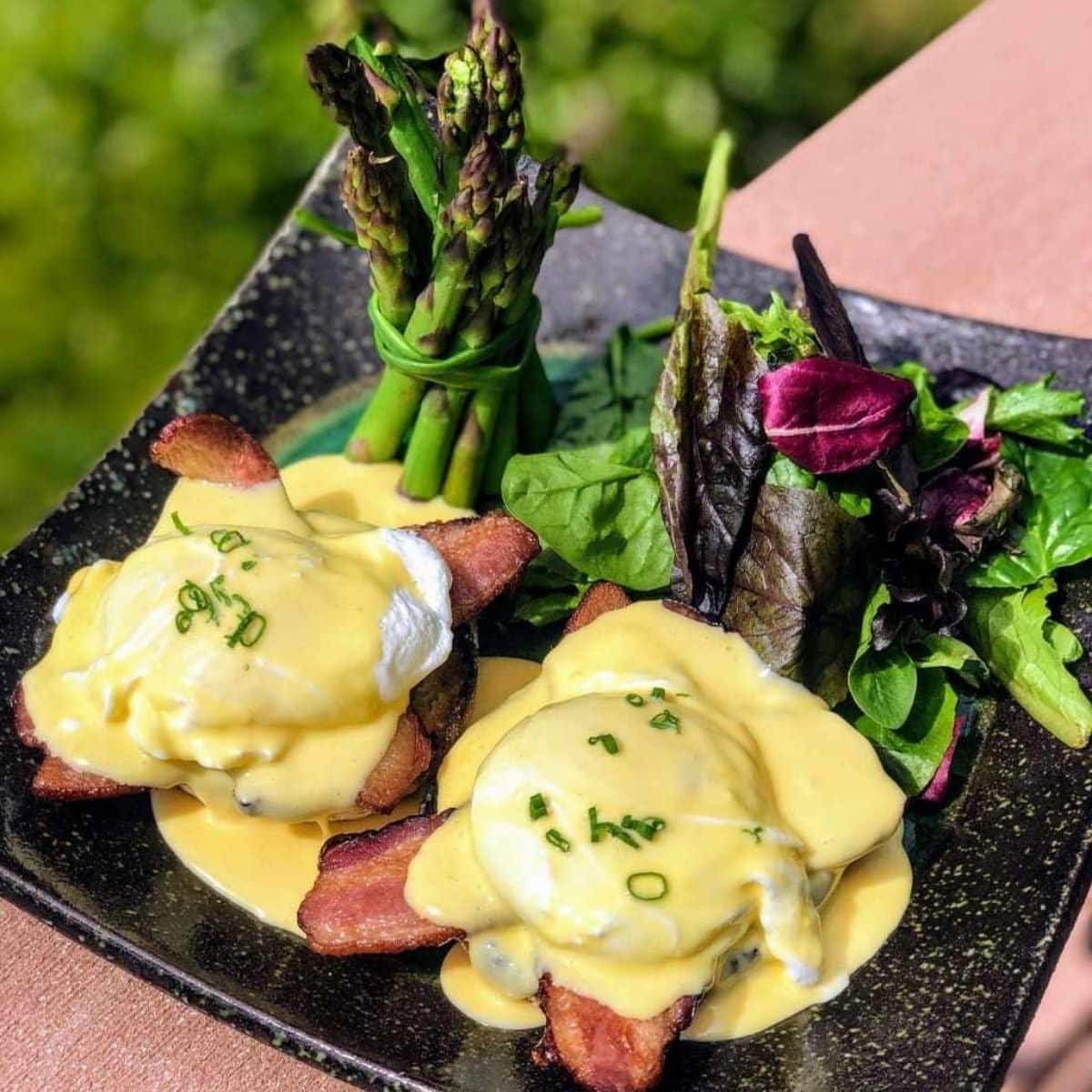 🥄 Kids Step: Assemble Bacon Eggs Benedict. Kids will love seeing this delicious meal come together, so let them take over this step!
✔️Tips & Tricks
Egg Safety
Buy pasteurized eggs. According to the United States Department of Agriculture, eggs are pasteurized by being heated quickly and kept at a minimum required temperature for a specified time. This process doesn't "cook" the eggs or change their form. It simply destroys any food-born illness or dangerous bacteria, like Salmonella, to make the raw eggs safe to consume.
"Pasteurize" the eggs at home. While it's always safer to buy pasteurized eggs from the store, there are some ways at home to bring the egg yolks' temperatures up to a safe level. We had great success using some tips from The Spruce Eats on How to Pasteurize Eggs in the Microwave. The Egg Safety Center also provides some great guidelines on the proper temperature to cook eggs. Slowly heating the egg yolks with their sauce ingredients over the stove is also a great way to bring up the sauce's temperature without causing the eggs to curdle.
Use a Vitamix or high-speed blender to heat egg yolks to proper temperature. The friction of the blender paired with hot steaming butter can raise the egg yolks' temperature to a safe level. And this is the strategy we used for our hollandaise sauce. Of course, it can be hard to know the exact temperature, so I still believe that using pre-pasteurized egg yolks is the safest bet.
Egg Poaching
Don't bring water to a full boil: The water should just be simmering slightly. Otherwise, the eggs will cook to a solid form very quickly.
Don't overcook the eggs: The Egg Safety Center recommends cooking the eggs until the whites are completely set and the yolks begin to thicken, but are not hard. This usually takes about 5 minutes.
Pro tip about draining poached eggs: Take a plate and wrap it tightly, several times over, with plastic wrap, so that it creates a tight seal. Then use a fork to punch a bunch of small holes through the top. Use a slotted spoon to transfer your poached eggs from the pot to the plate. The excess water on the egg will sink down under the plastic wrap through the holes, so that the egg will be less soggy when you're ready to serve it.
❓ Bacon Eggs Benedict FAQ
What meat is best for Eggs Benedict?
There are tons of variations out there, specifically when it comes to one's choice in protein. Some recipes include ham, while others call for crab cakes or salmon in their Eggs Benedict. Our recipes calls for bacon, which we think adds a nice crisp texture and pop of flavor to the dish.  
What's the difference between Eggs Benedict and Eggs Florentine?
The truth is that these dishes are extremely similar. The main difference is that Eggs Florentine includes spinach in place of Canadian bacon or ham. 
What's in hollandaise sauce?
Hollandaise sauce is a comprised of egg yolk, melted butter and lemon juice. It may also be seasoned with salt, pepper or other preferred seasonings. Pasteurized egg may be used to avoid the risks that come with consuming raw eggs.
👧🏽Tips for Picky Eaters
🍅Keep things separate! For your kids, you can plate this Benedict by separating out the poached egg, bacon and buttered english muffin. Sauce, of course, on the side 😂
🍅Cook eggs longer. While we did suggest poaching your eggs for 5 mins (or even less, depending on the heat of the water), you can certainly cook them longer. If your kids fear runny eggs or prefer their eggs hard boiled, leave the eggs in for a few mins longer and the yolks will harden more.
🍅Make a face! Make a face with the hollandaise sauce on your kid's plate. Make 2 dollops for eyes and use a knife to sculpt a mouth underneath.
🧶 Craft for this Dish
Egg Carton Treasure Chest. What to do with empty egg cartons? Your kids can create an adorable Egg Carton Treasure Chest for all their special belongings!
🍳Other Egg & Breakfast Dishes to Try...
Follow Platein28 on Pinterest, Instagram and Facebook and Sign up for our newsletter for all the latest recipes and crafts!
🥚 Bacon Eggs Benedict with Asparagus
Enjoy a classic breakfast dish...for dinner! This Bacon Eggs Benedict is delicious, and the hollandaise is way easier than you'd think.
Ingredients
Eggs Benedict
8-16

slices

bacon

4

cups

water

+ extra for cooking asparagus

4

Tablespoon

white vinegar

8

eggs

½

cup

butter

+ extra for buttering english muffins

4

egg yolks

to be safe, we recommend using pasteurized eggs

1 ½

Tablespoon

lemon juice

½

teaspoon

salt

+ extra pinch for cooking asparagus

1

bunch

asparagus

trimmed

4

English muffins

1

Tablespoon

fresh chives

chopped

pinch

salt & pepper

optional, to taste

squirt

lemon juice

optional, to squirt on asparagus
Instructions
Preheat the oven to 450 degrees. Then, wrap a medium plate tightly with plastic wrap and use a fork to poke several holes in the plastic wrap.

Place bacon on a rimmed baking sheet and cook for 8-10 minutes, depending on the thickness of the cut.

Meanwhile, pour water and vinegar into a medium pot and heat until ALMOST boiling. Crack an egg into a separate bowl and, without breaking the yolk and as low and close to the water as possible, gently drop egg into the water. You may want to turn temperature down to medium so water doesn't start to boil. Cook egg for 3-5 minutes. Once cooked, gently remove egg with a slotted spoon and place on plastic-wrap-wrapped plate. You can poach several eggs at a time this way.

Melt butter in small pan until it begins to slightly bubble. Butter must be hot! In a Vitamix or blender, blend egg yolks, lemon juice and salt on medium. Slowly and by the spoonful, add hot butter to the mix. Blend together until sauce is slightly thickened. Set aside.

To a medium pan, add trimmed asparagus, 1-2 pinches of salt, and water that's about ½-1" deep. The asparagus should not be completely submerged. Heat pan on medium and cook asparagus for ~ 5 minutes. The asparagus is done when a fork will go through the stalk of the asparagus fairly easily. Use tongs remove the asparagus from the water, and set aside.

Separate english muffins, toast and butter. Set aside.
Notes
🥚 To plate...layer each English muffin half with bacon, poached egg, 2+ spoonfuls of hollandaise sauce and a pinch of chives. Serve asparagus inside the benedict or on the side, your choice. 🥚 Optional: squirt a little lemon juice on the asparagus and season with a pinch of salt and pepper. 🥚 When poaching the eggs, don't let the water boil. The water should be simmering slightly. Otherwise, the eggs will form a solid very quickly. Poaching usually takes around 3-5 mins. 🥚 More detail on draining poached eggs: Take a plate and wrap it tightly, several times over, with plastic wrap, so that it creates a tight seal. Then use a fork to punch a bunch of small holes through the top. Use a slotted spoon to transfer poached eggs from the pot to the plate. The excess water on the egg will sink down under the saran wrap through the holes, so that the egg will be less soggy when you're ready to serve it. 🥚 Your butter must be fully melted and hot before you add it to the blender for the hollandaise sauce.
Nutrition
Serving:
1
serving
Calories:
365.76
kcal
(18%)
Carbohydrates:
16.43
g
(5%)
Protein:
13.3
g
(27%)
Fat:
27.4
g
(42%)
Saturated Fat:
12.54
g
(78%)
Polyunsaturated Fat:
3.35
g
Monounsaturated Fat:
9.57
g
Trans Fat:
0.51
g
Cholesterol:
306.35
mg
(102%)
Sodium:
598.56
mg
(26%)
Potassium:
272.65
mg
(8%)
Fiber:
1.97
g
(8%)
Sugar:
1.36
g
(2%)
Vitamin A:
1171.81
IU
(23%)
Vitamin C:
4.48
mg
(5%)
Calcium:
73.71
mg
(7%)
Iron:
2.58
mg
(14%)
*Percent Daily Values are based on a 2000 calorie diet. While we are not certified nutritionists, we work with a Wordpress-integrated nutrition API to calculate our recipes' ingredient values.