Put a healthier twist on Halloween this year with this adorable and creative Skeleton Veggie Tray! This food art project is great for an appetizer, Halloween party or fun play date snack!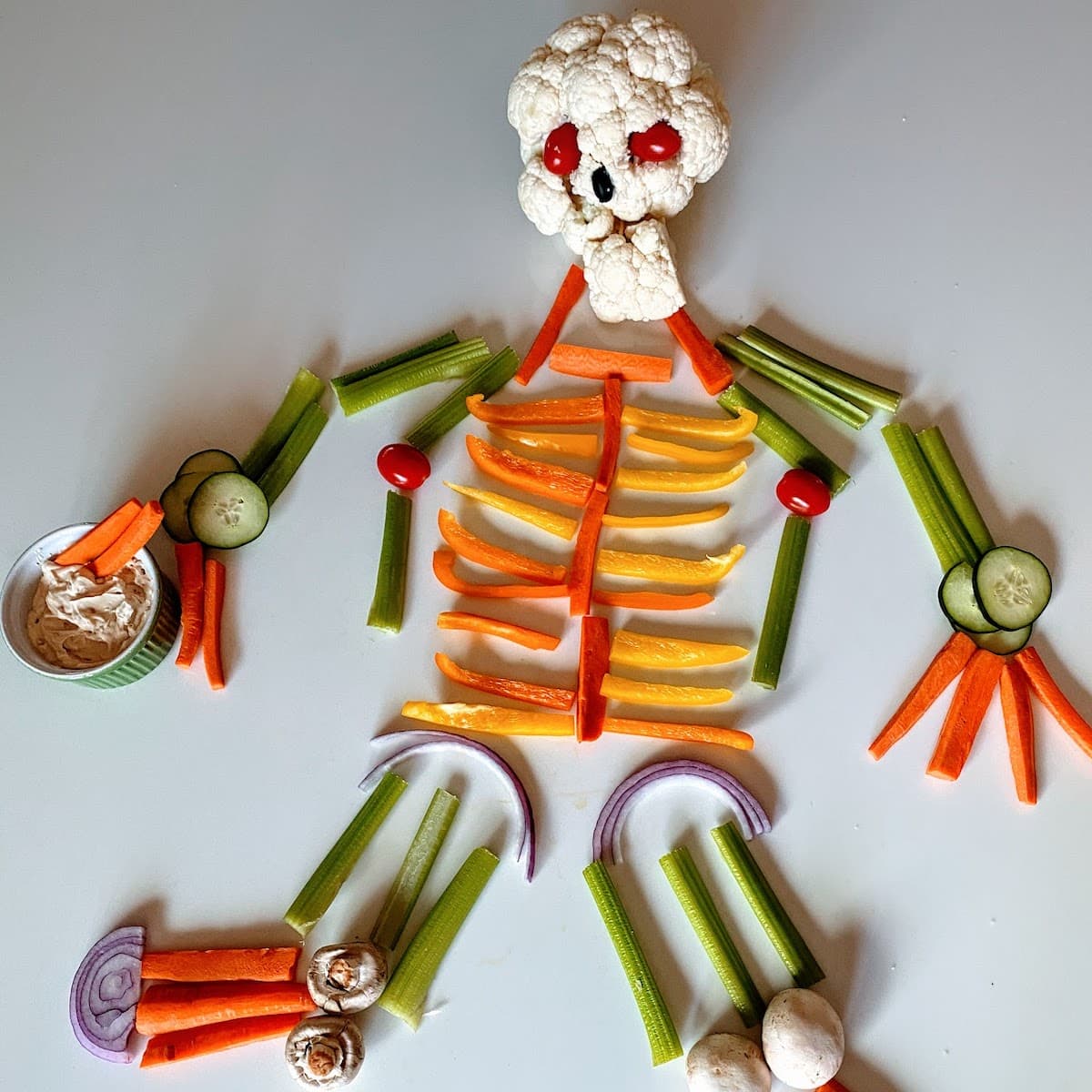 A MOST CREATIVE HALLOWEEN VEGGIE TRAY!
Inspired by Woman's Day's skeleton crudite and having just made a meal with cauliflower rice, we decided to make some art with veggies. Aside from just being festive, we were also excited to make this veggie tray to balance the amount of sugar that gets passed around this season.
The original idea was to make a skeleton veggie tray, but the kids had a few different ideas. The skeleton definitely needed more space than a tray could provide, so we made a skeleton right on the kitchen table. As a bonus, the kids made some other Halloween veggie monsters to go with it!
---
VEGGIES GALORE FOR YOUR HALLOWEEN TRAY
The kids made whatever they wanted and creativity lead the way. I gave them a bunch of veggies (a lot of which I pre-cut), a cutting board, a couple of kid-safe knives, and toothpicks. The results were awesome...and messy...and confusing. Lol.
For this veggie platter, we used the following veggies:
cauliflower
bell peppers
carrots- check out this great trick for cutting carrot sticks.
celery- Be sure to peel celery first to get rid of those chewy strings!
baby tomatoes
red onion
cucumber
mushrooms
black olives
broccoli
You can use WHATEVER YOU WANT for your Halloween Veggie Tray! We already had a bunch of these in the house, and some I had to buy for a recipe. So, I just bought some extra. You can do this with waaaaay fewer veggies, however. We used so many so our creations could be beautiful for you guys!
Note: If you want to use leftover bell pepper stems for a fun craft, check out our Peppers Art craft.
---
A DIP FOR YOUR SKELETON VEGGIE TRAY
You don't have to, but I made a dip for the veggies. I mean, what is a veggie tray without a dip?! You can buy a store-made Ranch Dressing or even guacamole. Because we got a mega load of Lipton's Onion Mix at Costco the other day, I decided to just make their Classic Onion dip. It's super easy. You just add 1 packet of Lipton's Onion dry mix to 16 oz of sour cream, stir together and then refrigerate for a little while. Done and done!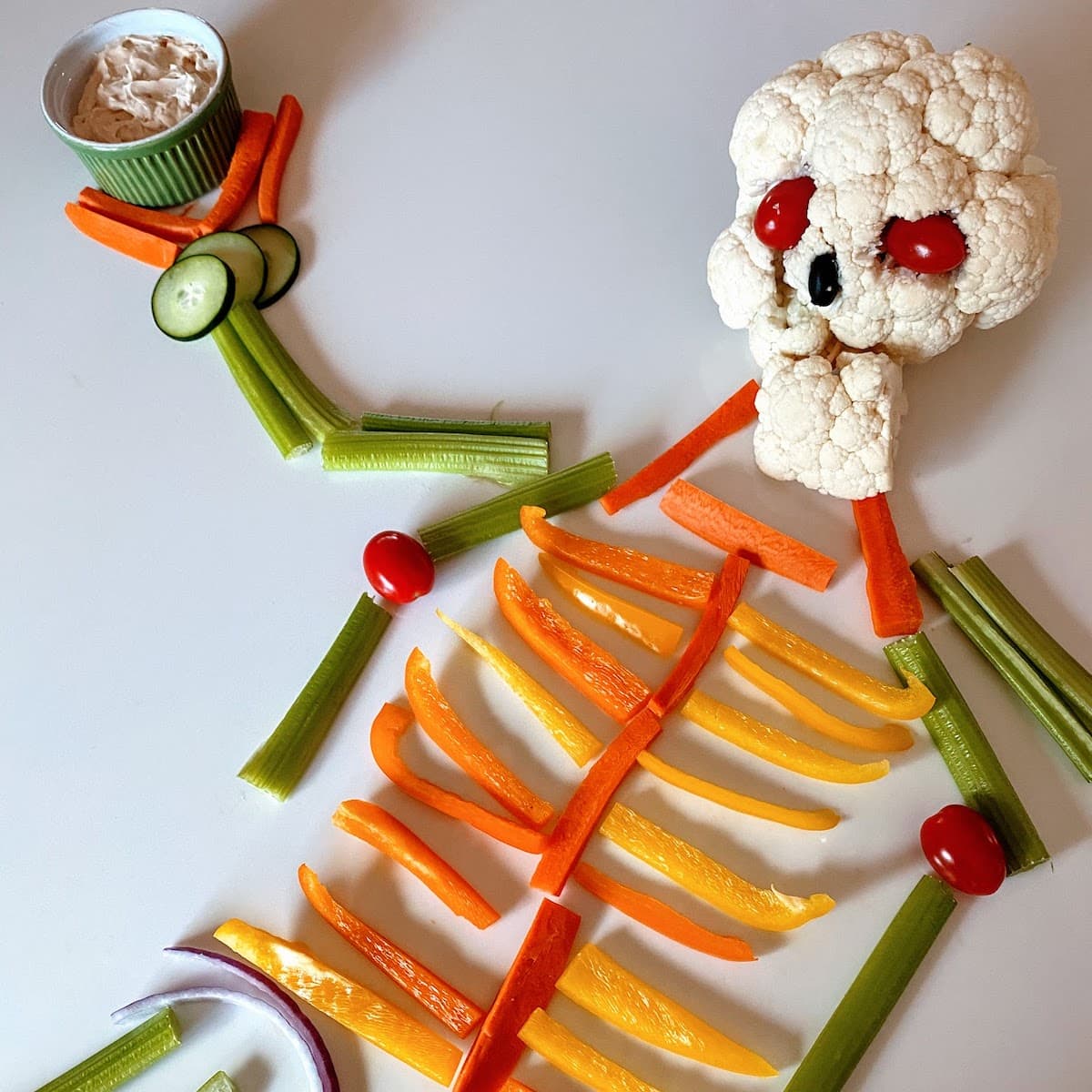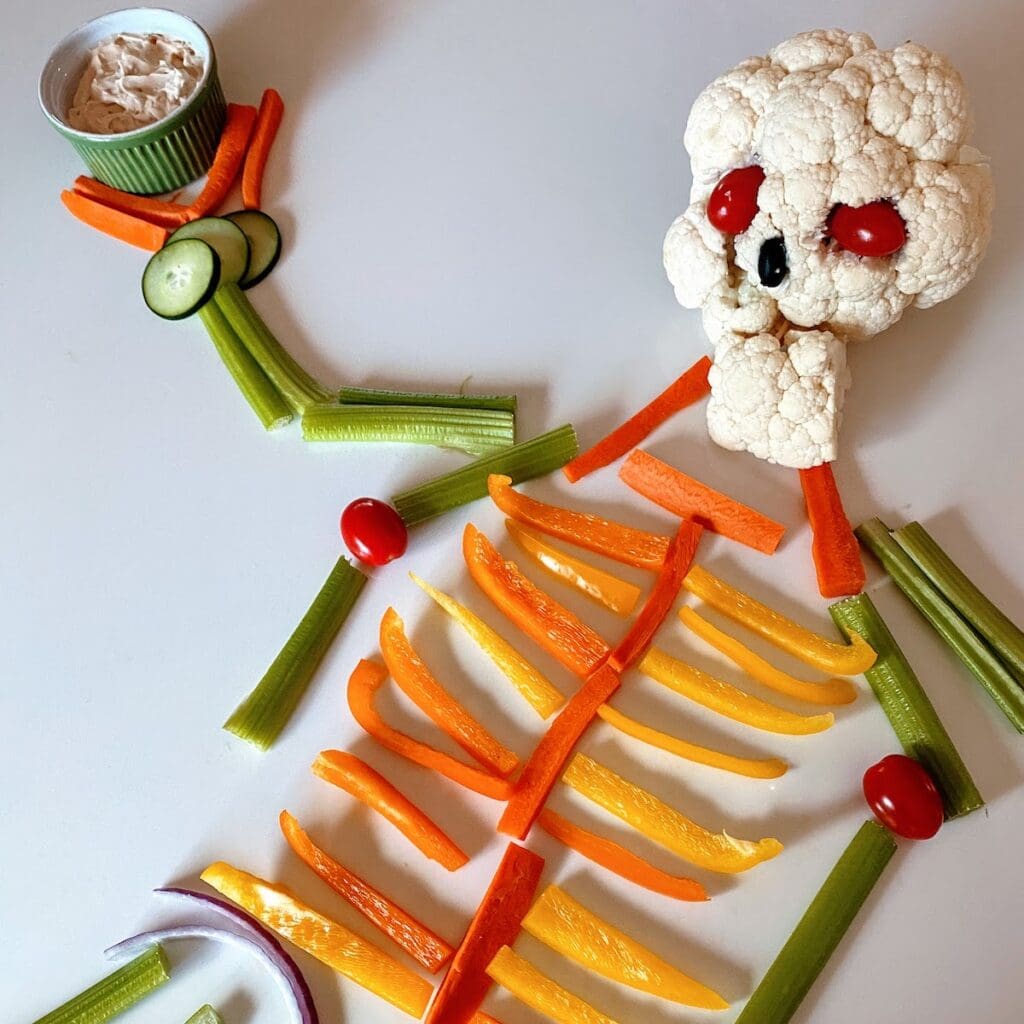 ---
STORE LEFTOVERS FOR LATER
After we made all of these Halloween creatures, we took some photos, dismantled everything, and stuffed many a Tupperware with veggies to munch on throughout the week. It felt good to have pre-cut veggies for lunch or snacking. And we ended up roasting a lot of the cauliflower and broccoli (with garlic and olive oil) to have with dinner. Just watch out for toothpicks in the veggies. I speak from experience here!
---
LEARN ABOUT CAULIFLOWER:
While making your skeleton veggie tray, consider paying to share some fun facts about this fascinating vegetable with your kids!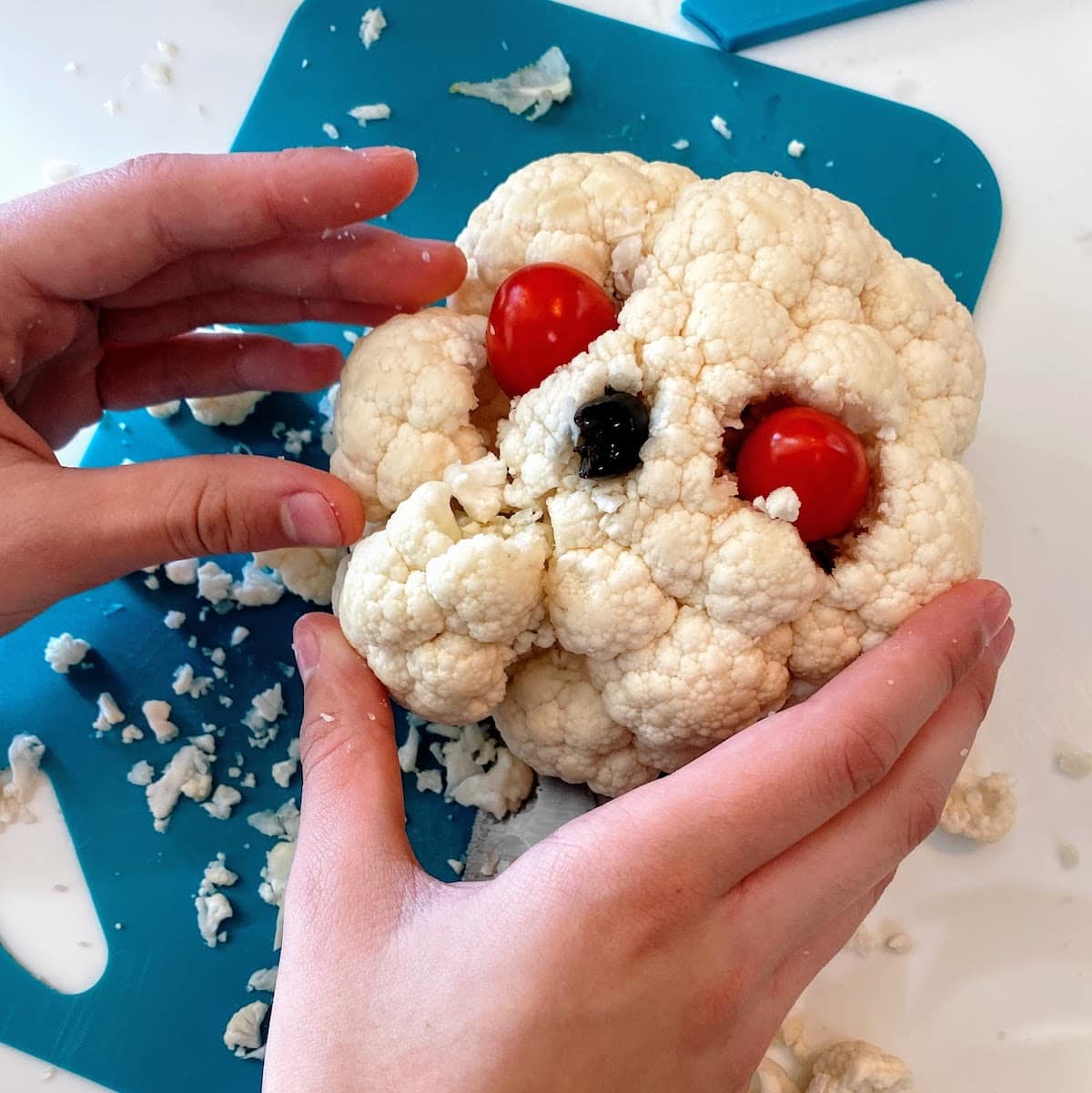 Cauliflower is a member of the cruciferous (or cabbage) family of vegetables. Cruciferous vegetables are known for being rich in vitamins and minerals and may help lower one's risk of getting cancer.
While white cauliflower is most commonly found in stores, cauliflower can also be orange, green or even purple.
Cauliflower is a good source of fiber, which helps with digestion and weight loss.
You can eat cauliflower in many different ways. The vegetable can be steamed, roasted, baked into sauces, or fried like rice.
---
HOW TO MAKE SKELETON VEGGIE TRAY
SUPPLIES
Note: For recommendations on kids' kitchen knives, check out our post Testing Kids Kitchen Knives.
INGREDIENTS
Any combination of veggies can be used for this recipe, but here are some suggestions.
Notes on Ingredients:
We ended up adding mushrooms to the mix for our skeleton's kneecaps.
The broccoli was used to make our extra Halloween monsters!
Black olives can be used in place of (or in combination with) tomatoes for facial features.
INSTRUCTIONS
I cut some of the veggies in advance so the kids could get right to work. The kids were amped to put on masks to get into the spirit, so I recommend that!
Brainstorm your skeleton structure. I would suggest to pull up some Google images for veggie skeletons or veggie monsters to get your kids' creative juices flowing.
Prepare your veggies*. We recommend cauliflower for your skeleton's head! For ideas, we really loved The Right on Mom's Vegan Blog Post: Halloween Veggie Platter: Cauliflower Skull. This helped us with the skull concept, but we didn't get into any intense detail. Toothpicks were very helpful with this task. And I put our 13 yo up to the challenge. Allowing smaller kids to carve holes into cauliflower for eyes and nose is a bad idea
Make your skeleton veggie tray! As a bonus, my kids made other Halloween monsters as well! In the end, we had four Halloween Veggie Tray masterpieces!
*For toddlers especially, these tasks may require adult supervision and/or assistance.
---
OTHER FOOD ART YOU MIGHT ENJOY:
---
Skeleton Veggie Tray
Looking for a healthy snack this Halloween? Use extra veggies to make this spooky and adorable skeleton veggie tray or a veggie monster!
Equipment
cutting board

kids' kitchen knives

toothpicks
Ingredients
1-2

cauliflower heads

sliced in half

2

bell peppers

sliced lengthwise intro strips

4

mushrooms

3-5

carrots

peeled and cut into strips (see how to cut carrot sticks for tips!)

5-10

stalks

celery

peeled and cut in half and into strips

4

grape tomatoes

1

black olive

1

red onion

sliced crosswise

1

cucumber

sliced into rounds

ranch or veggie dip

optional
Instructions
Make the Body: Use a combination of celery, carrots and tomatoes to create the outline of your skeleton's body, arms and legs. Onion slices can be used for the hip bones, and mushrooms work great for the kneecaps! Combine carrot sticks and peppers to create your skeleton's ribs. 

Create Hands & Feet: Use (peeled) celery slices for your skeleton's hands and carrot sticks for the fingers. Use remining onion slices for the skeleton's feet.
Notes
A variety of vegetables can be used for this recipe, so feel free to get creative with ingredients!
Use toothpicks to carve cauliflower's head structure (a task for adults or older children).
Nutrition
Calories:
440
kcal
(22%)
Carbohydrates:
89
g
(30%)
Protein:
23
g
(46%)
Fat:
5
g
(8%)
Saturated Fat:
1
g
(6%)
Polyunsaturated Fat:
1
g
Monounsaturated Fat:
1
g
Sodium:
548
mg
(24%)
Potassium:
4313
mg
(123%)
Fiber:
31
g
(129%)
Sugar:
46
g
(51%)
Vitamin A:
39722
IU
(794%)
Vitamin C:
627
mg
(760%)
Calcium:
362
mg
(36%)
Iron:
6
mg
(33%)
*Percent Daily Values are based on a 2000 calorie diet. While we are not certified nutritionists, we work with a WordPress-integrated nutrition API to calculate our recipes' ingredient values.