This 4 ingredient guacamole recipe could not be easier. Seriously. You'll only need avocados, salsa, lemon juice and salt. And just mash 'em together. My 5 year-old made this on her own...several times!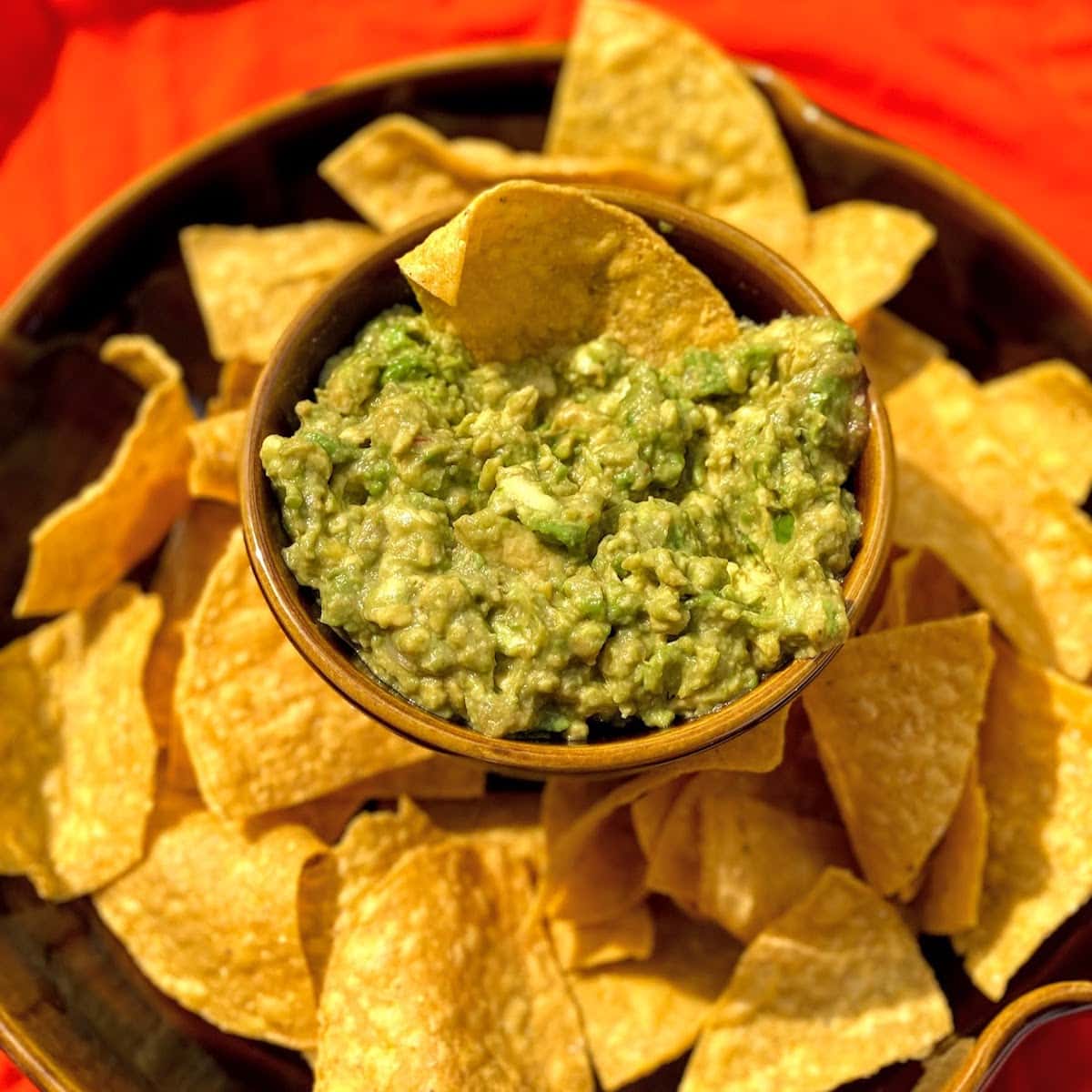 Jump to:
👌 Why We Love this Guacamole
🥑 So easy! I cannot stress enough how simple this is. Only 4 ingredients, no special tools needed, and ready in 5 minutes. And little kids can even make it on their own.
🥑 Healthy! Avocados have tons of health benefits and are high in fiber and healthy fats. And even jarred salsa has so many health benefits. Among the many reasons salsa is good for you are that it's low calorie, heart-healthy and choc full of nutrients. Make your guac even healthier by dipping raw veggies into it.
🥑 Customizable! Your can cater this 4 ingredient guacamole recipe to your family's preferences! We use our fave salsa: mild so the kids will eat it. Use whatever kind you like. As for the salt and lemon juice, play around with the amounts til you get it just right.
Note: If you want to make a meal out of chips topped with veggies, cheese and deliciously seasoned shredded chicken, check out this amazing Shredded Chicken Nacho Recipe by Eighty Recipes!
🛒 The 4 Ingredients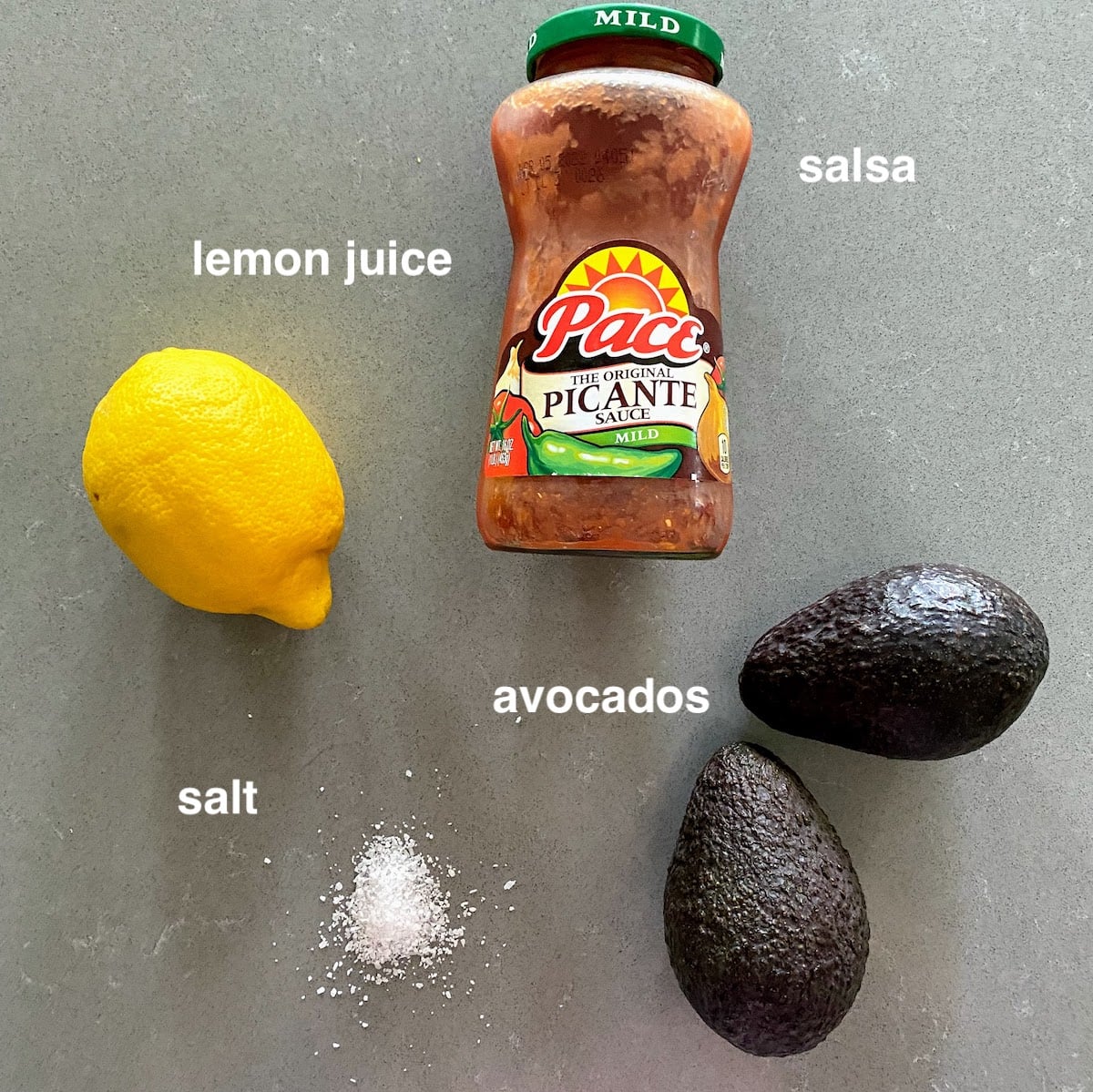 Notes on ingredients: Pick your favorite salsa. Because my kids are spiciness-averse, I always use mild salsa. And, if you want this to be even faster, use bottled lemon juice instead of squeezing fresh lemon juice.
👩‍🍳 How to Make this Guacamole
TOOLS: medium bowl, regular kitchen fork, knife and spoon, ⅛ cup, 1 teaspoon and ¼ tsp
KIDS STEPS: If you're a kid, you can do every part of this recipe. Just one special tip - we used a potato masher to mix up the guac, and it worked way better than a fork.
Step 1: Cut avocados, remove pits and scoop out flesh.
Note: save your avocado skins for the kids avocado boat craft below.
Step 2: Add and combine remaining ingredients.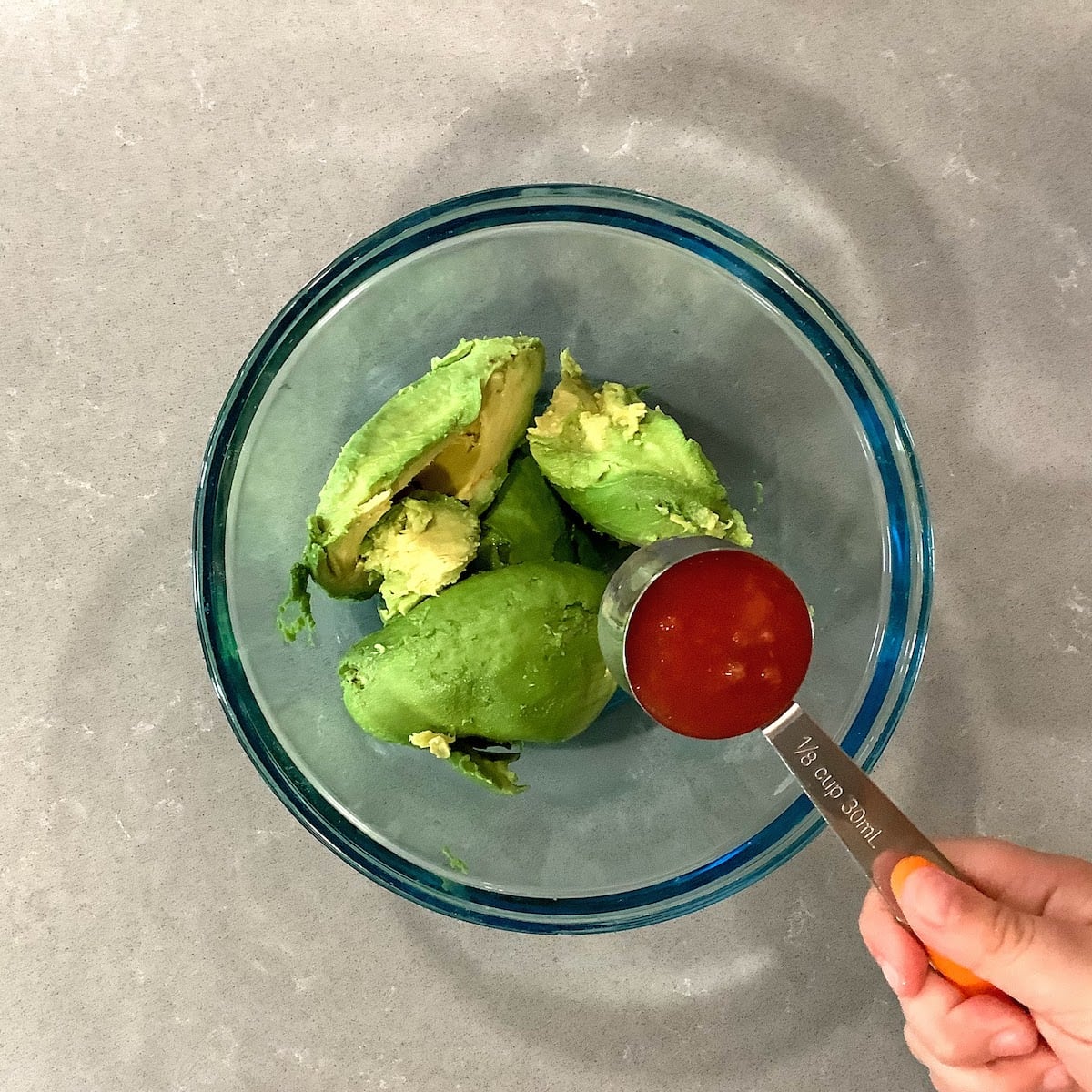 Note: Check out how to juice a lemon without a juicer for this recipe.
❓FAQ
Are avocados healthy for you?
Yes, avocados have lots of health benefits! Avocados are high in Vitamin C, Vitamin E, potassium, fiber and healthy fats. In fact, avocados have more potassium than a banana! Combined, these nutrients help with your body's digestion, heart and blood pressure, healthy skin and hair, and joint health.
How can I keep my guacamole from turning brown?
I've tried so many things, but there is only one thing that seems to work. Spread your leftover guacamole evenly in Tupperware, cover with a tiny layer of water (just enough to cover the guac), and seal with lid or tight plastic wrap. The water keeps the guacamole green and fresh. When you are ready to eat it again, strain out the water and dig in!

I will say...this is not a perfect solution. Your guacamole can get watered down with a little flavor dilution, depending on how thick it is. I ended up adding some extra salt on the leftover guac because of this.
👶 Tips for Picky Eaters
Just add salt- If your kids aren't yet ready for the whole experience, a good place to start is by mashing together just the avocados and salt. It's still delicious and can be a stepping stone to more flavors in the future.
Kids choose the chips- Let kids choose their favorite crunchy chip to try out this 4 ingredient guacamole with!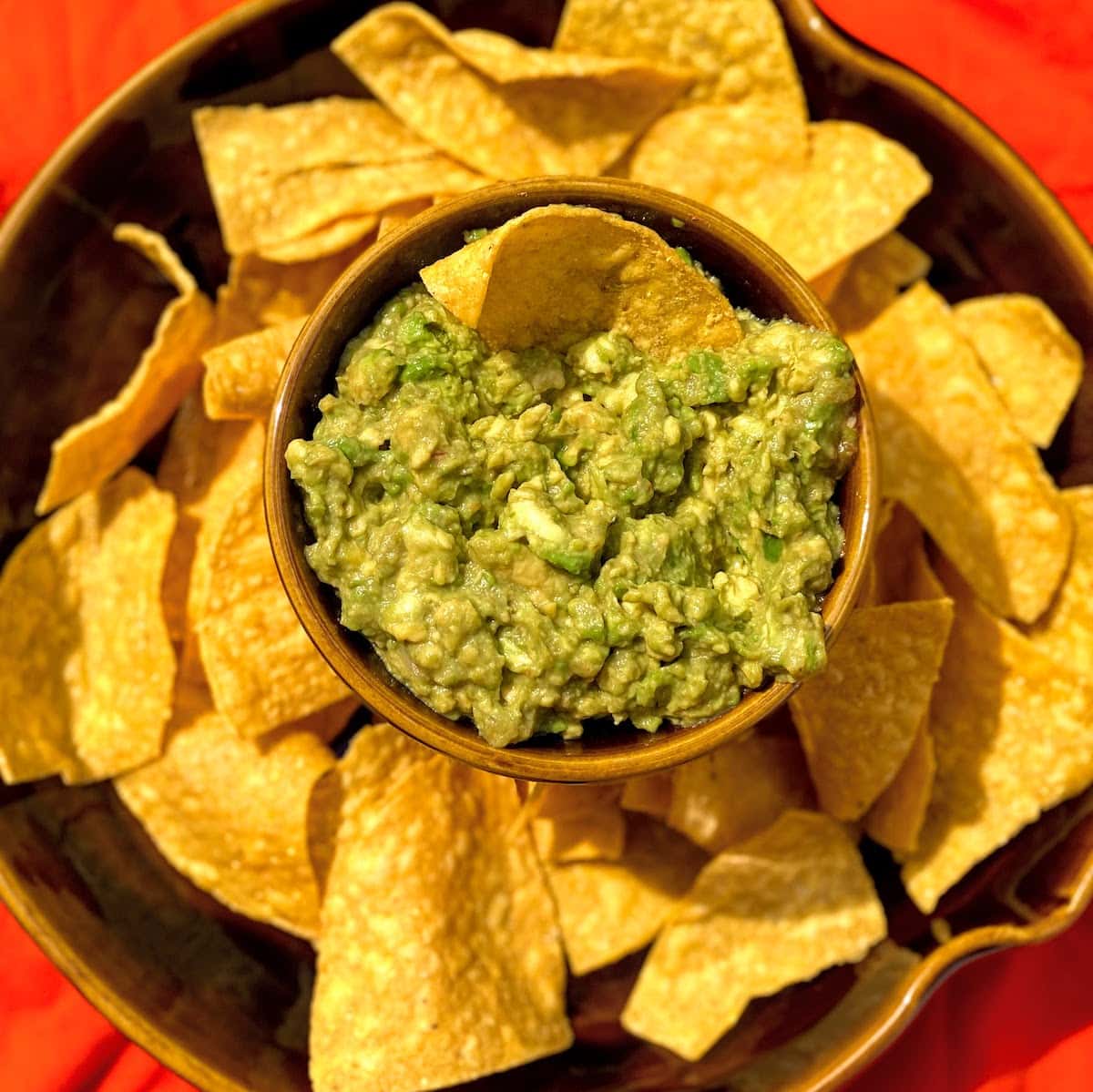 ✂️ What to do with your Avocado Scraps
Make our adorable Avocado Boat Craft! Get all the flesh out of the avocado skins and set them aside while you make the guacamole. To make the avocado boats, all you do is add a mini sail and figurine, and place in a bowl of water. Voilà, it floats!
Note: the craft works best when you give the avocado skins a little time to dry.
🍽 Recipes with Avocados
Follow Platein28 on Pinterest, Instagram and Facebook and Sign up for our newsletter for all the latest recipes and crafts!
🥑 4 Ingredient Guacamole Recipe
This 4 ingredient guacamole recipe could not be easier! Just mash everything up together and enjoy! And your kids can make it too!
Ingredients
2

avocados

⅛

cup

salsa

1

Teaspoon

lemon juice

¼

Teaspoon

salt
Instructions
Cut avocados in half lengthwise. Remove pits and scoop out the flesh into a medium bowl.

Add remaining ingredients to the bowl and mash together until evenly integrated.
Notes
🥑 Serve your guacamole any way you like! Some ideas: as a dip with tortilla chips or raw veggies, inside tacos, atop nachos, or part of a rice and beans bowl.
🥑 Use whatever salsa you like! And feel free to adjust ingredient amounts.
🥑 We use a potato masher to combine all the ingredients, and it works wonderfully!
🥑 To keep your guacamole from browning, store it in a sealed container with a thin layer of water on top of the dip. When ready to eat, just pour or strain out the water and the guac should be green.
Nutrition
Serving:
1
serving
Calories:
163.43
kcal
(8%)
Carbohydrates:
9.21
g
(3%)
Protein:
2.14
g
(4%)
Fat:
14.75
g
(23%)
Saturated Fat:
2.14
g
(13%)
Polyunsaturated Fat:
1.83
g
Monounsaturated Fat:
9.85
g
Sodium:
209.67
mg
(9%)
Potassium:
511.9
mg
(15%)
Fiber:
6.88
g
(29%)
Sugar:
1.01
g
(1%)
Vitamin A:
185.8
IU
(4%)
Vitamin C:
10.69
mg
(13%)
Calcium:
14.66
mg
(1%)
Iron:
0.58
mg
(3%)
*Percent Daily Values are based on a 2000 calorie diet. While we are not certified nutritionists, we work with a WordPress-integrated nutrition API to calculate our recipes' ingredient values.
Want more 28-minute recipes? Sign up and get recipes straight to your inbox!