St. Patrick's Day is right around the corner, so we decided to get in the spirit of the holiday with this adorable Leprechaun Hat craft!
Note: Some of the links in this post are Amazon affiliate links. This means that if you click on an affiliate link and purchase an item, we will receive a commission. However, we genuinely recommend all the products we link.
---
Tin cans make the best Leprechaun Hats!
We love turning our recyclables into awesome crafts!  While making our Yummy White Bean & Vegetable Soup, we decided to turn our empty bean cans into festive tin can Leprechaun hats.
While we used tin cans to make this craft, we've seen this craft done lots of others ways, using toilet paper rolls (check our these adorable Toilet Paper Roll Leprechaun Hat Crafts) and even popsicle sticks (see How to Make a Leprechaun Hat Craft). The possibilities are endless!
---
Simple Supplies & Very Few steps
This Leprechaun hat craft is incredibly simple and only requires a handful of supplies: construction paper, scissors, glue, and of course, an empty tin can. While we decided to use our handy hot glue gone, Elmers Glue should also do the trick. 
---
Fill your Leprechaun hat with treasures!
Of course, it made perfect sense that these Leprechaun hats should be used to hold some lucky golden chocolate coins. The kids had no objections to this! However, you can use your hats to hold anything you'd like. In the past we have turned our tin cans into decorated Pencil Holders.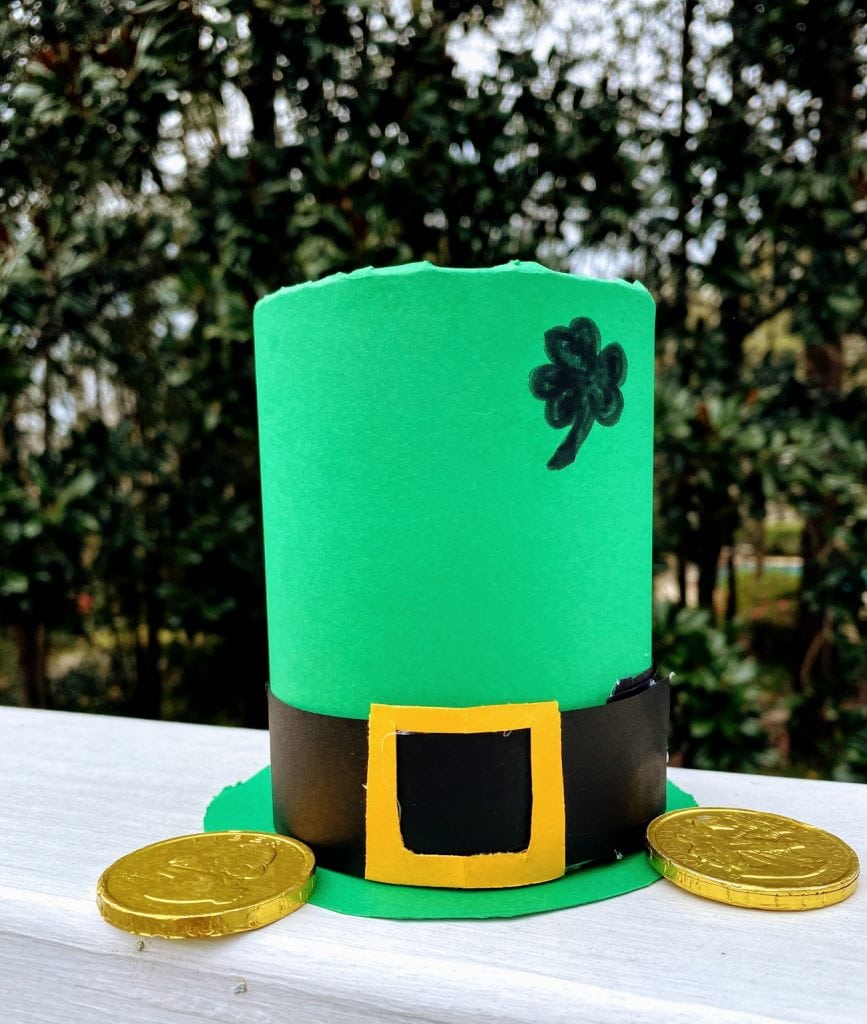 ---
Other similar crafts:
If you enjoy doing our Leprechaun hat craft, try one of these crafts using recyclables next!
---
How to Make our Leprechaun Hat Craft
💡Overview 💡



Corresponding Recipe: Yummy White Bean & Vegetable Soup 
Skills supported: Fine motor (cutting, wrapping, gluing, coloring), following instructions
---
✂supplies✂
---
📝instructions 📝
Consider setting up the craft before cooking so kids can craft right away.
Cut out a large strip of green paper that is as wide as your can when it's laying down. Glue the green strip around the can. NOTE: *To protect little hands, cover can's sharp, inner rim with tape. Alternatively,  if there is access paper at the top of the can, simply fold and glue it into the inner rim of the can. 
Cut out a long, thin strip of black construction paper to form the Leprechaun hat's black band. Glue the black strip around the can.
Cut out a small rectangle of yellow/gold paper. Fold the paper in half, and then cut out the center to form the Leprechaun hat's buckle. Glue the buckle to the center of the black band.
Cut out a circle of green construction paper to form the base of you that. NOTE: Consider tracing a round object like a bowl to achieve a perfect round shape. Glue the tin can hat to the base.
Now Decorate your Leprechaun hat! We drew a Shamrock on our hat, but kids can get as creative as they'd like. St. Patrick's Day stickers might come in handy for this part!
*For toddlers especially, these tasks may require adult supervision and/or assistance.