Our Healthy Italian Wedding Soup is the absolute perfect comfort food for a cold day! It's extremely simple, delicious and can be made in UNDER 30 minutes!
Note: Some of the links in this post are Amazon affiliate links. This means that if you click on an affiliate link and purchase an item, we will receive a commission. However, we genuinely recommend all the products we link.
The other day my kids and I were craving soup. It had been raining for almost a week straight and we were just plain cold! I love Italian Wedding Soup, so we decided to give it a shot. Because we like to keep things interesting, we added a little more color to our soup by including carrots (a household staple of ours).
---
What is Italian Wedding Soup?
I had always assumed that Italian Wedding Soup was a traditional soup served at weddings...in Italy, naturally. Yet, after doing a little research, I learned this is a misconception. The soup's original name in Italian is minestra maritata, which actually translates to "married soup." The real marriage is actually between the soup's two main ingredients: green vegetables and meat.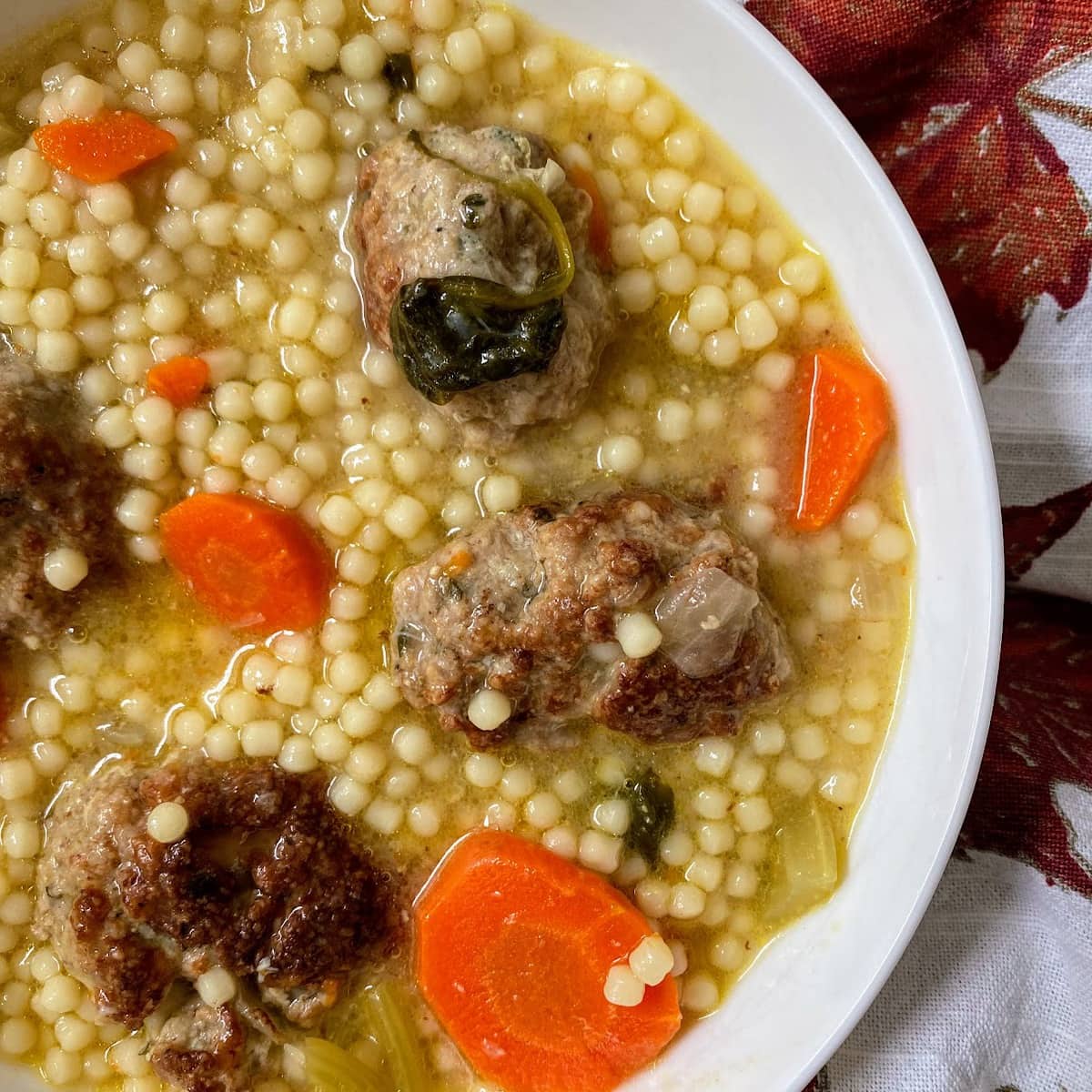 ---
What Makes this Italian Wedding Soup Healthy?
Here's what makes our Italian Wedding Soup a healthier choice for our family:
Turkey meatballs. Compared to traditional beef or pork meatballs, turkey meatballs are lower in fat and sodium, making them a healthier choice for this dish.
Lots of Veggies. This soup calls for some of our favorite veggies- carrots, celery, onions, garlic and spinach!
Chicken broth. Chicken broth has many health benefits. It's packed with important protein and essential fatty acids. It's also rich in iron. For an even healthier spin on this dish, consider using low sodium chicken broth.
---
What to do with the Leftovers
The cool thing about this Healthy Italian Wedding Soup is what happens to the leftovers. Just like our beloved Sausage Orzo Soup, you'll find that all the broth gets soaked up overnight. We loved the dish the next day because the pasta, veggies, and meatballs were even more flavorful and juicy after soaking up all the broth. So, the next day you can either add broth and have soup again OR eat the dish as-is, like a pasta.
Keep in mind if you'd like to eat your leftovers in its original soup-like form, cook the pasta separately from the start and simply add the pasta to each bowl you serve. That way, you can prevent your pasta from soaking up the broth overtime.
---
How to Make Healthy Italian Wedding Soup
Ingredients
Notes on Ingredients:
Ground turkey- we used ground turkey for our meatballs, but you can choose any type of ground meat you prefer.
Red pepper- this it totally optional and based on preference
Chicken broth/stock - Better than Bouillon Organic Roasted Chicken Base is a great option because it has great flavor, lasts a long time, creates less waste, and take up less room in your fridge.
Instructions
Step 1: Cook veggies and broth
🥄Kid Step: Help peel carrots and chop vegetables.* Our kids love these Curious Chef Children's Knives
Step 2: Cook Pasta
🥄Kid Step: Set the timer for the pasta. This is a good chance for kids to learn about cooking times.
Step 3: Form and Sear Meatballs
🥄Kid Step: Form and flip meatballs. We love this small scooper and these tongs.
Step 4: Add Meatballs to Soup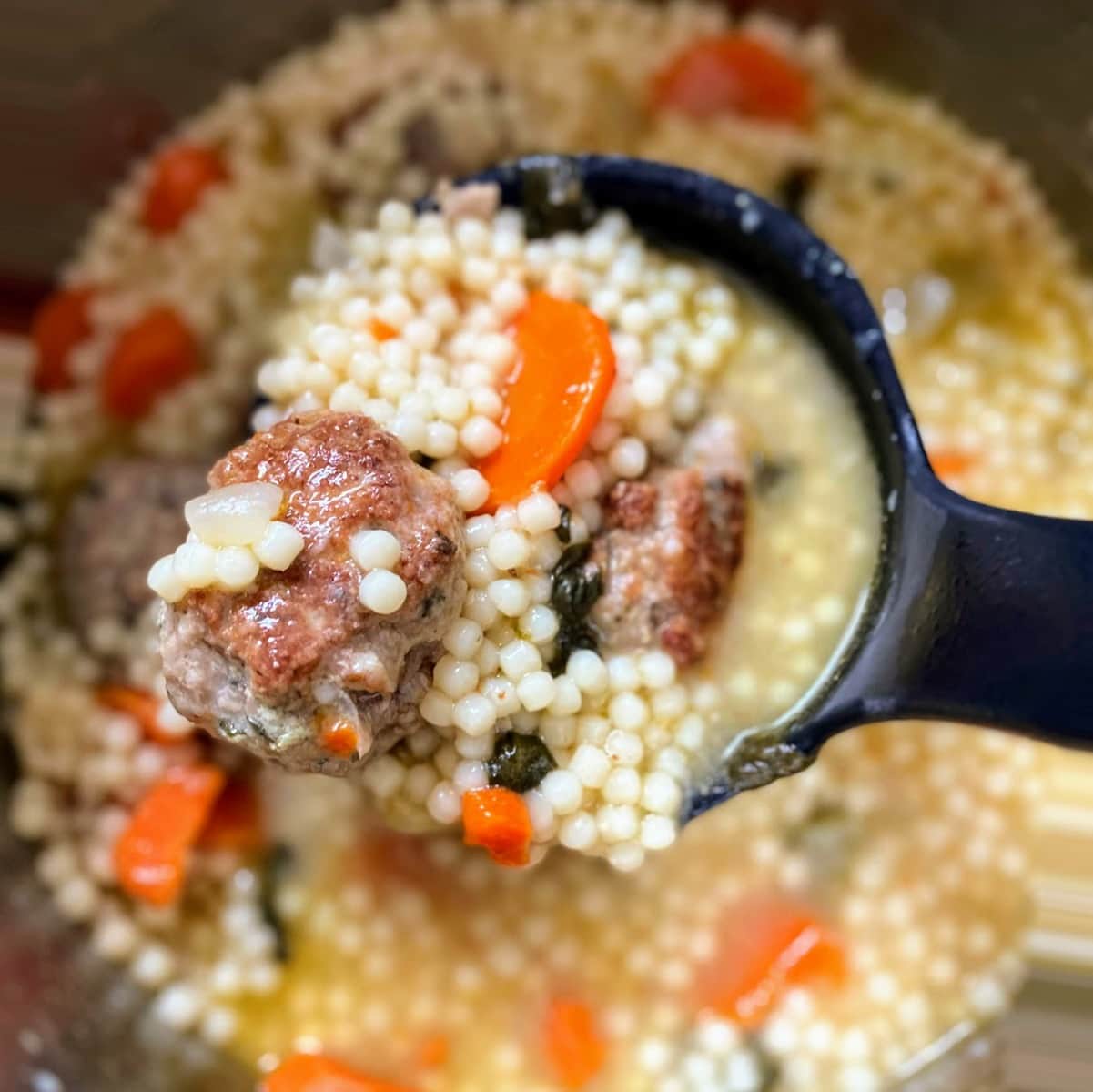 ---
FAQ
What kind of meat should I use for the meatballs?
While we used ground turkey for our meatballs, any kind of ground meat will work nicely in, including ground beef, chicken or sausage.
Can you freeze this Healthy Italian Wedding Soup?
Yes, this soup freezes nicely in an air tight container. We also recommend cooking your pasta separate from the soup if you plan to freeze your Italian wedding soup. That way, the noodles won't be mushy from having absorbed your soup's broth.
---
Customize your Dish
🍅Make it Vegetarian! (1) Eliminate the meatballs, (2) use vegetable broth instead of chicken, and (3) increase the spinach and veggies (that's what I like to do!). With these changes, the soup will cook even faster.
🍅Make it Vegan! 1) Eliminate the meatballs, (2) use vegetable broth instead of chicken, (3) increase the spinach and veggies, and (4) replace the parmesan cheese garnish with nutritional yeast. With these changes, the soup will cook even faster.
🍅Make it Gluten Free! (1) Eliminate the pasta and replace with brown or white rice, and (2) don't put breadcrumbs in the meatballs.
🍅Make it Dairy Free! Simply remove the parmesan cheese from the meatball mix and as a serving garnish.
---
Tips for Picky Eaters
🍅Swap the veggies. Try exchanging some veggies in the soup for ones your kids prefer. Or increase/decrease veggies in the recipe.
🍅Pick another pasta. Swap the Acini di Pepe for your kids' favorite noodles, i.e. rotini or orzo.. If that gets them more pumped to eat dinner, it's totally worth it.
🍅Serve raw spinach on the side. I literally had to fish the "yucky green stuff" (aka spinach) out of my daughter's soup bowl because it freaked her out. If your kids don't like cooked spinach, serve some raw spinach on the side.
🍅Add some carbs! You can have some bread, toast, or crackers with the soup. My kids liked to add goldfish crackers to their soup and dip toast into the broth.

---
Craft for this Recipe: Pasta Snowflakes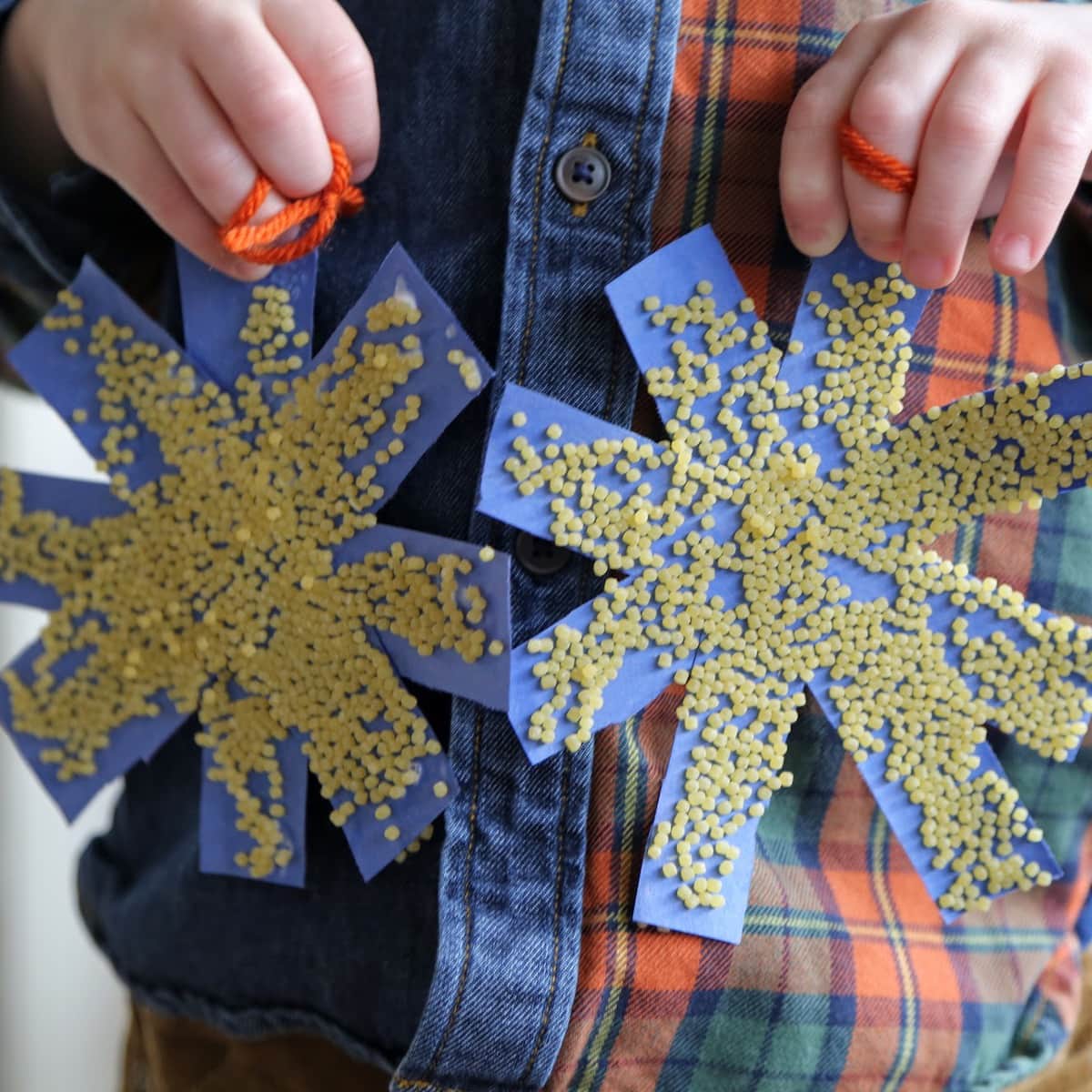 Want to get into the winter spirit? Grab some glue, paper, and pasta....and make these cute pasta snowflakes with us!
---
Other Healthy Recipes
---
Italian Wedding Soup
The perfect marriage of meatballs and vegetables. This mouth-watering Italian Wedding Soup will have you coming back for more.
Ingredients
Soup
1-2

T

olive oil

1/2

medium onion

(chopped)

1/2

cup

celery

(chopped)

2-3

large carrots

(thinly sliced)

1

clove

garlic

(minced)

8

cups

chicken broth/stock

(or 64 oz, plus extra for leftovers)

1

large bunch

spinach

(remove stems if necessary)

1

cup

Acini di Pepe pasta

parmesan cheese

(shredded or shaved, for serving)

red pepper flakes

(for serving)
Meatballs
1

lb

ground turkey

1

eggegg

(beaten)

1/4

cup

breadcrumbs

1/2

medium onion

(finely chopped)

1

clove

garlic

(minced)

1/4

cup

parmesan cheese

(grated or shredded)

4

t

dried parsley

(or 1/4 cup fresh parsley, chopped)

1

t

salt

1/2

tt

black pepper

1-2

T

olive oil
Instructions
Heat olive oil on medium in large stock pot. Add onion, celery, carrots and garlic and cook for 3-4 minutes, stirring frequently.  Add chicken broth and spinach and bring soup mixture to a boil. 

Meanwhile, use your hands to combine all meatball ingredients (except the olive oil) in a large bowl. Create small meatballs from the mixture, using your hands or this small scooper (that we highly recommend). Place meatballs on a large heated skillet coated with the olive oil. Sear meatballs on medium heat for 2 minutes on each side. (You will likely need to do this in 2 batches).

Add seared meatballs to boiling soup mixture and cook for 4-6 minutes, or until meatballs are no longer pink in the center. 
Notes
Serve soup topped with shredded parmesan cheese and red pepper flakes as desired. You can serve with toast or crackers on the side.
If you plan to serve leftovers, cook pasta separately from the soup so that the pasta doesn't soak up broth.
Nutrition
Calories:
318
kcal
(16%)
Carbohydrates:
32
g
(11%)
Protein:
28
g
(56%)
Fat:
10
g
(15%)
Saturated Fat:
2
g
(13%)
Polyunsaturated Fat:
1
g
Monounsaturated Fat:
5
g
Cholesterol:
72
mg
(24%)
Sodium:
1750
mg
(76%)
Potassium:
935
mg
(27%)
Fiber:
4
g
(17%)
Sugar:
3
g
(3%)
Vitamin A:
8848
IU
(177%)
Vitamin C:
41
mg
(50%)
Calcium:
157
mg
(16%)
Iron:
4
mg
(22%)
*Percent Daily Values are based on a 2000 calorie diet. While we are not certified nutritionists, we work with a WordPress-integrated nutrition API to calculate our recipes' ingredient values.