When planning fish for dinner, I find myself always buying salmon at the store. For some reason, it often seems like the surefire choice with my family, probably because we have some amazing salmon recipes.
Yet, the other night, my husband and I decided to change things up a bit and have white fish for dinner, specifically baked cod. We topped it with a peach & tomato salsa, which turned out excellent. Our kids have been on a peach kick recently, so I knew it would likely go over well.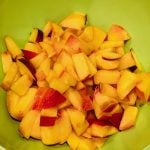 The sweet and citrusy flavor of the salsa was such a wonderful contrast to the savory fish. And, the salsa was easy to put together while the cod baked in the oven. The hardest part is resisting munching on the chopped peaches! Note: You will want your peaches to be soft/ripe, but not overly ripe, for this recipe.
We decided to pair the fish with couscous (because it's so yummy and super quick!) and our delicious Grapefruit Avocado & Arugula Salad. This salad was perfect with the fish, though it does add some time to the prep. I definitely recommend including it if you have an extra 10-15 minutes to put into your meal-prep!
Peach & Tomato Salsa Leftovers!
A huge bonus that comes with making peach & tomato salsa is the leftovers! This recipe makes more salsa than you will likely need for the fish. So, we ended up with snacking on the salsa with chips in the coming days! There's nothing better than fresh, homemade salsa, especially on a summer day!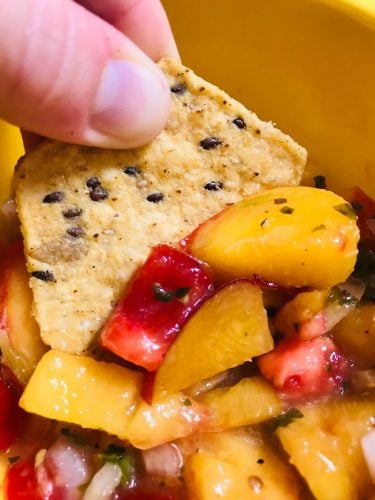 🌈 
KIDIFY THE MEAL 🌈

Have picky eaters? Read More...
🍅Serve salsa on the side! If your kids don't like anything on their fish, just separate the peach and tomato salsa from the fish on their plates. 
🍅Let kids choose a side dish! Couscous, rice, toast? There are a ton of grains that would go great with this meal!
Note: This post contains affiliate links.
Baked Cod with Peach & Tomato Salsa
BUY IT
4-6

cod pieces

(around 1 lb)

1

T

olive oil

3/4

t

salt

(adjust according to the amount of cod you have)

1/2

t

pepper

2

peaches

(ripe, pitted & chopped)

2

medium

tomatoes

(chopped)

1

small

onion

(red or white, chopped)

3

T

lime juice

2

T

cilantro

(fresh, chopped, more leaves than stems)
MAKE IT
Preheat oven to 450. Line a baking sheet with foil and spray with cooking oil. Lay cod pieces on foil. Season with oil, 1/2 t of the salt, and pepper. Bake for 10-12 mins or until cooked through.

While cod is baking, make salsa. Combine remaining 1/4 of the salt, peaches, tomatoes, onion, lime juice and cilantro in a medium bowl. Mix ingredients together.
PLATE IT
Serve cod topped with a generous spoonful of peach salsa. Serve alone, with a salad (like our amazing Grapefruit Arugula Salad), or with a starchy side of your choice (i.e. with rice, couscous).
We recommend that all meals for children be served with milk.
Choose an Activity