We cook with olive oil A TON. Let's face it, olive oil is truly one of the most useful and beneficial ingredients used on a regular basis. That's why it seems only fitting that we add our beloved olive oil to our collection of DIY play food with this adorable playtime olive oil bottle!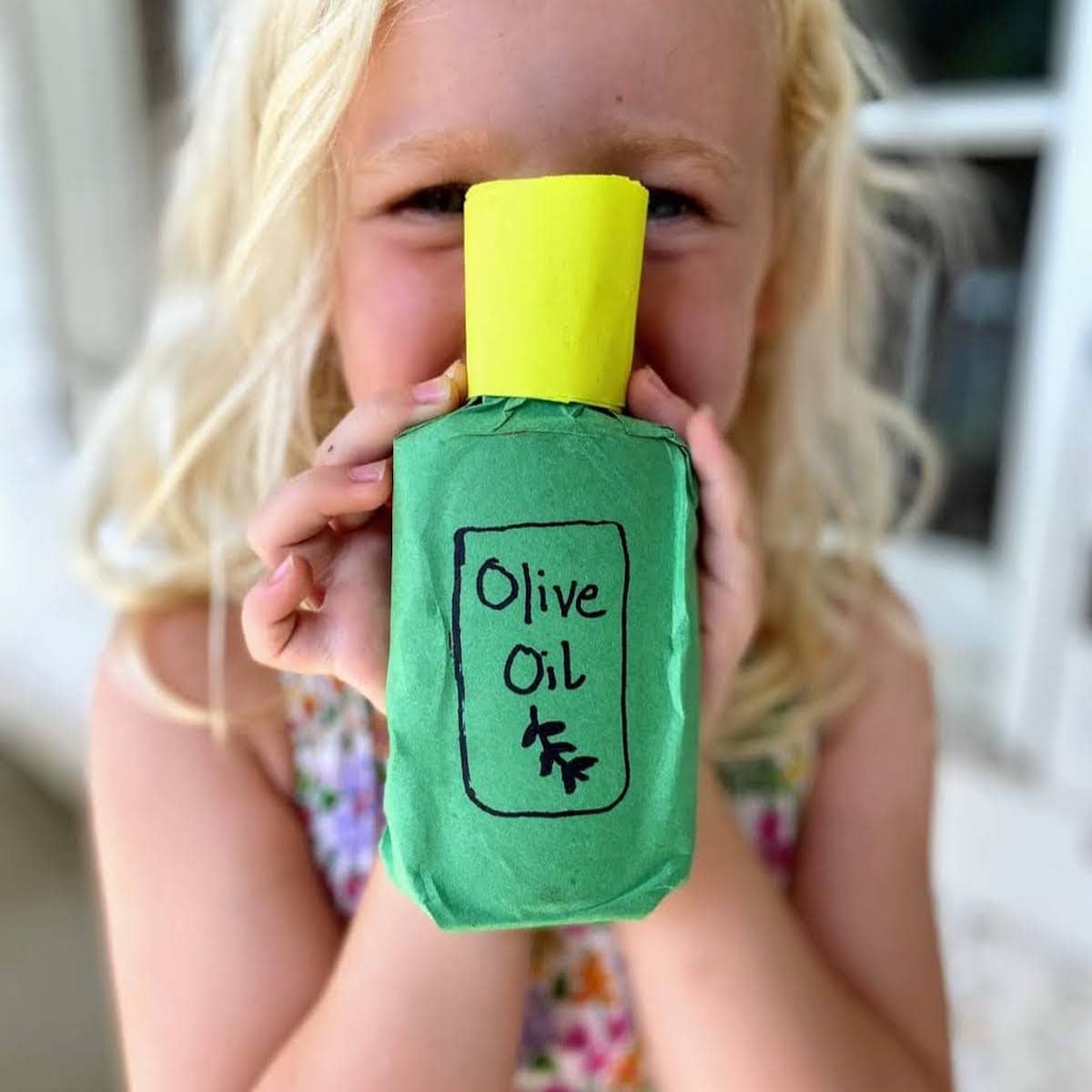 ---
HOLD ON TO THOSE EMPTY CONTAINERS
It is so satisfying to reuse empty containers for craft purposes. For this craft, we simply used an empty glue bottle to make our playtime Olive Oil bottle. We have also transformed Ketchup bottles into a Cow-Themed Tissue Paper Vase, empty tuna cans into Spring Bunny DIY Candy Dishes, and empty cans of beans into Tin Can Pencil Holders. The possibilities are endless, so hold onto those containers for spontaneous crafting!
WHY WE LOVE OLIVE OIL

Extra virgin olive oil [EVOO] is a staple in our kitchen. This ingredient is 100% natural, high in antioxidants, and loaded with health benefits. As far as cooking goes, we love that EVOO is pretty resistant to heat (in other words, it has a high smoke point). And EVOO is also pretty resistant to oxidation (or forming harmful compounds) when cooking. Our friend blogger, Beatriz Garcia (author of Clan Kitchen), has a great breakdown of different cooking oils and we love it as a reference! Her fave cooking oil is EVOO, by the way.
---
LET'S MODEL HEALTHY COOKING FOR OUR KIDS!
Because of the numerous health benefits of olive oil, I feel great adding our olive oil bottle craft to our play food collection.
It's such a joy to see my kids play "kitchen" and "chef" with their beloved collection of play food. More often than not, I see many of my own cooking behaviors being acted out in their play environment. My kids will "pretend wash" their veggies, toss a salad, or pretend to peel a carrot in such an adult-like way. Not only does this offer a glimpse into the sweet and carefree ways kids explore the world around them, but it also reminds me of the importance of modeling healthy cooking and eating habits for my kids.
---
SHARE FUN FACTS ABOUT OLIVE OIL WITH YOUR KIDS
When making our play food, we usually discuss some fun facts about the foods we are designing, like their origin and nutritional benefits. These discussions often spark more questions and curiosity about how foods are produced and harvested. According to Dr. Jennifer Cohen, the Fussy Eating Doctor, parents can start teaching kids about food by discussing the parts of food and what they do for kids' bodies. According to Cohen, this can send a more personal and meaningful message to kid. Some good sites for this info are: Choose My Plate (by the USDA) and Science Kids.
---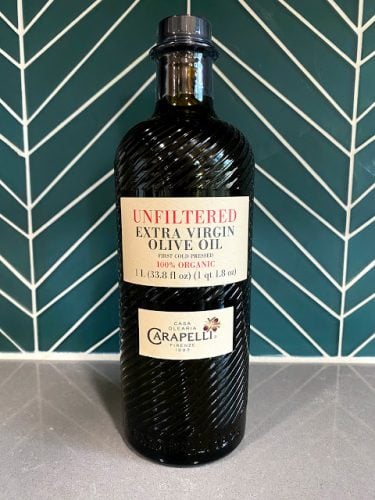 ---
ENJOY YOUR OLIVE OIL BOTTLE CRAFT
We hope your kids will enjoy playing with their olive oil bottle craft! Here are some ways our kids have played with their play food olive oil bottle:
Dress a salad
Cook meat
Dip bread
Drizzle over pasta
---
💡

Overview

💡

Featured Ingredient: Olive oil
Corresponding Recipes: Simple Pesto Pasta & The Best Spinach Pesto Recipe
Skills supported: Fine motor (cutting, folding, taping/gluing), following instructions, math (composing shapes)
Note: This post contains affiliate links.
---
Note: This post contains affiliate links.
---
📝 instructions 📝
Consider setting up the craft before cooking so that your kids can get to work right away.
Cut a piece of green construction paper in half, width-wise. Reserve one of the halves for this craft.
Cover your paper with glue using your glue stick. Lay your empty bottle of Elmer's Glue in the middle of the paper. Gently wrap the green paper around your bottle and secure it in place. Place glue on the bottom and top of the bottle and fold/secure the open ends together as you would a present. Be sure to leave the orange lid uncovered.
Cut out a strip of yellow paper, thick enough to be slightly taller than the lid of your glue bottle.
Cover the yellow strip with glue and gently roll it to form a lid. Fit the yellow lid over the orange lid of the glue bottle and secure into place.
Add a label to your olive oil bottle and let the playtime begin!
*For toddlers especially, these tasks may require adult supervision and/or assistance.
---
FIND MORE PLAY FOOD CRAFTS: